Why Christian Kids Leave the Faith
There is probably no other problem that concerns Christian parents as much as children who turn away from Jesus. Why Christian Kids Leave the Faith is a book by Tom Bisset that explores this issue. The book not only analyzes the problem but also offers good advice for families that are waiting for prodigal children to come home. According to Bisset's research, people leave the Christian faith for four reasons:
1. Because they have troubling, unanswered questions about their faith: "Unwilling to 'just believe,' they opt for 'intellectual honesty.' To do this they believe they must leave their childhood faith behind in order to find real answers in the real world."
2. Because their faith isn't working for them: "Disillusioned with the church and their fellow Christians, and ultimately disappointed with God these believers go through painful emotional and spiritual meltdown that leaves them unable to think or function as a Christian. They leave by default; they simply can't do it anymore."
3. Because other things in life become more important than their faith: "These dropouts slowly drift away preoccupied by business, pleasure, material ambitions, personal problems or other hard realities that are part of life itself."
4. Because they never personally owned their faith: "… they conformed to the spiritual expectations of others, especially parents and church leaders. But they never consciously and willfully embraced Christ and the way of the cross for themselves."
Bisset also points out a number of other interesting facts. Faith rejection is common across all denominational and even religious lines. Faith rejection is not necessarily connected to parenting styles. In many families some children joyfully follow Christ while their siblings walk away. One hurting father was comforted by the reminder that God Himself had prodigal children. Adam and Eve were prodigals. Many prodigals do return to the faith of their childhood even though the wait for their return can be very painful.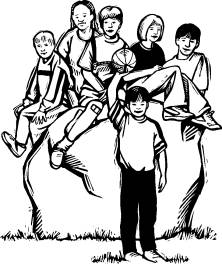 Parents involved in this struggle can learn from others who have been there. First, our Biblical values are not open to compromise. Many families have experienced children leaving home and Christ because they can't stand the rules. Changing or relaxing the rules won't help. But above all families have to live by the love of Christ. The door is always open. There is always opportunity for forgiveness. We don't burn bridges with prodigals. Secondly, though it seems like a helpless situation, parents of prodigals can pray and enlist others to pray. Psalm 139 tells us that no one can hide from God. That includes rebels. We can pray for others to come into the lives of our children to turn them back to the Lord. Thirdly, parents need to realize that as much as they want to affect spiritual changes in the lives of their children, the only person they can change the most is themselves. One of the consistent themes of returning prodigals is the realization that the faith of their parents was authentic. While at home they may have mocked that faith, but as life goes on that faith often endures and overcomes the devils lies. I would add to these three things one more: Parents of prodigals should continually witness to their wandering children with both the Law and the Gospel especially remembering Peter's words, "Yet do it with gentleness and respect" (1 Peter 3.16).
Bisset encourages hurting parents to put their hope in Christ: "Though the fig tree may not blossom, nor fruit be on the vines; though the labor of the olive may fail, and the fields yield no food; though the flock may be cut off from the fold, and there be no herd in the stalls – yet I will rejoice in the LORD, I will joy in the God of my salvation. The LORD God is my strength; He will make my feet like deer's feet, and He will make me walk on my high hills" (Habakkuk 3.17-19).