Do You Understand The Kingdom of Heaven?
Matthew 13.44-52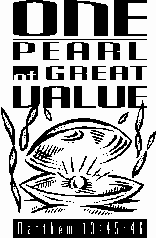 "Again, the kingdom of heaven is like treasure hidden in a field, which a man found and hid; and for joy over it he goes and sells all that he has and buys that field. Again, the kingdom of heaven is like a merchant seeking beautiful pearls, who, when he had found one pearl of great price, went and sold all that he had and bought it. Again, the kingdom of heaven is like a dragnet that was cast into the sea and gathered some of every kind, which, when it was full, they drew to shore; and they sat down and gathered the good into vessels, but threw the bad away. So it will be at the end of the age. The angels will come forth, separate the wicked from among the just, and cast them into the furnace of fire. There will be wailing and gnashing of teeth." Jesus said to them, "Have you understood all these things?" They said to Him, "Yes, Lord." Then He said to them, "Therefore every scribe instructed concerning the kingdom of heaven is like a householder who brings out of his treasure things new and old."
Introduction
When I was a little boy I had a box in my top dresser drawer in which I kept my little treasures. Among these was a special sling-shot, and assortment of firecrackers, and a few special coins. One of these coins was from Greece, and it was obvious that it was not a modern coin. They only bad thing was, somehow I convinced myself that this must have been an imitation. I just couldnít believe that I had stumbled on to an ancient artifact. Convinced of this I never paid that much attention to it. Somewhere along the way I was separated from that coin, and now I canít stop remembering it. I think I should have checked with somebody about the value of that coin.
Thereís another treasure I want to talk to you about today. It is also one that is often misunderstood. You certainly donít want to be separated from it. Iím talking about the kingdom of heaven. Jesus asked His disciples if they understood what the kingdom of heaven was all about. After a lengthy discussion of the kingdom of heaven in parables, He asked, "Do you understand all these things?" Do you understand? Do you comprehend the kingdom of heaven? Like the first disciples we are all ready to answer "yes." But do we really know how valuable it really is?
I. The Kingdom of Heaven: What Is It?
Itís not always easy to see the kingdom of heaven in the midst of this world. The kingdom of heaven or the kingdom of God, as it is sometimes called, is the ruling authority of God over the entire universe.
From the beginning of creation God has been in charge. However because of sin this little fact is often forgotten. The center of this divine rule is Godís desire and effort to save all who have been removed from His kingdom through sin. Jesus, Godís Son, is the weapon God used to destroy Satan, the usurper and unlawful ruler of this world. He destroyed the power of evil by giving Himself as a perfect sacrifice or ransom for all the sinful people of the world.
The kingdom of heaven was the central message of Jesusí preaching. Unpacked, it was an emphasis on repentance, trust in Godís Messiah Ė Jesus, and a warning of coming judgment. Jesus added proof to His words with miracles. Especially important among these miracles were those Jesus performed when He cast out demons. In Matthew chapter twelve Jesus said, "But if I drive out demons by the Spirit of God, surely the kingdom of God has come upon you." (1).
There are many things that hinder the kingdom of heaven. Number one among these is simply the lack of repentance and faith in Godís gift of righteousness in Christ: "Unless your righteousness exceeds the righteousness of the scribes and Pharisees, you will by no means enter the kingdom of heaven" (2). The rest of the list would include: Hypocrisy, "Not everyone who says to Me, 'Lord, Lord,' shall enter the kingdom of heaven, but he who does the will of My Father in heaven" (3). Pride and self-righteousness: "Assuredly, I say to you, unless you are converted and become as little children, you will by no means enter the kingdom of heaven" (4). And finally, prosperity: "Assuredly, I say to you that it is hard for a rich man to enter the kingdom of heaven" (5).
II. Two Parables Teach How the Kingdom of Heaven is Received
In the parable of the buried treasure and the pearl of great value, Jesus shows us how the kingdom is received. In the first case a man happens to find a treasure. This was not an unheard of experience in those days. Without good banks and because of political instability, people with large amounts of wealth would divide their riches into three parts. One part they would use for business and living. Another part was kept in the form of jewels so that they could move it quickly if trouble came. Another part that was harder to move was buried. When trouble came they left it, and returned to retrieve it when things calmed down. If something happened to them in the mean time, the treasure could be forgotten or discovered by someone else (6).
The merchant in the second parable was a trader. The Greek word for his work gives us the English word "emporium." He saw many a valuable pearl or other fine jewel pass from one hand to the next, and he always hoped to be somewhere in that mix to make a little profit. But he was also a connoisseur and a man with an eye for beauty. He hoped one day to find the greatest of all pearls. Finally, after seeing so many that were good but not great, he finds the pearl of great value. He then goes out of business. He sells everything, and he buys this beautiful pearl.
In both cases please see how these men received the treasure or the pearl. They sold all that they had in order to acquire it. In fact they would have had to go out of business in order to receive these riches. There is no indication that either the treasure or the pearl were traded or invested. These were such valuable and beautiful items that it was enough just to own them.
Someone once said that a parable is an earthly story with a heavenly meaning. In this case the meaning of both is that the kingdom of heaven is worth more, far more than anything you can think of on earth. Remember though, the kingdom of heaven is Godís righteous rule. How can I regain God as my King? It would seem like that is a very simple thing. All I have to say is, "Iíll belong to God now." No! God is not an idea or a thing that we can simply pick up and take along with all our other things. He is a person, and our sins have greatly offended Him. But God sent His Son- His perfect, sinless Son, to die on a Roman cross to destroy our sin and to remove the terrible offense.
I will give up everything to have this treasure. I will give up the business of running my own life according to my own rules for the loving rule of God over my life. Paul, the great missionary of Jesus, described his coming into the kingdom of heaven in this way: "But what things were gain to me, these I have counted loss for Christ. Yet indeed I also count all things loss for the excellence of the knowledge of Christ Jesus my Lord, for whom I have suffered the loss of all things, and count them as rubbish, that I may gain Christ and be found in Him, not having my own righteousness, which is from the law, but that which is through faith in Christ, the righteousness which is from God by faith" (7).
Once there were two women who were best friends. One woman had a beautiful little toddler who was born even after many, many years of infertility. Occasionally her friend, who also had a new baby, would care for the toddler. One day while she was babysitting, she became engrossed in a television program. She forgot about the toddler who managed to open a door and walk out into the street. The little child was killed by a passing car. The friend was racked with guilt for her neglect. She wondered if she could ever make up for this horrible mistake. The thought even crossed her mind- irrational as it might have been, to give up her own baby for her friend to adopt. But no, no, nothing would ever make up for the little toddler. Nothing, that is, except for one thingópure, perfect, sweet forgiveness. The mother of the toddler was the only one who could save her from a life of bitter regret.
You and I have allowed Godís Son to die. Each time weíve become engrossed in ourselves, pursued life without God, or transgressed one single commandmentówe allowed the nails, the whip, and the crown of thorns. Can we make up for that? Never. Only God can make things right again and bring us back into His kingdom by the perfect and pure forgiveness of Jesus. The Bible describes this treasure, this pearl of great value in this way:
Blessed is he whose transgression is forgiven, Whose sin is covered.
Blessed is the man to whom the LORD does not impute iniquity, And in whose spirit there is no deceit. When I kept silent, my bones grew old Through my groaning all the day long. For day and night Your hand was heavy upon me; My vitality was turned into the drought of summer. Selah I acknowledged my sin to You, And my iniquity I have not hidden. I said, "I will confess my transgressions to the LORD," And You forgave the iniquity of my sin. (8)
III. One Parable Teaches the Result of Receiving or Rejecting the Kingdom of Heaven
Jesus also taught that one day there will be a separation between the people of Godís kingdom and those who are little gods in their own eyes. The latter people are either indifferent to the tragedy of their sin or they are trying to make it up to God in their own way. Like the different fish in the sea gathered together in a net, they will be hauled up on shore and divided. They arenít divided now. In fact they are thoroughly mixed. Some members of our own family will be in the kingdom of God others will not. Some will discover that though they were members of a church, they were not citizens in Godís kingdom. Many of the proud and seemingly successful people of this world will be dismayed when they see the truth of Jesusí words, "Blessed are the poor in spirit, for theirs is the kingdom of heaven" (9). This is a warning that is repeated again and again in the Bible. It may not seem that sin is such a big problem or that forgiveness is such a great treasure. But has the Bible ever been wrong before? Jesus asks again: Do you understand all these things?
In the Small Catechism Martin Luther captures the eternal value of the kingdom of heaven with these words:
He has redeemed me a lost and condemned person, purchased on won me from all sins, from death, and from the power of the devil, not with gold or silver, but with his Holy, precious blood and with His innocent suffering and death that I might be His own and live under Him in His kingdom and serve Him in everlasting righteousness, innocence and blessedness, even as He lives and reigns to all eternity. This is most certainly true. (10)
IV. Jesus Urges His Disciples to Spread the Treasure of the Kingdom of Heaven
As Jesus comes to the conclusion of these parables about the kingdom of heaven, He urges the disciples and us not only to live in the kingdom, but to tell others about it. One who has been trained as a disciple in the kingdom of heaven," He says, "Is like homeowner who casts out of his treasure things new and old." As a member of the kingdom of heaven we have the treasure of Godís rule in our life. That rule is established in things old like the Ten Commandments and in things new like the Gospel of Godís love in His Son Jesus Christ.
There is no greater joy than to find the treasure and the pearl of Godís kingdom with one exception: to help others also make the great discovery.
Let me tell you the story of two men. The first is Commander Mitsuo Fuchida. He led a squadron of 360 Japanese fighters to Pearl Harbor. The other is Sergeant DeShazer. He was on a B-24 bomber in Jimmy Doolittleís raid on Tokyo. DeShazer was the first to realize the kingdom of heaven. He had to bail out over Japanese held territory. He spent 40 months as a prisoner of war. Thirty-four months were spent in solitary confinement. There his hatred for the Japanese grew to a frenzy. Despairing of life, he begged his guards for a Bible. Two years later he received one and began to read its pages eagerly. He especially gulped down the new things of Godís mercy, forgiveness, and redemption. Instead of hatred for his captors he saw them with the eyes of mercy. On August 20, 1945 the door to his cell swung open. A smiling guard said, "War over. You go home now."
Fuchidaís life was somehow spared through the terrible war. Things did not get any better after the war. One day in October 1948 he saw an American handing out leaflets in Japanese. The title caught his eye: Watakushi Wa Nippon No Horyo Deshita (I Was a Prisoner of Japan); it was the story of DeShazer. At first, from a warriorís perspective, Fuchida was impressed that DeShazer had been one of Doolittleís raiders. But he was taken in by DeShazerís testimony. A friend told him to get a Bible, but he could not find one in Japanese. But a few days later on a train platform a Japanese man was handing out books: "Get your Bibleófood for the soul." Fuchida found the treasure. He was especially struck by Jesusí words in Luke 23.34, "Father, forgive them, for they know not what they do." He was turned from a bitter ex-war hero to a man on a new mission. He became and evangelist throughout Japan and Asia. (11)
Conclusion
Do you understand? Thanks be to God for giving us His Son, Jesus Christ. He brought to us the kingdom of heaven by sacrificing His life for ours. Why live any longer in a life that is going nowhere? Live by faith in the kingdom of heaven. Amen.
Notes
(1) Matthew 12.28 (2) Matthew 5.20 (3) Matthew 7.21 (4) Matthew 18.3 (5) Matthew 19.23 (6) Lenski, vol. 1, p. 541 (7) Philippians 3.7-9 This interpretation has good witnesses from the church fathers: Hilary (d. 367) interprets the other pearls to be all efforts to attain salvation by works. The pearl of great price is Jesus. All other efforts must be given up. Theodore of Mopsuestia (d.428) compares the merchant to the man who also has to give up all efforts of salvation through the law. He points to Paul who "counted everything lossÖ" (Ancient Christian Commentary, p.287). (8) Psalm 32.1-5 (9) Matthew 5.3 (10) Small Catechism, Second Article of the Apostlesí Creed (11) Glory from the Ashes, Focus on the Family Magazine, December 2001.
Pastor Michael P. Walther
Tenth Sunday After Pentecost
July 28, 2002
Good Shepherd Lutheran Church, 1300 Belt Line Road, Collinsville, Illinois, 62234
618-344-3151
michaelpwalther@netscape.net
www.goodshepherdcollinsville.org
Michael P. Walther, Copyright, 2002