Heaven Help Us
2 Corinthians 5.1-10
Since it is Independence Day weekend, many people have a little more time to relax and spend time with family and friends. Our family is no different. One of our sons is home from college. Another is home from the army. We will have a few short days together and then the necessary "Goodbyes" again. We are happy to be together, but sad to be separated again. Though we may try to avoid thinking about it, we know that separations from one another are inevitable. We also know that in death there will be a very significant separation. There is no such thing as a permanent home on this earth.
These "necessary separations," as I call them, are because of sin. God had no plan for them in the original creation. But when Adam and Eve believed Satanís lie that they could become like God they became separated from God and from each other, and the fracturing of relationships for one reason or another has been happening ever since. However God did not sweep this world away like a broken glass on the kitchen floor. He sent His Son to bring people back to God and to one another. This is the Kingdom of God that Jesus speaks about in the parables. This is the promise of an everlasting existence for the people of Israel Ė those who are the true sons of Israel by faith in Jesus. Though we still live in a broken world, we now realize that any brokenness we see or experience is not necessarily permanent. Jesus brought the one thing that we humans cannot create for ourselves Ė Jesus brought us a new life, an everlasting life. We have help from heaven!
Today I would like to refresh our faith in this truth so that we do not have to be overwhelmed by sadness, and so that we donít foolishly cast away the promises of heaven by living only for the temporary pleasures this earthly life.
Our text is 2 Corinthians 5.1-10. We will be reading this text throughout the sermon, so keep your Bibles open and ready. Letís begin with verses 1-2.
2 Corinthians 5.1-2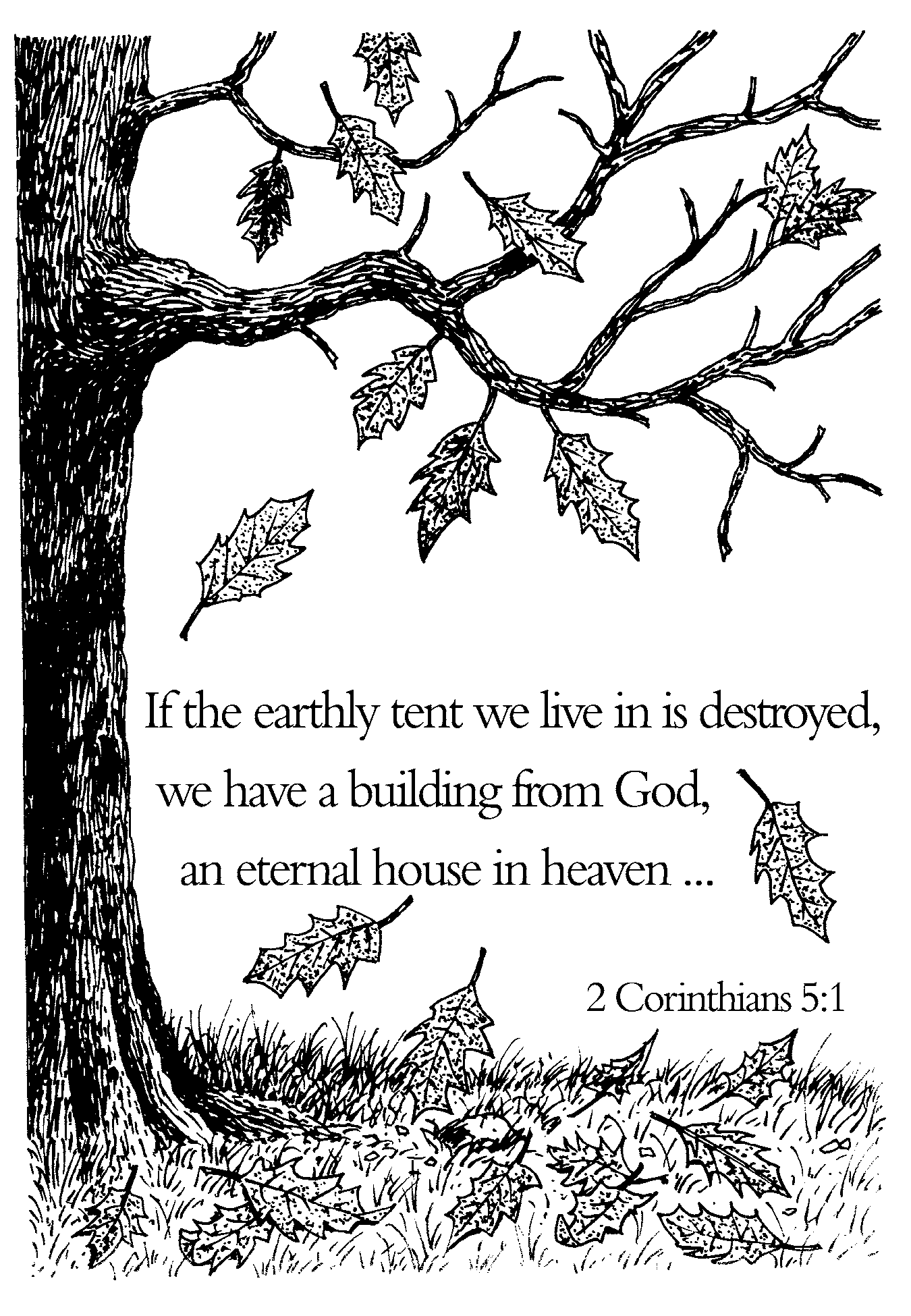 For we know that if our earthly house, this tent, is destroyed, we have a building from God, a house not made with hands, eternal in the heavens. 2 For in this we groan, earnestly desiring to be clothed with our habitation which is from heaven,

Many people want to know, "What happens when we die?" Some people think that nothing happens. People just die, thatís it, and their life is over. The Bible teaches that those who are separated from God in this life, those who donít care about their sins and wonít be forgiven, enter a permanent and unchangeable existence of complete separation from God. Jesus said that God causes His rain to fall upon the just and the unjust in this life (Matthew 5.45). But in death those who rejected Him receive none of His blessings. Their existence is one of dark fire, eternal regret, and hopelessness.

On the other hand, those who believed in God and whose sins were cleansed and removed by faith in Jesus, who died on the cross for us, these begin an eternal existence that is far better than anything they saw on earth. St. Paul compares it to the difference between a tent and a permanent building. It is not made with hands. Nor does it age and decay. It is eternal. Jesus said to the disciples: "I go to prepare a place for youÖ that where I am, there you may be also" (John 14.2,3).

Johnny Hart, creator of the comic strip BC once pictured two women sitting on a small hill. One is reading the Bible and says, "Oh, my goodness. . . Says here. . . Jesus descended into hell!" The other is shocked and says, "Youíre kidding!" Then the woman with the Bible says, "Oh, no. . . Not to stay! He just dropped in to cancel our reservations!"

2 Corinthians 5.3-4

3

if indeed, having been clothed, we shall not be found naked. 4 For we who are in this tent groan, being burdened, not because we want to be unclothed, but further clothed, that mortality may be swallowed up by life.

Sometimes people see the sin-caused decay of this life Ė old age and sickness, and they begin to dislike their bodies. The ancient Greeks adored the human body like people today. Just look at the many statues they produced. But they didnít know what to do with old age and sickness. They looked at death as a release from the weaknesses of the body to a wispy, disembodied existence of the spirit. But God, who created our bodies in the first place, loves both the body and soul. The Bible tells us that rather than becoming less physical, in death we will ultimately become more physical. We will be "further clothed" and mortality will be "swallowed up by life." Notice how he reverses the image of the grave swallowing us in death. Instead, in Godís Kingdom, death is swallowed by life.

This sometimes becomes an issue when people ask me about the practice of cremation. I donít think it is necessarily wrong to cremate the body. But Christians have to remember that in other religions cremation is a symbol of the end of the body. It is sloughed off and forgotten. Christians, however, remember that Christís body was not sloughed off and forgotten. He was raised on the third day. Paul said to the Romans: "But if the Spirit of Him who raised Jesus from the dead dwells in you, He who raised Christ from the dead will also give life to your mortal bodies through His Spirit who dwells in you" (Romans 8.11). We treat the bodies of Christians with dignity, knowing that these bodies are still precious to God.

2 Corinthians 5.5

5

Now He who has prepared us for this very thing is God, who also has given us the Spirit as a guarantee.

This verse, like so many in the Bible, shows us that salvation is Godís work (Ephesians 2.8-9). We didnít prepare ourselves for this. God did it when He gave us His Holy Spirit. In his first letter to the Corinthians Paul said very clearly, "No one can say ĎJesus is Lord,í except by the Holy Spirit" (1 Corinthians 12.3). Faith, that change from opposing God to submitting to Him in repentance and being raised by Him in forgiveness, is the work of the Holy Spirit. It is also our guarantee that all these promises weíre hearing will come true. Whenever Christians start to feel the temptation of unbelief, when hopelessness begins to make inroads, God the Holy Spirit holds forth a guarantee for them in His Word and Sacrament. Bible promises, Baptism and the Communion with Christ create and sustain us in faith.

The best example that I can think of for this is Jesus Himself. When He began His work of salvation, He was met head-on by Satan. How did Jesus prevail? How did he keep from throwing away the work of salvation for the lies of Satan? He remembered Godís Word. Three times He quoted from memory the words of God in opposition to the temptations. On the other hand, when I see people in the Bible who did fall to temptation, I notice that the Word of God is sadly absent from the scene. Remember Peter when he denied Jesus? Three opportunities arose but not once were they answered with Scripture. The Holy Spirit works through the Word to sustain our faith. Thatís why Paul calls the Spirit our guarantee.

2 Corinthians 5.6-8

6

So we are always confident, knowing that while we are at home in the body we are absent from the Lord. 7 For we walk by faith, not by sight. 8 We are confident, yes, well pleased rather to be absent from the body and to be present with the Lord.

This is the great teaching of Scripture. Believe what God says, not in the way things appear. Abraham believed that God would give him a son even though he and Sarah were old. David believed that God would deliver him from the hand of Goliath. When the people told Jairus that his daughter was dead Jesus said, "Do not be afraid, only believe" (Mark 5.36). Donít give in to the appearances of things. Donít think that this life and death is all that there is to expect. We can be confident that there is more to come.

Whenever Iím called to the hospital to help those who are very sick or dying, I always pray for health and for life no matter how close a person may be to the end of their life. But I pray for this in one of two ways. Either God will take the sickness away for awhile and give us a little longer life. Or, God will give us the life and health of heaven. One way or another the promises of life will be fulfilled for Godís people.

2 Corinthians 5.9-10

9 Therefore we make it our aim, whether present or absent, to be well pleasing to Him. 10 For we must all appear before the judgment seat of Christ, that each one may receive the things done in the body, according to what he has done, whether good or bad.

All of this should have a tremendous effect on the way we live our lives. If we know there is more to this life than what there appears to be, itís going to show. Weíre not going to throw away Godís promises for a few temporary pleasures. We will live for Christ now, even though we canít see Him. We want to be "well-pleasing to Him." When we do stumble into sin, God will bring us back. He will help us recover through repentance and forgiveness. One day we will appear before the judgment seat of Christ. We will be glad that it is Christ who is our judge. For we know that He judges all believers according to His righteousness. We must receive the things done Ė good or bad. But thatís not all. Just a few verses later the Apostle said, "He who knew no sin, became sin for us, that we might become the righteousness of God in Him" (2 Corinthians 5.21).

Conclusion

Eric Barker, a missionary from Great Britain, spent over 50 years in Portugal preaching the Gospel, often under adverse conditions. During World War II, the situation became so critical that he was advised to send his wife and eight children to England for safety. His sister and her three children were also evacuated on the same ship. Although his beloved relatives were forced to leave, he remained behind to carry on the work. The Sunday following their departure, Pastor Barker stood before his congregation and said, "I've just received word that all my family has arrived safely home!" He then proceeded with the service as usual. Later, the full meaning of his words became known to his people. He had been handed a wire just before the service informing him that a submarine had torpedoed the ship and everyone on board had drowned. He knew that because all were believers they were "at home with the Lord." (Funeral Sermon by Rev. Adrian Dieleman, Trinity CRC)

Sooner or later we will all find ourselves facing something that wants to separate us from God, from one another, or from life itself. "Heaven help us" is our cry. And Heavenís Help in Christ will be Godís answer. Amen.

Pastor Michael P. Walther


Fourth Sunday after Pentecost, July 2, 2006
Good Shepherd Lutheran Church, 1300 Belt Line Road, Collinsville, Illinois, 62234
618-344-3151 / fax 618-344-3378
The Lutheran Church - Missouri Synod
michaelpwalther@gmail.com
www.goodshepherdcollinsville.org

Michael P. Walther, Copyright, 2006