Is It Necessary to Believe in Jesus Christ to Be Saved?
Acts 9.1-20
Then Saul, still breathing threats and murder against the disciples of the Lord, went to the high priest and asked letters from him to the synagogues of Damascus, so that if he found any who were of the Way, whether men or women, he might bring them bound to Jerusalem. As he journeyed he came near Damascus, and suddenly a light shone around him from heaven. Then he fell to the ground, and heard a voice saying to him, "Saul, Saul, why are you persecuting Me?" And he said, "Who are You, Lord?" Then the Lord said, "I am Jesus, whom you are persecuting. It is hard for you to kick against the goads." So he, trembling and astonished, said, "Lord, what do You want me to do?" Then the Lord said to him, "Arise and go into the city, and you will be told what you must do." And the men who journeyed with him stood speechless, hearing a voice but seeing no one. Then Saul arose from the ground, and when his eyes were opened he saw no one. But they led him by the hand and brought him into Damascus. And he was three days without sight, and neither ate nor drank. Now there was a certain disciple at Damascus named Ananias; and to him the Lord said in a vision, "Ananias." And he said, "Here I am, Lord." So the Lord said to him, "Arise and go to the street called Straight, and inquire at the house of Judas for one called Saul of Tarsus, for behold, he is praying. "And in a vision he has seen a man named Ananias coming in and putting his hand on him, so that he might receive his sight." Then Ananias answered, "Lord, I have heard from many about this man, how much harm he has done to Your saints in Jerusalem. "And here he has authority from the chief priests to bind all who call on Your name." But the Lord said to him, "Go, for he is a chosen vessel of Mine to bear My name before Gentiles, kings, and the children of Israel. "For I will show him how many things he must suffer for My name's sake." And Ananias went his way and entered the house; and laying his hands on him he said, "Brother Saul, the Lord Jesus, who appeared to you on the road as you came, has sent me that you may receive your sight and be filled with the Holy Spirit." Immediately there fell from his eyes something like scales, and he received his sight at once; and he arose and was baptized. So when he had received food, he was strengthened. Then Saul spent some days with the disciples at Damascus. Immediately he preached the Christ in the synagogues, that He is the Son of God.
Many years ago I was leading a Sunday School teachers meeting. We were talking about salvation, and a question came up about those who donít believe in Jesus. "Will they be saved?" one of the teachers asked. I answered by saying what the Bible teaches from . . . "Only those who believe in Jesus will be saved." Now she knew this already and had been taught so all her life. But for the first time she was beginning to understand the implications of this Bible doctrine. She knew of many very nice people who didnít believe in Jesus. It was hard for her to think that they wouldnít be saved. She also knew that these nice people didnít like it when they were urged to believe in Jesus for salvation. Sometimes they even became angry about it.
Saul of Tarsus was a nice person who didnít believe in Jesus. He was very highly regarded by the most important religious leaders. He obeyed Godís commandments outwardly as well as anybody could. But he became very angry when Christians told him that he needed to believe in Jesus to be saved. One young man named Stephen told him that he was stubborn and that he had helped murder Jesus, the Righteous One promised by the prophets (Acts 7.52). Saul became so angry about this he helped put Stephen to death. He then went on to arrest, imprison, and put to death other Christians who believed that salvation was in Jesus.
But his efforts were interrupted when he met the resurrected Jesus face to face on the road to Damascus. He had been resisting the Holy Spirit, and Jesus reminded Him of it when He said, "It is hard to kick against the goad." That is, it is hard to resist the word of God and Godís plan of salvation in Jesus Christ. Saul was like a sheep resisting the prods of the Shepherd. In this he was no different from anyone. Isaiah said, "All we like sheep have gone astray, each one to his own way" (Isaiah 53.6). But Jesus would overcome his resistance and turn it into repentance. He sent Saul to Ananias, a Christian leader, who gave him the Holy Spiritís forgiveness. To assure Saul even further of his salvation in Jesus Christ, Ananias baptized him "washing away his sins" (Acts 22.15).
From this point on Saul, later known as Paul, went to the synagogues and boldly preached that Jesus was the Son of God and the way of salvation.
Is it really necessary to believe in Jesus Christ to be saved? The answer to that question is yes for three very important reasons. First, this is what the Bible teaches. Second, this "yes" answer determines whether you hope to save yourself (an impossibility) or be saved. Thirdly, question of salvation by faith in Jesus Christ alone determines who gets the gloryó You or God!
This Is What the Bible Teaches
Think how different the Bible would be if people could be saved without believing in Jesus. Saul would have never gone to Damascus to chase down Christians because they wouldnít have been telling others about salvation in Jesus. Stephen wouldnít have been stoned to death because he wouldnít have told the Jewish leaders they murdered the Righteous One. Peter and John would never have been arrested and taken before the Sanhedrin (Jewish court). Peter would have never have said to them, "The stone the builders rejected as become the chief cornerstone. Nor is there salvation in any other, for there is no other name under heaven given among men by which we must be saved" (Acts 4.11-12). On the Day of Pentecost, when people were gathered in Jerusalem from many different nations, Peter wouldnít have preached, "Repent, and let every one of you be baptized in the name of Jesus Christ for the remission of sins; and you shall receive the gift of the Holy Spirit. For the promise is to you and to your children, and to all who are afar off, as many as the Lord our God will call" (Acts 2.38-39). He would have probably said, "Isnít it great that we can all believe different things and still go to heaven!" In fact it is doubtful that Peter would have preached at all. He wouldnít have been compelled to tell anyone about the resurrection of Jesus, because Jesus would never have died. If people can be saved without faith in Jesus, why would God have gone to such trouble to send His only- begotten Son into this world? There were many religions already in place, if these can save, why add to the list?
Save Yourself or "Be Saved"?
A young mother was working in her kitchen one day when she heard her youngest son begin to cry. He was playing with his older brother in the backyard. She noticed that the older son was laughing, and so she knew she better investigate. As she came upon the two boys she noticed that the younger son had dug a hole with a little garden shovel. He was standing by the hole crying. Mother asked, "Whatís the matter here? Why is he crying?" Giggling, the older brother began to explain. "He dug this hole. Then he told me he wanted to take it into the house to show you. I told him he couldnít do that, and thatís when he started crying." Some things are simply impossible.
God teaches us that there is no way anyone can save himself from sin. In Psalm 3.8 we read this very simple sentence: "Salvation belongs to the LORD." Isaiah speaks the word of the Lord: "Look to Me, and be saved, all you ends of the earth! For I am God, and there is no other" (Isaiah 45.22). Over and over again the stories of the Bible teach us that salvation comes from God. Did Israel part the Red Sea by their works? Did Elijah call down fire from heaven because he was more committed than the 450 prophets of Baal? Did Daniel survive the night in the lionís den because God owed it to him? Not at all. When Saul, later known as Paul wrote a letter to the Christians in Rome, he summed up the teaching of salvation in this way: "There is no difference; or all have sinned and fall short of the glory of God, being justified freely by His grace through the redemption that is in Christ Jesus" (Romans 3.22-23).
Every other religion apart from Christianity teaches some form of self-salvation. The nicest, kindest people might be caught up in these religions, but there is no denying that they are intent on saving themselves. This fact is often noticed in the way the question of salvation is often proposed. A non-Christian will usually ask something like this, "Do you believe that only Christians will go to heaven?" Do you notice that the question says nothing about salvation and especially nothing about "being saved"? The reason they often feel resentful toward Christians is because they are really asking, "Do you really think you are better than me and because of that you are going to heaven?" Judaism teaches that those who abide by the Law of Moses will earn the right to eternal life. Islam teaches that every person has two angels assigned to them. One angel records their good deeds; the other angel records their bad deeds. On the Day of Judgment those with more good than bad deeds will go to heaven. Buddhism teaches that no one actually sins against God but that our sins are the bad desires we have that cause us unhappiness. "Nirvana," the closest equivalent to our "heaven" comes when we get rid of all desires. The word "nirvana" literally means, "extinguish." You do that yourself by following the eightfold path of life. Itís always up to you.
The Difference It Makes
I know we are sometimes made to feel hard-hearted and mean-spirited when we affirm the Bibleís teaching that only those who believe in Jesus will be saved. Nobody likes to be told they're wrong. More than that, nobody likes to think that they are not good enough to be saved. But since it is the truth, what do we gain by holding it back. What value is the favor of our friends if let them go on in ignorance or stubbornness rejecting the grace of God? How can we honestly love someone and let them go on in their thinking that everything is OK when they donít have trust in Jesus. Itís not out of a desire to be right, but out of a sincere desire for our friendís salvation that we tell them about Jesus.
I donít know how many of you follow the cartoon strip B.C. by Johnny Hart. Many people have gotten laughs from the caveman gags of B.C., Thor, peg-legged Wiley and Clumsy Carp. Johnny Hart never studied art, but he loved to draw. With encouragement from a few friends he eventually started the now famous cartoon strip. Johnny Hart is a Christian, and often in very subtle ways his Christian faith comes through. But on special holidays like Christmas, Good Friday and Easter he drops the subtlety and presents the clear Gospel of salvation in Christ alone. This last Easter was no different. The cartoon featured the seven lamps of the Jewish menorah. In each frame Hart wrote one of the seven last words of Jesus from the cross and extinguished one of the flames. Finally when all the lamps were extinguished he left the center of the menorahóa cross, and in the next frame he drew the open tomb. The cartoon shows what the Bible teaches. "For Christ is the end of the law for righteousness to everyone who believes" (Romans 10.4).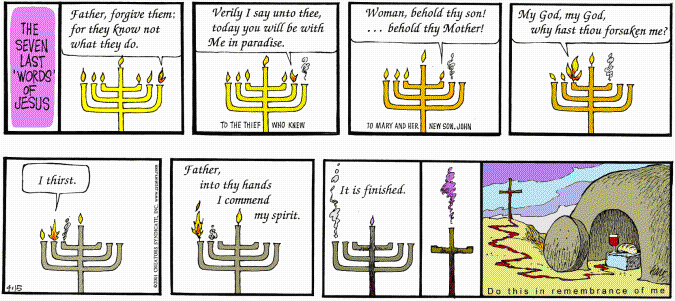 Does the cartoon offend some people? It certainly does. Newspapers often refuse to print Hartís holiday cartoons. Iím sure this one was no different. (See note below.)
But this is the way it has always been. Jesus died on the cross because people wanted to save themselves. They laughed at Him because "He saved others," but "Himself He cannot save" (Mark 15.31). This is the mentality of this world. Jesus came to help people out of this delusion. He called them to repentance for sin not for make up work to earn their place in heaven. He offered Himself as the cause for the forgiveness of sins and salvation. It does make a difference. Those who want to go to heaven on their own are assuming that their good life is good enough. But is it really good enough? If heaven going to full of people who are relatively good, or is going to be filled with holy people who have repented of their sins and have been washed and redeemed by God? To bring this up is not to start an argument or create a quarrel. It is for love and for the real hope of eternal life.
This is what drove Paul and all the other apostles to bear witness to Jesus Christ. I know that it is hard to bear the thought that so many nice people are passing on the opportunity to believe the Gospel. I see them at the store. I see them driving down the highway, thousands and thousands of people who are confident in themselves and have no need of Jesus. Why that is I don't know. But I do know this. I know that Jesus is the way, the life and the truth (John 14.6). I am ever so thankful that my parents, my wife, and certain friends brought me to Jesus and have helped to keep me steadfast in the faith. I know that nothing makes me happier than to think that that tomb was empty on Easter morning, and that Jesus was everything He said He was. I know that one day I will go to be with Him in paradise just like the repentant thief, not because of anything I have done, but because of His perfect life and His suffering and death. I know that I canít save the world by myselfóthatís Godís job. But I know He will work through me to reach others with the Good News of Jesus. I may not be able to refute the empty philosophies of the world like Paul. I might not be able to stand against false religion like Jeremiah and Daniel. But I can at least tell people that they canít save themselves. I can tell them that salvation belongs to the LordóThe Lord Jesus Christ.
Prayer: O Lord, we give thanks for Your victory over death and hell. We give thanks that imperfect people like us can be called holy and redeemed. You took our place under divine justice and have freed us from the empty way of life trying to get by on our own. Help, save and comfort us gracious Lord. Out of sheer joy lead us in the good works you have prepared for us, and help us to love our neighbor. Bless our witness to Christ though at times it might be feeble. And bring into Your kingdom all that You have called. In the precious name of Jesus, Amen.
Pastor Michael P. Walther
The Third Sunday of Easter, April 29, 2001
Good Shepherd Lutheran Church, Collinsville, Illinois
Note: Some have interpreted this cartoon to be promoting "replacement theology." Replacement theology is a term that refers to various ways in which the Christian church has sometimes forgotten about Godís plans for Israel. We canít forget that the Gentiles have been grafted into the olive tree of Israel (Romans 11.17ff). Godís promises to Israel (especially to Abraham) still stand. The covenant made on Mt. Sinai however has been fulfilled in Jesus the Messiah. The sevenfold lampstand or menorah was part of the Sinai covenant. Just as the curtain that divided the holy place and the holy of holies was torn when Jesus died, so the services of the high priests and the sacrifices were over. Gentile and Jewish Christians may still benefit from the symbols of the Sinai covenant since they are reminders of the promises God made. However, they only benefit if they are seen in the light of Godís further promises--that Jesus has fulfilled the Law. Hartís cartoon intends to show this. He did not intend to show that the church replaces Israel.
Michael P. Walther; Copyright, 2001