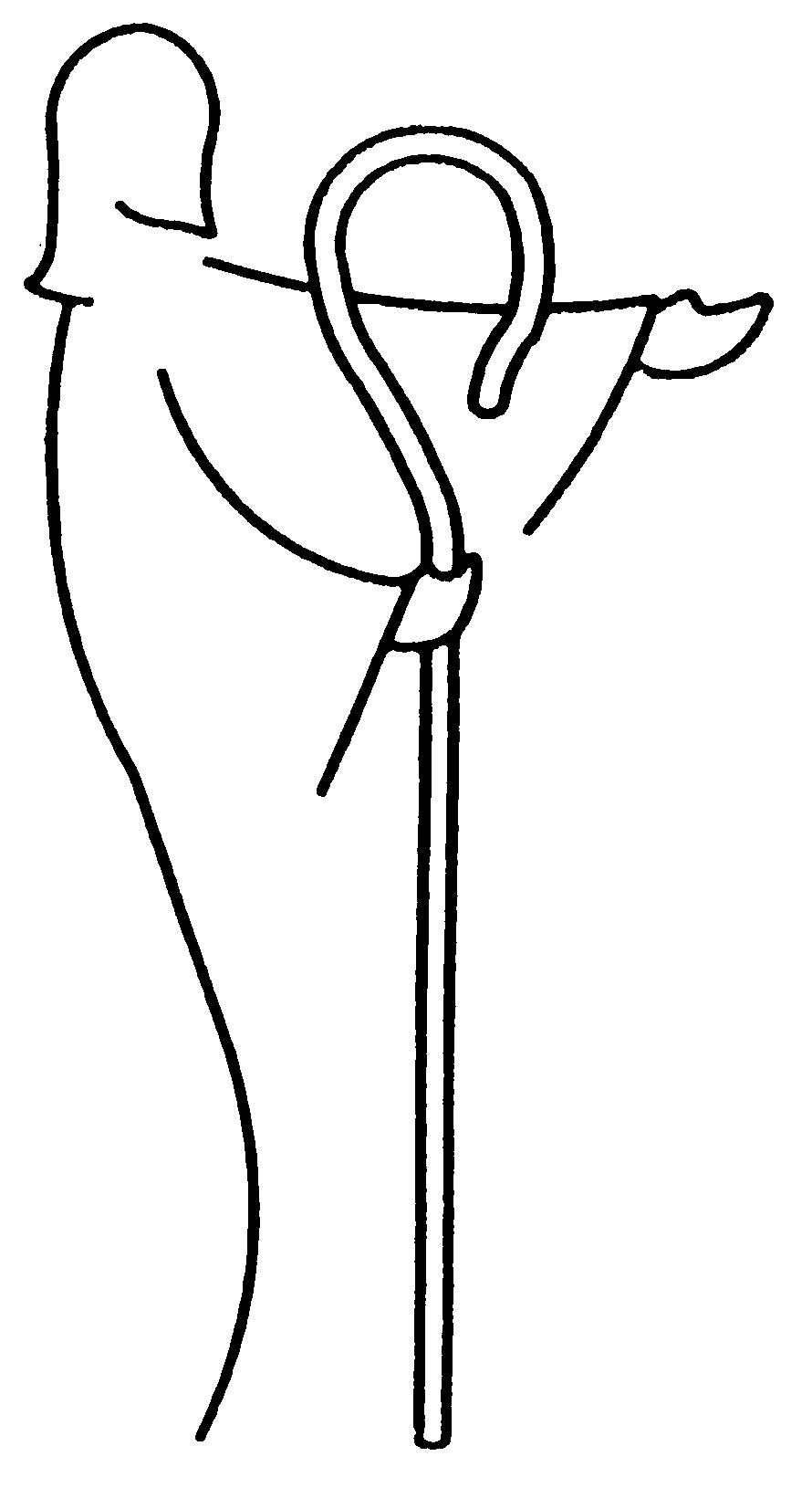 Love in Action
Good Shepherd Lutheran Church
1300 Belt Line Road Collinsville Illinois 62234
618-344-3151 (Church) 618-344-3153 (School) 618-344-3378 (Fax)
Pastors M. Walther & P. Hemenway Vol. 32 No. 9 September 2009
---
Why a New Lutheran Study Bible
Perhaps you've noticed the bulletin announcements about The Lutheran Study Bible. For many years we have enjoyed the Concordia Self-Study Bible with its good notes, maps, charts, lists, etc. Why a new one? Here are several good reasons:
The Lutheran Study Bible is the first, and only, study Bible in English prepared entirely from the ground up by Lutherans, offering a uniquely keen focus on the proper distinction between Law and Gospel, shining a brilliant light on the heart and center of the Scriptures: Christ and Him crucified, risen and ascended for your salvation—it's all about Jesus, in every way, for you.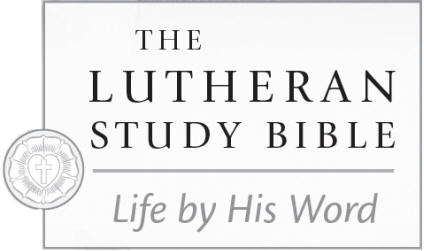 The Lutheran Study Bible gives you practical helps and aids to strengthen your life of prayer and meditation on God's Word with life application notes and prayers throughout the Bible. A good study Bible does not have to read like stereo instructions.

The Lutheran Study Bible contains many comments and insights from the entire history of the Christian Church: Early Church, Middle Ages, Reformation Era, contemporary theologians, drawing you into the rich conversation around God's Word that has been going on for millennia. Pull up a chair, listen in and join the conversation.

The Lutheran Study Bible contains an extensive introduction on how to read and understand the Bible, with reading plans, Luther's Catechism, and all kinds of other helps.

The Lutheran Study Bible has over 220 thematic articles offering discussions on a wide variety of topics, issues and concerns dealt with in the Bible. Faithfully Lutheran, practical and relevant: can't beat that combination.

The Lutheran Study Bible has more notes than nearly any other study Bible available today: over 26,500, all researched, written and edited by faithful Lutheran Bible scholars, pastors and Bible teachers.

The Lutheran Study Bible has over 120 diagrams and charts, prepared exclusively for this Bible to highlight and underscore key concepts, terms, teachings, events and people in the Bible. We know you like pictures. We do too.

Communion Bible Class

Beginning Sunday, September 13th at 9:15 a.m., we will begin a four week Bible class based on the book "The Blessings of Weekly Communion" by Pastor Ken Wieting. As a congregation we have been discussing the change to every Sunday communion, and we hope that this Bible study will help to guide us to a good decision. The class will explore the practice of Holy Communion from the early church to the present day. We encourage all members to attend.

Scrip, A Painless Way to Support Christian Education

Scrip = Gift Cards. It's as simple as that. But the benefit is that stores give a percentage of each gift card to our school. Members can designate those funds to go to any family in the church or school. So whether you have children in our school or not, Scrip is a great way to support Christian education, and it costs you nothing. Gift cards can be purchased after the Sunday services in the connecting hallway.

5th & 6th Grade Youth

The 5th & 6th grade youth meet every 1st & 3rd Sunday of the month from 6-7:30. If you were not able to make it to the event in August, I would appreciate a parent coming in with their child to fill out a registration form. On September 6 we have games in the gym. On September 20, we have our annual scavenger hunt! Please dress for the weather. The people in our neighborhood are always so generous when we knock on their door!

Home Bible Studies Begin in October

Start signing up now for Home Bible Studies beginning this October (signup sheets are in the Narthex). This year we will be studying St. Paul's letter to the Galatians, and we will be using The People's Commentary as a study resource.

Paul's letter to the Galatians is one of the very first books of the New Testament. It captures the heart and core of the Christian Gospel… That salvation is not a matter of earning brownie points with God, but it is the work of God's grace in our hearts through Christ.

Wednesday Woman

Wednesday Woman is a Bible study for women of all ages that meet every Wednesday morning from 8:45-10:45 in the church basement. We begin our new year of study with a welcome brunch on September 9. All ladies are invited to come to brunch and learn more about our study for the year. Babysitting is provided.

Church Picnic

Our annual church picnic is September 13 from 3-7 p.m. Please invite your friends and neighbors to join you for food, games and entertainment. In addition to the usual fare of hamburgers, hotdogs, popcorn, nachos, and pies we are also having a homemade ice cream contest! Dust off that ice cream freezer and begin trying out your recipes! There is a prize for the contest winner!

Each board and organization is encouraged to have a booth with information as well as food or an activity. Please talk to Carol Walther with any questions!

It takes many hands for a successful picnic. Please call the church office (344-3151) or talk to Carol (ex 302) if you are available to help before, during, or after the picnic. Organizations and groups can begin their set up any time after noon.

Christian Book Club

This month we are reading a non-fiction book called "Same Kind of Different as Me" by Ron Hall and Denver Moore. It is the true story of the unlikely friendship between two men: one a dangerous, homeless drifter who grew up picking cotton in virtual slavery, the other an upscale art dealer accustomed to the world of Armani and Channel. Also thrown in the story is a gutsy woman with a stubborn dream.

Growing in Christ Sunday School

Rally Day for the new Sunday School year is August 30. All the students will meet in the gym for a special program. Parents are encouraged to join us as we explain some of the changes taking place in the program this year. The new classes begin September 6. In an effort to better secure the safety of the children, each Sunday this year all students will be dropped off and picked up from the school entryway. Please talk to Karen Hemenway or Carol Walther to find out how you can be involved.

Scrapbooking/Craft Night

Once again all crafters are invited to join us on September 25 from 6-11 p.m. Bring your own craft supplies as well as your own soda and a snack to share. It's a great Ladies' Night Out!

"A New Song" Bible Study

"A New Song" is a women's Bible Study Devotional based on the Psalms. Each book includes daily individual (five per week) and weekly group Bible studies, prayers, hymn stanzas, and journaling space. The weekly Bible Study will meet each Saturday morning at 8:30 a.m. in the church basement beginning September 12. Books are $13 for each 6 week study. Please call the church office if you would like us to order a copy of the book for you.

MOPS

Attention moms! Join us as we begin a new year of Mothers of Preschoolers. It is geared towards mothers of young children (ages 0-kindergarten). MOPS offers spiritual growth, friendship building, play date opportunities, creative activities, & mothering advice. This year we will blast off to Planet Mom where we will continually see that we are on this planet together.

Our first meeting is Friday, September 18 from 9-11 a.m. in the Fellowship Hall. We will also hold a cookout for all MOPS members & their families on Sunday, September 27. We will meet outside the fellowship hall around noon. Mark your calendars. If you are interested or have any questions, please call Heather Klemp at 344-6627.

Landscape Work

Interested in light landscape work? We are looking for a person(s) to maintain our landscape beds around the property. If interested, contact Marty Hoffman at 344-3151.

Fall Yard Workday

Reserve the date: October 17 from 8:00 a.m. to 12:00 noon for a fall yard workday at Good Shepherd. Your help would be sincerely appreciated. For more information, contact Bob Jones or Marty Hoffman.

Lutheran Women In Mission

The next meeting of the Lutheran Women's Missionary League is Thursday, September 3rd at 6:45 p.m. in the Fellowship Hall. This will be a "Work Night," where we will work on special projects for the Metro East Central America Trip, Unity Lutheran Grade school in East St. Louis, and will assemble layettes and dress kits for Lutheran World Missions. (Please bring a pair of scissors with you.)

Items needed for the layettes are: Receiving Blankets, Diaper Pins and Regular-sized Wash Cloths. We are also in need of needles (only) for the dress kits. There should be 10 to 15 needles per package.

What an opportunity to show the love of God to people in Central America, Africa and in our "own backyard!" All ladies of the church are invited to take part in this "labor of love!"

Don't forget………..This is also the night when those who wish to participate will receive the name of a special confirmand prayer friend. God has truly blessed Good Shepherd with dedicated young people who are seriously working toward their confirmation. How great it is that He has allowed us to be a part of their growth in Christian faith, through our prayers and encouragement.

October 1st meeting will feature Pastor Randall Wilken who will speak to us on the "Acts 1:8 Mission Society." In addition, October 4th is LWML Sunday.

Be sure to mark your calendars for these dates… Come – and bring a friend!

Congregational Life

*Sunday school Teacher Appreciation: August 30

*Braille Workers: September 3 Meet at 8:30 a.m.

*Blood Pressure Screening: September 6 in the connecting hallway

*Pictorial Directory Pictures: Sept 8-12 and Sept 16-19

*Good Shepherd Library- Please remember to check out our library in the Conference Room on the lower level. It contains Bible studies, Devotionals, Biblical History, Inspirational books, Family Help books, Prayer books, Biographies, fiction, DVD's, the Bible on tape, and much more.

Women's Day Of Renewal "Fall Kick-Off" October 17

Although the first picture that may come to mind when you hear "fall kick-off' is a football or soccer game, the picture the Women's Day of Renewal (WDR) Committee visualizes for "fall kick-off" is the fellowship hall filled with vendors (Pampered Chef, Mary Kay, PartyLite, Tastefully Simple, and others) and happy shoppers enjoying flavored coffees, breakfast treats, and fellowship.

Because our vendors generously share their profits for the day with WDR, the "kick-off" helps to defray expenses and provides funds for scholarships. October 17 will also be the first day to register for Women's Day of Renewal 2010 – our tenth anniversary!

So, please join us on Saturday, October 17 from 9 a.m. to 12 noon for one-stop Christmas shopping, breakfast, and an opportunity to hear more about Women's Day of Renewal 2010.

Retirement & Estate Strategies Workshop

Please join us for a Retirement & Estate Strategies Workshop Monday, September 14 at 1:30 p.m. or 6:30 p.m. hosted by Thrivent Financial for Lutherans & your local representative Wally Streuter. Guest speaker Jonathan Doering, Thrivent Financial Consultant from San Diego, CA with 18 years experience, will share strategies on:
How to accumulate & distribute money for retirement.
How to pass money onto heirs or charities in a tax wise manner.
How to reduce IRS impact on your money.
Successful investing in today's market conditions.
Each guest will receive a resource workbook. Refreshments & coffee will be served. To reserve a seat for you & a guest call Kathy Crum at 314-783-4250.
Official Acts
Baptism (Children): Grace Elaine Meyer
Received Through Transfer: Dorine Rincker from Trinity, Stewardson, IL
Funerals: Raylin Adhara Nance, Fred Louis Schmedeman
Souls: 1,711 Comm.: 1,403
High School Youth Calendar
Sept 6- Refuge
Sept 15- The Deepend
Sept 17- YMAC
Sept 19- Walk for Life
Sept 20- Refuge- Volleyball Fun Day
Oct 4- Life Chain 2009
September Focus Too Small to Fight
Many times we find ourselves siding with the underdogs or adopting the runt of the litter. We are drawn to and inspired by the struggles of the small who come out on top. But sometimes we are asked to step in and help care for someone through that fight because they are too weak, too small, too burdened. In the case of our world, there are numerous babies that don't yet have a voice that are in need of people to care for and speak out on their behalf. We will be discussing how we can appropriately speak out for rights of the unborn. We will also be participating in some events, Walk for Life and Life Chain, that give us a chance to actually stand for what we believe is right. Please consider joining us for these events!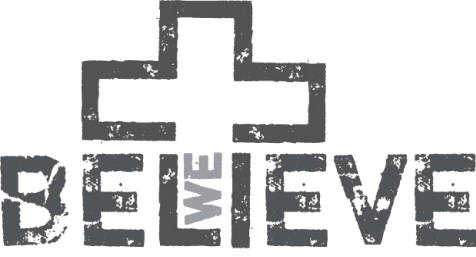 National Youth Gathering 2010
We have had informational meetings and now we need your commitments. If you were not able to attend a meeting please schedule a time to speak with the youth director, Jaime Brinkmann. Registration will start September 14. Please pick up registration forms next to the High school board in the basement after September 4th. Turn in forms and the $100 deposit to Jaime by the end of September. Make checks out to Good Shepherd Lutheran Church. Official entry will not be until October 21st. However, it is preferable that all our data is entered and ready in order to send when registration is open. This gives us a better chance at having our preferences met. A list and schedule of fundraisers will be available by the end of September. I look forward to having many of you participate in this awesome event!
* If you are a college student, the application to be a young adult volunteer (YAV) will be available after September 1st. I will have copies at the church or you can get them online at the gathering website. www.lcmsgathering.com
Walk for Life
The High school youth will be organizing a team to walk on September 19th as a support for Mosaic Pregnancy Centers and the work they do towards promoting life. We will be raising money for this walk and need team leaders and members to sign up soon! There are 3 places to walk: Granite City, Belleville, and Edwardsville. If you have an interest in leading, forming, or joining a team please contact Jaime Brinkmann. Also at Refuge on the 6th we'll have a guest speaker from Mosaic to talk about some of the specifics of their work for Pro-Life efforts! Be there to learn and to get all your team information!
Volleyball Fun Day in Ferrin!
The youth of Bethlehem Lutheran have invited area churches to participate in a Volleyball fun day on Sunday, September 20. There will be 3 different nets set up, soda for purchase, shared snacks, and bbq towards the end of the evening. If you are able, please bring a snack to share. Meet at church at 1:00 p.m., we'll return to church by 8:00 p.m.. Please sign up on the youth board downstairs. This will be in place of Refuge that night.
Life Chain
For years, Life Chain in Collinsville has been organized to get the word out and silently protest the war against life in our country. This pro-life effort is peaceful and a way to stand up for rights of the unborn. On Sunday, October 4 from 2:30-3:30, members from area communities can stand on 159 (Vandalia) with signs that get people thinking about life. If you are an interested high school student, college student, adult or family, please contact the church office or see updates in the bulletin to find out more information about signs and where we will be assigned to stand.
Jr. High and Confirmation Changes
If you have not already received a confirmation packet for the 7th and 8th graders, please contact the church office. In these start of the year packets we have a letter from the pastors and youth director explaining some changes to confirmation this year. Change is always a difficult thing for us as humans to deal with, but we ask for your patience and flexibility through this transition. We truly believe these are healthy changes for our Jr. High ministry. They are: 1) Worship assistants will now be 8th and 9th graders instead of 9th and 10th. We will also have 2 assistants each service. 2) There will be no more Jr. High youth group. In place of youth group are monthly events, on and off church property. 3) As a confirmation student we ask that they participate in one retreat offered in October or December, and two events out of the seven offered. Each of these events are focused on building relationships between public and Good Shepherd students, and serving God by serving others. We want students to make connections to the church as a body of Christ beyond what is learned in the classroom. If you have concerns or questions about these changes please call and discuss them with one of the Pastors or the Youth Director. Also please remember to turn in all your completed forms from the packet to Jaime Brinkmann.
September Jr. High Event
On Saturday, September 12 the 7th and 8th graders will be covered with paint as play at the Wacky Warriors Paintball fields in Millstadt, IL. The cost is $30 for a entry, mask, air gun, air, paintballs, our own field with a ref, and a t-shirt. We'll bring hot dogs to grill for lunch; please bring your own drink. Sign up in the downstairs hallway on the NEW Jr. High youth board.
Creation Museum Road Trip

Do dinosaurs fit in the creation account? How did Noah get all of those animals on the Ark? These and many more questions can be answered at the Creation
Museum in Petersburg, KY. You can visit the Creation Museum online at www.creationmuseum.org to gather more information or you can contact the GSLC church office 344-3151 and get your name on the list to take a trip there in person. The Board of Outreach is coordinating a trip to the Creation Museum this October. We are looking at 2 possible dates October 23rd and 24th or October 30th and 31st. Here is the plan. Depart from Collinsville on Friday. It is about 330 miles (5.5 hrs) and carpooling would be encouraged. Rooms will be reserved at the Drawbridge Inn Hotel in Ft. Mitchell, KY. (see their facilities at www.drawbridgeinn.com) for a Friday night stay and Saturday check out. The cost for the Hotel is $72.00 per night not including tax. (It is possible to have 4 in a room to help minimize the cost.) On Saturday morning the group would head over to the museum (about 15 minutes from the hotel) and enjoy a full day at the museum. They are open from 9:00AM to 6:00PM on Saturdays. There is a special Museum Price through the Hotel.
Adult (13–59 yrs): $17.95
Senior (60 yrs & up): $13.95
Children (5–12 yrs): $8.95
Children (under 5 yrs): Free
If we get 15 or more people we could save another dollar on the Museum Admission cost. The Museum also has a Planetarium show for an additional $7.00 cost. There are places on-site at the Museum to eat. All food would be up to the individual.

Music Director Search

At our last Voter's Assembly the congregation approved a proposal by the Board of Elders to increase our director of music position to half-time. At that time Mrs. Karen Shimkus was serving on a part-time basis. Since then she's been offered and has accepted a music director position at another congregation. The Elders have approved a Music Director Search Committee which has begun meeting to gather names and information so that we might soon fill this very important need in our congregation. Please keep this in your prayers.


The Board of Elders

Every congregation has some way to organize for the ministry. That organization includes pastors as well as church members. The Board of Elders is one part of the ministry organization that works closely with the pastors to help and improve the spiritual life of the congregation. They focus on worship, teaching, pastoral care and other aspects of the ministry. Together with the pastors we make plans to improve the ministry here. Some of the projects that we are working on right now are: A Crisis Management Plan & Disaster Preparedness, Every Member Visitation, and Elder Care Groups. Every two years the congregation elects the chairman of the Board of Elders. Individual elders are chosen and approved by the Church Council. Our current board consists of: Paul Lauber (chairman), Lyle Buettner, Bill Curtis, Ron Frey, Steve Hendry, Lee Hoffmeier, Aaron Kober, Bill Petersen, Brian Rodgers, Kent Splaingard, Wally Streuter, & Ernie Wentzel




Scholarship Funding Increases

Due to the difficulties we are experiencing in our economy, Good Shepherd has increased its scholarship funds from $45,000 to $65,000. The additional funds are being taken from a reserve fund in order to help as many families as we can. We appreciate the generosity of all of our members whose offerings make this fund possible. We are very grateful to the wisdom and guidance of our Scholarship Committee led by Doug Ruckman along with Wally Streuter, Marty Hoffman, Bill Petersen and Pastor Walther. Good Shepherd's scholarship philosophy is to do all we can to make Christian education affordable even though it will always be challenging. A very special "thank you" to all the families that work and save in order to be able to afford Christian education.

Lunch Bunch

On September 15 we will go to Nonna's on West Main in Belleville for a buffet luncheon. We will meet on the church parking lot at 11:30 a.m. Please call Mary Preuss (288-9525) before September 11 so we can make a reservation for you. Everyone is welcome to join in the fellowship as we support each other in our faith.

Good Shepherd Welcomes Three New Teachers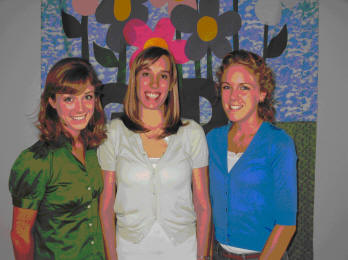 God has blessed us with three new teachers this year for our school. Justine Biermann will be teaching first grade. Sarah Schultz will be teaching eighth grade. Jasmine Biermann will be teaching seventh grade. On August 23rd all of our teachers were either installed or recommissioned. We pray for their important work of teaching our children the faith we have in Christ as well as training them for their life's work in many different vocations.

Booster Basketball Booklet

The Booster Basketball Booklet, an annual fund raiser for the Athletic Department, has room for ads until September 11. The rates are full page $80, half page $40, fourth page $25. Businesses, individuals or families may participate. Call Mr. Kyle Klemp at 334-6627 or at school 344-3151.

Entertainment Books

Entertainment Books are back to help Eighth Graders fund their class trip to Washington DC. The books will be sold during August and September – cost is $30.00. Coupons totaling $30.00 for Shop N Save are included this year and the books have some new additions.

Sound Room Volunteers Needed

We are looking for volunteers who would be willing to serve in the sound room during a worship service. Training will be provided. For more information, contact Marty Hoffman at 344-3151.

Good Shepherd Sculpture Remembers Our Beginning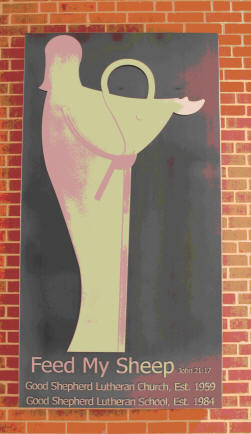 This beautiful stainless steel sculpture of the Good Shepherd has been added to the hallway near the School Cafeteria. This was the entryway to the previous sanctuary. The sculpture was made possible by donations given in memory of Vernon Gaskill and Robert Marks by their families in celebration of the 25th and 50th Anniversary of Good Shepherd Lutheran Church and School.
European Travel with Christian Friends
How can you travel for 16 days & only unpack three times? A river cruise with an extension! Travel through Hungary, Slovakia, Austria & Germany on a 10 day river cruise seeing sights like the largest pipe organ in the world, Mozart's birth place, the capitol of Slovakia, the site of the Sound of Music, & cruise the Danube Gorge. Then take a four day extension to Munich & Oberammergau for the world famous Passion Play. The
package includes airfare & excursions so you don't have to worry about the fluctuation of the Euro. Join Pastor Gary & Kathy Byers of Zion Lutheran Church, Belleville for an incredible trip. For more information & a brochure, email KMBPastels@AOL.com or call 920-8827.