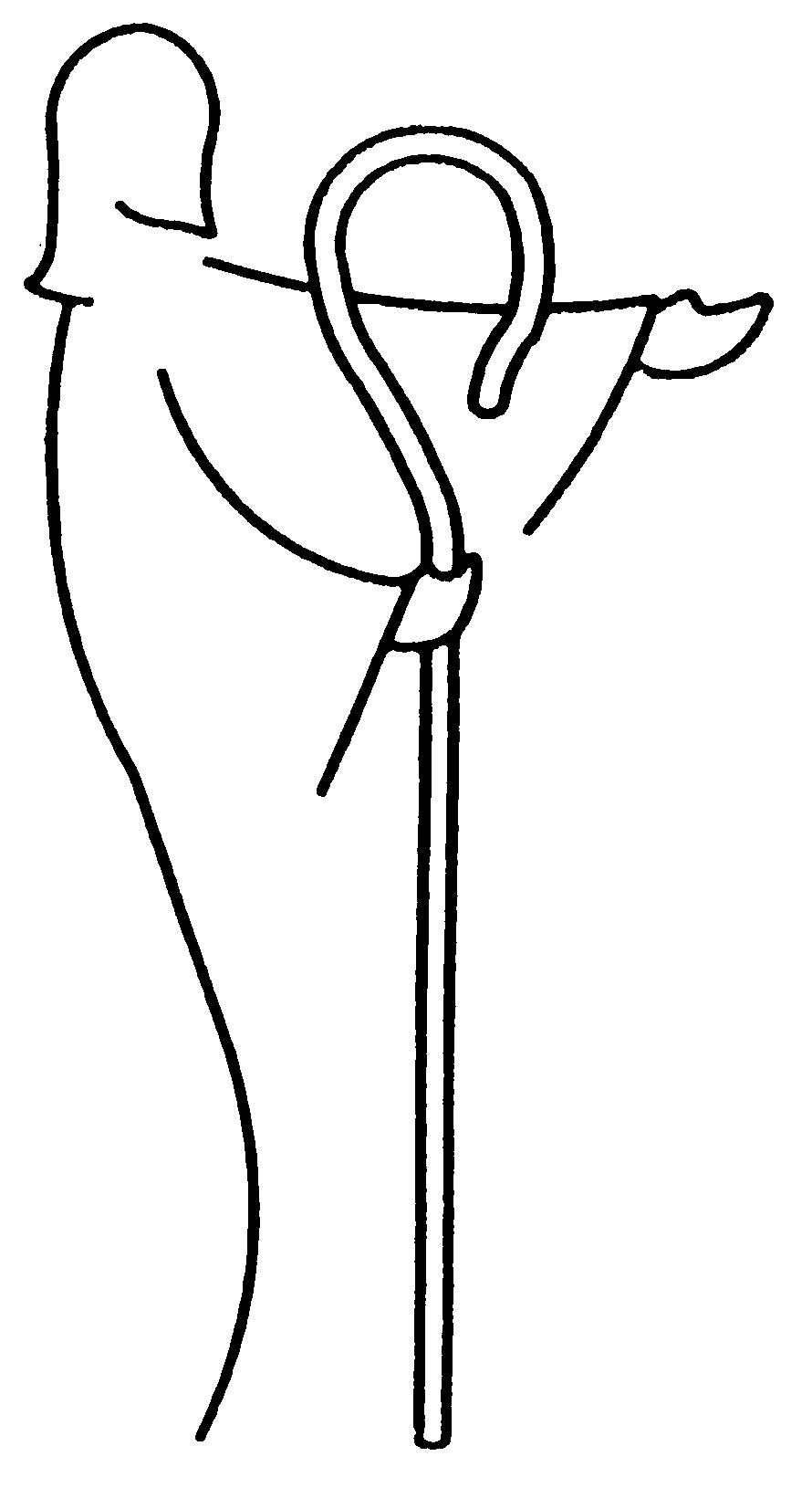 Love in Action
Good Shepherd Lutheran Church
1300 Belt Line Road Collinsville Illinois 62234
618-344-3151 (Church) 618-344-3153 (School) 618-344-3378 (Fax)
Pastors M. Walther Vol. 30 No. 9 September 2007
---
Thank You!
I would like to take this opportunity to say "thank you", from Karen and myself (and Matthew, of course!) to all of you who made my Installation and our return to Good Shepherd so wonderful. We were absolutely overwhelmed at the outpouring of warmth and generosity displayed by all of you and we feel truly blessed to be here! I would especially like to thank Pastor Walther, Marty Hoffman and the staff here for their help in getting me situated again; Eric Hipple and the choir for their excellent singing; instrumentalists for adding so much to the Installation service; Jenell Wright for playing the viola, it is always a treat to hear someone so talented; to the Congregational Life Board who put together the wonderful reception afterwards; to the pastors who were there to lay on hands and encourage me with Scripture; President Mueller for presiding over the Rite; Chris Loemker for his beautiful organ playing; and thanks to all of you who were so kind in welcoming us back to the area. I am sure I have forgotten someone and I sincerely apologize for that, please forgive me! I can honestly say that the Installation service was one of the highlights of my life. It was also a very emotional time for me as it was a stark reminder of how much our gracious and loving God has done in the life of this poor, miserable sinner to bring me back, undeserving, into His Kingdom.
I am so honored and excited about serving you here at Good Shepherd. I think it is a privilege for me to be here and I look forward to working together with you to spread the Gospel to the area that God has placed us in. May God guide and bless us as we do His work. Blessings and peace. Pastor Hemenway
New Teachers Installed
Good Shepherd Lutheran School welcomed four new teachers on Sunday, August 26th. We pray for their faithful service as the new school year begins.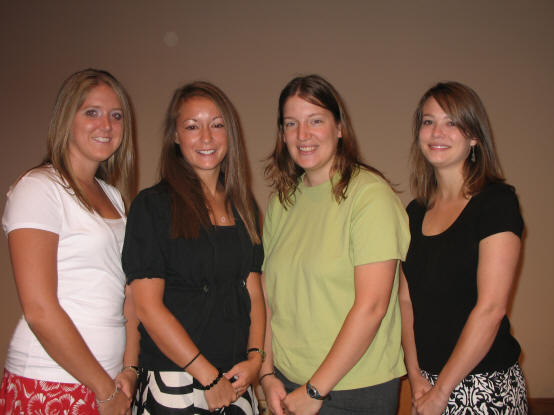 (Left to Right) Lori Hohenstein (Kindergarten), Kristin Prange (4th), Susan Braunsroth (6th), Jill Goldammer (2nd)
New Adult Confirmation Classes
On Wednesday, September 12th, we'll begin our next Adult Confirmation Class. "Confirmation" means "to affirm with…" and in this class our goal is to help new Christians understand what we believe and teach. If they wish, they can become members of Good Shepherd at the conclusion of the ten week class. However, there is no obligation to join the church if you only want to come to learn more about the Lutheran faith. The classes run from 7:00 to 8:30 p.m. We have free babysitting (call ahead).
Home Bible Studies
"How Do You Start a Fire with Water?"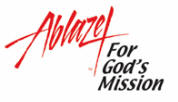 The Board of Christian Outreach will again sponsor a new series of monthly home Bible studies. Beginning with our own baptism, this study will help to ignite a burning desire to share your faith with others. The classes are forming now through September and will begin in October. Registration forms are available in the Narthex. Please pick the times that work the best for you. We will do our best to get you in a compatible group.

Upcoming Adult Bible Classes!

Sunday morning Adult Bible classes offer all members one of the best opportunities for spiritual growth. This fall we have a great menu to choose from:

September 9 to October 14

"Financial Peace" with Tim & Pam Meister

(School Library)

"The Secret" with Pastor Hemenway

(Lower Level)

"Denominational Differences" with Pastor Walther

(School Cafeteria)

October 21 to November 4

"Martin Luther - Movie and Discussion"

(Lower Level)

Financial Peace – This is an excellent class for everyone who would like to find God's help for the financial rat-race. Jesus talks about money more than anyone in the Bible. It pays to listen!

The Secret – Another popular book hits the stores. Is it true that if I just think positively about the things I want that they will come to me? Find out what the Bible says.

Denominational Differences – When I visit another church, I see some things that are good, but I wonder about other things? Why are there differences? Which differences are important? Why?

Church Library

The following are just a few books and videos found in our church library to help in your understanding of creation and evolution.

Videos - The Basic Creation Series, Creation Seminar, Dinosaurs, Genesis and the Gospel, Back to Genesis

Books - The Revised and Expanded Answers book by Ken Ham & others, In Search of the Genesis World

Lutheran Women in Mission

Thursday, September 6th –Ladies, plan ahead to join us for our regular monthly meeting beginning at 6:45 p.m. in the Fellowship Hall. We'll be doing hands on mission work for a variety of our ongoing projects.

Items needed for our projects-

blankets, sleepers, onesies, sweaters, sweatshirts, soap, diaper pins, wash cloths, and cloth diapers
For dress kits

3 yards of cotton material, packets of needles, buttons, thread
For crosses

front of old greeting cards appropriate to cut crosses from
Work supplies to do projects

Scissors, staplers, markers

Looking ahead
It's time to start gathering your unwanted sweaters for Lutheran World Relief. Please keep this in mind when you start your fall cleaning
September 5th -Planning meeting for the 2008 SID LWML District Convention
September 22nd Fall Zone Prayer Breakfast at St. Paul, Troy. Helen Mayer will speak on the Bethesda Home and Services. Bring a light, neutral colored bath towel at least 28"x 44" and matching color bias tape to assemble clothing protectors for Bethesda.
October 19-20th – Fall Retreat at Lake Williamson in Carlinville. Find more info. at www.sidlwml.org
Congregational Life
Blood Pressure Screening – 9/1 & 9/2 after services.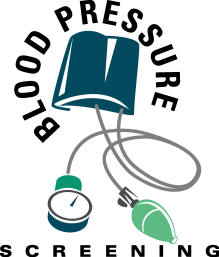 Braille Workers – 9/13 from 1 to 3 p.m.
Meals-on-Wheels – Serve the Lord and your neighbor by helping to deliver Meals-on-Wheels to those in need. Good Shepherd is responsible for delivering meals for one week in March, June, September, and December each year. We need volunteers to help with the delivery of those meals. You can serve as a regular or on an occasional basis. Please add your contact information to the sign up sheet in the narthex or notify Kathy Hanke @ 692-1912 or kathhanke@charter.net if you can help.
We also need someone to serve as Team Captain of the Good Shepherd Meals-on-Wheels service team. As Team Captain you would call four times per year to arrange for volunteers to deliver Meals-on-Wheels for one week in December, March, June, and September. You would be provided with a list of names and phone numbers of those who regularly volunteer for this and those who are willing to help occasionally. This is an opportunity to provide a great service to the church and those in need from the comfort of your easy chair and on your own phone. If this appeals to you, please contact Kathy Hanke @ 692-1912 or kathhanke@charter.net .
Pastor Erik Loza's Address
If you would like to stay in touch with Pastor Loza and family, their new address is: 6941 Hazeltine Avenue, Van Nuys, California 91405.
Lunch Bunch
We will meet at the church parking lot at 11:00 a.m. on September 18 to go to Roemer Topf in Mascoutah. Call Mary Preuss at 288-9525 or Wilma Mitchell at 345-7123 to make a reservation.
Mission Guild – Holy Cross, Collinsville
Mission Guild for Lutheran Women will meet Monday, September 10, 9:30 a.m. at Holy Cross. Speakers will be Eunice Weber and Diana Karlen, telling us about Southern Africa Mission Task Force. All ladies are invited.
Hemenway Baby Shower
There will be a baby shower for the Hemenway's on Sunday, September 9th at 2:00 p.m. in the Fellowship Hall. They are expecting their first child, a son, in mid-October. All members of the church are invited. (They are registered at Babies "R Us and at J.C. Penney's.)
The British Authors Tour
All are cordially invited to tour England & Scotland, to see 2 of the countries which gave us British authors, tentative dates are July 7th – 15th. Current Juniors, Seniors & graduates of MELHS may travel at a student rate if you have not reached your 25th birthday prior to the day of departure. Parents are welcome but travel at an adult rate. Cost $2,351 per student and $2,651 per adult. For further information, call Hope Theisen-Claxton at 254-0439 or email her at hope.tc@melhs.org. Posted.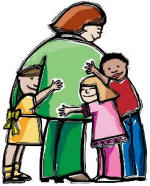 Sunday School
September starts a new Sunday School year—a chance for all ages to be involved in the continual study of God's Word. We thank God for the dedicated men and women who have answered the call to diligently teach the truths found in God's Word each Sunday morning. We pray that their time of preparation and service would also be a blessing for them in their lives.
If you are uncertain where to go for your Sunday School class, stop by the Sunday School office or look at the map on the Sunday School bulletin board. If all else fails, ask someone! This fall we look forward to hearing stories from the books of Genesis and Exodus and seeing how the truths we hear in the familiar stories of Jacob and Joseph and Moses can be applied to our lives today.
Lutheran Blind Mission

Dear Friends at Good Shepherd Lutheran Church – VBS Thank you for the gift of $145.50 to Lutheran Blind Mission through the Vacation Bible School mission project. The theme of this year's VBS was "Coming Out of Darkness." Everyone was on a journey to find the truth, an adventure journey full of excitement & fun. Yours in Christ, Pastor Dave Andrus, executive director.
Wednesday Woman
All ladies are invited to join Wednesday Women for brunch on September 5th at 8:45 in the lower level. At our brunch we will share good food, good conversation, God's Word, and more information about our Wednesday morning Bible study. Please come and bring a friend. Talk to Carol (344-3151) if you have any questions.
Official Acts
Baptisms (Children): Ryan Gene Sine, Madelyne Isabel Zika
Received Through Transfer: Rhonda, Jennifer & Adrienne Langefeld from Blessed Savior, O'Fallon, IL; Jason & Jennifer Batty from St. Peter, Schaumburg, IL; Polly Peters from St. Peter, Joliet, IL
Marriages: Alec Ian Lawlor and Ashley Christine Jones; Gregory James Prauner and Elizabeth Anne Rincker; Kevin Alan Nelson and Michelle Denise Hanke
Funeral: George W. Baer
Souls: 1,674 Comm.: 1351
Adult Choir
The Lutheran church is often referred to as "the singing church." Music is a key ingredient to our worship services whether it's provided by the organist, instrumentalists, or vocalists. The Good Shepherd Adult Choir is looking for former and new members to join the ranks as we begin our fall rehearsals on August 29. The purpose for the Adult Choir is to assist in worship by providing meaningful vocal anthems to enhance our worship. If you feel that you would like to help in this goal, please join us! All rehearsals are on Wednesday evenings from 7:00 - 8:15. If you have any questions or concerns, please feel free to call Eric Hipple at 345-6293.
"Thank the Lord and sing His praise; tell everyone what He has done. Let all who seek the Lord rejoice and proudly bear His name!" LSB Divine Service One
Southern Illinois District Junior High Youth Retreat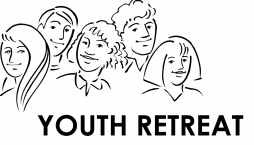 October 6th – 8th the Southern Illinois District will be holding their junior high youth retreat at Camp Wartburg. The theme for this years retreat is God's Body Builders, focusing on 1 Corinthians 12:27, "Now you are the body of Christ, and each one of you is a part of it." This is a great chance for the youth to get together with other youth groups from our district. All 6th, 7th and 8th graders are encouraged to attend. The registration deadline is September 24 and the cost is $50 per person. We also will need chaperones for this event. If you are interested please contact Vicar Yearyean (through the church office or pyearyean@goodshepherdcollinsville.org) for more information.
Ask the Pastor
Does the Lutheran Church Condone Homosexual Behavior?
On August 12, 2007 the Associate Press ran a story with the headline: Lutheran Assembly urges Bishops: Keep gay clergy. The story that followed was about The Evangelical Lutheran Church in America and its decision not to remove openly gay clergy from the ministry.
The Lutheran Church-Missouri Synod is not in fellowship with the ELCA because of our strong doctrinal disagreements. Our differences regarding homosexual behavior is just one of many examples. President Gerald Kieschnick responded to this in the following press release:
TO: The Lutheran Church—Missouri Synod


FROM: Dr. Gerald B. Kieschnick, President
SUBJECT: Statement regarding 2007 ELCA Churchwide Assembly Action
DATE: August 13, 2007
Dear Brothers and Sisters in Christ:
Greetings in the Name of Jesus Christ, Savior of the world and Lord of the universe, through whom alone we receive forgiveness of sin, life, and salvation!
On the final day of its 2007 Churchwide Assembly in Chicago (Saturday, August 11), the Evangelical Lutheran Church in America (ELCA) adopted a resolution which "prays, urges, and encourages [ELCA geographical] synods, synodical bishops, and the presiding bishop to refrain from or demonstrate restraint in disciplining those rostered leaders in a mutual, chaste, and faithful committed same-gender relationship who have been called and rostered in this church."
News of this action troubles me greatly and is causing serious concern and consternation among the members and leaders of The Lutheran Church—Missouri Synod (LCMS). We in the LCMS hold firmly to the conviction that, according to the Holy Bible, homosexual behavior is "intrinsically sinful." We are deeply disappointed that the ELCA, by its decision, has failed to act in keeping with the historic and universal understanding of the Christian church regarding what Holy Scripture teaches about homosexual behavior as contrary to God's will and about the biblical qualifications for holding the pastoral office.
The LCMS firmly believes that the sin of homosexual behavior, like every sin that fallen human beings commit, has been paid for in full by the life, suffering, death and resurrection of our Lord and Savior, Jesus Christ. The LCMS also believes that we must continue to reach out in love to all people on the basis of what God's Word alone teaches about human sinfulness, God's grace in Christ, and the new life empowered by God's Holy Spirit.
It should be noted that the ELCA voted not to amend at this time its governing documents regarding the expectations of its ordained workers in this area (this matter was referred to its task force on sexuality). However, its decision "to refrain from or demonstrate restraint in disciplining" ELCA workers in "a mutual, chaste, and faithful committed same-gender relationship" raises troubling questions about whether the expectations set forth in its governing documents will be taken seriously by the ELCA or by the task force. The potential implications of decisions such as this for future LCMS-ELCA relations have been discussed in previous meetings involving leaders of the LCMS and the ELCA. In addition, I stated in my official greetings to the 2007 ELCA Assembly on Friday, August 10, "For the sake of our mutual witness and service together, the implications of such action, should it be taken, would need to be addressed, fraternally and evangelically."
As the LCMS noted in a resolution adopted at its 2001 Convention (Resolution 3-21A), "we of the LCMS recognize that many of our brothers and sisters of the ELCA remain faithful to the Gospel of our Lord Jesus Christ and we resolve to reach out to them in love and support." As President of the LCMS, it is my ongoing hope and fervent prayer—as stated in my remarks to the 2003 ELCA Assembly—that the ELCA's continuing "study and deliberation of this matter will be made in the light of the biblical understanding of human sexuality and the qualifications for the pastoral office." I also pray that God the Holy Spirit will lead and guide all Christians and Christian denominations everywhere to seek wisdom and truth from God's inspired, inerrant, infallible Word on this and other critical issues in our contemporary church and culture.
Dr. Gerald B. Kieschnick, President
The Lutheran Church - Missouri Synod
Financial Planning


Financial Management Series

An important part of formulating plans and goals is to determine our current financial condition. A way to take inventory of our financial status is through a net worth statement. When we make a net worth calculation, it clearly shows our assets and liabilities. Our net worth is the dollar value remaining when liabilities are subtracted from total assets. Of course we want a positive balance because a negative net worth reflects pending financial crisis. As the old saying goes, "People don't plan to fail, they fail to plan." Unfortunately, many people don't face up to their future needs and goals. Education for the kids? A new house? Retirement? Travel? An emergency? A goal is a measurable statement toward which we believe God wants to move us. A goal is a motivator to help keep us from being sidetracked. Goals are attainable and include deadlines (dates). It is important to take responsibility and set goals in writing in order to help us stay focused. We need more than an attitude of "Wouldn't it be nice if ..." or "I'd love to have..." With realistic financial goals we can measure progress. The following examples of goals show cost and time frame.
1. Buy a new lawn mower in eight months at a cost of $395.

2. Pay off credit-card debt of $1,900 by the end of the year.
A chart like this may help identify and achieve our goals:
| | | | | |
| --- | --- | --- | --- | --- |
| Goal | Total Cost | Target Date | # of Months | Monthly Saving Needed |
| Piano | | | | |
| Car | | | | |
Realistic goals:
• Establish a framework for financial stability.

• Help us use our incomes to their best advantage.

• Help us accept the reality of our particular situation.

• Make us initiators rather than responders.

• Increase the probability of reaching our goals.
In setting goals we start by asking, "What is God's plan for me?"; and "What is important to me?" "'For I know the plans I have for you,' declares the Lord, 'plans to prosper you and not to harm you, plans to give you hope and a future'" (Jer. 29:11). Failure to plan costs. Without careful planning we pay higher taxes or don't have money for education or retirement. Failure to plan leaves us unprotected from automobile, home or work-related accidents. Most important, a lack of planning represents the possibility of our inability to reach our God-given goals and potential. We don't set goals because we don't:
• Know what we want.

• Believe goal-setting works.

• Know how to set goals.

• Want to be held accountable.

• Possess enough money.
By setting goals we avoid waking up one day to find we have to borrow to meet goals like education or equity for a home. Of course, goals keep changing and need to be checked every year.
Articles in This Series
Introduction: Personal Money Management Series (July)
1. Our Attitude Toward Money (August)
2. Financial Planning (September)
3. The Importance of Giving (October)
4. Controlling Debt (November)
5. Developing a Budget (December)
6. Investing (January)
What Christian's Receive by Faith
Dear friends, through faith a Christian receives not only the holy desire to bring souls to Christ, he receives this task as a sacred duty. No one should say, "I am not a pastor, a teacher, or a preacher; let them teach, instruct, comfort, and lead souls to Christ. I wish to remain in my own vocation." No, Christian, you are baptized, and through Holy Baptism you have already been called and anointed to be a priest of God. C.F.W. Walther in the sermon, "Bringing Souls to Christ: Every Christian's Desire and Duty," 1842 – How to Light a Fire with Water (Home Bible Study Series)
Collinsville Area Ministerial Association
The Collinsville Area Ministerial Association will be meeting at Good Shepherd on Tuesday, September 4th at 12:00 noon. The pastors in the area meet for lunch and to discuss community projects that we can work on together. CAMA maintains the Collinsville Food Pantry overseen by Rev. Mike Watkins. Current items of discussion include the potential for more chaplaincy work at Anderson Hospital.
Scholarship Disbursements
The Good Shepherd Scholarship Committee has distributed approximately $32,000 in financial aid for the upcoming school year. Although the cost of Christian education is challenging, the scholarship program helps to make Christian education possible for all our families.