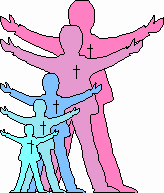 Love in Action

Good Shepherd Lutheran Church

1300 Belt Line Road Collinsville Illinois 62234

618-344-3151 (Church) 618-344-3153 (School) 618-344-3378 (Fax)
Pastors M. Walther & P. Hoft Vol. 27 No.

9 September 2004
---
What is the Gospel?
The heart and center of our Christian faith is the Gospel. The Gospel is what gives us true joy, peace, and a confident hope for the future. It is our greatest treasure - the most precious thing we could ever attain in this life. So, what exactly is the Gospel?
The Gospel is the Good News that all of your sins and mine are forgiven by God because of His Son, Jesus Christ. This is not just some good news that you might read in the local newspaper. It is the Good News! It is the message that matters the most to our world.
Our world has a lot of problems today. Disease, war, poverty, divorce, and terrorism are just a few that quickly come to mind. But every person's greatest burden is sin. The Bible says that all people are born into sin. All people are sinful, both outwardly and inwardly. The ultimate consequence of this sin is death. All of us truly deserve God's wrath and eternal punishment. And so, our greatest need is not better health, better security, or a better spouse. Our greatest need is a solution to our sin. Thus, we need the Gospel - desperately!
The devil would love for us to forget about this Good News. He would want us to try to fix our problems on our own. But this is impossible. The Gospel is our only solution. God has not abandoned us. Sin and death will not have the last word. God, the Father, promised a Savior who would live a perfect life and be a perfect sacrifice for our sin by dying on the cross and rising from the grave. Jesus freely did this for you and me. It's a free gift. And even better: This Gospel gift of forgiveness, life, and salvation is also delivered to you personally free of charge! The Holy Spirit delivers it to you in the preaching of His Word, in Holy Baptism, in the Lord's body and blood, and in the word of Absolution. This is the Gospel.
In response to this Good News we cannot help but say "Amen." By faith, we thank the Lord for His surpassing grace. This is expressed in our prayers, our praise, our lives, and our witness to the Gospel. – Pastor Hoft
Two New Teachers Installed
August 22, 2004
Emily Marie Pritchard and Kimberly Stark were installed as new third grade teachers this year. Emily is originally from Stover, Missouri. She is a graduate of Concordia University in River Forest, Illinois. She has been teaching for 15 years. Kimberly is from Houston, Texas and is a graduate of Concordia University in Seward, Nebraska. She has been teaching for six years.
The Adult Choir
Wanted: People (male and female) who love to sing. The Adult Choir needs you! The first rehearsal for the 2004-05 season will be Wednesday, September 8, from 7:00 to 8:15 in the church balcony. High School students, College students, Single Adults, Senior Adults, and all Adults in between are invited to join. For more information, please call Melissa Francis at 667-3122.
Adult Inquiry Classes Begin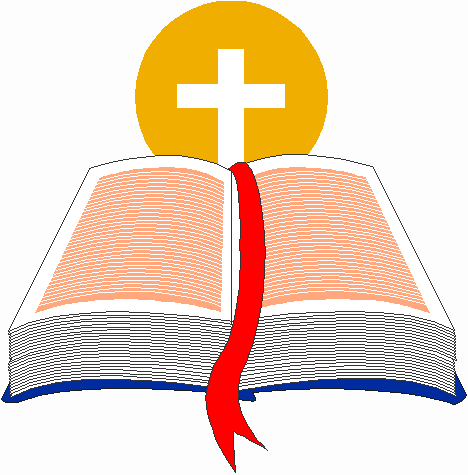 This Wednesday session will meet from 7:00 to 8:30 p.m. beginning September 15th. We will also offer the same class on Saturdays at 9:00 a.m. The class presents the basic teachings of the Christian Church in a lively manner. Opportunity for questions is provided in class as well as outside of class. No one is called upon to read or respond. Members are also invited to attend in order to review foundational doctrines. Please consider inviting a friend or neighbor to attend. Babysitting is provided.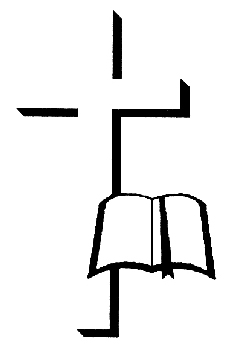 Through the Bible in 2004
Use this little reading guide to take you through the Scriptures in one year. We have an excellent study Bible on hand for $30. The new pew Bibles are available for $7.00. Just call the Church Office to order (344-315)
September Scripture Readings

Sunday Readings

1

1Chr 29:10-13

Job 31-33

September 5
Pentecost 14
Psalm 117
Isaiah 66.18-23
Hebrews 12.18-24
Luke 13.22-3

September 12
Pentecost 15
Psalm 119.161-168
Proverbs 25.6-7
Hebrews 13.1-8
Luke 14.1-14

September 19
Pentecost 16
Psalm 119.169-176
Proverbs 9.8-12
Philippians 1.2-21
Luke 14.25-33

September 26
Pentecost 17
Psalm 51.1-17
Exodus 32.7-14
1 Timothy 1.12-17
Luke 15.1-10

V V V

2

Psalm 86

Job 34-36

3

Psalm 87

Job 37-39

4

Psalm 88

Job 40-42

5

Psalm 89

Proverbs 1-3

6

Psalm 90

Proverbs 4-7

7

Psalm 91

Proverbs 8-10

8

Psalm 92

Proverbs 11-13

9

Psalm 93

Proverbs 14-16

10

Psalm 94

Proverbs 17-19

11

Psalm 95

Proverbs 20-22

12

Psalm 96

Proverbs 23-25

13

Psalm 97

Proverbs 26-28

14

Psalm 98

Proverbs 29-31

15

Psalm 99

Ecclesiastes 1-3

16

Psalm 100

Ecclesiastes 4-6

17

Psalm 101

Ecclesiastes 7-9

18

Psalm 102

Ecclesiastes 10-12

19

Psalm 103

Song of Solomon 1-4

20

Psalm 104

Song of Solomon 5-8

21

Psalm 105

Jeremiah 1-3

22

Psalm 106

Jeremiah 4-6

23

Psalm 107

Jeremiah 7-9

24

Psalm 108

Jeremiah 10-12

25

Psalm 109

Jeremiah 13-15

26

Psalm 110

Jeremiah 16-18

27

Psalm 111

Jeremiah 19-22

28

Psalm 112

Jeremiah 23-25

29

Psalm 113

Jeremiah 26-28

30

1Chr 29:10-13

Jeremiah 29-31
Thrivent Financial for Lutherans Picnic
The South Madison County Chapter of Thrivent Financial for Lutherans will host a picnic at Tri-Township Park in Troy, IL on Sunday, Sept. 19 from 2-6 p.m. There will be plenty of food, drinks and door prizes. Everyone is welcome to attend. Please RSVP to Shirley Wentzel (344-8205) by Sunday, Sept. 12.
Women's Day of Renewal Kickoff Fall Bazaar
Mark your calendars now for Oct. 23. The Women's Day of Renewal Committee will provide you the opportunity of doing some early Christmas shopping (even if it is for yourself) while you enjoy visiting over a cup of tea or coffee. The basement will be filled with various vendors (such as Pampered Chef, Homemade Gourmet, Premier Jewelry, Holy Bears, etc.) from 8:30 -11:30 a.m. You will also have the opportunity to register for the Women's Day of Renewal 2005.
Mission Guild September 13
Holy Cross Lutheran Church
Mission guild for Lutheran Women will meet at noon, September 13, at Holy Cross Lutheran Church in Collinsville. Following the luncheon, Vicar Eric Loza from Holy Cross will share with us his ministry with Spanish speaking people in the Fairmont City area. Both men and women are invited to attend.
Book Cover Thanks
A special "thank you" to the following ladies for sewing book covers for our Good Shepherd school children. Our thanks to: Kay Jones, Doris Wolf, Judy Pries, Radeen Werner, Ruth Rankin, Barbara Burstadt, Delores Wesemann, Brenda Schoenbeck, Jean Etter, Marilyn Preston, Kathy Bohnet and Leona Engeling.
On school registration day, August 11, we sold over 680 book covers at $1.50 each with sales totaling over $1,000.00 Covers will be sold again, August 25-27. Covers are also available from the quilters on Thursdays throughout the school year. The money received from sales will go towards the purchase of the gymnasium bleachers. – Chrm. Shirley Wentzel
Magazine Sales
Please RENEW your magazines through Good Shepherd Lutheran School so we can receive 40% of the sale amount. Out of 196,000 existing magazine subscriptions in Madison County, only 17,000 are being renewed through a school. Please tell your family and friends that their renewal will simply pick up where the subscription leaves off. Our Magazine Sale begins August 27. Thank you for your support! Please call the school office for more information - 344-3153.
Eye Glasses Cards/Sweaters/Soap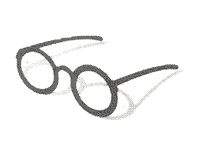 We Continue to save eye glasses which are given to Lutheran Hour Ministries for distribution overseas. Greeting cards are given to Prison Ministry. These items may be placed in the red wagon in the connecting walkway.
In mid-September you may also bring sweaters/sweatshirts which are distributed through Lutheran World Relief's "Bundles of Love – a Boxcar Full." A box will be in the walkway to receive them. We also collect new bar soap for LWR.
New Sunday Morning Bible Classes
Jesus, the Good Shepherd, devoted most of ministry efforts to teaching. At Good Shepherd Lutheran Church you have the opportunity to learn God's word and grow in Christian faith in different ways. Three new Bible studies will begin on Sunday, September 12.
Our Life in Christ – This class will be taught by Vicar Furgeson in the Conference Room. The class is based on the Sunday School lesson for that Sunday. Special emphasis will be given to help those who are not as familiar with the Bible as they would like to be.
Jeremiah – This class will be taught by Jim Francis in the School Library. This will be an indepth study of the longest book of the Bible. Learn about the ancient near east in Jeremiah's day, key themes such as repentance, and covenant, the imagery of the bride, and the poetic structure of the book.
Christian Worship – Pastor Hoft will teach this class that will focus on the important aspects of worship such as hymnody and liturgy. This class will meet in the School Cafeteria.
The Little Blue Catechism – Pastor Walther will continue teaching this class as we examine the questions and answers found in the explanation to Martin Luther's Small Catechism. Fall lessons will include a study of the Lord's Prayer and the Sacraments.
Child Care Needed
Child care needed part-time for 22 month old, preferably someone who watches other children. Call Dave or Marci Fish 667-6307.
LWML - Lutheran Women in Mission
Thursday, September 2nd – Our regular monthly business meeting begins at 7:00 p.m. in the Fellowship Hall. Plan to join us for an evening with Karen Shimkus as she talks about "Witnessing for Christ in the Political Arena." All ladies of the church are welcome.
Women's Bible Study – Every 3rd Thursday of the month at 7:00 p.m. in the Fellowship Hall. The Bible Study, "Sticks and Stones", deals with gossip. All women of the church are invited to join together for an hour of fellowship and study in God's Word on September 16th.
The Layette and Dress Kits for Lutheran World Relief will also be assembled on Thursday night September, 16th. Come and enjoy being in God's Word, serving the Lord with gladness and wonderful fellowship!
Just around the corner
Phyllis Wallace will be the Keynote Speaker for the upcoming Southern Illinois District LWML Convention… to be held at the SIU Campus in Edwardsville on September 24-25. The convention theme, "Overflowing With Hope," is based on Romans 15:13. To register, contact Terri Blasingame at 344-0831 or blasingame@charter.net
Hands-on-Mission – A fun evening sharing crafts we do for missions. Come and use your hands to help complete mission projects! No experience necessary! The evening will end with devotions. The event is open to all women of the congregation; no pre-registration is required. Friday, September 24th from 6:00 pm to 8 pm at Trinity Lutheran Church, Edwardsville, IL
Looking Ahead
Be sure to mark your calendar to attend the October 7th monthly meeting; Reverend & Mrs. John P. Lukomski will present "Peter, the Rock."
The Metro Central Zone Prayer Breakfast will be held at Good Shepherd on October 16th.
Lectures on Liturgy and Worship Styles at
Annual Lay Bible Institute in October
This year's Lay Bible Institute is titled "Incense Rising and Screen Descending: How Do We Worship God in the 21st Century?" and is being led by Dr. Kent Burreson, Instructor of Systematic Theology at Concordia Seminary.
The lectures will explore issues in the contemporary landscape of Christian worship including trends in American worship, worship and the Scriptures, personal worship, and corporate worship.
The Lay Bible Institute will take place at Concordia Seminary (October 801 DeMun Avenue, St. Louis, MO 63105) in Sieck Hall, Room 201,Wednesday evenings in October, from 7-9pm
To register for the Lay Bible Institute, please call Debbie at (314)505-7123 between 8:00 a.m. and 4:30 p.m., Monday through Friday or email to ce@csl.edu. The cost is $25 per person and includes all handouts and refreshments.
Official Acts
Baptisms (Children): Olivia Elaine Szedlar, 8/7
Received Through Transfer: John & Emily Pritchard from Trinity, Jefferson City, MO
Marriage: Michael John Kober and Susan Elizabeth White
Funeral: Richard Lee Kienle
Souls: 1,594 Comm.: 1,280
Wednesday Woman Brunch
All women are encouraged to join Wednesday Woman for our fall brunch on September 8 at 8:45 a.m. Babysitting will be provided. Invite your friends and neighbors to join us each Wednesday as we study God's Word. Call Carolyn Ashcraft (345-4260) or Carol Walther (346-1786) for more information.
Grief Support Group
If you have recently suffered the loss of a loved one, we invite you to join us for our Grief Support Group Sessions. We will be conducting six session starting Tuesday, October 5, 2004. The sessions will be facilitated by Jean Werth. Each session will address specific issues of grief and also reflect upon God's promises of comfort. The sessions will begin at 6:30 p.m. and end at 8:00 p.m. in the Conference Room. If you have any questions, please call Jean at 618.654.7204.
Good Shepherd Athletic Department
The Booster Basketball Booklet, an annual fund raiser for the Athletic Department, has room for ads until October 1. The rates are full page $80, half page $40, fourth page $25. Businesses, individuals or families may participate. Call Mr. Bob Mayhew at 345-1405 or at school 344-3153.
Garrison Keillor at SIUE
Humorist and storyteller, Garrison Keillor, will be performing at SIUE on Tuesday, September 21, 2004 at 7:30 p.m. Keillor has been the host of NPR's "A Prairie Home Companion" for 30 years. He will open the 2004-2005 Arts & Issues series with his remembrances of his "hometown," Lake Wobegon. If you would like to attend call 650-2626 or visit www.artsandissues.com. Tickets are $16.00. Students are $8.00. A church group will be going with Pastor Hoft.