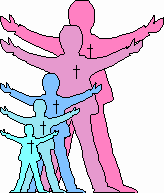 Love in Action
Good Shepherd Lutheran Church
1300 Belt Line Road Collinsville Illinois 62234
618-344-3151 (Church) 618-344-3153 (School) 618-344-3378 (Fax)
Pastors M. Walther & P. Hoft Vol. 26 No. 9 September 2003
---
The Family is Under Attack
The family, Godís most basic of human institutions, is under attack. Actually it has been under the attack of the devil ever since the Garden of Eden. But today it seems that now it is especially under fire. In August one of the largest Christian denominations in America approved of the churchís first openly gay bishop. More and more, the message is being sent in our world that the homosexual lifestyle is merely an alternative to "traditional" marriage. But this is not the only problem we are faced with today. The signal is also being sent that a heterosexual relationship outside of marriage, or before marriage, is perfectly natural. According to the U.S. Census Bureau, 1 million people were in "unmarried-partner households" in 1970. The number rose to 3.2 million in 1990. And in 2000, the figure soared to 11 million. This is an epidemic just as troubling as the same-sex marriage issue.
What are we to think of this? Why are God-pleasing marriages so hard to come by these days? Our culture is moving farther and farther away from Godís Word, which says, "For this reason a man will leave his father and mother and be united to his wife, and the two will become one flesh. So they are no longer two, but one. Therefore what God has joined together, let man not separate. (Mt. 19:5-6)" This is evident in the content of many popular movies, music, magazines, books, television, and web-sites that we are exposed to everyday. Therefore, we need to defend our family life from all of the fiery arrows of the evil one. The world needs to see that the kind of family that God designed from the beginning can indeed flourish and grow. Of course, no family is perfect. Everyone is affected by sin, but God forgives sin and families can forgive one another and move on.
The first step toward a solution is to acknowledge that there is a problem in our day. We must not ignore them and pretend that they do not exist. Secondly, Christian parents need to spend both quality and quantity time with their children. Husbands and wives, too, need to take time out of their busy schedules and simply talk with each other about the problems they face on a regular basis. Thirdly, Christians need to pray for the Lordís blessing on their marriages and families, asking God to forgive them for their sins and failures. Families need to make worship an absolute priority, gathering around Godís Word and Sacrament at church. Family devotions at home are also crucial. Whether it means reading some Scripture, a hymn, or a portion of the Small Catechism, families need to be nurtured in the faith. May God bless and defend our families richly with Christís loving mercy!
New Sunday Morning Adult Bible Study Location
With the completion of the new school addition we will be able to expand our Adult Bible Study program. Beginning Sunday, September 7th, you will be able to attend Bible Study in the Lower Level or in the School Cafeteria (part of the old Sanctuary). In both locations we will be able to sit at tables to lay out our Bibles, study materials, coffee, etc. Pastor Walther will continue the study of Psalms in the School Cafeteria. Pastor Hoft will begin a new study entitled "Armed and Dangerous." This study on the subject of Christian prayer is based on the book by the same title.
Adult Inquiry Classes Begin
This Wednesday session will meet from 7:00 to 8:30 p.m. beginning September 17th. The class presents the basic teachings of the Christian Church in a lively manner. Opportunity for questions is provided in class as well as outside of class. No one is called upon to read or respond. Members are also invited to attend in order to review foundational doctrines. Please consider inviting a friend or neighbor to attend. Babysitting is provided.

Evening Bible Study

Beginning September 17, at 7:00 p.m. Pastor Hoft will be leading a Bible class on St. Paulís Letter to the Colossians. In this letter St. Paul shows the preeminence of Christ when compared to the philosophies of this world.

Wednesday Woman Brunch

September 10th

Wednesday Woman begins another year of Bible Study with a welcoming brunch on September 10th at 9:00 a.m. in the fellowship hall. ALL LADIES of Good Shepherd are encouraged to participate in our Womenís Bible Study and Fellowship. Please come and Bring a friend. Baby-sitting is provided making it a great opportunity for Mothers of Young Children to get acquainted with other Moms. While studying the scriptures, we all learn Godís plan for our lives and share His love. Come grow with us.

Adult Choir

Do you love to sing? Please consider joining the Adult Choir. The first practice will be Wednesday, September 3, from 7:00 to 8:15 p.m. in the church balcony. High School students and any age up are invited to join. For more information, please call Eric Semler at 345-5947.

Improving Our Marriages

1. Both husband and wife must want to stay married, taking their vows seriously, including "until death us do part." Commitment is vital.

2. Accept that things won't always run smoothly and that potholes are a fact of life.

3. Communicate. Truly communicate every day. Talk about events, ideas, reactions, whatever comes to mind.

4. Stay connected to Jesus Christ. Be faithful in worship, Bible study, the Lord's Supper, and the fellowship of your brothers and sisters in Christ. The couple that prays together, indeed stays together.

dcs.lcms.org LCMS Family Ministry Website

Bible Readings for October
September 7
Pentecost 13
Ephesians 5.15-20
John 6.51-58

September 14
Pentecost 14
Joshua 24.1-18
John 6.60-69

September 21
St. Matthew
Ephesians 2.1-10
Matthew 9.9-13

September 28
Pentecost 16
James 1.17-27
Mark 7. 31-37

But one who looks intently at the perfect law, the law of liberty, and abides by it, not having become a forgetful hearer but an effectual doer, this man will be blessed in what he does.
James 1.25
Share Jesus Questions

Here are five simple questions you can use to share your faith in Christ:

1. Do you have any kind of spiritual beliefs?

2. To you, who is Jesus Christ?

3. Do you think there is a heaven or hell?

4. If you died, where would you go? If heaven, why?

5. If what you are believing is not true, would you want to know? From The Lutheran Laymenís League

Good Shepherd Athletic Department

The Booster Basketball Booklet, an annual fund raiser for the Athletic Department, has room for ads until October 1. The rates are full page $80, half page $40, fourth page $25. Businesses, individuals or families may participate. Call Mr. Bob Mayhew at 345-1405 or at school 344-3153.

Lutheran Womenís Missionary League

Women of Good Shepherd,

there are so many wonderful opportunities for Christian fellowship, bible study, and sharing Godís love through mission projects which are coming up in the next few months . . . wonít you please join us?
Sept 4th - "New Member Night" Ė Monthly meeting at 7:00 p.m. in the Fellowship Hall. Although new members are welcomed any time during the year, this is an opportunity for everyone to get better acquainted. Our special speaker for the evening is Mrs. Renee Gibbs, last yearís recipient of the Dr. Paul Spitz Life Award, for her untiring leadership role in the "Pro-Life Movement" through the South County Lutherans for Life organization in St. Louis. She will provide us with abortion facts and figures, information on post abortion syndrome, as well as some of the important issues facing the movement today.

At this meeting there will be an ingathering of baby items for the Crisis Pregnancy Center. Bring anything appropriate for an infant, such as pacifiers, diapers (any size), bottles, baby wipes, crib sheets, blankets, bibs, socks, sleepers, lotions, etc. If you wish you might also want to include something for the mother (lotion, nursing pads, bath gel, etc.)

Sept 19-20-District Fall Retreat, at Camp Wartburg. The theme of the retreat is "Climb Every Mountain" (based on Psalm 121:1-2). Registration is due to Pat Hoffmeier (288-3264) by September 1st.

Oct 2- Bible Study Ė Monthly meeting at 7:00 p.m. in the Fellowship Hall. The bible study will be from the Lutheran Womenís Quarterly. Attendees will be divided into four separate groups, with Pastor Hoft acting as Moderator. At this meeting we will assemble layettes for Lutheran World Mission. Soap, wash cloths and baby sweaters or sweatshirts are needed to complete the layettes.

Oct 5- LWML Sunday Ė This will also be known as Outreach Sunday, when a special effort will be made to invite persons in our community to attend Good Shepherd. If you know of someone you would like to have included, please send the person(s) name and address to Pastor Walther, or call him at 344-3151. Volunteers are needed to help with the invitations and planning for this special Sunday. Please call Terri Blasingame (344-0831) if you wish to help.

Oct 18 - Zone Prayer Breakfast Ė More information on this special event in the next Newsletter.
Godís Stewards
"God's stewards are loved and loving" is the sixth of eight Biblical Stewardship Principles being used in The Lutheran Church--Missouri Synod. This principle proclaims the Gospel truth that God's stewards recognize that their stewardship flows out of God's act of love for them in Christ which empowers them, in turn, to love others in acts of Christ-like love.
St. John said it so simply and clearly when he wrote: "We love because he first loved us." (1 John 4:19) St. Paul added more emphasis on our response to God's love when he wrote: "For Christ's love compels us, because we are convinced that one died for all, and therefore all have died. And he died for all, that those who live should no longer live for themselves but for him who died for them and was raised again." (2 Cor. 5:14-15)
What a challenge for us as God's stewards to respond to his love in such a way that we consider the best interest and welfare of others more highly than our own! Our proper response to Christ's love is to love God above all else and then love our neighbor as we already love ourselves. All our activities motivated by faith and this kind of love are properly Christian stewardship. Such activities include participating in worship and Christian education, giving of time, skills and financial resources for the extension of Christ's kingdom, and giving of ourselves in acts of service to the church, community, workplace and wherever we have the opportunity to "express our faith through love." (Gal. 5:6b)
Official Acts
Baptisms (Adult): Fredrick Donald Edmonds, Catherine Lynn Lange, 7/30
Profession of Faith: Thomas Paul & Mary Jo Fenoglio
Funeral: Ruth Jane Halbe, 7/23
Souls: 1,665 Comm: 1,302
Please Consider Adoption
Periodically we receive letters from people in and outside of Illinois with the following requestÖ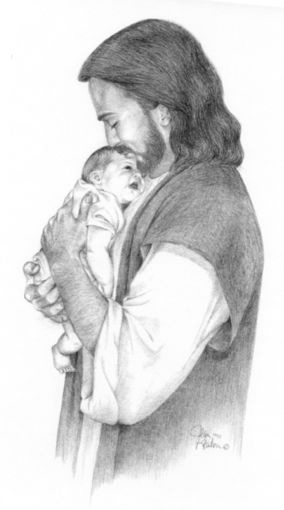 We are a happily married couple of five years. We are both in our thirties. Unfortunately we cannot have children. However we have not given up our hope of becoming parents. We would desperately like to give a child a loving home and a bright future. We are active members in a Lutheran church in (Illinois, Indiana, Iowa, or Missouri).
Adopting a child would be a dream come true for us. Having a child to hold, love, kiss, spoil and most of all to watch grow up is something that we canít live without. Please know that if you choose us to be the parents of your child, your child will be the answer to our prayers and will be loved forever.
These heart-rending letters are becoming all too common. If you know of anyone who is facing a crisis pregnancy, and would consider the possibility of adoption, please call one of the pastors.