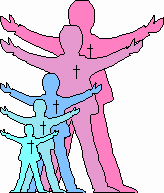 Love in Action
Good Shepherd Lutheran Church
1300 Belt Line Road Collinsville Illinois 62234
618-344-3151 (Church) 618-344-3153 (School) 618-344-3156 (Fax)
Pastors M. Walther & P. Hoft Vol. 25 No. 9 September 2002
---
Labor of Love

Labor Day was first celebrated as a national holiday in 1894. Every first Monday in September since then has paid tribute to all of the American workers who have contributed to the strength, prosperity, and well-being of our country. And, rightly so. At the same time, however, we should not forget the One who works through all human labor- God. For example, God heals us through doctors, nurses, and lab technicians. God feeds us through farmers, bakers, and teenagers flipping burgers at McDonalds. God protects us through police officers and firefighters. God speaks to us through pastors who proclaim Godís Word in church. Martin Luther once said that God Himself milks the cows through the vocation of the milkmaid. We are fond of saying that God works in "mysterious ways," but it is also true that He works in "ordinary ways."

God certainly works through the gifts, skills, and talents of all people, even through unbelievers. But what sets our work apart as Christians in this world is faith in Christ. Because of Jesus, we now understand that all that we do is for the glory of God in service toward our neighbor. There is a meaningful purpose in all that we do summed up in one word- love. This work of love, of course, is not what saves us. Ephesians 2:8-9 says, "For by grace you have been saved through faith. And this is not your own doing; it is the gift of God, not a result of works, so that no one can boast." We can be thankful that our salvation does not depend on what we do, but on the finished work of Christ on the cross. He has done it all for us. This is what gives us our ambition to go to work each day joyfully. St. Paul continues, "For we are His workmanship, created in Christ Jesus for good works, which God prepared beforehand, that we should walk in them (2:10)." If your daily work schedule seems dull, routine, and ordinary, remember that God is working through you! With that in mind, your work can truly be a labor of love.

Wednesday Woman Brunch
September 11 at 8:45 a.m.

All the women of Good Shepherd are invited to come to the Wednesday Woman Brunch to kick off the new year of womenís Bible studies. Please come and learn more about the Wednesday Woman fellowship.

Social Ministry Meeting

The Board of Social Ministry and the Health Cabinet will be meeting on September 23 at 8:00 p.m. Come to find out how we can help others here at Good Shepherd and in our community and at the same time share with them the love of Jesus.

Gathering for College Age Adults

The 2002 Lutheran Student Fellowship (LSF) Gathering "Walking in the Shadow of the Cross" will take place in St. Louis, MO, December 27-31, 2002 at the Crowne Plaza Hotel. The Gathering is open to all college age adults who are looking for a place to grow in faith and share in fellowship. Speakers will include Rev. Todd Wilken, host of Issues, Etc on KFUO, Dr. Paul Maier, Dr. Louis Brighton, and more. Other features include workshops, worship, servant events, and entertainment. Find out more about LSF online

www.lcmscampus.org/lsf. Registration forms are in the church office.

FROG Youth News

Beginning in September, Sr. High Youth (FROG) will meet on the 1st and 3rd, (and 5th if applicable) Sundays of the month at 7 p.m.

Lutheran Women's Missionary League

All women of the church are invited to the next LWML meeting scheduled for Thursday, September 5th at 7:00 PM in the Fellowship Hall. There will be devotions, a special program and a delicious dessert for all to enjoy. Come and bring a friend!

Adult Choir

Do you love to sing? Please consider joining the Adult Choir. The first practice will be Wednesday, September 4, from 7:00 to 8:15 p.m. in the church balcony. High School students to any age are invited to join. For more information, please call Eric Semler at 345-5947.

Adult Inquiry Classes Begin September

This Wednesday session will meet from 7:00 to 8:30 p.m. beginning September 18th. The class presents the basic teachings of the Christian Church in a lively manner. Opportunity for questions is provided in class as well as outside of class. No one is called upon to read or respond. Members are also invited to attend in order to review foundational doctrines. Please consider inviting a friend or neighbor to attend. Babysitting is provided.

Evening Bible Study

Beginning September 18, at 7:00 p.m. Pastor Hoft will be leading a Bible class (LifeLight) on Matthew 14-28. These chapters of the Gospel focus on the death and resurrection of Jesus and His Great Commission. This study was written by Dr. Dale Meyer. Devotional materials for the home will be handed out as part of the instruction.

Sunday School

Sunday School is an important ministry offered here at Good Shepherd. Children from age 2 - grade 8 are nurtured by Godís love through Bible stories, lessons, songs, crafts, and other faith-building activities. Caring Sunday School teachers help the children to remember their baptisms, follow Jesus

our Savior, and treasure a meaningful relationship with Him through prayer. One of the greatest benefits of being a Sunday School teacher is the chance to see children grow spiritually under their care. Teachers are equipped with well-designed, Christ-centered materials, and the support of the Pastor and other teachers.

You are encouraged to attend Rally Day which will be held during the Sunday School hour (9:15-10:15) on August 25th in the church sanctuary. Meet the teachers, our Superintendent, Brad Williams and celebrate the beginning of another year of Christian education.

Special Mission Presentation
August 25th

Join us in the Sanctuary at 9:15 a.m. for a special power point presentation by the Blasingame family. Jeff, Terri, Joshua and Jacob will be sharing with us their experience teaching Vacation Bible School in Canada this summer.

Bible Readings for September
September

New Testament

Old Testament

Luke

Hebrews

Proverbs

Isaiah

1

20.27-40

1.1-9

18

1-2

2

20.41-47

1.10-14

19.1-14

3-5

3

21.1-19

2.1-9

19.15-29

6-8

4

21.20-28

2.10-18

20.1-15

9-10

5

21.29-38

3

20.16-30

11-13

6

22.1-13

4.1-11

21.1-16

14-16

7

22.14-23

4.12-16

21.17-31

17-20

8

22.24-30

5

22.1-16

21-23

9

22.31-38

6.1-12

22.17-29

24-26

10

22.39-46

6.13-20

23.1-18

27-28

11

22.47-53

7.1-10

23.19-35

29-30

12

22.54-62

7.11-28

24.1-22

31-33

13

22.63-71

8.1-6

24.23-24

34-36

14

23.1-12

8.7-13

25.1-14

37-39

15

23.13-25

9.1-10

25.15-28

40-41

16

23.26-31

9.11-28

26.1-16

42-43

17

23.32-37

10.1-18

26.17-28

44-45

18

23.38-43

10.19-39

27.1-14

46-48

19

23.44-49

11.1-16

27.15-27

49-50

20

23.50-56

11.17-31

28.1-14

51-53

21

24.1-12

11.32-40

28.15-28

54-55

22

24.13-27

12.1-13

29.1-14

56-58

23

24.28-35

12.14-29

29.15-27

59-61

24

24.36-44

13.1-18

30

62-64

25

24.45-53

13.19-25

31

65-66
Reformation Celebration
The Board of Congregational Life is sponsoring a Reformation Celebration - "PRAISE GOD THROUGH MUSIC", to be held on Reformation Sunday afternoon, October 27th. There will be performances by Chris Loemker, noted organist, our own Shepherd's Singers and Brass Ensemble. In addition, the congregation will be able to participate in a "hymn sing." Area churches are being invited to join us. You won't want to miss this joyous celebration.
College Student Addresses
As students return to college this fall, we want to encourage them to get involved in college campus ministries. The college experience is a wonderful opportunity to share our Christian faith with others. Often students donít realize how many other Christians there are like them. Campus ministries offer opportunities for worship, Bible study, counseling, and social activities. They can also help students avoid the religious and moral deceptions that always abound on campuses. Please send us the addresses of your students so that we can forward them to the nearest LC-MS ministry. E-mail addresses are also helpful if available.
SOAP and SWEATERS for Lutheran World Relief
The annual Lutheran World Relief "Bundles of Love - A Boxcar Full" ingathering is in mid-October. In addition to layettes and dress kits assembled by LWML ladies at their October meeting and quilts made by the quilting group, we encourage YOU to become involved also. You can do this by placing bars of unused soap (in original wrappers) and sweaters - men/women/children - in the red wagon in the connecting walkway or masked box nearby.
School Book Covers Thank You
A special thank you to the following ladies who sewed school book covers. They are: Kathy Bohnet, Barbara Burstadt, Leona Engeling, Jean Etter, Radeen Hooks, Kay Jones, Dorothy Mirly, Marilyn Musso, Judy Pries, Karen Rust, Brenda Schoenbeck, Delores Wesemann, and Doris Wolf.
On Registration Day we sold 714 covers, and will sell also the first week of school. After that, they may be purchased on Thursday mornings from the quilters.
This year's proceeds have been designated for one of the school's special projects--to be decided at the Sept. LWML meeting. Shirley Wentzel, Chrm.
Easy Ed Macauley at Prayer Breakfast September 10, 2001
Please take the opportunity to join with others in Collinsville for the Collinsville Area Ministerial Association Prayer Breakfast at the Gateway Center, Tuesday, September 10, from 6:30 a.m. to 8:00 a.m. (sharp). The breakfast will feature Easy Ed Macauley, former NBA basketball great. The cost is $8.00. Tickets will be available at Bible Class and after worship services, or call the Church Office at 344-3151.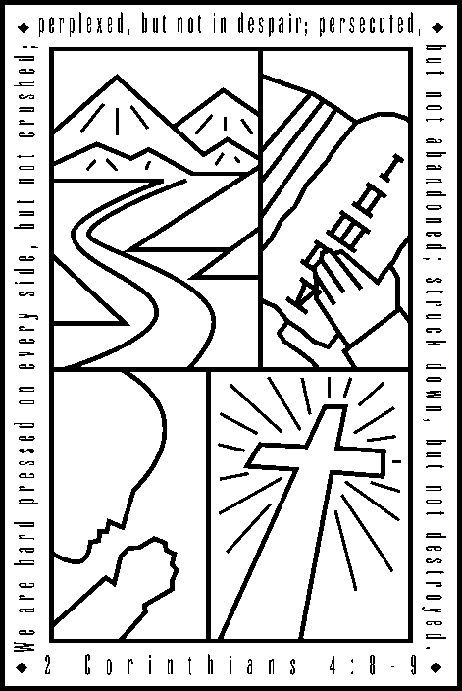 Menís Ministry
Good Shepherd is trying to expand its ministry to men. For a number of years we have had a morning Bible study for men. But we would like to expand these efforts to help many others. We would like to offer once a month meetings with breakfast at which we might be able to address issues particularly important to men. If you are interested in being added to a special mailing list for this menís ministry, please call the Church Office at 344-3151. Please watch the newsletter and bulletin for upcoming announcements.
Mission Guild For Women
A noon luncheon will be hosted by the Holy Cross Lutheran church ladies on Monday, Sept. 9th. All ladies are invited to attend. A program on missions will be followed by a short business meeting.
Good Shepherd Athletic Department
The Booster Basketball Booklet, an annual fund raiser for the Athletic Department, has room for ads until September 15. The rates are full page $80, half page $40, fourth page $25. Businesses, individuals or families may participate. Call Mr. Bob Mayhew at 345-1405 or at school 344-3153.
Official Acts
Baptisms (children): Kyle Bryon Wasser, Avery Marie Wasser, 7/28; John Earl Huster, 8/10.
Received Through Transfer: Peggy Chapman & Mikayla McCarthy; Dorothea Holley; Gretchen Militello from Holy Cross, Collinsville, IL; Jill Settle from Trinity, Bloomington, IL; Lynn, Stephen, Lynsie & Stephanie Wilfong from St. John, Maryville, IL; Damon Vermaux from Chapel of the Cross, St. Louis, MO.
Marriages: Joel Patrick Keller and Tiffany Diane Laux, 8/3; Peter James Plapp and Tanya Marie Betts, 8/10.
Funerals: Shirley Lee King 8/3; James Patrick Thacker, 8/8.
Souls: 1,625 Comm.: 1,265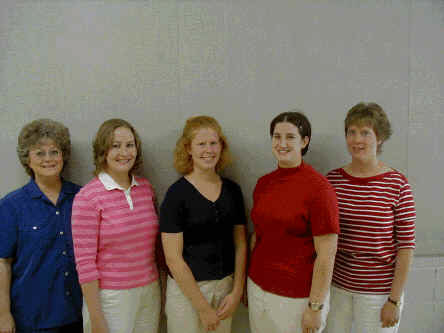 Good Shepherd Lutheran School
Welcomes New Teachers for the
2002-2003 School Year

Left to Right: Ann Rupprecht, Catherine Roth, Kathy Simmons, Rachel Clayton, and Denise Daniels

Ann Rupprecht grew up in Portland, Oregon. She and her husband Bob were teachers at Hong Kong International School and at Trinity Lutheran School in Grand Island, Nebraska. Ann has an MA in education. She also has worked as representative for Aid Association for Lutherans. Currently, her husband is attending Concordia Seminary in St. Louis. She will be teaching third grade.

Catherine Roth hails from Perryville, Missouri. She graduated this past year from Concordia University in Seward, Nebraska. Catherine will be teaching 7th grade homeroom, 7th & 8th grade language arts and will serve as our cheerleading coach.

Kathy Simmons is originally from Morton, Illinois. She graduated this year from Concordia University in River Forest, Illinois. For the past six summers she has worked at Camp CILCA in Springfield. She will be teaching 6th grade, directing the Seraphim Choir, and coaching track.

Rachel Clayton is the sister of GSLC member Becky Hipple. Rachel comes from Concordia, Missouri. She is a recent graduate of Concordia University in River Forest, Illinois. Rachel will be teaching fourth grade.

Denise Daniels has been a member of GSLC for a number of years and has served as one of our organists. She is also currently part of our school staff, teaching fifth grade. Denise is a graduate of SIU-E, however this summer she completed the Lutheran Colloquy Program.

All five will have received divine calls to serve as teachers at Good Shepherd Lutheran School. They will be officially installed in our services the weekend of August 24 and 25. We thank God for answering our prayers and bringing us the servants we need to carry out His mission to make disciples of all nations.

Handbell Choir Is Looking for Ringers!

The Handbell Choir is looking for ringers for the 2002-2003 season. Join us on Sunday evenings at 6:00 p.m. in the balcony to see if ringing is for you. Regular practices will begin September 8th. If you have questions, please call Debbie Wudtke at 346-6842. We are also looking for someone to take over the permanent directorship of the Handbell Choir. Call the church office at 344-3151 if you are interested.

New Beginnings Crisis Pregnancy Centers
Walk for Life September 21st

New Beginnings Pregnancy Centers invite you to participate in the 2002 Walk for Life on Saturday, September 21 from 8 a.m. to 3 p.m. at three convenient locations: Fairview Heights at Longacre Park, Granite City at Wilson Park, and Edwardsville at Edwardsville Township Park. Please call 451-2002 for the office nearest you to pick up your personal sponsor forms or for more information!

Day Care Worker Needed

Daycare worker needed. Hours: 6:00-2:30 P.M. Monday through Friday. Desire to share God's love is highly valued. Applicants must work well with children. For more information, call Eric Semler at 345-5947 or 344-3153.

How Does the Southern Illinois District Spend the Money Your
Congregation Sends In?

Each year Good Shepherd sends approximately 10% of its budget (minus building costs, scholarships, and Metro East Lutheran High School support) to the Southern Illinois District of the Lutheran Church-Missouri Synod. The amount for this year is $48,500. The following article explains how those dollars are spent by the District and the Synod.
v

44% of what the District receives from SID congregations is sent to Synod to be used for Higher Education, Missions, and Synodical offices. For 2002 that is $494,778 out of $1,124,495 in congregational commitments.

v

Another large portion is used within the District Ė the 2002 budget calls for $426,685 for Mission work within the SID (missions, prison and campus ministry Ė work done on behalf of the congregations). A similar amount Ė about $434,621 Ė is earmarked for services that support SID congregations in their work.

v

The 2002 District Budget calls for spending a total of $1,356,084. Of Every Dollar the District spends Ö

ř

$.365 will go to Synod (44% of congregational commitments).

ř

$.315 will go to all District Mission work. Of that, $.115 is for Mission & Congregational Subsidies, etc.; $.115 is for Prison Ministry; $.05 is for Campus Ministry; $.035 is for Mission expansion (Possible Mission Start in Smithton, E. St. Louis Mission School, Exploration of Hispanic Mission, etc.)

Thatís $.68 of every dollar for SID Missions and Synod!
ř

Plus, fund sent to Southern Africa is extra money, over and above this amount! What about all the rest?

How does the District spend the last $.32 to support congregations in their work?
ř $.105 provides for the Presidentís Office (Salaries, Benefits, Auto, Circuit Counselors, PALS, etc.)

ř

$.115 provides for General Office and Support Staff needs (Salaries, Benefits, Auto, Postage, Utilities, Supplies, Accounting Services, Maintenance, Utilities)

ř

$.04 pays the expenses of other Boards and Commissions of the District, including Older Adult Ministry.

ř

$.06 provides various Special Services for congregations (Lutheran Witness, Gift Planning, Lutheran Church Extension Fund, etc. Ė some outside income supports these items)

ř

Since the focus of ministry in SID is on delivering Godís Word and Sacraments through people, primarily called workers, the vast majority of our expenditures supports salaries and benefits.
Where does the money come from?
v

The District has a number of sources of income, but over 90% normally comes from congregational commitments. Much of the "other" income is committed for specific purposes Ė e.g. Lutheran Witness subscriptions go for Lutheran Witness costs.

Congregational Commitments $1,124,495 Total Income (Including fees & interest) $1,356,084
v

Have you noticed something? This budget is balanced by our plans to spend in 2002 the entire surplus accumulated over the last 4 years. Godís people did not give their mission money to sit in the bank. The District Budget is mostly salaries and subsidies that support salaries of church workers. We have no debt, no deficits. However, with the surplus spent, it will be more difficult to balance the 2003 Budget without decreasing our mission somewhere unless congregational giving to District and Synod increases. Thatís why we are laying this before you. How will your congregation help? What will God provide for our mission through all our congregations? Will you take this message to your congregation? Thank you!
Pr. Herb Mueller & Dan Roth On behalf of the Board of Directors