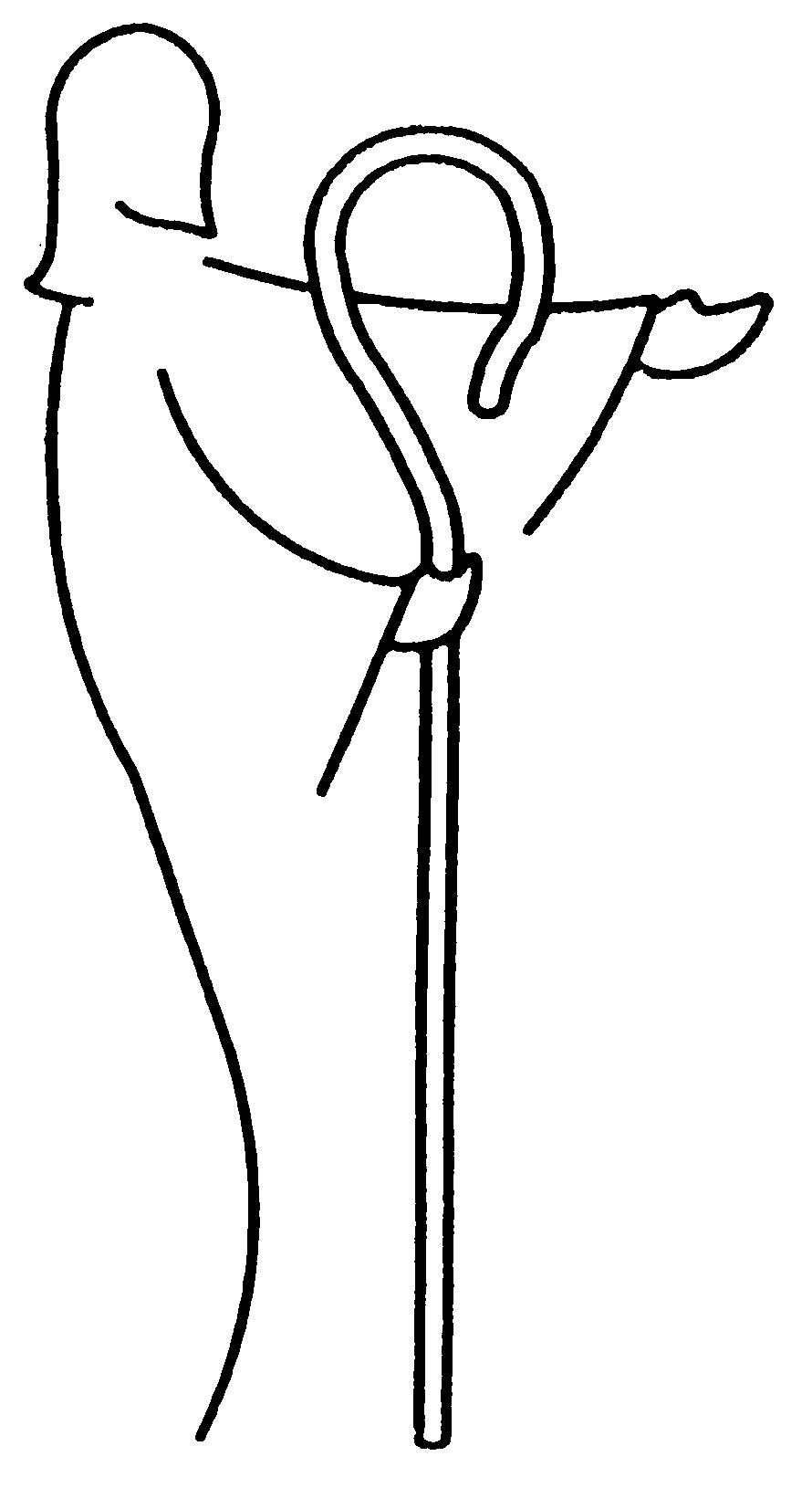 Love in Action
Good Shepherd Lutheran Church
1300 Belt Line Road Collinsville Illinois 62234
618-344-3151 (Church) 618-344-3153 (School) 618-344-3378 (Fax)
Pastors M. Walther Vol. 30 No. 11 November 2007
---
A Lesson From the Queen of Sheba! What can you learn from the Queen of Sheba? She is the first queen mentioned in the Bible where we read that she traveled all the way from southwest Saudia Arabia (modern Oman) to listen to the wisdom of King Solomon (1 Kings 10.1-13). We can only imagine what a journey that must have been like with a camel caravan! In her days (long before the Muslim religion) the people of Sheba were polytheistic – that is, they worshiped many gods – the sun, moon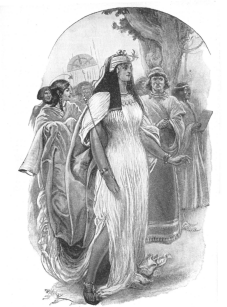 and star gods. But after listening to Solomon, she declared, "Blessed be the Lord your God!"

Jesus also mentions the Queen of Sheba. In Matthew chapter twelve Jesus was confronted by some Scribes and Pharisees who demanded to see some signs. They wouldn't believe Jesus' teaching. They demanded something more. Jesus rebuked them and reminded them that "The queen of the South… came from the ends of the earth to hear the wisdom of Solomon; and indeed something greater than Solomon is here" (Matthew 12.42).

What can we learn from the Queen of Sheba? She looked for the Lord in His word, and she found Him. Jesus commends her for coming from the ends of the earth to listen, and He encourages everyone to come from the ends of the earth to listen to Him – for He is an even greater source of God's word than Solomon was! In fact the Gospel of John tells us that Jesus is the Word (John 1.1).

All people are born with the notion that they don't need God's word. Even those who are born again sometimes forget how much they need God's word. Ask yourself this question: "Would I travel from the ends of the earth to listen to God's word?" We are all susceptible to a "Christianity of convenience" – We'll look to Jesus here and there as we have a few open time slots. We hold God off at arm's length – not too far away in case something bad happens and we really need Him – but not too close because that might challenge us to rearrange our priorities.

Jesus really is worth it – He's worth all the time on our calendars; He's worth all the energy in our bodies; He's worth all the attention of our minds. He has "the words of eternal life" (John 6.68). He gave His divine life for your sinful life. He "became for us wisdom from God – and righteousness and sanctification and redemption" (1 Corinthians 1.30). So why don't we all learn a good lesson from the Queen of Sheba – Pack up the caravan and make the journey to listen to the word of the Lord. Pastor Walther

Luther Movie / Bible Class

Please mark your calendars for Sundays, October 21, 28 and November 4. On those Sundays we will be watching the newest Martin Luther movie and discussing how God used him to bring about important changes in the Christian church – a return to Scripture, grace, and faith. Vicar Paul Yearyean will be the instructor. The movie will be shown in the Lower Level. With a generous gift from Jeff and Donna Baker, we have been able to convert the Lower Level into an excellent media center that will make it very easy to see and hear this movie. Please come and enjoy this special opportunity to get to know more about Martin Luther!

Greeter Program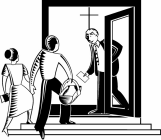 We are looking at starting up a greeter program. If you are interested in being a greeter at any time please contact Vicar Yearyean or a member of the Board of Outreach. We are looking at using a program from Lutheran Hour Ministries called Practicing Hospitality to help train our greeters and form our own greeter program here at Good Shepherd. Look for further information to be coming soon as to when we will be meeting to put this program together. Help us to make Good Shepherd's warmth and friendliness known to our visitors.

News from South Africa


Lee & Pat Hoffmeier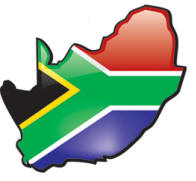 After wondering for a while whether God really wanted us in South Africa (plane delays of 3 hours at Dulles and then when we were within 20 miles of Johannesburg the airport closed for bad weather and we were diverted to Gaborone, Botswana for another 3 hour delay) we have completed the first academic week and can truly say we are happy to be here. We are living about 15 minutes walking distance from the Seminary in a 3-bedroom house on a purple-flowered, tree-lined street about ¼ mile from the seat of government for South Africa. The "Union Building" is magnificent, reputed to be the largest sandstone building in the southern hemisphere. Although living in the good part of town, we are repeatedly reminded that we must be alert to situations that could separate us from our pocketbooks. We have seen no problems, just heard about them. Yesterday we picked up our car (2003 Volvo station wagon) which costs us R1000/month or about $150. We're getting a good deal. In general, living costs appear to be close to what they are at home. A retired German-speaking pastor who is now teaching at the seminary, and his wife, have been showing us where to shop and other essentials of living in Pretoria.
The Seminary Rector, Dr. Wilhelm Weber – who has preached several times at GSLC – is a delight to work with. His enthusiasm is very contagious. But can you imagine someone with his responsibility having no regular secretarial help! There is no money available. The end of the term comes early in November and the issue now is how to find money to get students back home to their families, many as far away as Uganda. Thankfully, the money from our August fundraiser hasn't yet been transferred to the Seminary so some relief is in sight. We marvel at the dedication of other instructors, most of whom receive no compensation from the Seminary but are either pure volunteers or receive some compensation from home congregations or other organizations.
We go to the morning Matins services – using the Venite and Te Deum – and listen to the singing and the harmonies that come from these African men. Students lead the service with the liturgy all chanted. The Lutheran Service Books donated by GSLC are in daily use. We have heard sermons from four German missionaries in these four days . Yesterday, Pastor Schmidt, a German missionary in Botswana, was leading a class on liturgy and a group of the Ugandan men demonstrated a local chant in three or four part harmony which just compelled us to stop work and get a closer view. We are really looking forward to visiting some of the LCSA churches which we hear have lots of singing, much in native harmony.
There is plenty to do here. Pat already has more than six months worth of assignments. Lee needs to do a facility survey to try to assess what changes need to be made to best utilize existing facilities. Our Charter internet service does not work here so we have a new e-mail address, l.hoffmeier@yahoo.com.
Lee and Pat Hoffmeier
Youth News
F.A.I.T.H. (Sr. High)
November 3, 8:00 a.m. - ? Roadside Clean-up!! Come join us as we help our neighborhood clean! This is a great opportunity for community service & fellowship.
November 3, 7:00 p.m. Lost & Found concert at Glendale Lutheran Church, Glendale, MO. Tickets can be purchased for $10 at the door. Sign-up on the youth board or call the church office at 344-3151 by October 31 if you are planning to go.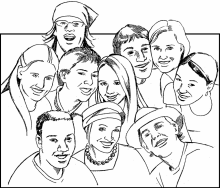 November 4, 6:00 p.m. – 7:30 p.m. Dodge Ball, Basketball & More… Be ready for a night of competition…& bring a friend!

November 10, 7:00 p.m. – Sunday School, Girls Nite In Spa Night. Sign up on the youth board…reservations are required by Nov. 3rd.

November 18, 6:00 p.m. – 7:30 p.m. What's That? Digital Challenge. Are you a good sleuth? Come & challenge yourself in a game of clues, riddles, & digital pics…of "what?' Make sure to bring a digital camera if you can…

5th & 6th Grade Youth

Nov. 4--Bonfire and wiener roast at the Musegades' from 6-8 P.M. A sign up sheet for those who can attend and for those who can bring food will be on the table in the narthex.

Nov. 18—Last minute change of plans so watch your email for the details on this activity! Or show up and be surprised! The usual time—6-7:30 P.M.

Parents—please email Carol Walther (cwalther@goodshepherdcollinsville.org) so you (or your child) can be included in the regular email reminders about 5th & 6th grade youth activities. Many children this age don't have their own email address so the messages are sent to the parents and they share it with their child. Let me know if you would like the messages sent to more than one email address.

Congregational Life

– 11/03 & 11/04 after services.
Adopt-a-Bags
– Return them by November 10, 2007.

Lutheran Women's Missionary League

Thursday, November 1st Our monthly meeting begins with fellowship time at 6:45 pm in the fellowship Hall. Our speaker is Sue Hasselbring. She is home on furlow amd will bring us up to date on her work with Wycliffe. Come and bring a friend to enjoy the evening with us. Our in-gathering for this month is Peanut butter and jelly for the Seminary students as well as small shampoos, soaps, lotions, and barrettes for the Honduras Mission. Missed last month's meeting? Then go to the Good Shepherd Website to catch up on our activities!

Sunday, November 18th-The LWML Fall Soup and Salad Luncheon-from 11:00 am to 1:00 pm in the Fellowship Hall. There will be a large selection of homemade soups, salads, bread, and desserts. A free will offering will be taken for the luncheon. In addition, the "Country Store" will have many items for sale, such as baked goods, jams & jellies, baby quilts, rag rugs and craft items. All proceeds will go to Missions. So, come and enjoy good food and fellowship!

To Mothers of Preschoolers

Have you been wondering how to enlighten your little ones about the true meaning of the holiday season? Join the Good Shepherd MOPS Group on November 16th at 9:00 am when Carol Walther will share some great ideas for kid-friendly Advent activities. Enjoy a delicious breakfast and fellowship with other preschool moms, and let your kids partake of the snacks and fun activities provided by the MOPPETS team. MOPS welcomes newcomers, so please come and see what MOPS is all about. If you have questions about MOPS, please call the Church office.

Lunch Bunch

On November 20th we will leave the church parking lot at 11:30 a.m. for the Innkeeper in Hamel. Call Mary Preuss at 288-9525 or Wilma Mitchell at 345-7123 before November 18th to make a reservation. All are welcome to join us for some good fun & food.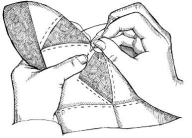 Lutheran World Relief

This year we donated 72 quilts, 57 dress kits, 87 layettes & 9 boxes of sweaters. Thank you to all who helped with these items.

Mission Guild for Lutheran Women

The Mission guild for Lutheran Women wil meet on November 12, at 9:30 a.m. at Zion Lutheran church in Belleville. The speaker will be sue Hasselbring, home from the Philippines, telling us about her work with Wycliffe Bible Translators. Sue is a member of Good Shepherd. All are welcome to attend.

Peanut Butter and Jelly Ingathering

Each year the LWML sponsors a drive to collect peanut butter & jelly for the Concordia Seminary food pantry in St. Louis. With the many children of seminary students, these are very desirable items & are much appreciated by the students. We will be collecting donations between October 14th & November 11th. Please place your contributions in the hallway leading to the school. Your help is much appreciated.

Help Someone Less Fortunate

If you as an individual or your organization would like to help someone less fortunate this Christmas, please consider joining Lutheran Child & Family Services as we strive to make the season a joyous one for the people we serve. We will provide names, ages, sizes, & special interests/needs of clients. Your thoughtful donations are warmly appreciated by the Agency, the children & families who will benefit from your support. Please contact Wanda Rolins, ext. 31 or Janet Keiser, ext. 27, at (618)234-8904.

MELHS Comedy Play

Metro East Lutheran High School presents "You Can't Take it With You" by George S. Kaufman & Moss Hart. A comedy in three acts. A hilarious & enlightening glimpse into the lives of one eccentric family that seeks to answer the question what really matters in life. Will be held Friday, October 26th – 7 p.m. & Saturday, October 27th – 7 p.m., Adults $5, Students $3, Senior Citizens $3, children 5 & under are free, in the MELHS Gymnasium.

MELHS Fall Craft Show

Metro East Lutheran High School Fall Craft & Vendor Show, Saturday, November 3rd, 9 a.m. – 4 p.m. & Sunday, November 4th, 12 noon – 4 p.m. The address is 6305 Center Grove Road, Edwardsville. Come enjoy the crafts, food & fellowship by supporting us in this fundraising effort for the high school. For more details, call MELHS at 656-0043.

Roadside Cleanup

Good Shepherd's Men's Ministry and the FAITH Sr. High Youth Group will be doing roadside clean-up on the Belt Line on Saturday, November 3 at 8 a.m. Any help would be appreciated. Contact Marty Hoffman at 344-3151 for more information.

Good Shepherd Will Tighten the Belt

Beginning last January we noticed a decline in offerings. The decline is not drastic, but it is enough to get our attention. There may be a number of reasons for this – especially increased fuel and electric costs. Good Shepherd has always been careful not to spend more than God has given and to look to God for His continued support. The best response to this is to remember what it means to be Christians – People who hear the Word of God and live by faith. As God continues to bring the Word into our lives, faith grows and is sustained. Faith leads us to consider our stewardship and our support for the Gospel ministry.

Six Hour Prayer Vigil

Join us on Sunday, November 4th from 6:00 p.m. to 12:00 midnight for a special prayer vigil. There will be sign-up sheets in the Narthex. If you would like to be a prayer leader, please call the Church Office (344-3151) and leave a message. Sponsored by the Board of Christian Outreach.

Information Needed!

Beginning Nov. 1 we will be calling all households of members between the ages of 18-25 to update our information on these members. If you or someone in your family falls in that category, please save us a phone call by picking up a form from the narthex and filling it out. Please be ready with addresses (mail and email) and phone numbers when a volunteer calls your house.

SS Christmas Service

The children of Good Shepherd Lutheran Church will present the message of Jesus' birth at a special service on Sunday, Dec. 23, at 7 pm. All the children will be in the choir and will learn the Christmas songs and hymns during the Sunday School openings. Participation forms will be sent home with all the children on Oct. 28. Children who would like a solo, speaking or character part need to return the form by Nov. 18. Practices for children with parts will be Dec. 2, 9, and 16 from 1-2 pm. Practice for everyone (choir included) will be on Dec. 23 from 1-2:30 pm.

The Preschool and Kindergarten Sunday School class will present a small recitation at the start of the 10:30 service on Dec. 23. This year the students will also sing a few songs at the 7 pm. service with the "big kids".

Christian Fiction Book Club

Ladies, do you enjoy reading a good novel? Have you ever tried Christian fiction—even Christian Romance? Right now a group of ladies are reading the "Love Comes Softly" series by Janette Oke. These are a very easy read and several of the books are in our church library. We meet monthly (except Dec) for a very fun, informal discussion of each book. If you'd like to join us or have any questions, contact Carol Walther.

Controlling Debt


Financial Management Series Financially speaking there are three types of people: those who have, those who have not, and those who have not paid for what they have. Unfortunately, debt has become a way of life. We borrow and take on debt so frequently it is possibly the most violated money principle in God's Word. Scripture does not forbid debt but it does discourage it. Excessive debt devastates a family's financial future, creates tension and chaos in the family, breaks up marriages and causes health problems. Unfortunately we live in a culture that encourages unnecessary debt. We are tempted to confuse our desires with our needs. If we curb our desires we become more successful in staying out of debt. "Keep your lives free from the love of money and be content with what you have, because God has said, 'Never will I leave you; never will I forsake you'" (Heb. 13:5). Focusing on God's promises to be with and strengthen us, we find contentment in Him. Several factors lead to debt: Failure to set goals; poor planning; Lack of information and/or ignorance; Too many commitments or fixed expenses; Impulse buying; Failure to say "no"—to self—to children; Failure to stay organized or keep records; Availability of easy credit; Lack of resistance to sales

We may be pleasantly surprised to find how much money in interest charges we save if we make more than minimum payments on our credit cards. An example: You have $2,200 in credit card debt at 18 percent interest. You are required to make the credit-card minimum payment of 3 percent or $66. This totals $872 in interest. Choosing to pay an extra amount, results in the following savings:
Monthly Pmt It will cost you You save
$66 $872 Interest $0
$66 + 10 extra $707 Interest $165
$66 + 25 extra $553 Interest $319
$66 + 50 extra $408 Interest $464
$66 + 75 extra $325 Interest $547
Before we take on debt or add to our existing debt, ask some basic questions. Be slow, deliberate and cautious before borrowing.
Have I prayed about borrowing?
Will the asset purchased appreciate in value?
Does borrowing fit my budget?
Will borrowing cause any tension or anxiety?
Official Acts
Baptism (Children): Erin Baylee Wolf
Baptism (Adult): Susan Elaine Wolf
Received Through Transfer: Eunice Harper from Concordia, Granite City
Marriages: Elizabeth Adams; Brad Edward Scott and Jennifer Lynn Ramsey
Funerals: Georganne Tiemann
Souls: 1,664 Comm.: 1,346