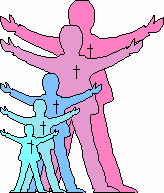 Love in Action
Good Shepherd Lutheran Church
1300 Belt Line Road Collinsville Illinois 62234
618-344-3151 (Church) 618-344-3153 (School) 618-344-3378 (Fax)
Pastors M. Walther & P. Hoft Vol. 26 No. 11 November 2003
---
Hope for the Future
Where do you see yourself ten, twenty, fifty, or even one-hundred years from now? This month weíll be taking a look into the future. No, not by gazing into a crystal ball. And no, the pastors have not learned the art of reading palms. Together in the month of November weíll be looking into the future through Godís prophetic Word, the Bible.
The last Sundays of the church year (Nov.2-23) have a special focus on the future. The appointed Scripture readings for these days call our attention to the glorious return of Christ on the Last Day. They turn our thoughts from the "now" to the "not yet." This is a good thing for us to do on a regular basis because typically we donít give serious attention to our preparation for our Lordís return. Itís easy to be occupied with our day-to-day concerns. Or, we take comfort in the fact that someone else is paying attention to it. Yet, God wants us all to be watchful and ready. We have hope for the future!
This month, for example, we will hear from selected prophecies from the book of Daniel. Daniel was not a psychic. He was a prophet, which means that God revealed to him a message of warning and hope to share with Godís people. The first prophecy is from Dan. 7:9-10. It describes God in a magnificent way as He opens up the books that have our names recorded inside. To have oneís name written in that book means to be saved.
"As I looked, thrones were placed, and the Ancient of Days took His seat; Ö
and ten thousands times ten thousand stood before Him;
the court sat in judgment, and the books were opened."
The second prophecy is in Dan. 7:13-14. This one shows that Godís kingdom is eternal and unshakable. By Godís grace, it is given to people of all nations and languages.
"And to Him was given dominion and glory and a kingdom,
that all people, nations, and languages should serve Him;
His dominion is an everlasting dominion, which shall not pass away,
and His kingdom one that shall not be destroyed."
The third prophecy is in Dan. 12:1-3. This one offers hope of the resurrection. Death will be swallowed up in victory and we will live with our Lord in glory forever, shining like the stars of heaven.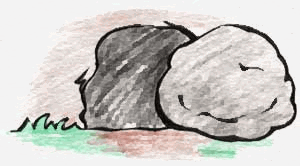 And many of those who sleep in the dust of the earth shall awake,
some to everlasting life, and some to shame and everlasting contempt.
And those who are wise shall shine like the brightness of the sky above;
and those who turn many to righteousness, like the stars forever and ever."
As you can see, there is hope for the future. Blessings to you as you prepare and rejoice in Godís Word!
College Student Addresses
As students return to college this fall, we want to encourage them to get involved in college campus ministries. The college experience is a wonderful opportunity to share our Christian faith with others. Often students donít realize how many other Christians there are like them. Campus ministries offer opportunities for worship, Bible study, counseling, and social activities. Please send us the addresses of your students so that we can forward them to the nearest Lutheran Church-Missouri Synod ministry. E-mail addresses are also helpful if available. We encourage all college students and their parents to visit the LC-MS website for campus ministry: www.lcmscampus.org
5th & 6th Grade Youth
The 5th & 6th grade youth will meet at the home of Ashley Martin from 6:00 to 8:00 p.m. on November 2nd. Come ready to roast hot dogs and marshmallows. Please call Jim or Michelle at 644-2203 if you can bring food. Parents are welcome to stay. Please sign up on the Youth Board (Lower Level Hallway) or call the Church Office if you can help. Maps will be available.
Wednesday Women

All women are encouraged to join Wednesday Women for a Bible study on the book of Esther. We begin each week at 8:45 a.m. with coffee fellowship and prayer in the Fellowship Hall. By 9:30 we begin our Bible study and wrap everything up by 11:00 a.m. Babysitting provided. Invite your friends and neighbors.

Reformation Ė All Saintís Day Festival

A Reformation-All Saints' Day Festival Ė Praise God Through Music is back by popular demand! This Hymn Fest will be held on Sunday, November 2nd at 3:00 p.m. in the Sanctuary. The program will include special music and accompaniment by James Gauen, a local accomplished organist, along with Good Shepherd's Brass Ensemble, Adult Choir, Seraphim Choir, and Hand Bell Choir. In addition, the congregation will have the opportunity to sing along to some of their favorite hymns.

You and your friends are invited to be a part of this wonderful afternoon of literally singing God's praises! What a joyous way to praise Him and thank Him for His many blessings!

Lutheran World Relief
Good Shepherd gathered or made 15 boxes of sweaters, 63 layettes, 12 dress kits, 3 boxes of soap, and 96 quilts for Lutheran World Relief. Good Shepherd was also the receiving station for Southern Illinois. On Saturday, October 11, Larry Hawkins transported some 100 boxes of items to St. Louis. From there they will be shipped to the main LWR warehouse in Baltimore.
Progressive Dinner
Watch the Church Bulletin for details of the Progressive Dinner planned for Sunday, December 7th. The Board of Congregational Life will host the main course at Nottingham Lodge. Other courses will be held in members' homes. Sign-up sheets will be available the last two Sundays in November for attendees to bring an appetizer, a salad or dessert. If you have never attended one of these events, you are in for a real treat! Attendance is limited to 50 people, so sign up early.
Sunshine Corner
Many thanks to those who took the time to sign the care and concern cards for our shut-in members. If you have someone you would like to add to the list for the next time, please call Mary Jane Wade at 344-3217.
Reformation Festival Party
Which animal aboard the ark is your favorite? October 31st is your opportunity to be that animal. Come dressed as your favorite character from the story of Noah's Ark at our annual Reformation Party. The party will be from 6:00 - 8:30 p.m. and will include opening devotions, games, crafts, and lots of food.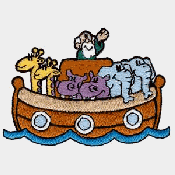 Everyone is asked to bring a snack to share. Costumes are optional. Donations of candy or other non-Halloween theme trinkets can be placed in the connecting hallway and are always greatly appreciated by the children who all go home with a sack of goodies. All ages are invited to enjoy this evening of fellowship. Adult volunteers are needed to help with games and crafts. If you have any questions or can help with games or crafts please call Carol Walther (346-1786).

Collecting Old Bibles

At the Reformation Party we will again be collecting old Bibles. Bring your old Bibles no longer in use anytime before October 31, and we will send them on to Concordia Gospel Outreach. The Bibles will be split into the various books and shared with other Christians and churches around the world.

Old Bibles collected for the Reformation Party will be sent to Concordia Gospel Outreach.

Lutheran Womenís Missionary League

All women of the Church are invited to participate in the coming event . . . so please plan to join us for Christian fellowship and service, and sharing God's Word.

Thursday, November 6, Monthly Meeting at 7:00 p.m. in the Fellowship Hall. Pastor Walther will lead us in a Bible study on "Mary's Spiritual Walk." Hearing this message will be an excellent way to begin preparing our hearts for the coming Christmas Season.

November 16 - Sunday, Fall Salad Luncheon
from 11:00 a.m. to 1:00 p.m.

In the Fellowship Hall. There will be tons of homemade salads, breads and desserts. A free will offering will be taken for the luncheon. In addition, the "Country Store", located in the connecting hallway, will have many rag rugs, and several craft items. Proceeds from this event will be split between the Senior High Youth Group's trip to Orlando for the 2004 Youth Gathering, and the Honduras mission trip. Thrivent will match a portion of these funds. So . . . cooks put your aprons away and come and join us for a delicious meal and do a little shopping besides!

November 20 Thursday, Women's Monthly Bible Study

We will begin at 7:00 p.m. in the Fellowship Hall. Mite Box offerings will be accepted from those who wish to bring them to this meeting rather than the monthly LWML meeting.

Grief Support Group

The holidays can be a painful time for those who have lost loved ones. We invite you to come to the Grief Support Group session on Tuesday, November 18 at 7:00 p.m. at GSLC in the lower level. We will discuss coping mechanisms for getting through the holidays. If you have any questions, please contact Vickie Ridgeway 345-9630 or Jean Werth - 654-7204.

Peanut Butter & Jelly Sunday November 2

It's that time of year again! We collect peanut butter and jelly each year. Most of it goes to the Seminary Food Pantry. A smaller portion is given to the Collinsville Food Pantry and the LCFS Father Center in East St. Louis. Items may be placed in the red wagon or designated boxes nearby. Your contributions to this endeavor are greatly appreciated.

Mission Guild for Lutheran Women Noon, November 10

Zion Lutheran Church ladies in Belleville will host Mission Guild at noon, November 10. An interesting program will be given by Pastor Kim and DCE Kerri Kothe about their trip to the South Korea Youth Gathering this past summer. All ladies are invited to attend.

Official Acts

Baptisms (children): Anna Grace Reese, 10/2; Ethan Michael Micherson, 10/18

Received Through Transfer: Jill Goldammer from Faith, Jefferson City, MO

Profession of Faith: William Michael Martin

Marriages: Scott William Miller and Gina Marie Kalika; Henry J. Gerber and Betty J. Quirin

Funeral: Mr. Donald Michael Daly, 10/4/03

Souls: 1,609 Comm.: 1,278

New Field Workers at Good Shepherd

Our new field workers are Matthew Wurm and Paul Elliot. They are first year students at Concordia Seminary in St. Louis. Matt is from Sheboygan, Wisconsin. He graduated from Concordia University Wisconsin majoring in Biblical Languages. He plays hockey and enjoys car racing. Paul is from Champaign, Illinois. He graduated from Concordia University River Forest where he majored in Biblical Languages also. He enjoys playing guitar and reading. He is engaged to Krista Brandt, niece of our former school principal, Paul Brandt.

Metro East Lutheran High School Fall Craft Fair

The Parents and Friends group of MELHS is holding a Fall Craft Fair at the High School on Saturday, November 1st from 9:00 a.m. to 4:00 p.m. and Sunday, November 2nd from 12:00 to 4:00 p.m. The address is 6305 Center Grove Road, Edwardsville, Illinois. Come enjoy the crafts, food and fellowship by supporting us in this fundraising effort for the high school. For more details, call 656-0043.