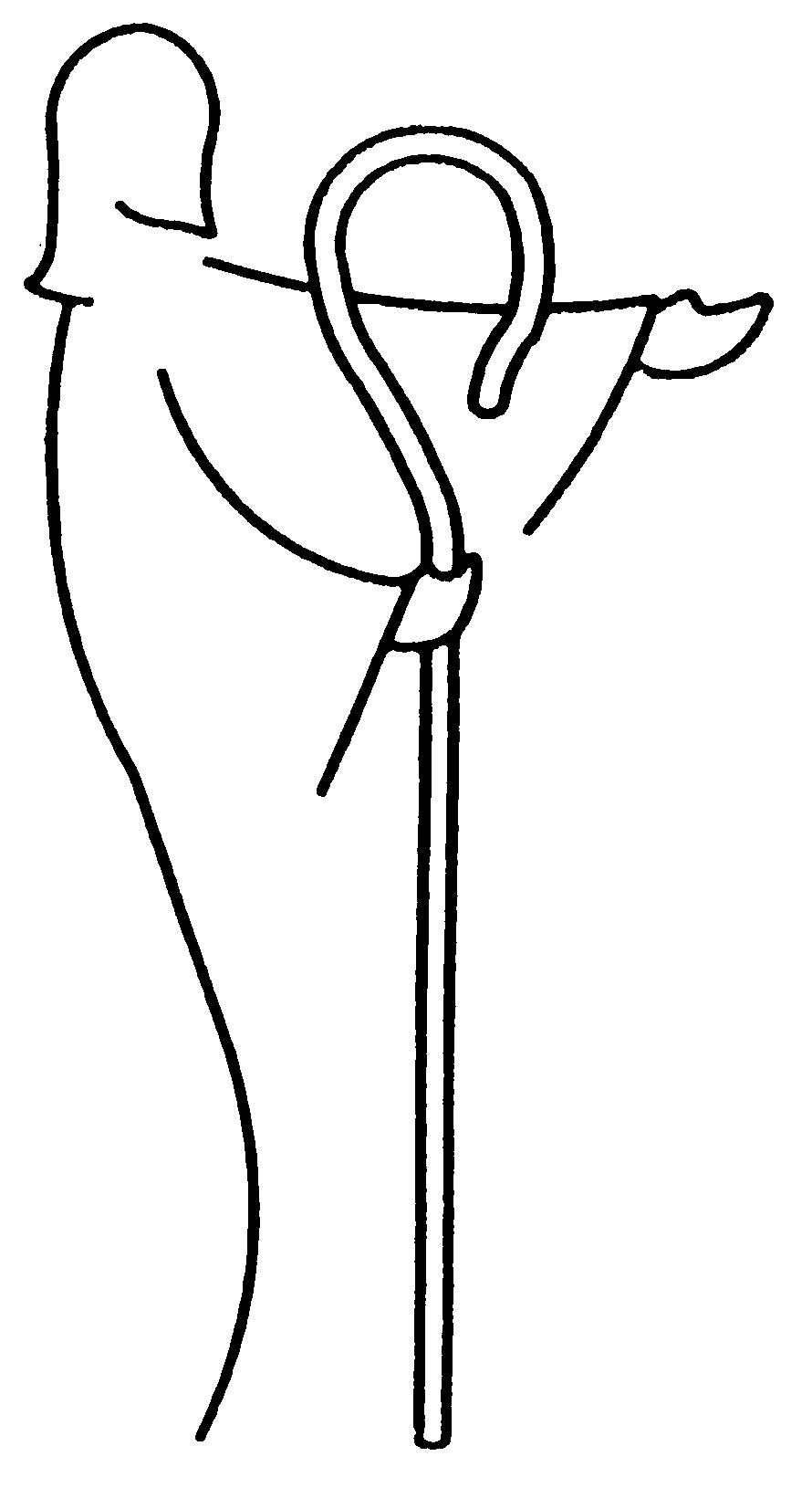 Love in Action
Good Shepherd Lutheran Church
1300 Belt Line Road Collinsville Illinois 62234
618-344-3151 (Church) 618-344-3153 (School) 618-344-3378 (Fax)
Pastors M. Walther & P. Hemenway Vol. 32 No. 5 May 2009
---
What's Good About Good Shepherd?
There are many times when I have to give folks a quick summary of what I think about Good Shepherd. I might be talking to another pastor who is interested in our church, a servant we might have called, or a family who has visited one of our worship services. They just want to know what is at the heart of our church.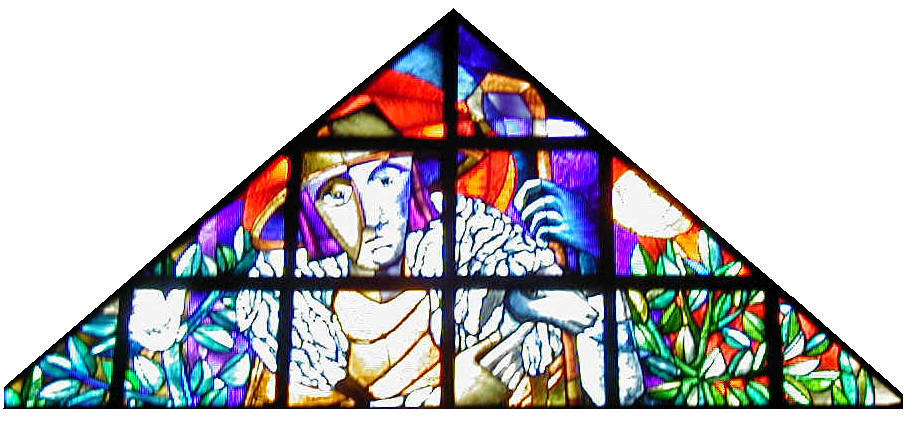 I always like to begin by saying that what's good about Good Shepherd is THE Good Shepherd – Jesus. The reason we exist is because of Him. We are a people drawn together because we all have the same need. We know that by ourselves we would be lost sheep. We are sinners separated from God. But Jesus is the Good Shepherd who has found us, has picked us up and has carried us back to safety and salvation. Most important of all, He laid down His life for us.
As we look back to the past, whether it be our former pastors and congregational leaders or our programs and accomplishments, the heart of all of it has been the Shepherd gathering His sheep. If we think about our present and future challenges and opportunities, we are constantly asking how do we fulfill our twofold purpose: "To nurture the sheep the Good Shepherd has gathered and to continue gathering those He is calling"?
This is our 50th year as a church and 25th as a school. I pray that we will continue to follow the lead of our Good Shepherd as we "grow in the grace and knowledge of our Lord and Savior Jesus Christ" (1 Peter 3.18) and live to fulfill His will to call His flock in faith. Pastor Walther
Adult Confirmation Class Begins April 21
The Next Adult Confirmation Class Begins on Tuesday, April 21st from 7:00 to 8:30 p.m. in the Lower Level. This class presents the basic teachings of the Lutheran Church for inquirers and for those who would like to become members at Good Shepherd. Members who would like to review the basic teachings are also invited to attend. Babysitting is provided.
Christian Parenting Classes
Join us for an excellent Bible class series in April and May called "Value Based Parenting." The classes will begin with a presentation by Christian psychologist Kevin Leman, author of many good books included The Birth Order Book. This class will be led by Pastor Hemenway in the lower level of the church starting April 19th at 9:15 a.m.
New Bible Class Challenges Christians to Prepare for Persecution
The early Christians faced three kinds of persecution. The first was separation from family and friends, the second was economic and the third was verbal and physical abuse sometimes even resulting in death. Are we ready for persecution? The first letter of Peter is in many ways a primer for those who are facing persecution. This class will be led by Pastor Walther in the School Cafeteria starting April 19th at 9:15 a.m.
Mudhouse Sabbath
This is a new Bible class starting April 19th. It is a study of Christian discipleship in the light of Jewish spiritual practices such as hospitality, mourning, fasting, and aging. It will be led by Seminarian Jonathan Kern at 9:15 in the Science Lab.
The Life and Times of Paul
In this series, we will examine the Apostle Paul. We will discuss the culture he lived in, the education he received, the life he led, and the impact he later had on the Church. We will also explore the events in the book of Acts, and we will attempt to identify where and when, during that time, he wrote his letters. The class will be led by Vicar Rodgers in the School Library, starting April 19th at 9:15 a.m.
Good Shepherd Lutheran School Exemplary Status!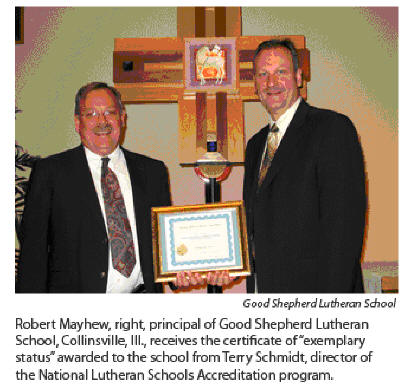 Now celebrating 25 years of teaching, Good Shepherd Lutheran School of Collinsville was awarded National Accreditation from the National Lutheran School Accreditation Commission for the fourth time, making it one of 500 schools in the nation to receive that recognition. The school was also recognized in 1987, 1994 & 2001 & is one of only three schools that were granted as an "Exemplary Status" accredited school. The Exemplary status was granted in March to Good Shepherd Lutheran School. A certificate for the "Exemplary Status" of accreditation marking the achievement was presented on March 22, by Mr. Terry Schmidt, the Director of NLSA to Mr. Robert Mayhew, Principal. Good Shepherd Lutheran School has 394 students in kindergarten through 8th grade & nearly 75 children in preschool & day care.
Coupons
Please Save your unused weekly Sunday coupon inserts & place them in the designated box in the connecting hallway. They can be found in both the Post-Dispatch & the Belleville News Democrat. At one time, they were even in the Collinsville paper. There are usually 2-3 booklets each week. Any of your leftover coupons will be greatly appreciated. They will be used to purchase items for the area food pantries.
Planning Your Funeral
Planning your funeral may not be something you think about everyday. If you are single, it may be especially challenging to ensure your wishes are known. On Tuesday, May 19 at 10 a.m. Barry Wilson, general manager of Herr Funeral Home will address these & other topics in a "question & answer" session at 10 a.m. in the church library. All are welcome! Lunch bunch follows at 11:30 a.m.
Lunch Bunch
Lunch Bunch will meet on the parking lot at 11:30 a. m. on May 19. Watch future bulletins for restaurant name & location. Everyone is welcome to join us for fun and fellowship as we support each other in our faith. Please call Wilma Mitchell (345-7123) or Mary Preuss ( 288-9525) before May 17 for reservations.
Quilters Needed
In addition to sewn quilts, we also tie quilts for World Relief. At the present time, we need persons to help tie these quilts. The quilters meet every Thursday from 8:30 a.m. to 1:30 p.m. in the fellowship hall. If you would be able to help or would like further information, please contact Jean Etter at 345-5277.
MOPS
Join us on 5/15 from 9-11 for a carnival to celebrate all of God's blessings, including our children and the fellowship we have had together in MOPS! Bring yourself and your little ones and any other preschool mom who might enjoy the MOPS experience. See you on 5/15!
Relay For Life
This year Good Shepherd will be participating in the American Cancer Society's annual Relay for Life. This event has been taking place for over 20 years, around the country. It will be held on June 19th in Collinsville, Edwardsville, and Troy, among other locations. The Relay begins with a Victory Lap for cancer survivors. Later in the evening a candlelight ceremony will be held to honor survivors and remember those who have been lost.
Watch for more details in the June newsletter. In the meantime, be thinking of a few family members, friends, or neighbors to team up with! You can also go to www.relayforlife.org/relay for more information.
Scrip Program
Helping others in the church/school & your community – Sowing & Growing Together! You can help give a child a quality Christian education by using the Good Shepherd Lutheran Church & School Scrip Program.
It is easy & you will help reduce the tuition costs for a designated family!
1. Fill out a registration form & designate a family at the school or designate the scholarship program.
2. Purchase gift cards to a store, restaurant, etc….(you get the full value of the certificate)
3. A percentage of each purchase goes directly to the school & the designated family's tuition.
At this turbulent time in our economy, in our county & in our community – your action will help a child obtain a Christian education.
Stop by the Scrip table in the connector hallway for more information or contact the school office 344-3153. Registration form enclosed in this newsletter.
Congregational Life
Braille workers- May 7, meet at 8:30 a.m.
Blood Pressure Screening- May 2 & 3 after services
Congregational Life meeting- May 12 at 7 p.m.
Looking ahead- The dates for the Church Pictorial Directory will be announced soon! The directory is a great help in learning the names of our fellow members.
June Social
The Board of Congregational Life is planning an adult social on Friday evening, June 5, beginning at 6:30 p.m. in the fellowship hall. We will begin the evening with a catered meal by Qdoba Mexican Grill Restaurant, (a taco bar and burrito bar). The board members will provide beverages and desserts. The cost will be about $6.00 per person. The board is planning games as the evening's activity. Babysitting will also be provided for those desiring it.
You may make reservations to the church office by May 31. Please pay at the time you make the reservations. Please also indicate at the time of making your reservation if you plan to use the babysitting service we have arranged [we need a count]. Come join in the fun!
Financial Help for Hearing Aids
The Hear Now program helps people with low incomes to purchase hearing aids. If this program can be of help to someone you know, or if you want further information, please call the Hear Now program at 1-800-328-8602 and ask for the Hear Now program. Please visit the Foundation at www.sotheworldmayhear.org.
Seminary to Host Brunch at the Sem
St. Louis – Concordia Seminary, St. Louis, will host Brunch at the Sem on Mother's Day, May 10, in Koburg Hall on the Seminary campus. Brunch will be served from 10:00 a.m. to 3:00 p.m.
The menu for Brunch at the Sem includes carved ham, fried chicken, carved roasted turkey, jumbo cooktail shrimp, garlic mashed potatoes, sweet potatoes, green bean casserole, honey glazed baby carrots, mostaccioli, salad bar, fresh fruit, scrambled eggs, Eggs Benedict, omelet bar, hash browns, bacon, sausage, Belgian waffle bar, dessert bar, assorted juices, soda, coffe & tea.
The price for adults is $22; children (4-10 yrs.) are $5.00; & children 3 & under are free. Cash, checks, MasterCard, Visa, Discover & American Express cards are accepted. Space is limited. For reservations, call 314-505-7369.
High School Youth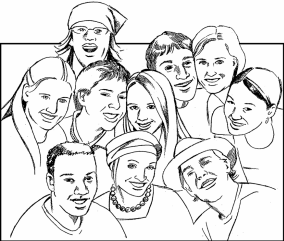 TRUTH UNDER SIEGE: Join us this month as we take a look at an attack on truth. We'll be meeting the first and third Sundays and on the second Tuesday for the Deepend. Also we will be attending AGAPEfest on the Bond County fairgrounds on Saturday, May 2 ONLY. We initially planned to camp out on Friday night also. The ticket price to order beforehand is $32. Please bring extra money for food and optional merchandise. If you pay the day of the concert it costs $40. Please make checks out to Good Shepherd Lutheran Church and leave them for Jaime Brinkmann. We'll be leaving Good Shepherd at 9 a.m. Saturday morning and returning in the evening. Drivers needed!
Summer Servant Event- Handicamp - High School youth will be attending the Handicamp, helping disabled youth and adults, at Camp Cilca, June 7-12. Camp Cilca is located just north of Springfield in Illinois. A parent and youth information and sign-up meeting will be held Sunday, May 17 after the late service in the Fellowship Hall.
College Ministry
Summer Bash Barbeque - Recent High school Grads, College students, or 18-25 year olds, join us on June 5 at 3:30 for a barbeque, softball, ultimate frisbee and other games. Location to be determined. Please keep up to date by checking our Facebook group and church bulletin. Let us know you'll be attending by emailing Jaime at jaime.brinkmann@gmail.com or contacting Brandyn or Jaime through Facebook.
South African Mission Summary
We arrived home on March 19 happy to again be on American soil but still concerned about the students and others that we have come to know so well. The decline in the world economy and particularly in America most likely means that operating funds for the Seminary will shrink. Almost all Seminary operations are supported by gifts from overseas as none of the students are able to pay tuition and very few home congregations are able to help in more than token fashion.
During early March we were privileged to visit two German missionaries and their LCSA congregations. Christoph Weber, a brother of the Seminary Rector, ministers to the people of the cattle posts in central Botswana near the Kalahari desert where Sue Hasselbring lived and worked for three years. We made the round trip of about 250 miles over unmarked sand roads to one of the cattle posts, marveling at Christoph's dedication serving the nine people that attended his service there. One day each week he makes the long drive to one or more posts. He also has a congregation in the town of Serowe where he lives. We then visited Daniel Schmidt of Francistown, close to the Zimbabwean border. He serves three congregations including one at a refugee camp about 100 miles north of Francistown. During the Sunday service conducted in his front yard, we met a Baptist missionary and his wife from Alton, IL who were friends with Pastor Winters of the Maryville Baptist Church who was killed later that same day, as we subsequently learned.
The holiday part of our trip took us to Chobe National Park in the far northern part of Botswana. Three countries, Namibia, Zambia and Zimbabwe, are very close to this park which we were told is home to 100,000 elephants. We had two days to view elephants, hippos, crocodiles, lions and other wild game in an area of no permanent roads but alongside the Chobe River which is a big attraction for animals in a normally dry country.
The Southern Africa Task Force of our Southern Illinois District (SID) is planning another fundraiser to benefit the Seminary on August 21 at Meridian Village in Glen Carbon. If you have not previously been invited to one of these events, please contact us so we can add you to the list. You will have the opportunity to learn firsthand more of the relationship between the Lutheran Church in Southern Africa, the Seminary and SID while enjoying hors d' oeuvres and sampling a variety of good wines (many of them from South Africa).
Thank you for your prayers. We were blessed with good health and safety in a country that has many security and safety issues (three computers were stolen from the seminary library after we left).
Thank you also to the LWML and individuals who gave us money for use at the seminary. Some of the items this money bought includes: keys and locks for several of the dormitory rooms (keys often go home with a former resident, never to be seen again), a string trimmer for edging the lawns, light bulbs and new light fixtures inside and outside the buildings, repair of one student's bicycle, new glass for a broken window, lamp for chapel lectern, extension cords, electric heaters for several dorm rooms, materials to repair leaky roofs, electric bill, faucet repair and new kitchen drain in one dorm. Pat and Lee Hoffmeier
Official Acts
Baptisms (Children): Nathan Gary Klucker, Jacob Martin Hemenway
Confirmation (Children): Kaitlyn Nicole Bickel, Brooke Marie Blasingame, Richard Ray Boatman, III, Dylan Michael Bruns, Joshua Daniel Cooper, Zachary Owen Curtis, Lauren Elizabeth Daniels, Kenneth Craig Engeling, Bethany Ann Esterlen, Zackary Thaddeus Fiudo, Kathryn Paige Goetter, Kendall Renee Hopkins, Brooke Elizabeth Mayhew, Trevor Eric Oistad, Taylor Kristine Reese, Leigh Ann Ruckman, Kristen Marie Ruffcorn, Alexander James Scholl, Ian Alexander Skeel, Melissa Nicole Urban, Joshua Ray Wudtke
Marriage: Matthew Allen Reno and Nicole Leigh Koeltzow
Souls: 1,703 Comm.: 1,400
Oklahoma
The Drama Club of Metro-East Lutheran High School will present "Oklahoma" for their Spring mucical on Friday & Saturday evening, April 24 & 25 at 7:00 p.m. in the school gymnasium as well as on Sunday, April 26 at 2:00 p.m. Admission is $5.00 for adults & $3.00 for students & senior citizens.
Anniversary Chicken Dinner
Anniversary Chicken Dinner, May 3 – we've broken out the coleslaw recipe, chicken will be fried, and pies tables stocked with your favorites – now all we need is you! Join us Celebration Sunday, after Pastor Seto's 10:30 A.M. service for a traditional Good Shepherd Chicken Dinner and brief anniversary program. The 'chicken shack' may be gone, but the good times are still here. Tickets are limited and will be available after each service until 4/26 (only 2 weeks left!) or thru the church office 8:30 a.m. to 4:30 p.m. (618) 344-3151.
Easter Egg Hunt
Thank you to all the people who helped make the Easter Egg Hunt so much fun for the 85 children who attended. Karen & Steve Harris, Debbie Jones, Brad Cook & family, the Bold family (McDonald's orange drink, cups and napkins) and the many cookie donors were all a huge part of that success.
Easter breakfast
Thank you to Dick and Sue Bold and Jim and Mary Kruta for the McDonald's and Kruta Bakery donations to the Easter breakfast.
VBS Volunteers
We need you! Through the dedication of our members and friends who volunteer at VBS, we minister to over 200 children each year with the Gospel of Jesus Christ. If you aren't part of VBS yet, why not volunteer? If you can help some days, just one day, every day, or in advance, we have many levels of involvement to suit your schedule and interests. Sign up in the church narthex or talk with Carol Walther for more information.
God's Always Doing Great, Exciting Things at Gadget's Garage. Join us on June 15-19 from 9 A.M. to noon. Kids meet friends, explore Bible stories, do fun activities, sing great songs, make crafts, play games, and eat snacks. We expect a great response, so enroll your child today. Registration forms are on the table in the narthex. When you return your registration form in the Gadget's Garage tin on the table, be sure and take out a CD of all the great songs! Classes are for children who are 4 by Sept 1 through those who have completed 7th grade.
5th & 6th Grade Youth
5th & 6th grade youth will play HOCKEY in the gym on May 3rd. May 17 we will be in the church basement. Our new policy is that the youth drop their cell phones and other electronics in a box when they arrive at youth group. They can collect them at the end of the evening.
The 5th & 6th graders have one off-site summer activity. This summer they will meet on June 21 at the Bakers' for a swim party. Watch next month's newsletter for more details.
The current 5th & 6th graders continue to meet the 1st & 3rd Sundays of each month from 6-7:30 P.M. New youth groups form with the beginning of the new school year.
Pick a Church, Any Church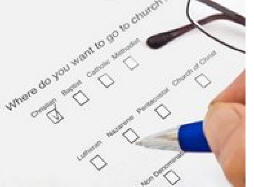 Here in Collinsville we just finished an interesting program started by the Collinsville Area Ministerial Alliance. It was called "Pick a Church, Any Church." It was a big marketing campaign designed to get people to church for Easter. Seventeen congregations (GLSC included) kicked in $$$ to buy signs, print fliers, pay for ads, billboards, an automated call from Mayor John Miller, and an automated call from Congressman John Shimkus. Some of our members wondered about this program. "Pick a Church, Any Church?" That didn't sound like GSLC. They thought it should be "Pick a Church, My Church!"

I told them that the way I looked at it these churches weren't unified, but at least anyone who attended one of them for Easter could discover something good about Jesus. This might be a first step toward salvation, and it was better than sitting at home and doing nothing for Easter. I was trying to put on the best construction. Sometimes non-participation in something like this can send a wrong signal. It drew a lot of interest... Articles in the Post Dispatch, national ministry magazines, etc. I usually attend most CAMA meetings. I like my brother pastors and feel liked by them. But I am always the "fly in the ointment" when it comes to unity. I won't participate in the unity services on Thanksgiving and Good Friday. Most think as long as you believe Jesus is Lord, then everything is okay. Well, as it turns out the brothers aren't so unified as we might think. When each church made phone calls (we tried to call every home in Collinsville with volunteers), one church decided to add something at the end of the generic script... If you don't have a church home, come to our church (with specific info). The script said they were to visit the website and take a look at the 17 churches and choose. So let's all just be honest here... Deep down we all want people to come to our church!

First, we have to remember that since faith itself is a gift of God (Ephesians 2.8-10), then unity in the faith must also be a gift of God!

Second, if Jesus was concerned about unity, that means He saw the problems of disunity among the disciples, and He foresaw the problems of unity in the church... Almost every letter the Apostle Paul wrote dealt with disunity in the faith.

Disunity is a fact as sure as sin is a fact. It's going to happen. The only question will be whether we will recognize and deal with it! The question isn't "Is there disunity?" The question is always "What should we be doing about the disunity?" The answer is the same as in the New Testament. Meet, study the Scriptures, discuss/debate, and pray... See Acts 15 and the Council at Jerusalem! That is the great effort that the Lutheran church began with the publishing of the Augsburg Confession and later the Book of Concord. Here's what we believe. Let's work together for the truth of God's word... Look at the introductions to both, and you'll see it's all about continuing the age-old work of maintaining the "unity of the Spirit in the bond of peace" (Eph 4.3). Pastor Walther
Home Bible Study Potluck May 29th 6:00 p.m.
Everyone is invited to the Home Bible Study Potluck (even if you weren't in a Bible study!). We'll meet in the Church Lower Level. Bring a dish to share. We'll have a special (shorter) Bible study for the adults while the kids play outside. We'll also talk about next year's Home Bible Studies. Please come and join us.