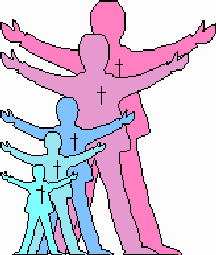 Love in Action

Good Shepherd Lutheran Church

1300 Belt Line Road Collinsville Illinois 62234

618-344-3151 (Church) 618-344-3153 (School) 618-344-3378 (Fax)


Pastors M. Walther & P. Hoft Vol. 28 No. 5 May 2005
---
Who Are God=s Saints?
The recent death of Pope John Paul II has evoked a great deal of media coverage and curiosity about the legacy that he leaves behind. Many people are speculating that this pope will be canonized as a saint. In the homily at his funeral he was referred to as "the great." This raises a good question for all Christians to think about. What exactly does it mean to be a "saint?" Is this title restricted to only a select group of "super" Christians in heaven or does it refer to all believers in Christ?
The Catechism of the Catholic Church defines a saint as "a disciple who has lived a life of exemplary fidelity to the Lord" (CCC 2156). Of the 83 paragraphs in which the word "saints" occurs, the overwhelming majority speak of "saints" as Christians who have gone to heaven. Also according to Roman Catholic doctrine, a saint is someone who performed at least one miracle while living and had at least one miracle associated with his or her grave or relics.
This is so foreign to Biblical teaching. The New Testament clearly teaches that a saint is one who has been sanctified or made holy. A very clear passage is 1 Corinthians 1:2 which says, "To the church of God that is in Corinth, to those who have been sanctified in Christ Jesus, saints by calling, together with all those who in every place call upon the name of our Lord Jesus Christ, their Lord and ours." Here we see that Paul considered living Christians on earth to be saints. There are many other passages that support this. (Here are just a few: Acts 9:13, 32; 26:10; Rom. 1:7; 12:13; 2 Cor. 1:1; Eph. 1:1; Phil.1:1; Col.1:2; 1 Tim. 6:10; Heb. 13:24). Other passages such as 1 Thess. 3:12-13 speak of God's saints in heaven.
So, how does one become a saint? The holiness that a saint possesses is not his own holiness, but the holiness of Jesus Christ that has been imputed to him through baptism and faith. Because of the death and resurrection of Jesus Christ, those who have been baptized and believe the Gospel, are now considered by God to be holy. It is a holiness received, not a holiness achieved. This is true of the entire Church, both on earth and in heaven, the communion of saints. Pastor Hoft
For all the saints who from their labors rest,
Who Thee by faith before the world confest,
Thy name, O Jesus, be forever blest.
Alleluia! Alleluia!
Equipping to Share
Saturday, May 7th
On Saturday, May 7th, Good Shepherd will be hosting Equipping to Share B A Workshop for Everyday Evangelism. This workshop will be presented by Lutheran Hour Ministries. The workshop will concentrate on: Expressing the Gospel, Understanding the Spiritually Lost, Preparing for Mission Moments, and Connecting People to the Church. The workshop is free including lunch. The program runs from 9:00 a.m. to 2:00 p.m.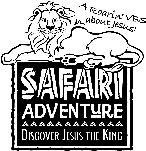 Vacation Bible School July 11-15
Mark your calendars now for VBS! If you would like to help out in anyway, please contact the Church Office (344-3151). We are looking forward to another great experience this summer to reach out into our community with the message of the Gospel.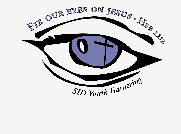 Southern Illinois Youth Gathering
Sr. High youth are invited to the S.I.D. Youth Gathering to be held this summer at Southern Illinois University in Carbondale, Illinois on June 17-19, 2005. The theme is "Fix Our Eyes on Jesus" based on Hebrews 12:2. Speaking on this theme will be Rev. John Nunes. , who will serve as the Bible study leader and emcee. Also speaking will be Bob Lenz, Director of Life! Promotions, a non-profit youth organization that provides speakers, performers and musicians to work with school districts, youth leaders, conferences and event planners with a message to help youth avoid the damages of drug and alcohol abuse, teen pregnancy, violence and suicide. Music will be provided by Tangled Blue. The cost is $150 per person by April 30th, or $175 per person after April 30th. Cost includes program, lodging, all meals and t-shirt. Youth going into High School this fall are welcome to attend. See Pastor Hoft for a registration form!
Lutheran Women in Mission
Tuesday, May 3rd - Our monthly meeting, beginning at 7:00 p.m. in the Fellowship Hall, will include a presentation of "The Honduras Mission." Babysitting will be available.
Women's Bible Study - Every 3rd Thursday of the month at 7:00 p.m. in the Fellowship Hall. All women of the church are invited to join together for an hour of fellowship and study in God's Word on May 19th.
Layette Reminder - as you're hitting the garage sales this spring/summer, be on the lookout for receiving blankets, sleepers, onesies, sweaters & sweatshirts.
Special Events
Mon, May 9th - Mother & Daughter Banquet Come and join us for "A Walk in Faith." If you have any questions, please contact Cheryl Schnicker at 398-3786.
Looking Ahead
You'll definitely want plan to join us for the June 2nd meeting. "Favorite Scripture Night" is back by popular demand!
LWML Convention in Tampa, Florida, is now only two months away. Registrations must be postmarked by May 16th. Late fees will be added after that date. Every day is filled with sun, fun and servant-hood, and the last is no less than the first. While you're there, visit exhibits in Sonshine Square, take the Joyful Jaunt Mission Pledge Walk, be a Salty Servant and Live Joyfully as Salt and Light!
Official Acts
Baptisms (Children): Audrey Fay Allard, Eliot Rose Jaeger, Madison Zeanne Evans, Owen Burk Twyman
Confirmation (Children): Caitlyn Lee Ashcraft, Elizabeth Katharine Baker, Erika Dee Benardin, Amber Crystal Biggs, Amy Lin Blood, Paula Ann Butts, Thomas Edward Collins, Jr., Alex Edward Coombs, Corwin Allen Crouch, Jeffrey Brian Daniels, Brittany Renae Fanshier, Sarah Kathryn Frey, Daniel Wayne Griffith, Randi Michele Heidbrink, Christian Royal Hoffman, Simon Andrew Hoffman, Shawn Michael Holten, Brittany Amber Jones, Rachel Leona Kintz, Emily Michelle Kuhlman, Paul John McGinthy, Brooklyn Danielle McNamara, Julia Lynne Meyer, Danielle Sarah Miles, Daniel Keith Recklein, Brian Thomas Reed, Jr., Bradley Maddison Rodgers, Brett Douglas Ruckman, Corbin Logan Ruffcorn, Chelsea Nicole Schneider
Received Through Transfer: Emily Kobler from Immanuel, Charleston, IL
Marriages: Gabriel Joseph Kolesa and Sarah Lynn Bohn; Wesley Odell Klaus and Sherry Lavonne Gustafson
Funerals: Lois Hughes, Esther Henriette Kosten
Souls: 1,649 Comm.: 1,319
Tragedy at Hope Clinic
We often hear of tragic news stories from around the world, but recently one of those stories was lived out right in our own area. As reported by the Family Research Council and other organizations a 14-year-old Illinois girl was taken out of school by the mother of the girl's boyfriend and brought to Hope Abortion Clinic in Granite City, Illinois. The older woman told the clinic she was the grandmother - a statement strangely true, although she was the grandmother of the child she had the clinic kill. What is especially troubling about this story is that the girl's mother discovered where her daughter was and rushed down to the clinic to save her daughter from the abortion. The clinic refused to give her access to her daughter and called the police, who arrested the frantic mother. The idea that a clinic and law enforcement officials would deny a parent's legal and moral right to be with her daughter in such a difficult and life-changing moment is outrageous. Certainly crimes were committed here; but the very fact that something like this could happen sheds light on the prevailing culture of death. It is time for the law to protect the rights of parents - not to mention the rights of the unborn. (Tony Perkins, Family Research Council)
Wednesday Woman Brunch
Wednesday Women has their May Brunch on May 4. Come for good food and fellowship and devotions. Prayer Partners will exchange May baskets to reveal their identity. Babysitting provided. Questions? Ask Carol Walther or Carolyn Ashcraft.
Ask the Pastor: The Apocrypha
With the popularity of the novel, "The DaVinci Code", the question has been arising recently of what other ancient writings exist concerning the Old and New Testament and why they are not a part of The Bible.
The Apocrypha is a title given to fourteen writings which relate history and stories, many taking place during the time between the last Old Testament book, Malachi, and time of Jesus. The word "Aapocrypha" is taken from the Greek word meaning "hidden", telling that the origin of these works is unknown or doubtful.
Four reasons these books are not included in The Bible: include:
1. These books were never included in the Hebrew canon of the Old Testament. The ancient Jewish historian Josephus expressly limited the Hebrew canon to the same books of our Old Testament. Josephus knew of other Jewish writings down to his time, but he did not regard them as having equal authority with the canonical books.
2. These books, as far as the evidence goes, were never accepted as canonical by Jesus and His apostles.
3. These books were not accepted as Scripture by other Jewish writers such as Philo, and neither were they accepted by the early church fathers.
4. These books do not evidence intrinsic qualities of inspiration. Great portions of these books are obviously legendary and fictitious. They often contain historical, chronological and geographical errors.
But even though these writings are not considered inspired and a part of The Bible, there is still much to be learned from these books about the life and heritage of the Jewish people leading up to the time of Jesus. They are well written, informative, in many cases entertaining, and certainly worth reading. Vicar Furgeson
Contribution Trends
Good Shepherd is very thankful for all the members who, in response to God's grace, help to further the Kingdom of God with their offerings. The following table illustrates the contribution trends over the last three years. The table shows the number of members who give offerings according to various categories.
Contribution Stats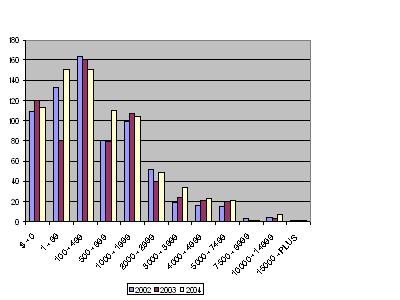 2002 2003 2004
Top - 20% = 75% 71% 78%
Offerings are an important part of our living by faith. As we recognize that God gives us all things, so we also realize that we are stewards or managers of these gifts. Many Christians know the joy of giving as God has given to them. In the Bible many of the believers gave offerings of ten percent (tithe) of the blessings God had given them. Christians often extended themselves even beyond this mark as they were devoted to the expansion of God's Kingdom.
Custodian Needed
Good Shepherd is seeking someone to clean the sanctuary and the lower level . The position will take approximately 15 hours a week. If interested, please contact Marty Hoffman at 344-3151.
---
"A WALK IN FAITH" Ė Mother & Daughter Banquet!
Monday May 9, 2005
ITíS HERE!!!!! The 44th Annual Mother & Daughter Banquet, hosted by Good Shepherd Lutheran Womenís Missionary League (LWML), is here and all mothers and daughters are invited! Come and join us for "A Walk in Faith". This yearís theme is HAWAIIAN and everyone is encouraged to dress for a luau! A fun filled evening is planned beginning at 6:00 p.m. The dinner menu will be Pulled Pork or Pulled Chicken, Cheesy potatoes, Green beans almandine, Cheese cubes and a Fruit tray, and will be followed by a great program to "test your trust" and fuel your faith. Tickets are on sale now!!!!! Adults: $8.50, Children (4-12): $6.50, Children under 4 are FREE! Please return your registration form along with your payment to the Church office no later than April 28. Additional registration forms are available at the church office. Remember, RESERVATIONS ARE LIMITED, so register as soon as possible! If you have any questions, please contact Cheryl Schnicker at 398-3786.
NAME_________________________________________________ PHONE______________________
GUESTS (Circle One)
_______________________________________________________Adult Child (4-12) Child (under 4)
_______________________________________________________Adult Child (4-12) Child (under 4)
_______________________________________________________Adult Child (4-12) Child (under 4)
_______________________________________________________Adult Child (4-12) Child (under 4)
Total Enclosed $______________________ (please make checks payable to "LWML")
---
2005 VACATION BIBLE SCHOOL REGISTRATION
Vacation Bible School Date: July 11-15 Hours: 8:30 - 11:30 A.M. Monday B Friday
Classes are for children who will be 4 by Sept 1 through those just completing 7th grade.
_____I will be a teacher _____I will help with crafts
_____I wish to serve as a teacher's helper _____I will assist with registration
_____I will help with refreshments _____I will donate cookies
_____I am willing to baby sit (the nursery is for the children of VBS teachers and helpers)
_____I will donate $_____to defray expenses
ADVANCE ENROLLMENT FORM
NAME AGE GRADE COMPLETED THIS SPRING
1. ________________________________________ ____ ____________________
2. ________________________________________ ____ ____________________
3. ________________________________________ ____ ____________________
Parent's Name:___________________________ Address:_____________________________________
Work or Emergency Phone:____________________ Home Phone:_____________________________
Family Church:______________________________ To be brought by:__________________________
Note: A suggested donation of $10 to cover cost of materials will help to support the Vacation Bible School program for everyone.
Those turning in their registrations by Sun., June 12, will receive a free VBS music CD.