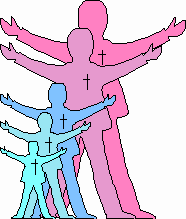 Love in Action
Good Shepherd Lutheran Church
1300 Belt Line Road Collinsville Illinois 62234
618-344-3151 (Church) 618-344-3153 (School) 618-344-3378 (Fax) Pastors M. Walther & P. Hoft Vol. 25 No. 5 May 2002
___________________________________________________________________________________________
A Mother's Day Card From God
Every year around this time, millions of people head to the greeting card stores to find that perfect card for Mom. Little children often choose to create their own with their crayons and computer programs. Have you thought about what you will say to your mom on May 12?
Most Mother's Day cards I've read attempt to communicate how much we love and appreciate our mothers. Every card tries to show how valuable they are to us. This is good. But God sends an even better message to the mothers of the world. It's called the Fourth Commandment: "You shall honor your father and your mother." God shows how much He values mothers by telling us that they are worthy not merely to be loved, but to be honored, which is even a higher thing. In the Large Catechism, Martin Luther writes,
"God has given this walk of life, fatherhood and motherhood, a special position of honor, higher than that of any other walk of life under it. Not only has he commanded us to love parents but to honor them. In regard to brothers, sisters and neighbors in general he commands nothing higher than that we love them. But he distinguishes father and mother above all other persons on earth, and places them next to himself. For it is a much higher thing to honor than to love. …For anyone whom we are wholeheartedly to honor, we must truly regard as great and high (LC; 105, 107)."
Most Mother's Day cards tell Mom how much we love her because of what she's done. This can be taken: "Mom, because you have cooked for me, cleaned for me, listened to me, hugged me, and taught me, you are worthy of my love." But the Fourth Commandment tells us to honor our mother "just because." Regardless of what she has done or hasn't done, we are to honor her "just because." Luther also writes,
"It must therefore be impressed on young people that they revere their parents as God's representatives, and to remember that, however lowly, poor, feeble, and eccentric they may be, they are still their mother and father, given by God. They are not to be deprived of their honor because of their ways or failings (LC; 108)."
This year, what will you write in your Mother's Day card? In the Fourth Commandment we are given the privilege to regard our mother as the greatest treasure on earth, not because of what she's done, but because of who she is.
Adult Inquiry Classes
Invite a friend to the next session of Adult Inquiry to learn more about the Christian faith. Classes are on Wednesdays from 7:00 to 8:45 p.m. Babysitting is provided. The classes are all set up in a presentation format. It is a great introduction to the overall teaching of the Bible centered in Jesus Christ. Babysitting is provided.
Wednesday Night Bible Study
Pastor Hoft is leading an in-depth study on the Book of Matthew on Wednesdays at 7:00 p.m. in the Fellowship Hall. Come and walk in the footprints of Christ as we use the LifeLight series from Concordia Publishing House. Last fall and winter, we grew in our personal faith, studying the Book of Genesis. Now, come and see how these Old Testament promises came true in Jesus the Messiah.
Ascension Service
May 9th at 7:00 p.m.
Join us for the celebration of Jesus' ascension. The service will include Holy Communion.
Retirement Reception and Dinner
Please join us on Sunday, June 2nd at 12:00 noon (following the 10:30 Church service) to honor Mrs. Peggy McKinnon and Mrs. Mary Preuss on their retirement from teaching. This will be a very special day of fellowship and rejoicing for their years of service to the Lord and His children. The day will include a luncheon followed by a short program and time to reflect on the ways these ladies have touched so many lives. There will be sign up sheets in the narthex. The last day to sign up will be May 17th.
National Volunteer Week, April 21 -27
Thanks to all the volunteers who support so much of the ministry here at Good Shepherd. We are especially grateful for the faithful volunteers who work each week in our church office to count money, assemble bulletins and newsletters, and enter data.
Lutheran Women's Missionary League
You won't want to miss our monthly meeting on Thursday, May 2nd, at 7:00 p.m. in the Fellowship Hall. The program entitled, "A Bouquet of Faith Petals" will be given by our own Jean Werth, whose company Faith Petals, Inc. was founded to provide encouragement for Christian Living. Jean has authored many articles and poems for Christian publications, and recently had her book, "There's Someone in Your Kingdom, Lord" published. In addition, there will be devotions and refreshments. All women of the church are invited. Come, and bring a friend!
Steward Byte
Perhaps some of you remember the TV show, "The Millionaire." John Baresford Tipton, a multi-billionaire, would select a person at random and send his servant out to deliver a $1 million check.
The drama unfolded as Mr. Tipton would then watch to see how the million dollars affected the life of the one who received it.
What if you had unlimited resources to give away? It would be fun to give people large gifts, totally unexpected, and watch as they enjoyed those gifts.
But that's how God operates, God has an unlimited supply of gifts to give to you – especially the gift of the forgiveness of sins and eternal salvation.
Because God draws from an unlimited supply, you, too, have access to unlimited grace. As much as you can give away, so much, and even more, does God give you. We can't give it away as fast as God can replace it. (Mal. 3:10).
(Adapted) Copyright LCMS Used by permission
Karaoke Night
Come join us for ice cream, fellowship, and an evening of singing! AAL Branch 4811 will be hosting their first-ever Karaoke night, Sunday, May 19 from 6:30 to 8:30. A freewill offering will be collected at the door. In addition to a time of open singing, AAL will be sponsoring a sing-a-thon contest for interested individuals or groups of 2-5. People competing in the contest will need to find sponsors to pledge money for up to three songs. The individual or group with the most pledges wins. Pledge forms are located on the table in the Narthex. All monies will benefit the families of Pam Adams and Kim Ligon. If you are unable to attend but would like to contribute or sponsor, or if you have any other questions, please call Donna (344-3342). Come join the fun!
Anniversary/New Member Dinner
Come help us celebrate our Church's anniversary, renew old friendships and meet new members who have joined Good Shepherd since last May. The date is Sunday, May 5th, beginning at 11:30 a.m. in the Fellowship Hall with a delicious catered meal.
The theme this year is "Rebirth in Christ." We are in for a special treat, since the program will include musical selections by our newly formed handbell choir.

Use the following schedule to read through the Bible in one year. If reading the entire Bible in one year is too difficult at first, consider a customized schedule. For example you could read through the New Testament or certain books of the Old Testament. Try to use a study Bible with a good introduction to each book. The Concordia Study Bible is available for purchase in the Church Office. The cost is $30. The schedule is designed to give you a few days off each month to catch up on any readings you missed.
May

New Testament

Old Testament

Mark

2 Corinthians

Psalms

1 Samuel

1

9.33-50

1.1-11

95

1-2

2

10.1-16

1.12-24

96

3-5

3

10.17-34

2

97

6-8

4

10.35-52

3

98

9-10

5

11.1-11

4

99

11-13

6

11.12-26

5

100

14

7

11.27-33

6

101

15-16

8

12.1-12

7

102

17-18

9

12.13-27

8

103

19-20

10

12.28-34

9

104

21-23

11

12.35-44

10

105

24-25

12

13.1-13

11.1-15

106.1-23

26-28

13

13.14-31

11:16-33

106.24-48

29-31

2 Samuel

14

13.32-37

12.1-10

107

1-2

15

14.1-11

12.11-21

108

3-4

16

14.12-31

13 Galatians

109

5-7

17

14.32-42

1

110

8-10

18

14.43-52

2

111

11-12

19

14.53-65

3.1-14

112

13

20

14.66-72

3.15-29

113

14-15

21

15.1-15

4.1-20

114

16-17

22

15.16-32

4.21-31

115

18-19

23

15.33-41

5.1-12

116

20-21

24

15.42-47

5.13-26

117

22

25

16

6

118

23-24
Mother-Daughter Banquet
Mother-Daughter Banquet - Monday, May 13 at 6:00 p.m. Bring your mother, daughter or a special friend to this fun evening sponsored by the L.W.M.L.! Ticket prices: Adults $7.50; children 4-12 years $5.50 (under 4 are free). Reservations are required by May 5. Tickets will be sold in the connecting hallway or call the church office (344-3151).
Older Adult (55+) Lutheran Heritage Trip
August 15-23, 2002
Beginning Thursday, August 15, 2002, the Southern Illinois District is sponsoring a nine-day/eight-night historical look at Lutheranism visiting sites of interest in Indiana and Michigan.
The first stop will be at Concordia Seminary in Fort Wayne where there will be a campus tour followed by a Bible study with a member of the faculty. From there, the trip progresses to Frankenmuth where a day will be spent touring the city. Sunday morning begins with worship at St. Lorenz Lutheran Church. Then, it is on to Dow Gardens before proceeding further north to Mackinaw City. Monday will be spent on Mackinac Island; Tuesday in the Traverse City area. On Wednesday, the trip joins the weeklong LutherHostel at Camp Arcadia; the deans are Walt Schoedel and Rich Bimler. Moving in a homeward direction, stops are planned at Holland, Michigan; and Valparaiso University and the Amish area in Indiana.
Don't miss this opportunity for Gemutlichkeit with other Lutherans as they explore their Lutheran heritage on a roomy, comfortable bus. Brochures are available in the church office. For further information, please contact the Southern Illinois District office at 618-234-4767.
School News
Matching Funds
When you write checks for Our Children's Foundation is in Christ – The Good Shepherd, please make sure they are made payable to Good Shepherd Lutheran School and not to the church, so we can acquire matching funds. Please check your place of employment to see if they will match gifts to schools.
Chapel Offering
Our offerings in April supported Lutheran Bible Translators. LBT is an independent mission organization founded in 1964 to help bring people faith in Jesus Christ through Bible translation and literacy work. In the world today more than 3,700 languages--representing over 300 million people-- have no portion of the Bible in writing. Currently they are involved with work in nearly 40 languages.
The offerings in May will go to tuition scholarships.
Road Closing-Beginning Monday, April 29
Bridle Ridge at Beltline will be closed for several days in order to proceed further with work on the new stoplight.
Trivia Night – May 3, 7:00 p.m.
Sponsored by Good Shepherd's Mission Awareness Partners (MAP) to benefit Mission Trips to remote Canada. Bring your own snacks. Popcorn and drinks provided. $10.00 per person to play. Reserve in advance by Thursday, May 2 and pay at the door. For reservations call the church office, 344-3151, Eric & Karen Semler 345-5947, Bill & Sue Petersen 345-7522 or Jim & Vikki Pfaff 346-1022.
Youth News
Six Flags Trip- May 30
Sr. High Youth are invited to go to Six Flags with the F.R.O.G. Youth Group. Sign up sheets are in Pastor's Hoft's office. Transportation from parents will be needed.
Mission Opportunity
"Firstfruits" Servant Event at Unity Lutheran Church, East St. Louis, will happen again May 4. Sr. High are welcome to meet in church parking lot at 9 a.m. Come and help out Unity prepare for their new mission school.
Sr. High Youth Gathering registration forms have been sent home to all youth. If you would still like to attend this gathering on June 23-25, return your form to Pastor Hoft.