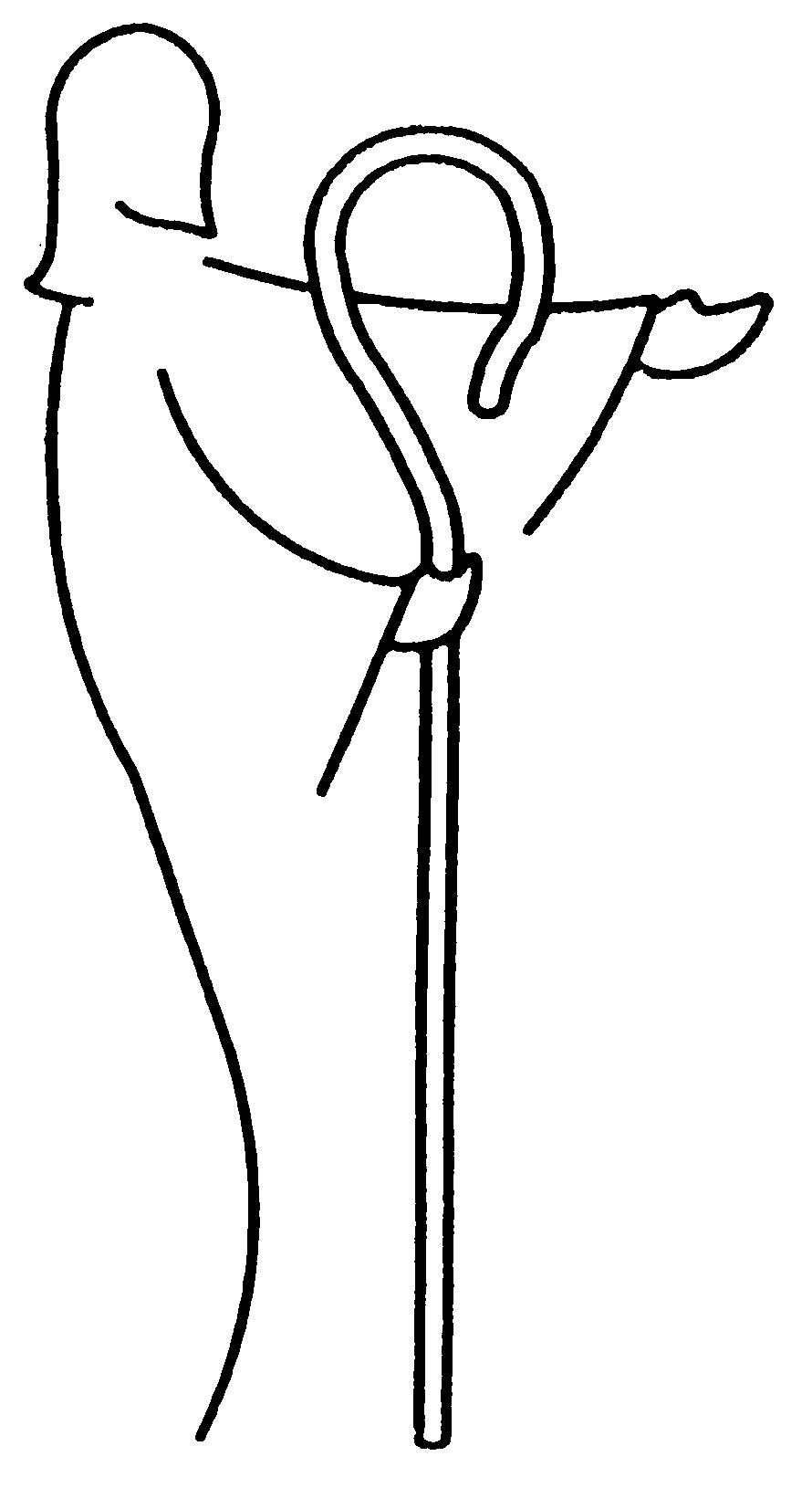 Love in Action
Good Shepherd Lutheran Church
1300 Belt Line Road Collinsville Illinois 62234
618-344-3151 (Church) 618-344-3153 (School) 618-344-3378 (Fax)
Pastors M. Walther & P. Hemenway Vol. 32 No. 3 March 2009
---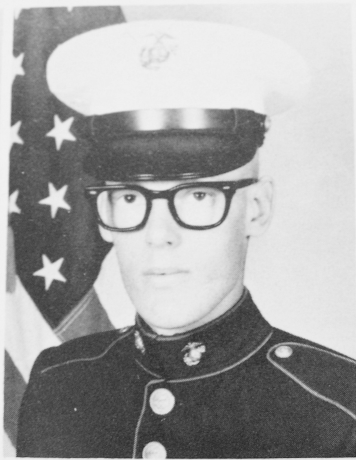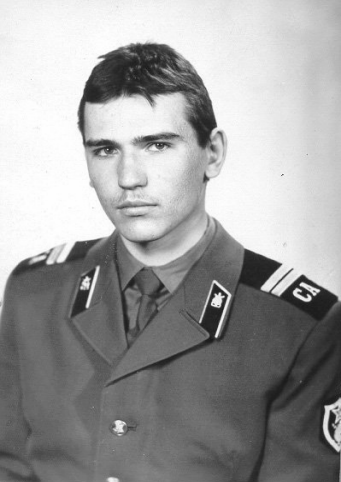 United in Christ
You probably recognize the fellow on the right! Yes, that is me in my boot camp picture in the United States Marine Corps in 1977. But who is the fellow on the left? That's Sergeant Roman Heidemann of the Soviet Army in 1989. A few years ago we had a guest come to Good Shepherd to tell us about mission work in Russia. It was Roman Heidemann from Yekaterinburg, Russia. Roman works with Lutherans scattered over an area as large as Indiana and Illinois put together. He is currently studying at a Lutheran seminary in Russia. A couple of months ago he contacted me through Facebook (a computer network website), and I went to his profile page. I was surprised to see his old army picture! It's amazing to see how much has changed. Both of us were part of two of the greatest military machines of all time. Little did we know that both of us were united in one of the most amazing ways as Christians. Recently Roman called me on the telephone. Can you believe it, he can call me for free through the computer! He told me about the ministry work going on in Yekaterinburg. I asked him about his old army picture on Facebook, and we immediately began talking like old soldiers. He said "We always knew you wouldn't attack us." I agreed. I didn't think that was ever going to happen. He told me about how hard it was to be a sergeant. You're caught right between the low level troops and the officers. He said he couldn't keep anybody happy! I finished my service in 1983 as a lance corporal, but I knew exactly what he was talking about. Once in a while I was one of those troops that got yelled at by a sergeant or two! Today both of us are serving the Lord by proclaiming His Gospel and sharing His love. Since life in Russia is still so very difficult and since the ministry needs are so great, I am trying to help Roman in his ministry by raising funds. If you would like to know more about what he is doing, please visit his website at http://stgertrude.ur.ru/index2.html. You'll be hearing more about this!
As Lent begins we remember our spiritual walk with Jesus to the cross. "For to this you were called, because Christ also suffered for us, leaving us an example, that you should follow His steps" (1 Peter 2.21). The world we live in is so fallen. There is so much suffering. But Jesus showed us that Christians need not be afraid of suffering. Ultimately, Jesus has won the victory. That victory also enables us who have been blessed to make the sacrifices of love that help others with their burdens. As we renew our hearts and minds in the suffering of Christ, I pray that His sacrificial love will inspire and motivate us to faithful living. Pastor Walther

Fireproof Movie Night Sunday, March 15th
Mark your calendars for Sunday, March 15th, when Good Shepherd will be showing the movie Fireproof. This is a great movie about a couple struggling with marital problems. All of us have these same problems in one degree or another. The movie shows how one particular couple worked through their problems. Here's our plan for the night…
5:00 – 5:45 p.m. Spaghetti Supper for the whole family
5:45 – 8:00 p.m. Movie and discussion while the kids have special activities led by Youth Director Jaime Brinkmann and the pastors.
This movie will provide a nice addition to the marriage Bible classes we've had this winter. Please call the church office (344-3151) and leave a message with the number of people who will be eating. Or email our church secretary at… jsimpson@goodshepherdcollinsville.org.

Crossroads

Mark your calendars for these upcoming dates! March 8 we will be meeting after late church to go to Bandanas in Collinsville. Thursday, March 12 is Bible study at the Hemenway's house. March 21 we will be going to Dave & Busters. You can meet us there or we can arrange some carpooling. Dave & Busters will be an adults only event! Hope to see some new faces! If you have any questions, please call Carrie Kober (344-1158), or Karen Hemenway (343-1886).

Lunch Bunch

Lunch Bunch will meet March 17 at 11:45 a. m. on the church parking lot. We will go Bella Milano in Edwardsville. Bring a friend and enjoy some fellowship. Please call Wilma Mitchell (345-7123) or Mary Preuss (288-9525) before March 15 so we can give the restaurant a count.

Food Baskets

Board of Congregational Life will be making food available for those desiring it, on Saturday morning, April 4. If you are interested, please contact the church office at 344-3151 by March 30, & leave your name, phone number, & number of family members. Pick-ups will be in the lower level of the church between 9:30-10:30 a.m.

MOPS

Moms -do you ever feel like you are constantly in a battle of wills with your preschooler? If this sounds familiar, you need to join the Good Shepherd MOPS on March 20th from 9-11 and share your story. Our discussion this month will focus on how to set boundaries for your little ones. Bring an appetite (breakfast will be served), and your little "bumper car" (who will be cared for by our MOPPETS team). See you there!

Lutheran Women In Mission

Our March theme is Be Victorious, taken from 1 Corinthians 25:57 – "But thanks be to God, who gives us the victory through our Lord Jesus Christ".

All ladies of the church are invited to attend the next meeting of the Lutheran Women's Missionary League scheduled for Thursday, March 5 at 6:45 p.m. in the Fellowship Hall. Our speaker for the evening is Phyllis Wallace, whose program is entitled "The One That Got Away"! Phyllis is the creator & host of the KFUO AM program "Woman to Woman." She is a wife, mother, author, former family counselor & educator, as well as a noted speaker. Her humor & upbeat, candidly refreshing enthusiasm are contagious. Please join us for an evening filled with good Christian fellowship, fun (& of course, food).

There is still time to sign up for the Women's Day of Renewal" to be held March 7 at Good Shepherd. One ticket will allow you to hear an inspirational keynote speaker, Elaine Bickel, & participation in two workshops as well as a continental breakfast & catered lunch. Please call the church office at 344-3151 for registration forms or for more information.

We will be sponsoring a Lenten Soup Supper on March 25. All proceeds from this freewill offering will be divided between the South African Seminary Student Fund & to help pay expenses for students from Metro East Lutheran High School who will be taking a mission trip to Costa Rica. Please help support these very worth causes, while enjoying delicious food & Christian fellowship

The LWML Spring Retreat will be held March 28 & 8:30 a.m. to 4:00 p.m. at the Microtel Conference Center in Carlyle, IL. Rev. Dr. Terry Dittmer is the keynote speaker. To register or for more information you may contact Dona Kober, President of our society at 344-3342. Registration deadline is March 15.

For those who are unable to attend the monthly meetings but would like to participate in the monetary support of the LWML mission projects, "Mite" boxes are available. The process is that any time you are feeling especially blessed, you drop a few coins in the Mite Box & periodically turn it in to one of the active LWML members to be included in our society's total contribution. You may obtain a Mite box and/or information about the mission projects being supported for this calendar year, by calling Mary Jane Wade at 344-3217.

Investment, Estate, & Social Security Strategies Seminar

Thrivent Financial for Lutherans, a Fortune 500 financial services organization with over 67 billion in assets under management, is hosting a 1½ hour Investment, Estate, & Social Security Strategies Seminar on Friday, March 13 at 10:30 a.m. &1:30 p.m. Our local Thrivent Representatives are hosting the event along with guest speaker Jonathan Doering, Thrivent Financial Consultant, & Jim Caulder, Benefit Specialist, Caulder & Associates. Please join us in the fellowship hall below church, light refreshments will be served. To reserve a seat for you & a guest please RSVP to Kathy at (314)-783-4250.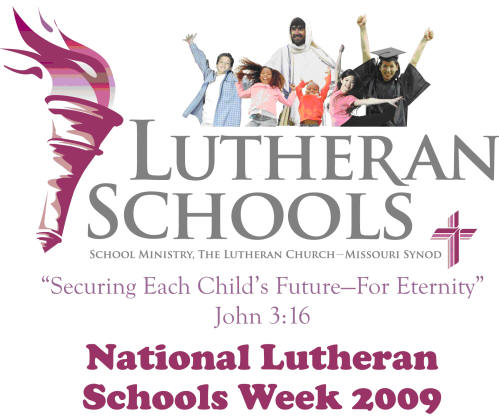 National Lutheran Schools' Week is March 1-6, 2009. This year's theme is "Lutheran Schools- Securing Each Child's Future For Eternity". Each day there will be an opportunity for students to show their school spirit & dress for the theme of the day. The theme is based on "words" pulled from this years Bible verse John 3:16, "For God so loved the world that He gave His only begotten Son that whosoever believes in Him shall not perish but have eternal life."

Sunday, March 1 the faculty will sing in the church services.

Monday, March 2 "International Day" Students should wear clothes that resemble cultures from around the world. K-4 Muffins with Moms from 7:45-8:15 in the cafeteria.

Tuesday, March 3 "Rainbow Day" Dress in jeans & any colors of the rainbow, students will enjoy a Story Teller Visitor throughout the entire day, 5-8 Muffins with Moms from 7:45-8:15

Wednesday, March 4 "Fishers of Men" Come to school dressed as a fishermen!! (plaid shirts, straw hats, fishing vests…No Fishing Poles or Hooks. Be as creative as you can) Grandparents & special friends' day for 4's class. K-4 Donuts with Dad from 7:45-8:15 in the cafeteria.

Thursday, March 5 "Pajamas to school. Grandparents & special friends' day for 3's class. Talent Show at 7 p.m. 5-8 Donuts with Dad from 7:45-8:15 in the cafeteria.

Friday, March 6 "Royal Ball" Come to school dressed in your best. (Wear dressy clothes…No Jeans) Grandparents & special friends' day for K-8. Bring your lunch today!

Please pray for God's continued blessing on our school ministry during this special week of celebration, & always.

Lutheran Summer Camp
Camp Piasa

Lutheran Summer Camp will again be held this summer at Camp Piasa in July. Boys & Girls currently in grades 5 & 6 are invited to attend camp July 5-10. Boys & Girls currently in grades 7 & 8 are invited to attend camp July 12-17. Camp applications will be available in March. We hope to see you there, so please mark your calendars & plan to attend! Any high school student with camp experience, who would like to apply to be a junior counselor can e-mail Aunt Kathy at harrisonkn@charter.net to request an application.

Financial Peace University

Financial Peace University Starts March 23 at GS! Now Free to GS members!

Do you know that only 32% of Americans would be able to cover a $5000 emergency with cash? A Parenting Magazine poll indicates that 49% could not cover even one month's expenses if they were to miss a paycheck. Now, imagine – having absolutely no debt – no car payments, no credit card payments, not even a house payment. Imagine what God's people could do for His kingdom if they had financial peace? Financial Peace University is a 13-week program taught through video and small group discussion that helps people dump debt, get control of money, and learn new behaviors that are founded on Biblical principles.

Financial Peace University is a licensed hands-on, nuts and bolts, how-to class. Although Scripture is part of the class, it is not a Bible study. Course materials include a workbook with forms that guides you through the process, the New York Times bestseller, The Total Money Makeover, audio cassettes of each session for you to listen yo after the class at your leisure, Web tools, and much more! Scholarships are available to cover this cost, just speak to one of the Pastors.

The class will be lead by Tim and Pam Meister and Joel and Beth Italiano. Both couples have worked the program and will share their personal testimony. Come to the preview session on March 24th at 7:00 p.m. at GS to learn more. The class series will start April 21st at 7 p.m. Babysitting is provided.

The average family pays off $5300 in debt and saves $2700 in the first 91 days after beginning FPU and is completely out of debt – except for the mortgage, in 18 to 24 months. Please contact Tim Meister at 636-734-6515 or Joel Italiano 618-659-0508 for further info, or just show up on the 24th.

Remember, there is only one way to financial peace and that is to walk daily with the Prince of Peace, Christ Jesus!

High School Youth

This month's theme is "Give it up" dealing with topic of sacrifice while living in a self-centered world. We'll be taking part in some fun and challenging sacrifices of our own this month. We'll be meeting the first and third Sunday's for youth. The first Sunday we will play some games and share in discussion about why we need to let go of some things in our lives. At "The Deepend" we'll have a guest speaker talk about their own troubles and sacrifices, the third Sunday we'll actually sacrifice our own youth time to organize a children's program during FIREPROOF, and the last weekend of the month we'll sacrifice some of our own comforts to understand others better by participating in the 30 Hour Famine. Keep an eye out for the youth newsletter which will go into more details about the activities.

March 1- Youth Group 6-8pm (Gym)

March 10- The Deepend 7-8:30pm (School Library)

March 15- Children's program during "Fireproof" 5-8pm (please sign up)

March 22- Youth Board Meeting (downstairs after late service)

March 27 to 28- 30 Hour Famine Lock-in

Concerns about the 30 Hour Famine? The 30 Hour Famine is a nation wide youth event put on by World Vision, a Christian Mission organization that seeks to teach today's youth about the hunger and issues facing third world countries and even in our own country. Participating youth are asked to find sponsors to donate a certain amount which will be given to World Vision to combat hunger in some of these places. We will not be eating any food for 30 hours (nothing after lunch on Friday to dinner on Saturday), but juice and water will be available. If you are concerned about specific health issues for your child, but they would still like to participate, please talk with Jaime or Pastor Hemenway to work something out. Permission forms will be collected for this event.

Official Acts

Baptism (Children): Natalie Rose Thompson

Funerals: Steven T. Booker, Sr.; Donald E. Cook; Audrey M. Newgent

Souls: 1,691 Comm.: 1,376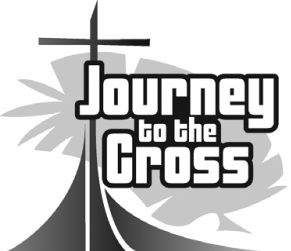 Journey to the Cross

Our church will be hosting Journey to the Cross, an Easter learning experience on Saturday, April 11.

As a traveler, you have the opportunity to walk in Jesus' footsteps during Holy Week. Smell the aroma of anointing perfume, taste Passover food, feel a crown of thorns, and so much more. You will hear about Jesus from Bible witnesses and be a part of the Passion experience.

We need some great volunteers to make our Journey to the Cross as meaningful as possible, and we're hoping that you will help. Please prayerfully consider serving

our church as Actors, Station Helpers, Meet-and-Greet Volunteers, and Tour Guides. For more information about ways in which you might contribute to the Journey, contact Jaime Brinkmann through email Jaime.brinkmann@gmail.com or the church phone 344-3151, x307.

The sign up sheet to set your appointment to "journey" with your family will be available after Sunday, March 1. Sign up sheet & appointment reminder cards will be at the table in the Narthex; just look for the Journey to the Cross logo you see above. You may also call the church office to set an appointment time. We look forward to walking with you!

College Students: Ministry Planning in Progress

As we plan and prepare for a college/young adult ministry here at Good Shepherd, please help us by giving addresses, phone numbers and emails to the church office. We'll be gathering this information so we are able to better contact students both home and away. Email information to jaime.brinkmann@gmail.com.

Also, please know you are all invited to join us at youth group activities on Sunday nights, Sunday morning Bible study, volunteering for children's program this month or the 30-Hour Famine. Many of you are on Spring Break the second week of March which is the same week of "The Deepend". As this is a study meant to dig deeper, this would be a great activity to attend. We'll keep you posted as this new ministry comes together!

News From South Africa

We are already at the half-way point of our 2009 South African adventure. Last week Nathan Mntambo, the only Zulu professor at the seminary, returned from his holiday with an exciting story. He and his wife were married in a small "white dress" ceremony 8 years ago. Since the marriage the elders have asked Nathan many times when he was getting married in a traditional ceremony. This ceremony is expensive and needs extensive planning. But on December 20 Nathan and his wife finally had their traditional wedding.

Preceding the ceremony Nathan's brother went to his in-laws to negotiate the bride price. Nathan had paid 6 cows at the time of his "white" wedding and owed an additional 6 cows before the traditional wedding. The cows must be acceptable to his in-laws, not too young or too thin. One of the cows was slaughtered for a feast that was prepared by Nathan's sistes-in-laws at his wife's parent's home. This feast occurred on Saturday and was attended by almost 200 people.

Nathan's family (who live 4 hours from his wife's family) had a feast the next day that was cooked by his wife's family and also attended by 200 people. Nathan's wife and her sisters dressed in traditional dress and there was wonderful music and dancing. Part of the tradition is to provide mats, blankets, and head scarves and aprons for the women of the immediate family. In their RSVP they indicate how many of each they will need. The native beer is also an important part of the celebration which continues as people return for days until all of the food has been eaten. Nathan was all smiles as he recalled the celebration and how much the elders enjoyed the festivities.

A few weeks ago Lee made friends with a young man named John as he walked by our house. John is new to the city. He started working at a local grocery store making the equivalent of $5 a day for 8 hours of work; after a raise he's now making $7.50/day. He lives in a room approximately 7 x7 owned by a landlord who demands a month's rent in advance – try doing that when you've just started a job! A twin mattress that we gave him takes up half of his space. Since his parents are dead and he's the eldest child, John sends most of his pay home to two sisters. He worked very hard for us on Saturday and left all smiles with money for a cell phone, a slice of watermelon and a mango!

We enjoyed a traditional African meal with a family from church two weeks ago. Corn (maize) is the staple starch in SA so there were three types of pap (corn meal and water blended and cooked to be sliced almost like bread), samp (maize and beans), a tomato sauce to pour over the pap, chicken, tripe, and cooked spinach. Much to our surprise, we enjoyed the meal very much. Our pastor's wife made guava pudding for dessert (guavas in whipped cream). Yummy!

Besides the continuing list of repairs and cleaning at the seminary we've been working on our (guest) house. Lee replaced several cracked and missing floor tiles. He also refinished the tops of two tables used as desks and now is working on the tops of eight 80-year old oak desks in one of the classrooms. Our first guest is Anssi, a Finnish pastor who has spent the last 20 years as a missionary in Kenya. He is a great story teller who works on translating Lutheran documents like the Book of Concord into Swahili in the evenings.

We had several days of rain so heavy that water cascaded from the back of the seminary grounds to the front. But most of the rain doesn't soak in, so cars can drive on the lawn without sinking in and the plants still need watering. Although rain is always welcome in SA, it can cause problems. Last week there were serious floods in some parts of Pretoria with walls washed away and water running through homes. We're thankful that we've been safe. God's blessings! Pat and Lee

5th & 6th Grade Youth

March 1st We have the gym and a hockey game is on the agenda!

March 15th We will be integrated into the activities planned for children during the "Fireproof" movie. Look for more information in the regular email. Email cwalther@goodshepherdcollinsville.org to be added to the email list for 5th & 6th grade youth and their parents.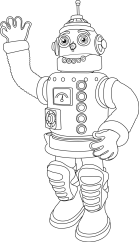 Vacation Bible School

Join the VBS fun at Gadget's Garage! We explore Bible stories in creative ways. We learn that through Jesus God's Always Doing Great, Exciting Things (G.A.D.G.E.T.). It all takes place each morning from June 15-19.

We need you! Through the dedication of our members and friends who volunteer at VBS, we minister to 250 children each year with the Gospel of Jesus Christ.

If you can help some days, just one day, every day, or in advance, we have many levels of involvement to suit your schedule and interests. Volunteer sign up sheets will be in the narthex soon. Call Carol Walther at 344-3151 for more information.

Christian Fiction Book Club

Read the book that inspired the Hallmark movie. "The Note" by Angela Hunt is our March book selection. A scribbled note is discovered washed ashore in the aftermath of a horrendous plane crash. A newspaper reporter is determined to deliver it to the rightful owner. Join our discussion on March 16.

In April we will return to another novel by Francine Rivers, "Leota's Garden."

Anyone is welcome to join us. We meet the 3rd Monday of the month at 7 P.M. at St. Louis Bread Company. Please talk to Carol Walther if you have any questions.

Ask the Vicar…

The Wide World of Christian Literature

When I was in High School, I was not nearly the devoted student that I am today. I was in National Honor Society simply because of the high grades I got in some of my classes like shop, band, and aquatic science (we dissected a shark… how cool is that!). I wasn't a bad student, and I certainly wasn't stupid. My attentions were just directed at other things, so I never put forth much effort in that area. Even in college, I didn't really apply myself the way I should have.

But sometime in the last few years, I realized how much I missed out on while I was slacking off in the back row of my high school Literature classes. I was supposed to read excerpts of Dante's Inferno and John Milton's Paradise Lost. I did well on the tests because I have such a great memory, but I never did read Milton or Dante while I was in high school. But in the end, as always, I suppose, the joke was on me. About two years ago, I bought a copy of Paradise Lost and even though it took more than a year from the time I started it (this is because Milton's English was difficult to read – a lot like Shakespeare – not because it was boring), I finally made my way to the end.

I suppose all of this is to say that we all tell about life through story (just look at the first two paragraphs of this brief article). Narrative brings together all the seemingly unrelated events of our lives and makes sense out of all of them. But even more than that, good literature brings generations of readers together because it touches on something that is universal in human nature – something that can only be brought out in a story. The smartest philosophers cannot describe it, but the simplest of stories can illustrate it.

Christian fiction did not begin (or even reach its peak) with Tim LaHaye and Jerry Jenkins, the writers of the famed Left Behind series. It didn't even begin with C.S. Lewis's Narnia. It has always been a part of the way we express ourselves, and many of the greatest authors of Church history lived before the 1800s, and their books still reach people where they are today. So if you want to find your place in the history of the Church, don't pick up a modern best-seller by some self-help guru/pastor. Buy a good edition of one of the classics, and read it instead. You might be surprised by what you find there. Vicar Rodgers

Easter Egg Hunt Candy

In preparation for our church Easter Egg Hunt, a basket will be in the connecting hallway for donations of individually wrapped candy to be stuffed in the Easter Eggs.

Christian Dresscode?


Continued from Last Month…

What is an appropriate dress code for a Christian girl/woman? Let me assure you that I'm not talking about a Christian uniform.

No, we aren't required to look alike and each of us can use our own individuality and creativity as we choose our wardrobes.

But we do have biblical guidelines that we need to understand as we determine what our dress code will be. Here is what we learn from the Bible about clothes and God's principles concerning them.

God invented clothes. He clothed Adam and Eve after sin entered the Garden of Eden. At first Adam and Eve never had to wear clothes. Nakedness was not shameful and clothing was not necessary. But they immediately recognized the need for covering their bodies after sin entered the picture. It was the first effect of sin–shame and a need to cover up their nakedness.

God's dress code from the beginning has been to cover our nakedness. And God designed the clothing to cover the whole body, not just the private parts. Clothes were not for revealing the body's shape or drawing attention to body parts; rather they were intended by God to take attention away from the body.

Here is a passage that helps define what the Christian dress code should be:
Your beauty should not come from outward adornment, such as braided hair and the wearing of gold jewelry and fine clothes. Instead, it should be that of your inner self, the unfading beauty of a gentle and quiet spirit, which is of great worth in God's sight. (1 Peter 3:3-4)
The principles we find here are:
We should dress modestly, with decency and propriety.
We should not wear clothes or accessories for the purpose of trying to draw attention to ourselves or to "show off."
Inner beauty is far more important than outer beauty and it should be far more highly desired that outward things we do to look good.
Now our challenge is to understand what it means to dress modestly. I encourage you to think about your own dress code and your own definition of modest dressing.
Published with Permission from The Christian Working Woman ~ PO Box 1210 ~ Wheaton IL 60187
Tel: 630.462.0552 ~ Fax: 630.462.1613 ~ www.christianworkingwoman.org
Congregational Life
Braille Workers 3/5 at Zion Bethalto. If you want to carpool, meet at the church at 8:30 a.m.
Blood Pressure Screening 3/ 7 & 3/8
Soup Suppers - March 4-MELHS for Mission trip to Costa Rica, March 11-Outreach, March 18- Congregational Life for furniture for Mother's Room,
March 25- LWML, April 1- Wednesday Women
Enjoy the fine fellowship and food at each of these soup suppers. Don't forget to stop by the Church Library and check out a book or two, a video, or CD. There are many topics to choose from.
Food Pantry With so many people out or work, please remember we do have a food pantry that is for the use of our members. Stop by the office and they will help you. We also share the surplus food with the Seminary and the Ministerial food Bank.
The Promise
The Contemporary Christian Music Ministry presents the 18th Annual Production of The Promise at Zion Lutheran church, 1301 North State St., in Litchfield, IL. Performances for this musical drama based on the Life of Christ will be March 20, 21, 27 & 28 at 7:00 p.m. & March 22 & 29 at 2:00 p.m. Friday, March 20 is designated as Youth Group Pizza Night. Admission is free, however, tickets are required. To obtain tickets, visit our website at www.thepromiselitchfield.com or call 217-324-6133. Seating is open on a first come first served basis, & doors open 45 minutes before the performance.