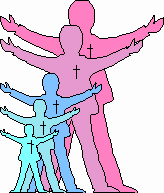 Love in Action
Good Shepherd Lutheran Church
1300 Belt Line Road Collinsville Illinois 62234
618-344-3151 (Church) 618-344-3153 (School) 618-344-3378 (Fax)
Pastors M. Walther & P. Hoft Vol. 28 No. 3 March 2005
---
Lent Is Here
As a vicar, the Christmas season here at Good Shepherd was an edifying experience for me, as I participated in the preparations that a church goes through for Advent and the celebration of the Lord's birth.
Now we are in the midst of an early Lenten season. It caught me off guard as we began preparations for the extra events and services, and when Ash Wednesday arrived I felt as though I had hardly finished humming Christmas carols before we began the somber, powerful hymns of this season.
But there is something to be learned by the close proximity of the two seasons this year. Even though the hymns sound different, Christmas and Lent, the Incarnation and Crucifixion, are closely related. The Apostle Paul wrote these words to the Galatians: "But when the fullness of time had come, God sent forth His Son, born of woman, born under the law, to redeem those who were under the law, so that we might receive adoption as sons" (Gal. 4:4-5). The giving that occurred in Bethlehem was the beginning of the gift given at Calvary. And both of these point to the culmination of the Lenten season, the victory that we have in the Resurrection of Jesus at Easter.
The manger, the cross, the empty tomb. These are the symbols of the gospel truths which we contemplate during this Lenten season, reminding us of the great love our Heavenly Father has for us, giving us life in His Son—the joy and hope of all men encompassed in this one life, given and shed for us. Vicar Furgeson
Easter Egg Hunt and Party
Infants through 2nd graders are invited to the Good Shepherd Church Easter Egg Hunt on Saturday, March 19, 2005. Festivities begin promptly at 10:00 a.m. in the gym. Dress for the weather as the hunt will be held outdoors. Bring a basket!
Donations of baked goods and candy are needed. Candy must be small enough to fit inside plastic eggs and can be left in the basket located in the connecting hallway between the church and school. Please call Janet Bohnstadt at 346-8784 or Ann Wade at 344-5708 if you are able to help with the hunt or able to donate baked goods.
Men's Ministry
The Men's Ministry meets the second Saturday of the month in the Lower Level of the Church. Our next meeting will be Saturday, March 13th. We meet at 8:00 for breakfast, followed by a special topic of interest and discussion. Please come and invite a friend.
Lutheran Women in Mission
Thursday, March 3rd – Our monthly meeting, beginning at 7:00 p.m. in the Fellowship Hall, will include a program on 'Our Missions in Africa" by Sue H. Babysitting will be available.
Exciting Opportunities are quickly approaching… at the Women's Day of Renewal on February 26th & again at the March 3rd meeting.
Support the Lutheran World relief Handcraft Project by purchasing handmade items such as: toys & games, musical instruments, desk accessories, housewares & baskets, jewelry & accessories, and Christmas & religious items.

Concordia Publishing House will host a bookstore that will include books of interest to women and children.
District Spring Retreat is scheduled for Saturday, March 12th.
Women's Bible Study – Every 3rd Thursday of the month at 7:00 p.m. in the Fellowship Hall. All women of the church are invited to join together for an hour of fellowship and study in God's Word on March 17th.
Secret Prayer Partners/Confirmation Reception is scheduled for Friday, March 18th.
Looking Ahead – Plan to join us for the April 7th meeting where Vicar Furgeson will present the evening's Bible Study.
Special events to remember: Spring Salad Luncheon/Card Party (April 14th) and Zone Rally (April 16th).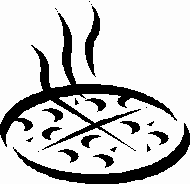 Lunch Bunch
At our last get-together we had a great time. Come join us on March 15th. We will meet at 11:15 a.m. on the church parking lot and go to Alfonzo's for lunch. Call Mary Preuss 667-6513 or Wilma Mitchell 345-7123 before March 12th.
Rev. Samuel Boda
The family of Rev. Samuel Boda expresses deep gratitude to all who surrounded us at the time of Dad's passing away to be with Jesus. Many thanks to those who sent cards and memorials, to those who participated in the moving funeral service, and to the LWML for hosting the luncheon afterwards.
Notes from Congregational Life
Adopt-a-Bags Please remember to bring your bag of food back by March 13th. The baskets will be handed out to the needy on March 19. Thank you for your donations.
Blood Pressure Screening will be taking place after each service on March 5 and 6 in the connecting hallway.
Once again we have the opportunity to participate in the Meals-on-Wheels program. Please contact Tamara Lindsey if you would like to help.
Mequon Choir Tour Concert
This great event will take place on Sunday, March 6 at 7:00 pm . We are also looking for housing for the 46 students in the choir. If you would be interested in providing housing please contact Pastor Hoft at the church office 344-3151.
Vacation Bible School
Join us on a Safari Adventure the week of July 11-15. Our VBS journey will teach us that Jesus is King! Mark your calendars now.
Lenten Suppers
You're Invited, soup and sandwiches will be provided from 5:30 - 6:30 between the 4:30 and 7:30 Lenten services. The suppers are hosted by the High School Youth on 03/02, the Choir on 03/09, and the Bd. of Evangelism on 03/16, please come and enjoy the fellowship.
Braille Workers
Braille Workers will be working on the 10th from 1:00 pm to 3:00 pm. Contact Doris Ulkus if you would like to help.
New Member/Anniversary Dinner
This dinner will take place on May 1, 2005. If you would like to attend there will be sign up sheets available April 2 - 24.
Official Acts
Baptisms (Children): Gabriel Allen Guffey, Michael Payton Fedorsak, Eli Charles Garkie, Kail Ethan Bauer, Margo Ventura Rider, Abigail Faith Rider, Emma Jade Rider, Declan Paul Graney, Brian Thomas Reed, Jr., Elizabeth Anne Martin, Kathleen Lorraine Martin, Wilson Bryon Decker, Brittany Amber Jones, Mia Alexandra Quesada
Baptism (Adult): Amy Michelle Graney
Received Through Transfer: Mark Robinson from Zion, Bunker Hill, IL; Paul Ginter, Jr. from Holy Cross, Collinsville, IL; William & Bonnie Coyne from Faith Lutheran, Naples, FL; Nancy Rider from St. Paul, Streator, IL; Mike, Jenneane, Michele & Lila Musegades from The Lutheran Church of Guam, Hagatna, Guam
Marriage: Gabriel Joseph Kolesa and Sarah Lynn Bohn
Funerals: Anne E. Pickering, Rev. Samuel Boda
Ask the Pastor
What about Spiritual Burdens? Any Christian who cares about others will sometimes feel overwhelmed by the concern they have for their family's, their neighbor's and the world's salvation. What should a person do? First, recognize that this is a legitimate burden. All the prophets carried this burden. Above all Jesus carried this burden. Second, use your deep concerns as a motivation for prayer. Elijah and Jeremiah both cried out to the Lord in their spiritual anguish for the salvation of Israel. Third, take action. Fear of failure often keeps people from doing anything. You may not think your efforts are doing any good, but remember that God uses all our efforts, no matter how small, to bring souls into His kingdom. Pastor Walther