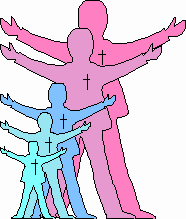 Love in Action

Good Shepherd Lutheran Church

1300 Belt Line Road Collinsville Illinois 62234

618-344-3151 (Church) 618-344-3153 (School) 618-344-3378 (Fax)
Pastors M. Walther & P. Hoft Vol. 27 No.

3 March 2004
---
The Passion of the Christ:
An Opportunity for Spiritual Growth & Outreach
By now you have likely heard a lot of buzzing about the new movie The Passion of the Christ. It will begin showing in theaters on Ash Wednesday, February 25th. According to reviews it is a vivid depiction of the 12 hours of our Lord's life before His crucifixion and resurrection. This $25 million dollar project has been financed completely by director Mel Gibson, a devout Roman Catholic. According to the recent issue of The Lutheran Witness, great attention is given in the film to historical and Biblical accuracy. Even the dialogue spoken is from the original languages of Latin, Greek and Aramaic. English subtitles are used. Many who have already seen the film say that it is more than a movie; it is a powerful life-changing experience. Here are some quotes from some well known Christians:
Every time I preach or speak about the Cross, the things I saw on the screen will be on my heart and mind. -Billy Graham

The Passion tells the story of the twelve hours surrounding the Crucifixion. While The Passion is only the latest in a series of films about Jesus, it stands out for two reasons: First, it is unsparing and unsentimental. In Gibson's opinion, previous cinematic efforts had failed to capture the enormity of Jesus' suffering on our behalf. -Chuck Colson

It is deeply moving, powerful, and disturbing. A film that must be seen - although the graphic scenes of the scourging of Jesus are emotionally wrenching. -James Dobson, Focus on the Family
There has also been fierce opposition to this movie. You are not likely to hear praises from the media because there has been so much talk of "anti-Semitism." This, however, is a false and deceptive accusation. God's Word clearly teaches that the sin of all humanity, both Jews and Gentiles, nailed Jesus to the cross. Or, stated in a different way, the suffering, death and resurrection of Christ is the central event of God's loving plan to redeem the whole world from sin. The wounds of Christ become beautiful when we know that they were borne for us out of divine love. This R rated movie may not be appropriate for everyone but we certainly encourage adults young and old to use this as an opportunity to deepen their faith in our compassionate and merciful Lord. It is also an ideal way to add to your meditations and worship during Lent. The theme of our Lenten mid-week services this year is "The Sounds of the Passion."
Also, given the popularity and controversy surrounding this film, we encourage you to use it as a witnessing opportunity. Talk about it in the office with your co-workers. Some questions you may want to discuss are: Who is this Jesus? Why did He die? Did He do this for me? And why? God may even give you the opportunity to invite that friend to church where he or she can find the answers to those ultimate questions.
Our Hope in the Resurrection
During the season of Lent, we retrace the journey that takes us to the Cross and then to the empty tomb. These are cornerstone events of our faith: the first provided the perfect sacrifice for our sins, restoring our relationship with the Father, while the second provides us with the vibrant hope of eternal life through faith in Jesus the Christ. We can cling confidently to the promises of our Lord and Savior because, as Paul tells us in the opening of his letter to the Romans, Jesus, "through the Spirit of holiness, was declared with power to be the Son of God by His resurrection from the dead." [Romans 1:4 (NIV)]
Our belief in the resurrection is constantly under attack by wolves both within and outside of the Christian faith. Some theologians have rewritten the facts of the resurrection so they are not offensive to the "critical" mind, making Christianity "more credible" to "modern" thinkers. One group, the Jesus Seminar, seeks to "demythologize" the Jesus of the Gospels by denying the possibility of anything supernatural: this includes a denial of the resurrection. This, however, is not a tenable position for a Christian. Paul tells us in Romans 10:9 (NIV) that "if you confess with your mouth, "Jesus is Lord," and believe in your heart that God raised Him from the dead, you will be saved." Our salvation is correlated with our confession of the Lordship of Jesus and our firm belief that He did indeed rise from the dead. Without both of these, we do not have a Christian faith. This attempt to dilute our faith is as much the work of the Great Deceiver as when Muslims and Jews deny the resurrection and relegate Jesus to the role of simply a "great teacher." We readily note that Jesus does not allow us the "great teacher" option for He claimed to be so much more in John 8:58 (NIV) when He said, "I tell you the truth, before Abraham was born, I am!" The Jews fully understood His claim to be Yahweh, the Covenanting God of Israel, because they tried to stone Him after He uttered these words. Jesus is either God as He claimed to be, or we have been cruelly deceived and our hope in the resurrection is an empty dream.
The crucifixion of Jesus and an early belief in His resurrection are confirmed by a Roman historian who wrote in 116 AD. Tacitus, a Roman senator, governor, and historian writing about Nero's persecution of Christians after the fire of Rome in 64 AD, notes that
Christus, the founder of the name, had undergone the death penalty in the reign of Tiberius, by sentence of the procurator Pontius Pilate, and the pernicious superstition was checked for a moment, only to break out once more, not merely in Judea, the home of the disease, but in the capital itself, where all things horrible or shameful in the world collect and find a vogue.
This "pernicious superstition" refers to reports of our Lord's resurrection from the dead.
The apostle Paul provides us with a list of eyewitnesses to the Resurrected Savior:
And then He appeared to Peter, and then to the Twelve. After that, He appeared to more than five hundred of the brothers at the same time, most of whom are still living, though some have fallen asleep. Then he appeared to James, then to all the apostles, and last of all He appeared to me, as to one abnormally born. [1 Corinthians 15:5-8 (NIV)]
Paul gave the Corinthians a list of people to whom they could go if they did not believe him.
The New Testament provides a true record of Jesus' life, death, and resurrection, a witness that cries out with credibility as we observe its honesty in telling of both the good and the bad. As we move through its pages, we see within the lives of Peter and Paul evidence that they were dramatically changed through the resurrection event and the subsequent bestowal of the Holy Spirit. We see Stephen going humbly to his death because of his courage to profess the resurrected Jesus as the Christ. The evidence of the historicity of these witnesses exceeds that available for any other accepted book of ancient history. This includes the short seventy-year extent between the historical resurrection of Jesus and the completion of the New Testament; it also includes the existence of over 3,000 fragments of early copies of the Greek text.
We have reason to confidently trust God's Word and lay claim to the fact of the resurrection. Our hope is fully warranted. Let us continue to persevere!
Lenten Services Begin Ash Wednesday, February 25th
4:30 and 7:00 p.m.
Join us each Wednesday during the 40 days of Lent to refocus attention on Jesus and especially His sacrifice on the cross for our sins. In our services this year we will be keying in on the Sounds of the Passion.
Men's Retreat April 30th and May 1st at Camp Wartburg
Mark your calendars now for the Men's Retreat at Camp Wartburg. We will be meeting Friday evening for Bible study, fellowship, and prayer. On Saturday we will have a golf scramble. Watch the bulletins and April newsletter for more information.

Short-Term Mission Opportunities!
Have you ever wondered or thought about going on a mission trip? Is the Lord tugging at your heart? March 4th is your opportunity to find out more about these exciting opportunities. Rev. Steve Hughey, Director of Mission Partnerships and Involvement with LCMS World Missions, will present the "Short-Term Mission Opportunities and the LCMS work in Palestine." At 7:15 p.m., refreshments and fellowship will kick-off the evening. The presentation will begin promptly at 7:30 p.m. in the Fellowship Hall. The evening will close with the LWML Mite Missions Devotion and prayers. Everyone in the congregation is invited to attend!! Men, women, youth, families -- come and find out about opportunities to share the Gospel!
Sunday School Choirs
The children of the congregation are working on several Lenten songs during the Sunday School openings. The 1st-3rd graders are scheduled to sing March 3. The 4-6th graders are scheduled to sing March 10. The preschool and kindergarten children will sing March 17. We have two services--4:30 and 7:00. We plan to have a group sing at each of the services. Have the children go to the balcony when they arrive for whichever church service your family plans to attend. The preschool through 3rd grade will also be working on a song to sing for the Easter Sunrise Service. Looking forward to hearing the many children in our church singing praises to God!
Spring Cleaning Sale March 13
Various cleaning and household items such as furniture polish, shower, tub and tile cleaner, Lysol spray, 3M carpet and stain remover, etc. will be on sale for super discount prices on Saturday, March 13, 9:00 to 12:00 p.m. in the Fellowship Hall. These items were donated by Sears Hardware to the Sr. High Youth Group to help raise funds for their youth trip this summer. Come and get a great deal on some products that will get you in gear for spring!
Retreat for Sr. High Youth
Camp CILCA Outdoor Ministries in Cantrall, IL is hosting a special retreat on March 27-28, 2004. Activities include: games, boats, archery, frisbee golf, challenge course, night hike, Bible study, campfire, songs and devotions. Please contact Pastor Hoft if you are interested in attending.
Blessed are those who come in the Name of the Lord!
We thank and praise God for all the wonderful members who have made the 4th Annual Women's Day of Renewal – Joy in the Journey an awesome success! The Lord brought many skilled and gifted people together to made the day special. We are blessed by the talents of the speakers, musicians and singers within our own congregation: Phyllis Wallace, Jean Werth, Carol Walther, Karin Semler, Vicki Ridgeway, Becky and Eric Hippel, Denise Daniels, Catherine Roth, and Sue Hasselbring. Former members, Pat Schwieder, Susan nee Ross Wendt Lucht and Cassandra Hebermehl, also participated. Our heartfelt thanks are also extended to our LWML, Men's Ministry, Mary Jane Wade, Susan Victor, Corey Wudtke, Jeanette Simpson, Nancy Cluck, Marty Hoffmann, Bob Mayhew, Eric Semler, David Ulkus, Ken Kogler, Quentin Nuttmann, Mindy Thompson, Pastor Michael Walther, Pastor Peter Hoft and all who volunteered their time for set-up, registration, etc.!

Scripture Readings for March

Sunday Readings

March 7
Lent 1
Jeremiah 26.8-15
Philippians 3.17-21
Luke 13.31-35

March 14
Lent 2
Exodus 3.1-15
1 Corinthians 9.1-13
Luke 13.1-9

March 21
Lent 3
Isaiah 12.1-6
1 Corinthians 1.18-31
Luke 15.1-32

March 28
Lent 4
Isaiah 43.16-21
Philippians 3.8-14
Luke 20.9-19
Church Library
Have you visited the church library lately? We have many new books for your enjoyment and enlightenment.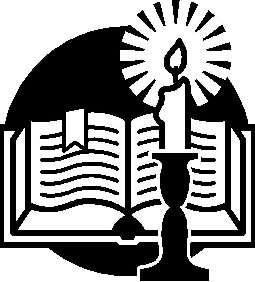 The following are just a few of the new titles: Pro life Answers to Pro choice Arguments, The Revised and Expanded Answer Book (the most asked questions about creation, evolution, and Genesis), Refuting Evolution 1 and 2, At the Name of Jesus (365 meditations on the names of Jesus), Let Me Grieve But not Forever, Reasoning from the Scriptures (with Muslims), Men are Like Waffles Women are Like Spaghetti (A Bible Study).
Soup Suppers for Lent
February 25 LWML
March 3 7th and 8th Grade Youth
March 10 Social Ministry/ Board of Congregational Life
March 17 High School Youth Group
March 24 Choir
March 31 Evangelism Board
Lutheran Women's Missionary League
(Mark your calendars!)
Women's Bible Study – Every 3rd Thursday of the month at 7 p.m. in the Fellowship Hall. All women of the church are invited to join together for an hour of fellowship in God's Word. The Bible Studies are topical: March 18th, When Christians Disagree.
Thursday, March 4th – Regular monthly business meeting will begin at 7 p.m. in the Fellowship Hall. Refreshments will be served at 7:15 p.m. Beginning at 7:30 p.m., Rev. Steve Hughey, Director of Mission Partnerships & Involvement with LCMS World Missions, will speak on "Short-Term Mission Opportunities and the LCMS work in Palestine." The evening will close with the LWML Mite Missions Devotion and prayers. Everyone in the congregation is invited to hear Rev. Hughey!
Saturday, March 13th – District Spring Retreat at the Fountains Convention Center, Fairview Heights. The theme is Celebrate Life no Matter What Your Age, based on John 10:10. Reservations must be turned in by Friday, March 5th. Ingathering will be for New Beginnings Crisis Pregnancy Center. Watch the bulletin board for registration forms and the list of needed items. For more information, please contact Debbie Wudtke, 346-6842.
Thursday, March 25th – Spring Salad Luncheon / Card Party. A wonderful way to spend a pleasant afternoon with friends . . . playing cards, visiting, enjoying a delicious lunch, and shopping at the Country Store. Time: Noon to 3:30 p.m.; Cost: $6 per person; Place: Fellowship Hall. Reservations must be in by Friday, March 19th – call the Church Office, 344-3151 or Shirley Wentzel, 344-8205.
Thursday, April 1st – Monthly meeting at 7 p.m. in the Fellowship Hall. Rev. Mark D. Wiesner, Christian Counseling Service, will present "Keeping Your Eyes on Jesus."
Friday, April 2nd – Reception for the Confirmands – LWML Secret Prayer Partners are revealed.
Guide Book & Directory Membership Update
Does the church database have YOUR family membership record correct? Here is your chance to update YOUR record for our annual Guide Book & Directory. Have you changed your phone number? Have you moved? Are you preparing to move soon? Are all of your children still at home and are they all included in your membership record? Do you want your record published?
If you have not already informed the church office about changes to your record, please let us know now so that the information in the Guide Book & Directory is correct. The church office number is 344-3151. Thank you for your help!
Official Acts
Baptisms (children): Emma Grace Chabot, 1/25; Nathan Timothy Byrne 2/7; Carter Jon Rother, 2/22; Nathan Hay, 2/28.
Received Through Transfer: David, Jenna & Evan Bohler from Historic Trinity Lutheran, St. Louis, MO; Melanie Boone from Hope Lutheran, Granite City, IL.
Profession of Faith: Olivia Grace & Mary Elise Boone baptized souls.
Marriage: Norman Leonard Werner and Radeen Ruthann Hooks, 2/1.
Funerals: Jeffrey Jay Sweet, 1/29; Margaret E. Hueseman, 2/18.
Souls: 1,605 Comm.: 1,265
Guide Book & Directory Advertising Opportunity
We are in the process of updating our annual Guide Book & Directory for the Church. If you own or manage a business and would like to find out more about how to advertise in our book, please call the church office at 344-3151.
Recent survey results by Guide Book Publishing show that 92.1% of families would rather patronize our Guide Book & Directory advertisers over a non-advertiser. It "does pay" to advertise in our Guide Book & Directory.
The Guide Book & Directory contains the Who, What, When, Where, Why, and How of our Church. The book is provided at no cost to our Church, including the mailing to each family, and is again being subsidized by local businesses that advertise in it. We thank them for their continued support.
MELHS Spring Craft Fair
The Parents and Friends group of Metro-East Lutheran High School is holding a Spring Craft Fair at the High School on Saturday March 13 from 9:00 a.m. to 4:00 p.m. and Sunday, March 14 from 12:00 p.m. to 4:00 p.m. The address is 6305 Center Grove Road, Edwardsville. Come enjoy the crafts, food and fellowship by supporting us in this fundraising effort for the high school For more details, call MELHS 656-0043.
National Lutheran Schools Week
March 7 – 13
"Lutheran Schools – A great Place to Grow, in Grace and Knowledge" is the theme of this year's celebration of Lutheran Schools Week. National Lutheran Schools Week is held annually to focus on the fine qualities of Lutheran Schools.
Special activities planned for this week are: Sunday, March 7 – Faculty sings in worship services; Monday, March 8 – Sports Day; Tuesday, March 9 – book Character Day, 2:00 School Assembly – Storyteller; Wednesday, March 10 – Western Day, Preschool 4's Grandparents and Special Friends Day; Thursday, March 11 – School Colors Day, 7:00 p.m. School Talent Show, Preschool 3's Grandparents and Special Friends Day; Friday, March 12 – Dress Up Day, K-8 Grandparents and Special Friends Day, A.M. Kdg – 4 come 8:30 – Lunch, P.M. Kdg and 5-8 come 1:00 – 3:00; Saturday, March 13 – Good Shepherd School Auction – Dinner @ 6:00. Congregation is invited! Please pray for our school that it may continue to help children "grow in grace and knowledge".