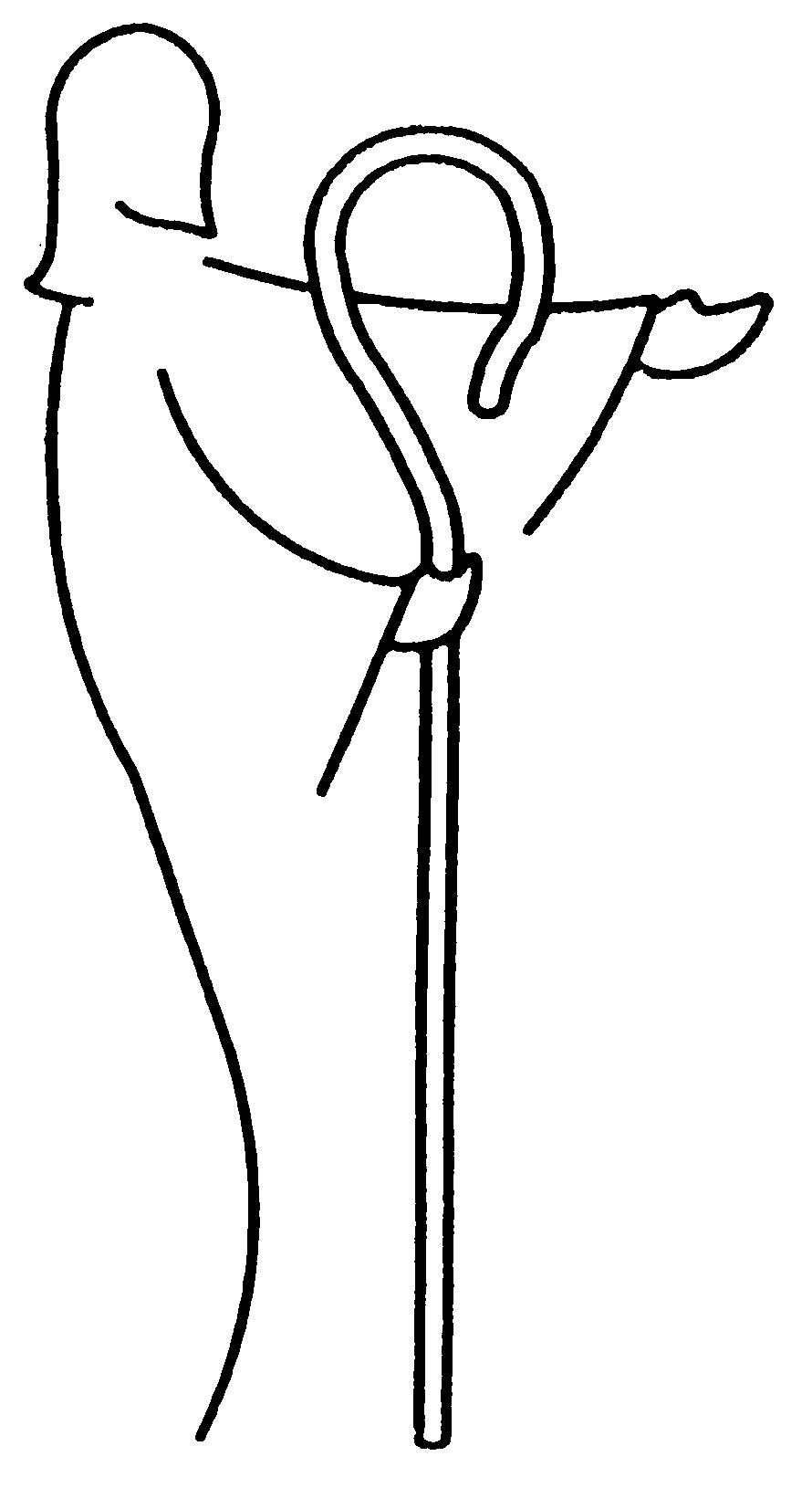 Love in Action
Good Shepherd Lutheran Church
1300 Belt Line Road Collinsville Illinois 62234
618-344-3151 (Church) 618-344-3153 (School) 618-344-3378 (Fax)
Pastors M. Walther & P. Hoft Vol. 29 No. 6 June 2006
---
Christ's Descent Into Hell
There is probably no other phrase in the Apostles' Creed that has created more controversy than "He descended into hell..." On the other hand this little phrase should bring Christians tremendous comfort.
St. Peter speaks of Christ's descent into Hell when he wrote: "For Christ also suffered once for sins, the just for the unjust, that He might bring us to God, being put to death in the flesh but made alive in the Spirit, by whom also He went and preached to the spirits in prison" (1 Peter 3.18-19). Some have speculated that Jesus did this to bring out of Hell all the Old Testament believers who were held there until Christ's death and resurrection. Of this we really can't be sure. We know for certain that Jesus did not enter into Hell to suffer but to proclaim the Gospel. When Jesus said, "It is finished" (John 19.30), His suffering and His sacrifice were completed.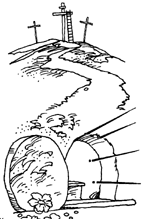 So what purpose does the descent into Hell serve? It serves to remind us that Jesus has truly won the victory over all evil. This was no temporary or partial victory. This was a total and unconditional surrender by every evil being. Even today the President of the United States, the most powerful man on earth, has to be careful about where he goes. When he visited the troops in Baghdad, he had to fly in secretly and with heavy security. Wherever he travels, he depends on a sophisticated security team to protect him. The President of the United States holds only a temporary and incomplete control over his enemies.
All of us can think of scary places that we would like to avoid. But we can take comfort that there is no dark corner on the face of this earth or in this universe that can threaten Jesus. Those who belong to Him can also take comfort that He will deliver them from evil even as He has smashed the gates of Hell and proclaimed the Good News. Sickness, violence, and death itself can only touch us if He allows it. Nothing can destroy our faith or the promises of salvation and eternal life. Pastor Walther
Ascension Services May 25th
4:30 and 7:00 p.m. Picnic Supper at 5:30 p.m.
Forty days after the resurrection Jesus gathered His disciples together on the Mount of Olives. He gave them their last instructions and then was parted from them as He ascended into heaven. The ascension of Jesus teaches us many important things and gives us plenty to celebrate. Between services we will have a picnic supper with sloppy joes and other dishes.
Summer Children's Choir
Children who are currently in grades 3-7 are encouraged to join the children's choir. They will meet each Tuesday morning from 9:30-10:30, in the church balcony, beginning June 6. Miss Jeannine Tiemann will be our director.
New Vicar Coming in August
Vicar Hemenway will be finishing his vicarage at Good Shepherd at the end of July. In August we will welcome Mr. Samuel Bobby as our next vicar. Vicar Bobby comes from South Dakota. He and his wife Erica have a one and a half year old son Judah. Mrs. Bobby is a full-time faculty member of Sanford Brown College in Hazelwood, Missouri. As we continue to enjoy the blessings of Vicar Hemenway's service among us, we look forward to another vicarage year with Samuel.
The vicarage program is an important opportunity for Good Shepherd to support the work of the Gospel. The vicarage year provides one of the most important elements in the training of future pastors. On the other hand we benefit greatly from the help that vicars provide as well as the joy of seeing these men grow and advance in their pastoral skills.
Jon Furgeson Called to
Peace – Lemay
Former GLSC Vicar Jon Furgeson has received a divine call to serve as associate pastor at Peace Lutheran Church in Lemay. Pastor-elect Furgeson will be working with former GSLC Senior Pastor Dennis Kastens. We ask God's blessings for Jon, Alice and little Ian as they begin this new stage of their lives.

Honduras Mission Trip
"We were praying for you." I prayed for you every day." "You were in my heart all week." What encouraging words to hear from our Good Shepherd family when we returned from Honduras. And, your prayers were answered. We had safe travel, some illness, but we worked through that with the help of our concerned nurses, and amazing opportunities to share our faith with the loving people of Honduras. Each of us had opportunities to staff the evangelism station. We were often out of our comfort zone when we did this, but God was good and provided the words and supportive translators as we told people about Jesus who died for our sins. Ask us, and you will hear our stories of being encouraged by Honduran Christians with the love of Jesus in their hearts; of hearing some say, "I want to receive Jesus into my heart"; of someone struggling with past sins and pains in their life as they tried to become reconciled to their Savior.
We learned many lessons in Honduras. Although we talked about our trip as a medical mission, it was much more than that. We found out that we could work as the "body of Christ" when we prepared our supplies for each day, carried our assignments in dental, medical, pharmacy, optical, children's evangelism and evangelism. We washed children's lice-filled hair, held a child's hand during a tooth extraction, were filled with excitement when a new pair of glasses brought a grin to an old man's face, hugged children and adults, laughed and cried with them and with each other.
We saw approximately 400 adults and children a day for four days in the medical, dental and optical stations, for a total of over 1500 Hondurans who received dental care, medicines, and glasses. More than 600 children heard the message of salvation in the children's evangelism program. Of the over 700 people God brought to evangelism, 70% professed their faith in Jesus as their Lord and Savior. More important than any of these numbers is that God used us as His hands and voice in these few days and we give Him all of the praise and glory.
Our team had 24 members. Four of them came from Friendship Lutheran Church in Taylorsville, NC; 14 were members of Good Shepherd. The others were friends and relatives who hailed from St. Louis, Colorado, Iowa, Nebraska, Alto Pass and Fairmont City, Illinois. Our ages ranged from 16 to 76. The medical professionals included three registered nurses, a nurse practitioner, nurse anesthetist, physician's assistant, optometrist, dentist, and pharmacist. The others were students, managers, financial planners, teachers, or retired.
Thank you for the many ways you supported us in the past months, but especially for your prayers. Continue to pray for God's guidance for the team as some of us plan for another trip in 2007. Does this sound like something you would like to do? Pray that God will show you His will for you.
Official Acts
Baptisms (Children): David Michael Lee Bridges, Mason Robert Zschau, Hunter Edward Hart, Taylor Christine Hart
Received Through Transfer: Robert, Sarah, Sydney, Ian & Nikol Skeel from St. John, Maryville, IL
Marriage: Joseph Alan Maine and Heather Marie Brown
Funeral: Emmerson Matthias
Souls: 1,724 Comm.: 1,385
Annual Facility-Use Scheduling Meeting
The meeting will be Saturday, June 10 at 10:00 a.m. in the Conference Room. All organizations and boards should have representatives or written requests for the building usage in order to plan the Master Calendar. Please contact Marty Hoffman at 344-3151 if you have questions.
Lutheran Women in Mission
Ladies join us…. For the LWML meeting June 1st as we enjoy Favorite Scripture Night at 6:45 p.m. in the Fellowship Hall. This is a good time to bring a friend. Babysitting will be provided. The Mission Mite box is in the narthex this weekend.
No LWML Meeting in July, but join us at the Church Picnic to see our Mission Projects. There will also be games for the children.
Looking Ahead
The SID LWML Convention will be September 16th at Christ Our Savior Lutheran High School in Evansville.
Lunch Bunch
On June 20th we will meet on the church parking lot at 11:45 a.m. We will go to Ginger Buffet in Fairview Heights. Please call Mary Preuss (667-6513) or Wilma Mitchell (345-7123) before June 17th to make reservations.
Sowing and Growing Together
Have you heard about the school's Scrip program? You purchase gift cards at face value – the school receives a discount and it is used for tuition credit for families and funds for the school!!! There are gift cards for grocery stores, gas, retail, and restaurants – lots to choose from! Stop by the Scrip table in the connector hallway on Sunday mornings for more information. Sunday sales will continue throughout the summer and weekly orders will be processed on Monday – June 19th and Monday – July 24th.
Position Opening – Part Time Bookkeeper
Bookkeeper will be responsible for general bookkeeping procedures for the ministry; entering, maintaining, and balancing a debit/credit accounting system. Must be proficient in QuickBooks and Excel. Interested candidates should send a cover letter and resume to New Beginnings Pregnancy Centers, Attn: Kathy Sparks, 2019 Johnson Rd., Granite City, IL 62040. Please feel free to call Kathy at 618-451-2002 with any questions.
Daycare Workers Needed
Daycare workers needed 20 hours a week for afternoons. Subs needed for daycare to fill in for sick or vacation workers. Please contact Karen at 344-3176.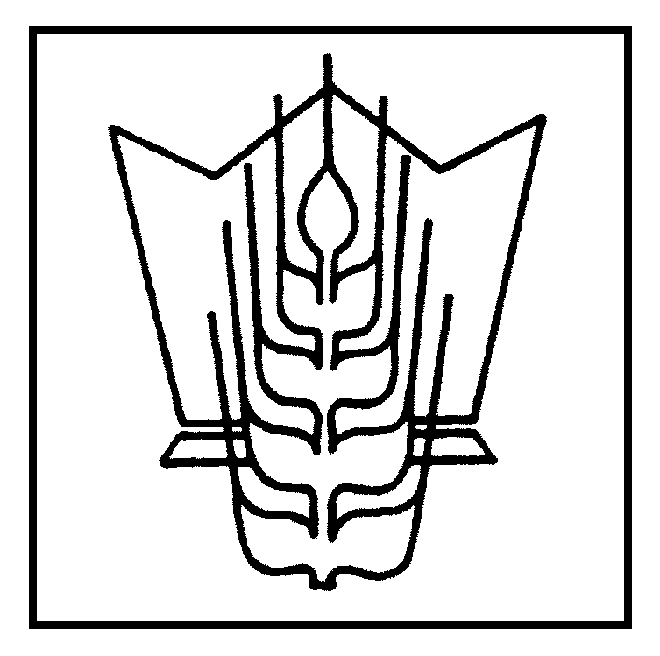 What is "Simply Giving"?
A Program by Thrivent Financial for Lutherans
"Simply Giving" is an automated giving program designed to help conveniently and consistently give to Good Shepherd's general fund through a preauthorized transfer from your bank account directly to Good Shepherd's bank account.
Your giving is strictly confidential.
Your giving will be transferred on the date you designate and as frequently as you designate.
You can change the amount or transfer date of your giving at any time.
Especially during the summer months our level of giving traditionally drops off. "Simply Giving" helps keep up giving through this time of travel, vacation and other activities.
"Simply Giving" applications are available in the Narthex and in the Church Office. If you have questions please contact Parish Administrator, Marty Hoffman in the Church Office 344-3151.
Men's Ministry
The Men's Ministry will be studying some of the writings of Martin Luther for the summer. In May we studied the tract "A Simple Way to Pray." On Saturday, June 10th, from 8:00 to 9:30 a.m. we'll be looking at Luther's sermon "Soberness and Moderation against Gluttony and Drunkenness." In this sermon Luther minces no words as the following excerpt shows: No drunkard, whoremonger, or adulterer can be saved. Do not think that you are saved if you are a drunken pig day and night. This is a great sin, and everybody should know that this is such a great iniquity, that it makes you guilty and excludes you from eternal life. Everybody should know that such a sin is contrary to his baptism and hinders his faith and his salvation. If you'd like an e-mail copy of the sermon, please send a note to Pastor Walther at michaelpwalther@gmail.com.

Ask the Pastor:
What is Pentecost?
Pentecost is a Greek term meaning "fifty." Fifty days after Easter Christians celebrate the outpouring of the Holy Spirit on the church (See Acts 2.) This gift of God, once limited to a chosen few, was given to all. In the Old Testament, the day of Pentecost was a Jewish spring harvest festival known as the Feast of Weeks or the Feast of the First Fruits. As good Jews the first disciples of Jesus probably would have gathered in Jerusalem to celebrate this festival even if Christ had not told them that He was sending them the Holy Spirit. Luke, the writer of Acts, describes what happened on this day in considerable detail - the sound of the rushing wind, the tongues of fire, and the speaking in foreign languages. Some call this day the "birthday" of the Christian Church.
Red is the color of Pentecost symbolizing the presence of the Holy Spirit. It was a custom in some churches in Germany to drop red rose petals down through a hole in the roof representing the tongues of fire. Trumpets were blown to symbolize the sound of the rushing wind. In Bohemia pious villagers sometimes went so far as to drop burning straw from the roof beams, as tongues of fire, but the bishops ordered this to be stopped after several churches went up in smoke. We won't try to attempt this at Good Shepherd. Nevertheless, Pentecost offers us today a prime opportunity to celebrate the continuing presence and work of the Holy Spirit among us through the means of grace. Pastor Hoft
Want to hunt for treasure?
Then join us at Treasure Cove VBS, July 10-14. At Treasure Cove, we travel from site to site and learn that Jesus, our greatest treasure and God's treasured Son, loves us, serves us, died and rose for us, and treasures us. Registration forms can be found in the church narthex. Be sure and return your form to the treasure box by June 11th to receive your free music CD. VBS classes are for children who are 4 by September 1 through those who completed 7th grade. A suggested donation of $15 will help cover the expenses for the week.
Do you have a friend or neighbor with a child you could invite to Vacation Bible School? Please pick up a registration form in the church narthex. It will provide a perfect opportunity for you to begin sharing your faith with them through this easy evangelism tool.
Volunteer opportunities
VBS this year will use a site-rotation format. We will need a large number of "Treasure Seekers". A Treasure Seeker leads and supervises a Search Party of up to six children through the five rotation sites. Treasure Seekers are needed for Preschool through 6th grade. Confirmed youth could also be Treasure Seekers. Please leave your name in the church office if you are willing to help.
Volunteers are also needed to staff the nursery for our volunteers and to help with the stations: games, snacks, and crafts. Each station has a leader guide and will coordinate with the theme of the day. Talk to Carol Walther if you have any questions.
New Sunday School Curriculum
Growing in Christ is not only the goal of every Christian but it is also the title for the new CPH Sunday School curriculum we will begin using this fall. Good Shepherd Lutheran Church will be hosting a training workshop for this new material on June 17th from 9-11:30 A.M. All church leaders as well as any interested parents and past Sunday School teachers are invited to attend and learn more about this exciting program. Please call the church office to register.
Church Picnic - July 16th
Food, Games and Entertainment are just a few of the things you'll enjoy at the annual Church Picnic July 16th. The festivities begin at 3 P.M. The picnic provides an opportunity to get to know more Good Shepherd members as well as to become better acquainted with the many ministries of Good Shepherd. It is also another easy opportunity to invite your friends and neighbors to see Good Shepherd.