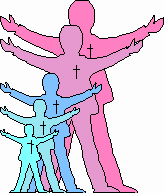 Love in Action
Good Shepherd Lutheran Church
1300 Belt Line Road Collinsville Illinois 62234
618-344-3151 (Church) 618-344-3153 (School) 618-344-3378 (Fax)
Pastors M. Walther & P. Hoft Vol. 27 No. 6 June 2004
---
The Holy Spirit – Our Helper, Our Comforter
News headlines of all sorts continue to descend upon us causing dismay and sadness. America's quest for justice in Iraq shot itself in the foot when soldiers and others were permitted to abuse captured prisoners. What happened to basic decency? A young man is savagely beheaded in response—the vicious scene is broadcast around the world. What cruelty and hatred! As I was praying about these things I honestly asked God, "How much longer can this go on? How much worse can things get?" I don't like the answer, but I know that it is true: Things will get much worse before Jesus returns. Jesus said it this way: "And because lawlessness will abound, the love of many will grow cold. But he who endures to the end shall be saved" (Matthew 24.12-13). How can we endure? How can we continue on in faith when so many evils around us abound and increase?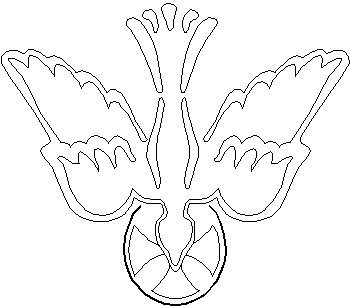 The answer lies in one of God's greatest gifts—and the most needed gift in these ugly end-times: The gift of the Holy Spirit. Jesus told His disciples that following His return to the Father (after His ascension) He would send the Holy Spirit. Like the Father and the Son, the Holy Spirit is a person. He is called the Comforter (John 14.6). Also, like the Father and the Son, He is true God. In the Book of Acts two disciples died because they lied to the Holy Spirit. Peter warned them of the seriousness of their actions saying, "You have not lied to men but to God" (Acts 5.3-4). We may think of the Father as the Creator and the Son as the Redeemer. The Holy Spirit is the Sanctifier, that it, the Holy Spirit creates faith and sustains us in faith so that we might be recognized by God as holy (sanctified).
How does the Holy Spirit do this? To begin, the Holy Spirit authored the Bible – both the Old and New Testaments (2 Peter 1.21 & John 14.26). Secondly, the Holy Spirit works through the word of God to bring us to faith: "No one can say Jesus is Lord, except by the Holy Spirit" (1 Corinthians 12.3), and "He saved us through the washing of rebirth and renewal by the Holy Spirit" (Titus 3.5). Thirdly, the Holy Spirit continues to help us to live by faith and not to fall back to the control of the sinful nature (Romans 8.9). Fourth, as needed, the Holy Spirit will give miracles and other special gifts (such as the ability to preach) to certain individual Christians in order to sustain and build up the church (Romans 15.18-19).
The Holy Spirit certainly gives us all we need to contend with the evils of this fallen world. When you feel discouraged by bad things – whether they are the bad things that are happening personally to you or to others – pray for God the Holy Spirit to help you. Jesus said, "How much more will the Heavenly Father give the Holy Spirit to those who ask Him!" (Luke 11.13). Also remember that although God has established governments to contain and curb evil with force, our greatest desire should not be to "punish irresponsible soldiers" or "kill all terrorists." Sadly, that is sometimes a necessity of last resort. Our first desire should be for their salvation. That is God's ultimate goal: "Do not be overcome by evil, but overcome evil with good" (Romans 12.1). MPW
Come, Holy Spirit, come!
Let Thy bright beams arise;
Dispel the sorrow from our minds,
The darkness from our eyes.
(The Lutheran Hymnal # 225)
Lutheran Women's Missionary League
(Mark your calendars)
Women's Bible Study - Every 3rd Thursday of the month at 7:00 p.m. in the Fellowship Hall. All women of the church are invited to join together for an hour of fellowship and study in God's Word. June study topic is: Not a Mistake! (June 17).
Thursday, June 3 - Our regular monthly business meeting begins at 7:00 p.m. in the Fellowship Hall. This annual "Favorite Scripture Night" is one you won't want to miss. Come and join in the fun, games and great fellowship!
Looking Ahead - Mark your calendars for the Southern Illinois District LWML Convention that will be held at the Southern Illinois University Campus in Edwardsville on September 24-25, 2004. The Convention Theme is based on Romans 15:13. May the God of hope fill you with all joy and peace as you trust in Him, so that you may overflow with hope by the power of the Holy Spirit. Watch for more details and registration information!
Helping Hand Opportunity
Summertime can bring about financial strain on some parents who must work to provide for their families and have the added expense of child care because school is not in session. In order to help these families, we are placing empty grocery bags with a list of needed items in the Narthex on Saturday and Sunday, June 22 and 23. For those who would like to help please take a bag home, fill the bag with as many items as you wish and return it to the church by June 30th. In addition if you know of someone who needs this type of assistance, please call the church office.
As Paul said in his second letter to the Corinthians (2 Cor. 9:12) "This service that you perform is not only supplying the needs of God's people, but is also overflowing in many expressions of thanks to God".
"Meet Me In St. Louis....Louie"
There are 20 tickets available for the Muny's production of "Meet Me In St. Louis" on Sunday, June 27th. The tickets are $12.80 each and can be obtained through the Church Office. For those who wish, meet in the Church parking lot at 6:00 p.m. to carpool to Forest Park for a picnic supper before the performance. (Bring your own lunch and drinks.) Food, fellowship and great music - what an enjoyable way to spend a Sunday evening!
Braille Workers needed......
Have you ever thought to yourself..."I would really like to be a part of the blind ministry and help out my fellowman in this way, but I know I'm not qualified!"?....Well guess what, you really are! The work is very basic....and does not require any technical knowledge or familiarity with Braille. It's really just an assembly line process. If you think you might be interested in becoming a regular helper, try it out and then decide. Workers meet at Concordia Lutheran Church in Granite City the second Thursday of every month, from 1:00 to 3:00 p.m. Carpooling is available. Just call Doris or Harold Ulkus at 344-7677 to sign up or for more details. You'll enjoy the fellowship!
Love Offering
Zackary Fiudo and his mother, Michelle, are returning to Poland so that Zack can receive the next level of special physical therapy. This therapy program is designed to improve his motor skills adversely affected by Cerebral Palsey. In order to help defray the expenses associated with this trip, "Love Offering" boxes will be place in the Narthex and in the Adult Bible Classrooms for two Sundays during the month of June. Watch the bulletins for the dates. The success of this very special program has been phenomenal thus far, and we are praying for Zack's continued improvement.
Official Acts
Baptisms: Delaney Grace Philipps 4/25; Raina Jaeger 5/22
Received Through Transfer: Latisha Sloan from Trinity, Columbia, MO, 5/17
Profession of Faith: Kenneth Christopher Kogler, 4/22
Marriages: James Scott Preston and Marilyn Kay Musso, 4/18; Michael Stephen Fedorsak and Elizabeth Gail Goleaner, 5/7; Jeremy David Hill and Elisabeth Renee Petty, 5/8.
Funeral: E. Brunnworth 5/7
Souls: 1,573 Comm.: 1,269
Annual Facility Use Scheduling Meeting
Annual facility use scheduling meeting will be held on Wednesday, June 2 at 7:00 p.m. in the conference room. All organizations and boards should have representatives there to plan the Master Calendar for the period of July 2004 through June 2005. Please contact Marty Hoffman at 344-3151 if you have any questions.

Newly Assigned Vicar
Jon Ferguson
Good Shepherd will be receiving a vicar this year from Concordia Seminary in St. Louis. Jon Ferguson has been assigned to serve, and he will be joining us sometime this summer after his current classes are concluded.
Jon is from Denver, Colorado. He received his undergraduate degree from Concordia University in Seward, Nebraska in secondary education and computer science. Following graduation he moved on to Notre Dame University to work on a Master's Degree in computer science. There he met his wife Alice, who is from Hong Kong. While at Notre Dame he was led to change is course of studies from computer science to theology and pastoral ministry. He and Alice came to St. Louis where he began his studies at Concordia Seminary. Alice graduated from Notre Dame with a Master's degree in computer science and is currently working at the Pfizer Corporation in Chesterfield.
Please watch the bulletins for future announcements of Jon's installation. We look forward to the beginning of this new ministry. We pray that we will be a blessing to Jon as he continues his pastoral studies, and that in his service to God he would be a blessing to us.

Vacation Bible School Registration

Most of the major building construction is completed around Good Shepherd. This summer during Vacation Bible School we will learn about how God builds His church in Christ Jesus. This year Good Shepherd is offering two opportunities to attend Vacation Bible School. You are encouraged to register for both if possible. If not, we hope to see you at either one. Just as the children are encouraged to invite their friends and neighbors, the adults are encouraged to do the same!

Those turning in their registrations by Sun., June 13, will receive a free VBS music CD.

2004 VACATION BIBLE SCHOOL REGISTRATION

Vacation Bible School Date: July 19-23 Hours: 8:30 - 11:00 AM Monday – Friday

Classes are for children who will be 4 by Sept 1 through those just completing 7th grade.

_____I will be a teacher _____I will help with crafts _____I wish to serve as a teacher's helper
_____I will assist with registration _____I will help with refreshments _____I am willing to baby sit (the nursery is for the children of VBS teachers and helpers) _____ I will donate $_____to defray expenses _____I will donate cookies


Advanced Enrollment Form

Name

Age

Grade Completed this Spring

1.

2.

3.
Parent's Name:______________________________
Address:____________________________________________________________________

Work or Emergency Phone:____________________ Home Phone:_______________________________

Family Church:______________________________ To be brought by:_________________________

Note: A suggested donation of $10 to cover the cost of materials will help to support the Vacation Bible
School program for everyone. Those turning in their registrations by Sun., June 13, will receive a free VBS music CD.
EVENING FAMILY VACATION BIBLE SCHOOL REGISTRATION
Date: July 18-22 Hours: 7:00-8:30 PM Sunday-Thursday
The entire family will meet in the church for the first 30 minutes. The children will then go downstairs and outside to play and do activities in a very informal setting. The adults (High School on up) will continue with a Bible study. The children will study the same story more in-depth at our traditional VBS time the following morning.
Names of adults attending:_______________________________________________________________
Address: _____________________________________________________________________________
Names and ages of children attending: _____________________________________________________