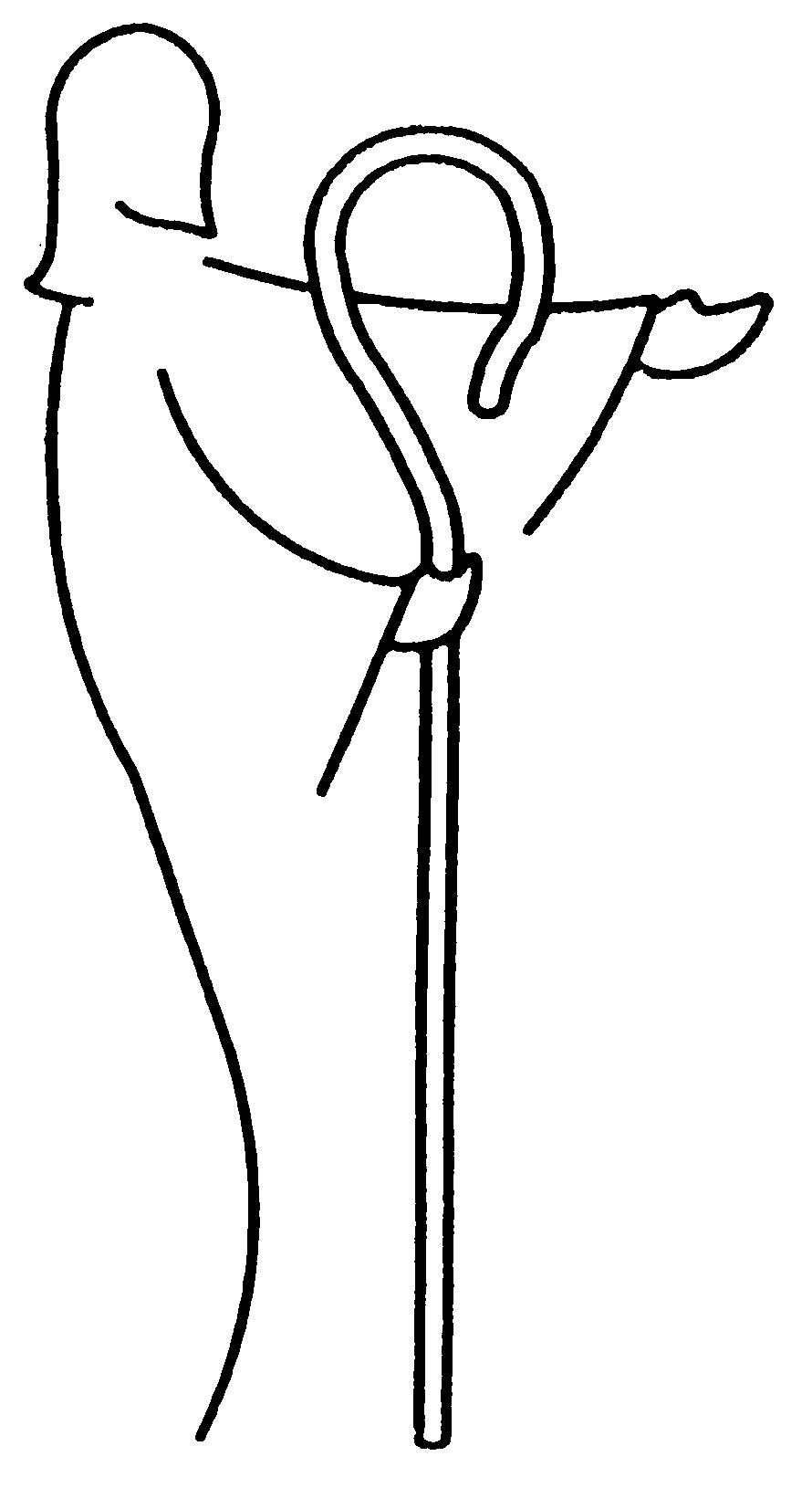 Love in Action
Good Shepherd Lutheran Church
1300 Belt Line Road Collinsville Illinois 62234
618-344-3151 (Church) 618-344-3153 (School) 618-344-3378 (Fax)
Pastors M. Walther & P. Hemenway Vol. 32 No. 7 July 2009
---
Co-Valedictorians at GSLS are Valedictorians
At Collinsville High School and Metro East Lutheran High School!
| | |
| --- | --- |
| Amy Blood | Julia Meyer |
Amy Blood and Julia Meyer were both valedictorians at Good Shepherd Lutheran School. Each went on to different high schools, but they both continued to pursue their love for learning. In May both were recognized as valedictorians at their respective high schools: Amy at Collinsville and Julia at Metro.

Amy Blood will be attending Northwestern in Evanston, Illinois this fall. Her major will be Biology with plans to become a Doctor. At Collinsville she was the Vice President of National Honor Society, and the President of the Drama Club. On Saturday nights she often sings for the Good Shepherd worship service. She credits much of her success to the preparation Good Shepherd Lutheran School provided in her early years.

Julia Meyer was the Vice President of the National Honor Society, Student Council President, and Class Officer Vice President at MELHS. She is also a level 10 gymnast at World Class Gymnastics in Belleville. Next fall she will be attending Brown University in Providence, Rhode Island with plans to study Biomedical Engineering. Her hope is to attend Medical School and become a doctor. In addition to being accepted at Brown, she will be on their Division I gymnastics team. Jaime Brinkmann

Christ and Culture Bible Study

J

oin us Sunday, June 28th as we begin exploring the relationships between the Christian faith and American culture. Where do we find Christís influence in rock music or country music? How has the internet affected the Christian church both positively and negatively? How does the church influence government and the economy? These are all important questions that will help us see our opportunities to spread the message of Christ to our world.

Congregational Life

Braille workers: July 2 @ 8:30 a.m.

Blood Pressure screening: July 4 & 5

No meeting in July

On July 26th Congregational Life will sponsor a farewell for Vicar Rodgers with a potluck after the late service in the Fellowship Hall. Sloppy Joes, drinks, & cake will be provided. Bring a salad or hot dish to share.

Church Pictorial Directory

Busson Portrait Directories is putting together our latest pictorial directory. This will be a bound book that will tell the story of our church in word & picture. It will contain color portraits of all our families along with a membership roster.

Pictures will be taken beginning Tuesday, August 11 through Saturday, August 15; Tuesday, September 8 through Saturday, September 12; & Thursday, September 17 through Saturday, September 19, 2009.

On line sign up begins Monday, June 15 & will continue through Friday, July 17. Please go to our church web site: goodshepherdcollinsville.org, click on the link to online sign up & fill out the appropriate information.

Sign up at church begins after services on Saturday, July 18 & Sunday, July 19. Sign up will continue every weekend.

Everyone that participates will receive an 8x10 portrait of a directory pose & a church family album featuring all participation families. There is absolutely no obligation to purchase additional pictures.

Crossroads

Our Bible Study on Ephesians will continue the second Thursday of the month, July 9th. Note that this Bible study will be held in the church conference room, and babysitting will be provided. Please join us at 7:00 p.m. On July 12th, we will meet after the late church service and head to Qdoba for lunch. Mark your calendars now for dinner at Sho-Gun Japanese Steakhouse in Fairview Heights. We will meet there at 6:30 to enjoy some hibachi-style dining! This will be an adults only event.

Coming up in August will be a potluck lunch after the late church service on August 9th, an "Ask the Pastor" Bible Study on August 13th, and a pool party at the Graneyís on August 15th. More information on these events will follow. Keep you eyes peeled for more information in the church bulletin, on the CROSSroads poster in the narthex (next to the flower chart), and on Facebook. If you have any questions, please call Karen at 343-1886 or Carrie at 346-1158.

Lunch Bunch

On July 21 we will go to Giacaloneís in Bethalto. We will meet on the church parking lot at 11:30 a.m. Please call Mary Preuss (288-9525) or Wilma Mitchell (345-7123) before July 19 so we can reserve enough space in the restaurant. Everyone is welcome to join in the fellowship as we support each other in our faith.

Recycling

Good Shepherd had another good year of recycling. In the 2008-2009 school year, 65 tons of paper & 1463 pounds of aluminum cans were recycled here using the bins on the front parking lot. Please see the attached flyer for more information. Your support is sincerely appreciated.
Baby Bottle Campaign
Mosaic Pregnancy & Health Centers recently reported the results of the 2009 Baby Bottle Campaign. A total of $63,689.76 was collected from 96 different churches. $2,122.55 was donated by members of Good Shepherd.
Your support is greatly appreciated. For more information about Mosaic or to volunteer, please contact them at 618-451-2002.
Coupon Report
Thousands of thanks to those of you who have been dropping off your unused coupons at the church! Together with your generous supply of coupons, hundreds of items have been purchased so far! Items such as cereal, peanut butter, salad dressing, barbeque sauce, cake mixes and frosting, paper plates, toothpaste, toothbrushes, mouthwash, shampoo, deodorant, body wash, lotion, shave gel, aspirin and first aid items have been purchased for free or almost free. This has been easy to do, especially during the weeks when Kmart has doubled coupons up to $2.00. One time they even doubled up to $4.00!
Boxes of items have already been donated to the Collinsville Food Pantry (91 items), the Maryville Food Pantry (65 items), the food pantry at Concordia Seminary (67 items), and Good Shepherd's food pantry (65 items). Over 50 items of snacks, gum and trial sizes have been dropped off at the "Adopt a Platoon" table at the Collinsville Schnucks store. A donation of 34 health and beauty items were donated to Good Shepherd's Costa Rica mission trip. Even the cats and dogs at the Collinsville Humane Society received 86 food and treat items. This has become somewhat of a full-time job for me and I have many more items that have yet to be divided and donated from the last round of Kmartís Super Double Coupon Week. So, look for my second coupon report in next month's newsletter.
Please keep saving your coupons and placing them in the box in the connecting hallway and I'll keep using them to buy items that can help others through the present economy crisis. Hopefully, together, we CAN make a difference. By sharing our blessings with others. If anyone would be interested in learning more about couponing or this project, feel free to contact me at 344-5305. God's blessings! Debbie Jones
Massage Therapist
Need relief from stress, muscle aches & tension, call Cindy Javurek, Licensed Massage Therapist at 618-401-3989. Posted
Vacation Bible School

Godís Always Doing Great Exciting Things! It was a very exciting thing to have over 200 children hearing Godís transforming message of salvation during our week of Vacation Bible School. A big thank you to the more than 50 volunteers who made that possible!

Scrapbooking

Do you enjoy scrapbooking but canít find the time or space? Did you always want to try scrapbooking but didnít know where to begin? Join us in the fellowship hall on July 31 for another scrapbooking opportunity. Come anytime between 6-10 P.M. Other crafters are also welcome to come and work on their crafts while enjoy the company of other adults. You may bring your own soda and a snack to share. Talk to Carol with any questions.

Church Picnic

Our annual church picnic has moved to September. Food, fun and entertainment are all being planned for September 13. Mark you calendar now.

Pastor Paul Yearyean Ordination

Former GSLC Vicar Paul Yearyean will be installed as pastor at Trinity Lutheran Church, Deer Creek, Minnesota on Sunday, July 12th at 3:00 p.m. The address for Trinity is 221 Clark St. N, Deer Creek MN 56527

Official Acts

Baptisms (Children): Malachi Andrew Critchelow, Madison Elizabeth Uchtmann; Marriage: Adam Paul Honegger and Lyndi Nicole Kuhlman; Funeral: Daniel R. Baker

Souls: 1,700 Comm.: 1,395

Apple of His Eye Wins Lawsuit on Distributing Literature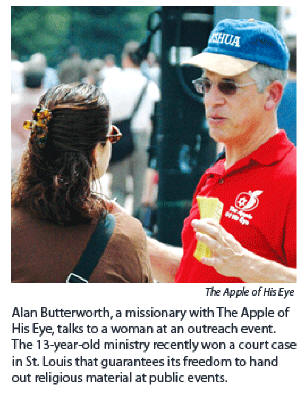 The Apple of His Eye, a St. Louis-based LCMS mission society, is free to distribute religious literature at public events in the city of St. Louis, according to a U.S. District Court judge. On June 11, Judge Henry Autrey signed a permanent order that bars the city from arresting or threatening to arrest members of The Apple of His Eye while they are handing out their literature.

The First Amendment lawsuit was filed last year after Apple of His Eye missionary Alan Butterworth and founder Steve Cohen were distributing free religious tracts in the city's Tower Grove Park during a 2006 "gay pride" event. Both men were first told to cease literature distribution at PrideFest, and later told to vacate the premises or face arrest.

The attorney for The Apple of His Eye, Rick Nelson of the American Liberties Institute in Orlando, Fla., brought the matter to the city's attorneys, hoping for an amicable resolution. When no progress was made, the lawsuit was filed by the mission society on May 1, 2008.

Cohen said the group "got tired of being threatened with arrest" and "just wanted to bring it to an end." Cohen and a seminary student recently were confronted by police at two events in April -- the women's Final Four basketball tournament and opening day of the St. Louis Cardinals baseball season.

"When religious freedom is at stake," Cohen said, "I've always felt that our constitutional rights here in the United States should be affirmed and upheld, and that's what we tried to do."

The Gospel handouts, or "broadsides" -- written especially for the PrideFest event -- did not mention homosexuality, but focused on the fact that "all of us are sinful. All of us fall short," said Cohen. "But God loves us so much that -- while we were yet sinners -- He sent His only Son, that whoever believes in Him will not perish but have everlasting life." Reprinted from The Reporter (To see more articles from the Reporter, to go www.lcms. Org.)