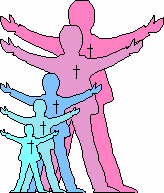 Love in Action
Good Shepherd Lutheran Church
1300 Belt Line Road Collinsville Illinois 62234
618-344-3151 (Church) 618-344-3153 (School) 618-344-3378 (Fax) Pastors M. Walther & P. Hoft Vol. 25 No. 7 July 2002
___________________________________________________________________________________________

Guide Me, O Thou Great Jehovah

During these warm summer months many people travel. We travel by car, plane, boat, and some of us still might take the train. But when you go on vacation, who is your pilot for safety? God has promised to watch over us in all that we do in life. He guides us on our spiritual journey toward the Promised Land just as He did for the Israelites in a pillar of cloud by day and a pillar of fire by night (Exodus 13.21). And just as He governs the flight of the sparrow (Matthew 10.29) the Lord has promised to guide us on the ordinary paths of life.

A hymn you may want to take with you on your summer voyages is hymn 54: Guide Me, O Thou Great Jehovah. This Welsh hymn, originally titled Strength to Pass through the Wilderness, is perfect for our pilgrim travels because it reminds us of the One who keeps our paths straight.

Guide me, O Thou great Jehovah, Pilgrim through this barren land.
I am weak, but Thou art mighty; Hold me with Thy powírful hand.
Bread of heaven, Feed me till I want no more.

Open now the crystal fountain Whence the healing stream doth flow;
Let the fiery, cloudy pillar Lead me all my journey through.
Strong Delivírer, Be thou still my Strength and Shield.

When I tread the verge of Jordan, Bid my anxious fears subside;
Death of death and hellís Destruction, Land me safe on Canaanís side.
Songs of praises I will ever give to Thee.

Godís blessings on the journey with Christ as your pilot and guide.

Vacation Bible School

July 22-26

Mark your calendars for VBS this summer. Children wonít want to miss the Godzwerkus Circus School, where we will learn that "with God all things are possible" (Matt. 19:26). Come and hear how God worked through people like David, Deborah, Shadrach, Meshach & Abednego, Bartimaeus, and Ananias. God even works through you and me, today. If you would like your child to attend this fun event, please fill out the registration form on the cover of the newsletter and return it to the church office.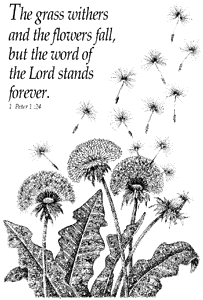 Menís Morning Bible Study
Join us each Monday morning for menís Bible study from 6:30 to 7:30 a.m. We are following the "Through the Bible" reading program which covers about 10 chapters of the Bible each week.

Good Shepherd Website

Have you looked at the Good Shepherd website located at

www.goodshepherdcollinsville.org? Here you can find the electronic versions of the newsletters, news and information from the bulletins, sermons, Bible studies, and links to other good websites.

Prayers Requested for Outreach in Northern Canada

In July, two teams of VBS teachers will work in Cree villages in Northern Canada through Lutheran Association of Missionaries and Pilots (LAMP). Please remember these teams and their work in your prayers. Thank you for your partnership in the Gospel!

* Ask the Lord of the harvest to bless the efforts of Lucy Thompson, Kelly Balaco, Steve and Katie Petersen and Eric Semler as they teach in Sandy Lake, Ontario (June 28- July 7) and Jeff, Terri, Joshua and Jacob Blasingame as they teach in Oxford House, Manitoba (July 6-14).

* Pray that God would send his holy angels to protect these volunteer missionaries as they drive into Canada and then fly into remote areas. Pray also for favorable weather and safe travel conditions. Pray for pastor-pilots Burt Benson and Gordon Johnson as they fly the Good Shepherd teams to their locations.

* Praise God for the opportunities to present the Gospel to around 300 Cree children and youth. Pray that they will turn to Jesus for their hope and strength rather than inhalants or alcohol. Pray also that these children would share the saving message of Jesus Christ with their families and that the Holy Spirit will continue to work within their hearts, bringing them to faith in their Lord.

* Pray for the ministry of LAMP--Canada as it facilitates VBS in dozens of remote communities during the summer, leads Bible studies and trains indigenous leaders throughout the year. Pray that God would supply the necessary resources--personnel, equipment and finances-- to sustain this ministry.

Use the following schedule to read through the Bible in one year. If reading the entire Bible in one year is too difficult at first, consider a customized schedule. For example you could read through the New Testament or certain books of the Old Testament. Try to use a study Bible with a good introduction to each book. The Concordia Study Bible is available for purchase in the Church Office. The cost is $30. The schedule is designed to give you a few days off each month to catch up on any readings you missed.
July

New Testament

Old Testament

Luke

Colossians

Psalms

1 Chronicles

1

7.11-17

1.1-14

123-124

1-2

2

7.18-35

1.15-29

125

3-4

3

7.36-50

2.1-7

126

5-6

4

8.1-15

2.8-15

127

7-9

5

8.16-25

2.16-23

128

10-11

6

8.26-39

3.1-14

129

12-14

7

8.40-56

3.15-25

130-131

15-16

8

9.1-17

4.1-9

132

17-19

9

9.18-27

4.10-18

1 Thess.

133-134

20-22

10

9.28-36

1

135

23-25

11

9.37-50

2.1-9

136

26-28

12

9.51-62

2.10-20

137

29

2 Chronicles

13

10.1-16

3.1-6

138

1-2

14

10.17-24

3.7-13

139

3-5

15

10.25-37

4.1-10

140

6-7

16

10.38-42

4.11-18

141

8-9

17

11.1-13

5.1-11

142

10-12

18

11.14-28

5.12-28

2 Thess.

143

13-16

19

11.29-36

1.1-7

144

17-19

20

11.37-54

1.8-12

145

20-21

21

12.1-12

2.1-12

146

22-24

22

12.13-21

2.13-17

147

25-27

23

12.22-34

3.1-5

148

28-29

24

12.35-48

3.6-13

149

30-33

25

12.49-59

3.14-18

150

34-36
Good Shepherd Library Opens
Your church library is open for circulation. A wide variety of materials have been organized by topics and shelved to make them easily accessible. The library is located in the conference room, near the church offices. It is open during church office hours and Sunday mornings.
Take advantage of the materials available on any number of topics for all age groups. Make your selection and sign out on the clipboard provided. Materials may be kept for a month at a time.
Volunteer Ministry Program
Last year the Board of Congregational Life, in cooperation with the other organizations within the church, instituted a volunteer ministry program. The goal of this program is to give Good Shepherd's membership an opportunity to serve the Lord through involvement in the church's many ministries. An "Every-Member-In-Ministry" Booklet was compiled, listing the various volunteer positions within the Church, and each member was asked to complete a survey indicating their individual talents, skills, and interests. The information on these surveys is contained in a computer data base so that as needs arise, the data can be accessed and members contacted to determine their interest in filling a specific need. In addition, a "short-term" needs survey was also completed for the purpose of filling members' immediate needs (for example: transportation, emergency repairs, etc.).
The booklet and blank survey forms will be placed in the Narthex during the month of July. If you have not yet completed these forms, or wish to update the information that is currently on file, we encourage you to do so. If you want to take a copy of the booklet home to review for a few days, there are some available through the church office.
Please prayerfully consider how you can serve Jesus Christ through service to other members and to the church. Let us give back to God, through Christian service, what he so lovingly gives to us each day.

Sowing and Growing
Please stop by the connecting hallway on Sunday mornings to purchase gift certificates for various vendors in our area. A small percentage of each certificate is returned to Good Shepherd Lutheran School. Last year we received over $16,000 through this program. Half of this amount went directly to the families who purchased certificates to lower their tuition. If you donít have a student in the school you can designate half of the benefit to any family or to the school. Also thank the volunteers who make the Sowing and Growing program possible.
AAL Scholarship Recipients
Good Shepherd members Collette Galaske and Gretchen Rust were awarded 4 yr. AAL Scholarships. Collette will be attending the University of MO-Rolla and Gretchen will be attending the University of Nebraska-Lincoln. Scholarship recipients are chosen based on Academic Achievements; Leadership Qualities; Church and Community Involvement; and Extracurricular Activities. Congratulations to both of these young ladies.
Mission Guild for Lutheran Women
Monday, July 8, 12 Noon
Good Shepherd will host the Mission guild meeting on Monday, July 8. It is a noon luncheon, followed by a program and very short business meeting.
The program should be very special. The first of our two groups going to Canada to teach VBS will have returned the night previous to the 8th, and will have a very interesting message to present. The group includes Lucy Thompson, Kelly Balaco, Eric Semler, and Katie and Steve Peterson.
Anyone is welcome to attend. You need not be a Mission guild member. The free will offering luncheon helps to support our current seminarian, Brian Holle. We are inviting him and his family to join us for the meeting.
Official Acts
Baptisms (children): Nathan Christopher Hoft, 5/26; Ashlen Nicole DeLuca, 6/9.
Received Through Transfer: Gwen Galen from Trinity, Edwardsville, IL; Jeffery Gray from Bethany, Fairview Heights, IL.
Profession of Faith: Brian Heidbrink and baptized child Randi.
Marriages: Andrew Albert Schoeck and Autumn Elizabeth Wilke, 5/25; James Stephan Smith, Jr. and Megan Elizabeth Hanne, 5/31; Richard P. Marmon and Elaine F. Cook, 6/8; Damon Michael Vermaux and Christina Marie Atkins, 6/22.
Funerals: Kimberly Marie Ligon, 5/30; Wilma Paula Reimler, 6/3; Louise M. Palsenberg, 6/4.
Souls: 1,620 Comm.: 1,263
2001 VACATION BIBLE SCHOOL REGISTRATION
Vacation Bible School Date: July 19-23 Hours: 8:30 - 11:30 AM Monday - Friday
Children need to be 4-years-old by September 1st up to and including students entering eighth grade this fall.
_____I will be a teacher _____I can play piano or organ
_____I wish to serve as a teacher's helper _____I will assist with enrolling
_____I will help with refreshments _____I will assist with transportation
_____I will help with crafts _____I am willing to babysit
_____I will donate $_____to defray expenses _____I will donate Kool-aide, juice, cookies, etc.
(The cost of VBS materials averages $12 per pupil including crafts.)
ADVANCE ENROLLMENT FORM
NAME AGE GRADE COMPLETED THIS SPRING
1. ___________________________________ ____ __________________________________
2. ___________________________________ ____ ___________________________________
3. ___________________________________ ____ ___________________________________
Parent's Name:______________________________ Address:__________________________________
Work or Emergency Phone:____________________ Home Phone:_______________________________
Family Church:______________________________ To be brought by:____________________________
PLEASE FILL OUT AND BRING TO CHURCH OFFICE OR MAIL TO GOOD SHEPHERD