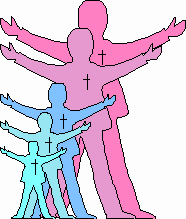 Love in Action

Good Shepherd Lutheran Church

1300 Belt Line Road Collinsville Illinois 62234

618-344-3151 (Church) 618-344-3153 (School) 618-344-3378 (Fax)
Pastors M. Walther and P. Hoft Vol. 26 No. 1 January 2003

___________________________________________________________________________________________

Moving On In 2003

Happy New Year! Itís 2003! Many people wonder what itís going to be like in the year ahead. Sometimes we look ahead with joy and excitement. At other times we are apprehensive. We often worry about what the future may bring. However, one thing is certain. Our future is in the hands of a loving God. "Jesus Christ is the same yesterday, today and forever (Hebrews 13:8)."

There were many times when Godís people, the Israelites, worried about the future. As they began their exodus journey the people complained to their leader, Moses, saying, "Was it because there were no graves in Egypt that you brought us to the desert to die? What have you done to us by bringing us out of Egypt?" Moses replied, "Do not be afraid. Stand firm and you will see the deliverance the Lord will bring you today. The Egyptians you see today you will never see again. The Lord will fight for you; you need only be still." Then the Lord said to Moses, "Why are you crying out to me? Tell the Israelites to move on." From that moment on Moses raised his staff and the Israelites crossed over the Red Sea on dry land. The waters separated, the enemy was destroyed, and the Lord led them on in a pillar of fire by night and a pillar of cloud by day (Exodus 14). God was present with His people in a real, physical way.

Today, as we move on to 2003, we may wonder about a number of things- the economy, war, unemployment. Yet, we know that as surely as our Lord was with His people long ago, He is with us still today. In a real, physical way, God is present with us in His Word and Sacrament. In the water of Baptism and in the bread and wine of Holy Communion He assures us that He is with us always, to the very end of the age. He says, "I am the Alpha and the Omega, who is, and who was, and who is to come, the Almighty (Revelation 1:8)." God bless your journey into the new year!

Adult Inquiry Classes

Begin January 16

On Thursday, January 16, from 7:00 to 8:45 p.m. we will be meeting to study the basic teachings of the Christian faith such as: the commandments, creation, salvation, sanctification, the end of the world, baptism, prayer, and the Lordís Supper. The classes are open to everyoneóespecially those who might be interested in becoming members at Good Shepherd. There are no obligations. Come to any or all the classes. Babysitting is provided in the nursery.
Commitment Cards
We encourage all members to consider prayerfully their stewardship and financial support for the ministry of the Gospel.
Why should I make a pledge? A pledge is nothing more than a faith-based commitment. We make many of these commitments in life when we are confirmed, serve as baptismal sponsors, or serve in various offices in the church. Jesus spoke more about money and itís temptations than anyone else in the Bible. Stewardship pledges or commitments are part of our overall desire to allow Godís will to guide our lives. Christians donít take life for granted. We give thanks for our financial blessings, and we pray for Godís guidance to use them wisely.
Lay Bible Institute
Muhammedís Message and the Christian Response

Good Shepherd is privileged to host the Lay Bible Institute on Wednesday nights January 8, 15, 22, and 29 from 7:00 to 9:00 p.m.
In recent times and especially since the September 11 disaster, Americans have had a growing interest in Muslims and their religion. Who are the Muslims and why do they often have such hostility toward America and Christianity? What should we know about Muhammed and the beliefs and practices of his religion? What do his followers need to hear from us in our Christian witness to them? These sessions will answer these and other questions about Islam.
In these sessions, Dr. Manteufel will discuss the life of Muhammed, the Koran, and the practices of the Islamic religion.
Dr. Thomas Manteufel is associate professor of systematic theology at Concordia Seminary, St. Louis. Dr. Manteufel obtained a Ph.D. degree from the University of Iowa in 1983.
To register for the Lay Bible Institute classes, call 314-505-7123 between 8 a.m. and 4:30 p.m., Monday Ė Friday. The cost is $20 per person and includes course handouts and breaks.
The cost is $12 per person, which includes all course handouts and breaks. Registration should be made by calling Debbie at 314-505-7105 or completing the form below and returning it to: Lay Bible Institute, Concordia Seminary, 801 DeMun Ave., St. Louis, MO 63105. Make checks payable to Concordia Seminary.
Menís Ministry Ė January 11
All men are invited to the next Menís Ministry Meeting Saturday, January 11, from 9:00 a.m. to 11:00 a.m. in the Bible Study Center (Lower Level). Our focus will be "Coping with Job Loss and Job Transition." A short Bible study will be followed by a panel discussion with people who have experience.
Daily Scripture Readings
1

January

Luke 1:68-79

Mark 1-2

2

Psalm 30

Mark 3

3

Psalm 31

Mark 4

4

Psalm 32

Mark 5

5

Psalm 33

Mark 6

6

Psalm 34

Mark 7

7

Psalm 35

Mark 8

8

Psalm 36

Mark 9

9

Psalm 37

Mark 10

10

Psalm 38

Mark 11

11

Psalm 39

Mark 12

12

Psalm 40

Mark 13

13

Psalm 41

Mark 14

14

Psalm 42

Mark 15-16

15

Psalm 43

Genesis 1-3

16

Psalm 44

Genesis 4-6

17

Psalm 45

Genesis 7-9

18

Psalm 46

Genesis 10-12

19

Psalm 47

Genesis 13-15

20

Psalm 48

Genesis 16-18

21

Psalm 49

Genesis 19-21

22

Psalm 50

Genesis 22-24

23

Psalm 51

Genesis 25-27

24

Psalm 52

Genesis 28-30

25

Psalm 53

Genesis 31-33

26

Psalm 54

Genesis 34-36

27

Psalm 55

Genesis 37-39

28

Psalm 56

Genesis 40-42

29

Psalm 57

Genesis 43-45

30

Psalm 58

Genesis 46-48

31

Luke 1:68-79

Genesis 49-50
New Bible Studies Beginning January 12
Jesus: Legend or Lord This video based Bible study features Dr. Paul Meier, professor of ancient history. Class discussions will be led by seminary students Kevin Roop and Dan Muecke. The class will meet in the Conference Room.
A Marriage for All Seasons led by Pastor Hoft is a video-based series starring Dr. John Trent. Lessons teach how to appreciate differences, resolving conflicts, and find strength through communication.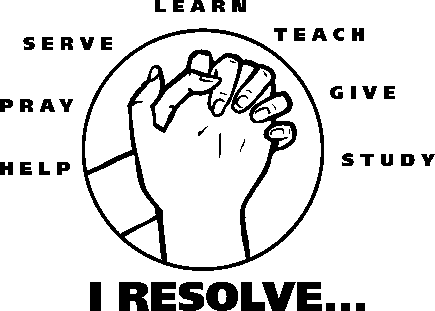 Itís No Joke Jonah

led by Pastor Walther examines the failures and the successes of the Prophet Jonah, who was sent by God to the famous city of Nineveh to proclaim the threats and the mercies of God.

Lutheran Womenís Missionary League

Many thanks to all those who contributed their time, money, crafts and food to make the LWML Soup and Salad Luncheon and Advent Soup Supper a big success! We collected over $1,600 to be divided equally among Sue H. and Nathan Esala, (missionaries) Quinten Nuttmann (Seminary student) and Sandra Thacker (GSLC member). Praise God for His blessings!

Next LWML Meeting will be held Thursday, February 6th at 7:00 p.m. in Fellowship Hall. (There is no January meeting.) This will be an eventful evening of learning, serving and enjoying Christian fellowship. The program, lead by Barb Hawkins, will be a film by Dewitt Jones, National Geographic award winning photographer, entitled "Celebrate What's Right!" In addition, the service event will be to pack boxes of goodies to be sent to Good Shepherd's college students for Valentine's Day. Please bring any of the following items to the meeting:

Cardboard boxes (Approx. 12"x8"x5" deep)

Candy Hot chocolate mix

Microwave popcorn Gum/Mints

Nutrition bars Cans of Chips

Pens/Pencils Cheese/cracker lunchables

Post-it notes Note cards

And anything else you think a college student would need or enjoy.

Let's show our young people how much they mean to us and how proud we are of them. All women of the church are invited. Come and bring a friend!

Youth News

Good Shepherd has three youth groups: Sr. High Youth, Jr. High Youth, and 5th-6th Grade Youth. Their purpose is to support our parents who have a primary calling to nurture their children in the Christian faith. These groups meet for spiritual growth, fellowship, and service toward our neighbors. Pastor Hoft is the main leader but he relies greatly on the involvement of parents whenever they can help, through transportation, chaperoning on trips, planning, publicity, etc.

Sr. High Youth meet at 7 p.m. on the 1st, 3rd, and 5th Sundays of each month.

Jr. High Youth meet monthly on certain days announced in the newsletter and Sunday bulletin.

5th and 6th Youth meet quarterly when announced in the newsletter and Sunday bulletin.

We encourage anyone to pray for these programs to help build up the Body of Christ among our youth!

Sr. High Youth Ski Trip
Sr. High Youth are encouraged to go skiing on Saturday Jan. 18. We will be going to Hidden Valley in Wildwood, Missouri. If twenty people come, including any adults, we can go for a special group discount. A sign-up sheet is posted on the Youth bulletin board downstairs at church. See Pastor Hoft for cost. Please sign up before Jan. 3.

Thanks

Thank You!

to all the members of Good Shepherd who contributed so generously to the love offering for Zachary Fiudo and Matthew Rowane. The amount collected will greatly help to defray the medical expenses incurred by their families.

Also thanks to those who contributed their time, money, crafts and food to make the LWML Soup and Salad Luncheon and Advent Soup Supper a big success! We collected over $1,600 to be divided equally among Sue Hasselbring and Nathan Esala, (missionaries) Quinten Nuttmann (Seminary student) and Sandra Thacker (GSLC member). Praise God for His blessings!

Official Acts

Baptisms (children): Patrick Admire McDill; Jameson Christopher McDill, 11/24.

Baptisms (adult): Charles Arnold Smock, IV, 11/20; Heather Kahleen McCubbins, 11/24.

Confirmation (adult): Randall Ray Bitticks, Michael Gene Garland, Carol L. Hughes, Amy Lynn King, Shannon Rene McDill, Heather Kahleen McCubbins, James Edward Riddle, Charles Arnold Smock, IV, Barbara Jean Smock, Elaine Dawn Szedlar, Kimetha Ann Wells.

Received Through Transfer: Emma Schroeder from Bethany, Fairview Heights, IL; Catherine Lynn Roth from Salem, Farrar, MO.

Souls: 1,672 Comm.: 1,297

School News Pre-registration

Pre-registration and enrollment forms will be available on February 3. Forms will be gathered until the end of February. The Board will consider all forms delivered during February, including new enrollments, before considering forms delivered March 1 or after. This means it is important that your childís form is received during February. The pre-registration fee is now $170.00 but we will not have book or activity fees in August. Also, the pre-registration fee is not refundable. The forms will be going home on January 24th.

Defenders of the Faith Ė The Uniqueness of the Bible

The uniqueness of the Bible compared to other literary works has no equal. Unique in its translation, the Bible has been translated and retranslated, and paraphrased, more than any other book in existence. The Encyclopedia Britannica says that "by 1966 the whole Bible has appearedÖin 240 languages and dialectsÖone or more whole books of the Bible in 739 additional ones".

Unique in its survival through time, the Bible has had to be copied and recopied by hand for hundreds of years before the invention of the printing press. It has more manuscript evidence than any ten pieces of classical literature. It has survived persecution as enemies have tried to burn it, ban it, and outlaw it, from the days of the Roman empire to present day Communist countries.

The Bible is also unique in its influence on other literature. If every Bible were to be destroyed, the Book could be restored in all its essential parts from the quotations found on the shelves at the public library. Also the amount of literature inspired by the Bible is overwhelming; from Bible dictionaries to Bible encyclopedias, Bible atlases, Bible geographies and not to mention the vast amount of theology, religious education, devotional works. The list goes on and on.

With all the evidence shown, only one conclusion can be drawn and that is it has to be the inspired word of God because nothing has ever been able to stand against it!

Any questions or comments please e-mail them to:

kb9mha@juno.com ( Kevin Knipping/Board of Christian Outreach) or send them to Pastor Walther or Pastor Hoft.