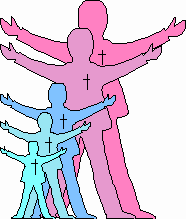 Love in Action

Good Shepherd Lutheran Church

1300 Belt Line Road Collinsville Illinois 62234

618-344-3151 (Church) 618-344-3153 (School) 618-344-3378 (Fax) Pastors M. Walther and P. Hoft Vol. 25 No. 1 January 2002

___________________________________________________________________________________________

The Miracle of Life

"Before I formed you in the womb I knew you, and before you were born I set you apartÖ"
Jer. 1:5

On December 14, 2001, I witnessed a miracle. A real-life miracle Iíve never seen before. And I have photos to prove it! If anyone would like to see them, believe me, Iíll be more than thrilled to show you! My wife and I stepped into the doctorís office that morning and with the help of a little technology, we viewed on a computer screen the miracle of life. Within the womb of my wife, we saw our son or daughter. Weíre not sure, yet. That will be a surprise later. More importantly, we saw little arms waving, a little face looking at us, and a little heart beating. In a special way, the two of us have been blessed to know our child even before his or her birth. How much more miraculous that this little one has been known by God even before his or her formation in the womb!

It amazes me that the debate still continues in our nation over the question: "When does life begin?" Iím not a scientist but the answer seems quite clear to me. What I saw on the computer screen was much more than a blob of flesh we commonly call a "fetus." I saw a living, breathing creation of God Almighty. I saw a little child anxious to explore the rest of Godís creation here on earth. I saw yet another sinful human being in whose place Christ Jesus has died and risen. I saw another babe being called by our Lord to the living waters of Holy Baptism.

This month we will be observing the sanctity of human life on Sunday, January 20. May it be a wonderful opportunity for you to witness the miracle of Godís grace in your life.

Master Plan Committee Reports

We are very thankful for everyone who helped in Our Childrenís Foundation is in Christ the Good Shepherd. With over a million dollars in commitments, one of the first important challenges for a new building addition has been accomplished by Godís grace. We are especially thankful that over $90,000 of these commitments were made by non-member school families.

The Master Plan Committee met on December 6, 2001 to continue studying the plans. The Committee considered small changes and adjustments. The architects will continue to work on the plans in preparation for bidding. The bidding process will be the next step. After the Master Plan Committee is aware of the final costs, a special congregational meeting will be held to approve construction recommendations. Please watch the bulletin for the announcement of the next Master Plan Meeting.

Adult Inquiry Classes

Begin January 17

On Thursday, January 17, from 7:00 to 8:45 p.m. we will be meeting to study the basic teachings of the Christian faith such as: the commandments, creation, salvation, sanctification, the end of the world, baptism, prayer, and the Lordís Supper. The classes are open to everyoneóespecially those who might be interested in becoming members at Good Shepherd. There are no obligations. Come to any or all the classes. Babysitting is provided in the nursery.

Mitten and Hat Tree Ė Thanks!

Thank you to everyone who donated to the Mitten & Hat Tree. A total of 228 clothing items were collected, which will go to Collinsville Head Start, the Father Center in East St. Louis and Otis Woodard's Outreach in North St. Louis.

Brief Response to the Yankee Stadium "Prayer for America" Controversy

Many members saw articles in the newspaper and television reports regarding a prayer service that was held at Yankee Stadium on September 23, 2001 in the aftermath of the September 11 tragedy. The service was hosted by James Earl Jones and Oprah Winfrey. It included representatives from Christian and non-Christian groups. Dr. David Benke, a Lutheran Church Missouri Synod pastor, also participated. Many pastors raised concerns about this service because of the impression some of the participants gave that all religions lead to salvation. This creates a problem for Christians who believe Jesus when He says, "I am the way, the truth, and the life. No one comes unto the Father except through Me" (John 14.6). A few pastors filed charges against Dr. Benke and the President of the LCMS. The vast majority of pastors simply asked for clarification and further discussion. The media presented the charges that a few pastors made as a violation of a church policy that forbids LCMS pastors from praying with other pastors or other Christians. There is no such policy in the LCMS.

We do have a policy that forbids pastors from participating in public worship services in which distinctive Christian doctrines are denied or in which false doctrine is deemed acceptable. This is what is meant by unionism or syncretism. For example, it would be wrong to participate in a service if the pastor were told not to pray in Jesusí name or told not to say that Jesus is the only way of salvation.

LCMS pastors are permitted to participate in civic events that might include prayers from other Christians and even non-Christians. However we are urged to give this careful consideration. We must ask ourselves whether our participation is an opportunity to proclaim the Gospel clearly. On the other hand, the pastor must weigh whether the event is intended to show that it doesnít matter what people believe or if there is an implied expectation to "bless" vague or even false religious notions.

There is no doubt that the whole matter brings one of the most important questions to front and center: Is faith in Jesus Christ the only way of salvation or are there other ways to be saved? The LCMS firmly upholds the truth proclaimed by St. Peter long ago regarding Jesus Christ of Nazareth: "There is no other name under heaven, given among men, by which we must be saved" (Acts 4.12).

Bundles for Lutheran World Relief

Pictured above (photo not available) are the more than 80 boxes of quilts, sweaters, layettes, soap and other items collected by local churches for Lutheran World Relief. On Saturday, October 20, 2001, they were delivered to St. Louis. A total of more than 5000 separate "Bundles of Love" from over 100 churches with a combined weight of over 55,000 pounds were loaded onto two semi-trailers. They will soon be on their way to disaster stricken areas such as Afghanistan, Turkey, South America, and Bosnia.

Pledge Cards and Envelopes Still Available

Please pick up envelopes for the new year in the Narthex. Pledge cards are also available. We encourage all members to consider prayerfully their stewardship and financial support for the ministry of the Gospel.

Why should I make a pledge? A pledge is nothing more than a faith-based commitment. We make many of these commitments in life when we are confirmed, serve as baptismal sponsors, or serve in various offices in the church. Jesus spoke more about money and its temptations than anyone else in the Bible. Stewardship pledges are part of our overall desire to allow Godís will to guide our lives. Christians donít take life for granted. We give thanks for our financial blessings, and we pray for Godís guidance to use them wisely.

Needed for VBS

In preparation for next summerís Vacation Bible School we are collecting rectangular international coffee tins. Please leave them by the sink in the connecting hallway.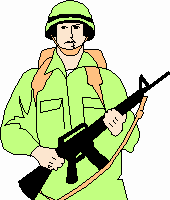 Lay Bible Institute

The Christian, Patriotism, and War
Wednesday Evenings 7:00 p.m. to 9:00 p.m.
January 23, 30 and February 6, 2002
Concordia Seminary St. Louis, Missouri

The recent events in our nation once again raise questions in the mind of Christians about the relationship between commitment to Jesus Christ and commitments made in the civil realm. Prof. Wollenburg will provide background from his theological training and his military service. The three sessions will explore (1) Luther and Scripture on War, and Just War Theory, (2) David, God's Warrior for Peace, and (3) One Nation under God.

David W. Wollenburg is serving in his first year as associate professor of practical theology at Concordia Seminary. He brings 31 years of experience as a military chaplain in the United States Air Force, 13 of those years in active duty. He retired with the rank of Chaplain Colonel. In addition, Prof. Wollenburg has served parishes in Missouri, Michigan, Illinois and Tennessee. From 1980 to 1987, Prof. Wollenburg was pastor of Timothy Lutheran church is St. Louis. He is a 1971 graduate of Concordia Seminary, St. Louis.

The cost is $12 per person which includes all course handouts and breaks. Registration should be made by calling Debbie at 314-505-7105. Make checks payable to Concordia Seminary.

Stem Cell Research Presentation

Mark your calendars for Sunday, February 10. Dr. Robert Weise, professor of Bioethics at Concordia Seminary, will be speaking at Good Shepherd about this controversial issue. He will be explaining the technology behind stem cell research and the Christian's biblical response. Please join us from 5-8 p.m. for a banquet meal and Dr. Weise's timely discussion.

Youth News

Last month, fifteen of our senior youth sang Christmas carols to the folks at Collinsville Care Center. Special thanks to Cheryl Schnicker for providing a Christmas meal for our youth that evening.

Also, special thanks to Rachel Lauber and Ian Wilson for participating in the monthly "Firstfruits" servant event at Unity Lutheran Church in East St. Louis.

Upcoming F.R.O.G. Events

Sat. Jan. 5 "Firstfruits" servant event at

Unity Lutheran

Sun. Jan. 6 Mission Night

Sun. Jan. 13 Regular Meeting

Sun. Jan. 20 Movie Night "Life: Itís a

Class Project"

Fri./ Sat. Jan. 25-26 Sr. High Lock-in at St.

Johnís, Red Bud

Junior High Youth (F.I.S.H.) will meet this month at the Splaingardís on Friday, Jan. 11 at 7 p.m. Come for an evening of fun, fellowship, and faith. See Pastor Hoft for more details.

5th and 6th Grade Youth Group will meet on Sat. Jan. 12 at 6:30 p.m. in the Good Shepherd Gym.

Why Attend Lutheran High School?

Last month, Mr. Dan Kostencki, principal of Metro-East Lutheran High School, shared with the Board of Elders the value of a Christian education. As a former public school teacher, principal, and superintendent of 33 years, Mr. Kostencki has become increasingly aware of the advantages of going on to a Lutheran high school.

His thoughts are summarized into three points. First and foremost, is the advantage of a Christian atmosphere. While confirmation usually accompanies the completion of eighth grade in Lutheran elementary schools, this is by no means the end of the studentís life in Christ. It is merely

another beginning for the Christian. At a Christian high school youth receive the continued spiritual nurture that is so needed during the difficult and stressful teenage years. Young people are especially vulnerable to the many influences outside of the Christian family. Therefore, the influence of daily prayer, chapel, religion class, Law-and-Gospel discipline, and a dedicated Christian staff is quite a blessing!

Secondly, there is the advantage of personal attention. Many people overlook this important aspect thinking that bigger is better. However, instead of being a face in the crowd, students receive personal attention when they have problems and concerns. This enables the student to develop, not only academically, but also relationally and athletically.

Thirdly, Lutheran high school provides a wide choice of curricular and extra-curricular activities. 90% of Metro-East Lutheranís graduates go on to a four-year college. Honorsí classes in the core college prep curricula contribute to that end. Numerous MELHSí students have been awarded academic and athletic scholarships. Some of the extra-curricular activities offered at MELHS include 17 sports, drama, vocal and instrumental music, and a wide range of clubs and organizations.

These are the hallmarks of a Christian high school education that enable students to find identity, meaning, purpose, and power to live out their varying roles as the people of God.

LWML Opportunities

LWML does not have a regularly scheduled meeting in January. The officers will be meeting on Thursday, January 3 at 7:00 p.m. to plan the programs and schedule for 2002. We invite anyone interested in this activity to join us. Call Pat Hoffmeier (288-3684) with your program ideas, if you can't come to this meeting.

The Southern Illinois District Spring Retreat is scheduled for Saturday, March 2 (with registrations due by February 8) at the Rend Lake Conference Center. Bible Study begins at 9:00 a.m., brunch will be served at 10:00 a.m., and the event ends at 1:00 p.m. The program for the retreat is being planned around the many hats that women wear! Consider joining ladies from throughout the district for a morning of inspiration, encouragement, and fun! Cost is $25.00. Funds are available for defraying that expense. Call Pat at the above number for more information.

Sowing & Growing Together

We will resume taking regular orders on January 7, 2002. Walk-up sales will be available on Friday, January 4th 3:00-4:00 p.m. and on Sundays 9:00-9:30 a.m. and 10:00-10:30 a.m. Some Holiday Vendors will still be available after the holidays while supplies last.

There are now two different ways to purchase Krispy Kreme Donuts. Certificates will be available in $5.00 and $10.00 amounts. With the $5.00 card, you get one dozen donuts. The $10.00 card is a buy one dozen get one dozen free card. This card has 10 punches. Every time you purchase a dozen donuts, Krispy Kreme will punch your card and give you a dozen free.

Citgo is no longer available through the Scrip Program.

In January, look for Sowing & Growing Together on the Good Shepherd web site. You will be able to download the regular order form. If you have any questions about this program, call Meta Cathcart at 346-1316.

New Field Worker

Kevin and Sheila Roop and children Nathanael and Elizabeth are with us for the next two years as Kevin begins his studies at Concordia Seminary. They are from Jefferson City, Missouri where Kevin served as an account manager. Kevin has a bachelors degree in accounting and a masters degree in business administration. He is a licensed certified public accountant. They are living at Concordia at 12 B Founders Way, St. Louis, Missouri 63105. Telephone: 314-505-7718.

Official Acts

Baptism (Children): Paige Alyse Beyer, 12/8.
Marriages: Graeme Stuart Garvey and Julie Ann Hanke, 11/17; Steven Thomas Booker and Helen Lois Moore, 12/15.
Funerals: Doris D. Beaty, 12/14; Bernice Laura Erasmus, 12/19.
Souls: 1,593 Communicants: 1,218

Use the following schedule to read through the Bible in one year. If reading the entire Bible in one year is too difficult at first, consider a customized schedule. For example you could read through the New Testament or certain books of the Old Testament. Try to use a study Bible with a good introduction to each book. The Concordia Study Bible is available for purchase in the Church Office. The cost is $30. The schedule is designed to give you a few days off each month to catch up on any readings you missed.
January

New Testament

Old Testament

Matthew

Acts

Psalms

Genesis

1

1.1-17

1.1-11

1

1-2

2

1.18-25

1.12-26

2

3-4

3

2.1-12

2.1-21

3

5-8

4

2.13-23

2.22-47

4

9-11

5

3.1-12

3

5

12-14

6

3.13-17

4.1-22

6

15-17

7

4.1-11

4.23-37

7

18-20

8

4.12-17

5.1-16

8

21-23

9

4.18-25

5.17-42

9

24

10

5.1-12

6

10

25-26

11

5.13-20

7.1-38

11

27-28

12

5.21-32

7.39-60

12

29-30

13

5.33-48

8.1-25

13

31

14

6.1-15

8.26-40

14

32-33

15

6.16-24

9.1-19

15

34-35

16

6.25-34

9.20-43

16

36

17

7.1-14

10.1-23

17

37-38

18

7.15-29

10.24-48

18.1-24

39-40

19

8.1-13

11.1-18

18.25-50

41

20

8.14-22

11.19-30

19

42-43

21

8.23-24

12

20

44-45

22

9.1-13

13.1-25

21

46-47

23

9.14-26

13.26-52

22.1-11

48

24

9.27-38

14

22.12-31

49

25

10.1-20

15.1-21

23

50
Thy Word is a Lamp Unto My Feet and a Light Unto My Path
Psalm 119.105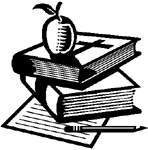 School News
Pre-registration and enrollment forms will be available on February 1. Forms will be gathered until the end of February. The Board will consider all forms delivered during February, including new enrollments, before considering forms delivered on or after March 1. This means it is important that your childís form is received during February. The pre-registration fee is now $170.00 but we will not have book or activity fees in August. Also, the pre-registration fee is not refundable. The forms will be going home on January 25th.
Christmas Television Specials
On KSDK Channel 5 on Christmas Day, watch:
10:00 a.m. Red Boots For Christmas
10:30 a.m. The Puzzle Club Christmas Mystery
11:00 a.m. Stableboyís Christmas
11:30 a.m. The City That Forgot About Christmas
Parents/Visitors
All parents/visitors need to stop in the school office to acknowledge your presence. We ask that all parents/visitors who go beyond the school office to sign in for safety reasons.
Auction 2002
Your help is needed. Please consider helping in some capacity. Call 344-3153. YOU can HELP!
Library Volunteer Needed
We are in need of someone to cover the library time for Thursdays from 12:30-3:00 and Fridays 9:50-11:25. Please contact Mrs. Bohnet, any help is appreciated!
Congressional Record
After the September 11 attack, the student body wrote letters to Mr. Shimkus and other members of Congress expressing our faith and trust in God, America, and Congress. In response Mr. Shimkus entered into the Congressional Record a special tribute to the children of GSLS.
Chapel Offerings
Offerings for the month of January will benefit the Metro East Crisis Pregnancy Centers.