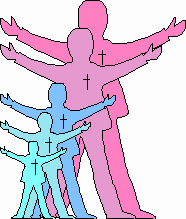 Love in

Action

Good Shepherd Lutheran Church

1300 Belt Line Road Collinsville Illinois 62234
618-344-3151 (Church) 618-344-3153 (School) 618-344-3378 (Fax)
Pastors M. Walther and P. Hoft Vol. 24 No. 1 January 2001
___________________________________________________________________________________________
THE LIGHT OF CHRIST STILL SHINES
Just when you thought it was time to take down the Christmas lights and decorations, the Season of Light is just ahead. The celebration of Jesus has only begun! On January 6 and onward through February, we celebrate the Epiphany of our Lord. The word epiphany means "shining forth" or "manifestation." Therefore, during this ancient season we rejoice in the appearing of Christ to the world. Christ came not only for the Jews but also for the Gentiles. Thus, wise men from the East traveled greatest distances to see this newborn King of the universe. They came to bring Him gifts: gold, frankincense, and myrrh. Some say that these three gifts symbolize who Christ is: our great prophet, priest, and king.
The traditional Bible reading for day of Epiphany comes from Isaiah 60: "Arise, shine, for thy light is come." But how often we let the cold winter season become a mere shadow of Christmas past. Many of the presents we received over the holidays are now stashed away in a closet. Yet, the greatest gift we have ever received is still shining as brightly as ever: Christ, the Light of the World! During this often forgotten holiday time, let us come as wise men bringing our gifts to Jesus. We have been illumined by His grace. He has forgiven us of our sin. He has shared with us His kingdom. Let us now also tell of His glory!
Church Master Plan Committee Gives Final Building Report
Mr. Rich Wallace gave the last report for the Master Planís work on the new sanctuary. We are thankful to receive the last of the three stained glass windows from Frei Studios. A special subcommittee of the Board of Church Property will continue to work on special memorials and other additions to the new sanctuary. The next phase of the Master Plan Committee will be devoted to the final addition to the school. Please watch for more information.
Adult Inquiry Classes Begin January 18
On Thursday, January 18, from 7:00 to 8:30 p.m. we will be meeting to study the basic teachings of the Christian faith such as: the commandments, creation, salvation, sanctification, the end of the world, baptism, prayer, and the Lordís Supper. The classes are open to everyoneóespecially those who might be interested in becoming members at Good Shepherd. There are no obligations. Come to any or all the classes. Babysitting is provided in the nursery.
Mitten and Hat Tree Ė Thanks!
Thanks to everyone who donated gifts for the Christmas Baskets and to those who donated hats and mittens. You gave over 200 items that will be distributed to people in need.
Pledge Cards and Envelopes Still Available
Please pick up envelopes for the new year in the Narthex. Pledge cards are also available. We encourage all members to consider prayerfully their stewardship and financial support for the ministry of the Gospel.
Why should I make a pledge? A pledge is nothing more than a faith-based commitment. We make many of these commitments in life when we are confirmed, serve as baptismal sponsors, or serve in various offices in the church. Jesus spoke more about money and itís temptations than anyone else in the Bible. Stewardship pledges are part of our overall desire to allow Godís will to guide our lives. Christians donít take life for granted. We give thanks for our financial blessings, and we pray for Godís guidance to use them wisely.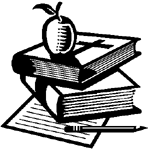 School News
Pre-Registration Process
Pre-registration and enrollment forms will be available on February 1. Forms will be gathered until the end of February. The Board will consider all forms delivered during February, including new enrollments, before considering forms delivered
March 1 or after. This means it is important that your childís form is received during February. The pre-registration fee is now $160.00 but we will not have book or activity fees in August. Also, the pre-registration fee is not refundable. The forms will be going home on January 26th.
NLSA Accreditation
Good Shepherd is going through the National Lutheran School Accreditation for the 2000-2001 school year. This process is very extensive and helpful in making our school an even better academic institution. Your help is needed in this process with
parental input so goals can be established for the improvement of our school. We are asking each parent to complete the survey with honesty-- both positive and negative remarks. If you choose not to complete the survey, we ask that you still turn the survey back to your childís homeroom teacher. Individuals will be calling you to remind you of this, starting January 5th.. Surveys need to be returned by Friday, January 12th. Students, Teachers, and the School Board will also be giving the committee input. This will help the steering committee decide which goals are important to our schoolís future. Your prayers are requested during this process, so we will continue to follow Godís will for our school.
Thanks
Seminarian Kelly Mitteis: Thanks to Good Shepherd and the Board of Social Ministry for Thanksgiving card and gift certificate. You have been a blessing to my family, and I am grateful for the opportunity to be among you as a field worker. May the Lord strengthen us in Christ Jesus, and bless us with His peace.
Harriet Hinds, Kathy and Megan Turner: Many thanks for all your thoughts and prayers in our time of need. They were deeply felt and appreciated. Also, thank you to Miss Rattelmuller and her Second Grade Class for their special prayers! May God bless you all. We are truly thankful to Him.
Be a Synodical Convention Volunteer
The Convention of the Lutheran Church-Missouri will be held in St. Louis July 14-20, 2001 at the Americaís Center. Volunteers are needed for registration, information booth, altar guild, pages, welcoming and hospitality, tours and special events, ushers, and special guests. If you would like more information about these volunteer opportunities please call the Southern Illinois District Office of the LC-MS at 234-4767.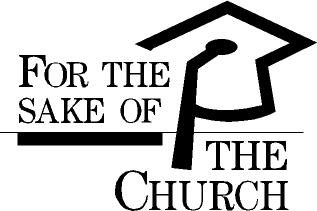 National Program to Increase the Number of Church Trained College Graduates
The Concordia University System and its 10 institutions are undertaking a 12-year effort to double the number of LCMS students at our Concordias and to build a $400 million endowment to fund their education. The hope is that this effort will encourage every son or daughter in our LCMS family to consider attending a Concordia. Pastors and teachers receive their training at these universities and seminaries. Many others are trained for different vocations in a Christ-centered environment. U.S. News and World Reports 2000 edition of "Americaís Best Colleges" listed nine out of ten LC-MS colleges and universities that have high academic standards at affordable costs.
You can help by praying for students and encouraging them to consider attending one of the Concordias. General John W. Vessey, Jr., former Chairman of the Joint Chiefs of Staff, is leading the effort. If you would like to know more about For the Sake of the Church and how you can be a part of it please call GSLC member Tammy Songer at 1-800-248-1930, Ext. 1054.
Mission Fest 2001 Light to the Nations
January 5-6 at Concordia Seminary in St. Louis
Students in Mission and the Institute for Mission Studies is sponsoring Light to the Nations to make people more aware of the mission work of our church. Presenters include: Albert Garcia, Professor at Concordia University, Mequon Ė "Witness for Christ in Cuba," Rev. John Nunes, Dallas, Texas Ė "Light for the City," Rev. Carl Rockrohr, former missionary to Ghana- "Christís Sacrifice in the Context of African Blood Sacrifices," Velma Lubbert, Director of Medical Ministry of LC-MS World Missions- "Medical Ministry Today," Dr. Louis Nau, Lutheran Hour Ministries, "A Challenge: Christian Media in Asia," and Rev. David Andrus, "Director of Blind Ministry of LC-MS World Missions- "Seeing the World Through Eyes that Donít See."
Dr. Dale Meyer will be the keynote speaker on Friday, January 5, from 7:00 to 8:00 p.m. Visit dozens of mission organizations at the exhibit hall. Youth activities will also be featured. The Mission Fest will be held at Sieck Hall Friday, January 5, from 6:00 to 10:00 p.m. and Saturday, January 6, from 8:30 to 11:30 a.m. . For more information about Light to the Nations call 314-505-7568.
Want to Work for a Better Marriage?
Try the Lutheran Marriage Encounter- 44 hours where married couples can get away from jobs, kids, chores, and phones to focus on each other. If youíd like greater depth, growth, and enrichment in your relationship, youíll like the difference a worldwide Marriage Encounter weekend can make! The next Encounter weekend in St. Louis is March 9-11, 2000 at the Holiday Inn South County Center. Registration closes February 9 or at capacity, so a quick response is encouraged. For more information or to register, contact Tom & Kathy Von Behren, 636-343-9453 or e-mail: vonbeh@attglobal.net.