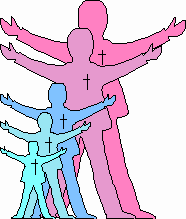 Love in Action
Good Shepherd Lutheran Church
1300 Belt Line Road Collinsville Illinois 62234
618-344-3151 (Church) 618-344-3153 (School) 618-344-3378 (Fax)
Pastors M. Walther and P. Hoft Vol. 26 No. 2 February 2003
___________________________________________________________________________________________
Is Islam a Wicked Religion?
We are being told repeatedly that the Islamic religion is a religion of peace and love. Not long ago Franklin Graham, son of the famous evangelist Billy Graham, said the one thing that many were thinking but few had the courage to say: "Islam is a very evil and wicked religion." Most of us have very little experience with Islam. We should be tentative in offering criticism to anything we have yet to study and investigate. Franklin Graham, however, speaks from experience. World Magazine (December 7, 2002) declared Franklin Graham "Daniel of the Year" for his courageous opposition both to Islam and to the barrage of criticism from liberal religious leaders and politicians. Franklin says, "My opinions and my views are shaped by years of working and seeing Islam up close," he says. "There is no religious freedom. I have seen the persecution. It is taught by them, it is in their Koran. They cannot deny it." His experience with Islam is largely due to his humanitarian endeavors conducted by his organization called Samaritan's Purse. Through this organization he has raised roughly 150 million dollars a year to provide relief for hurting people. Many of the people he has helped are in Islamic countries such as Sudan and Afghanistan.
So what are we to think? Franklin Graham's opinion is not something to take lightly. However, we know that many bad apples do not mean all the apples are bad. We may have met some very nice and kindly Islamic people. How should we assess this religion? Jesus tells us in Matthew 7.15ff that a false prophet should be judged by his fruit. "A bad tree bears bad fruit." The problems of religious freedom, persecution, and violence against non-Muslims should be monitored. But even more important than the outward acts are the inner beliefs. We should examine carefully the beliefs. Any religion that opposes God's grace and mercy in Jesus Christ should be recognized as a wicked religion. Muslims often speak of the mercy of God, but their understanding is that mercy must be earned. Allah says, "If ye establish worship and pay the poor-due, and believe in My messengers and support them, and lend unto Allah a kindly loan, surely I shall remit your sins…" (Surah 5.12). This is the cornerstone upon which the religion of Islam is established. The Koran, written 600 years after Christ, tells us that Jesus was not crucified but that He only appeared to be crucified (Surah 4.157). Islam teaches no atonement, forgiveness, or redemption—only effort, your effort to submit to Allah and to obey.
This false belief is the chief article of faith in all non-Christian religions. It is also a temptation for us. How often I am saddened to hear people say things like, "Why is this trouble coming into my life? I've not done anything to deserve it." Or, "I know she's in heaven, she was such a good person." The chief article of the Christian faith is that God has forgiven us of our sins for the sake of His perfect Son, not for the sake of our good life. We pray that this message would be proclaimed far and wide and that many, many more people might believe in Jesus for their forgiveness and salvation. "In Him (Jesus) we have redemption through His blood, the forgiveness of sins, according to the riches of His grace" (Ephesians 1.7). This is the truth upon which your eternal life can be established.
Defend Thy truth, O God, and stay This evil generation; And from the error of its way Keep Thine own congregation. The wicked everywhere abound And would Thy little flock confound; But Thou art our Salvation.
Martin Luther, "O Lord, Look Down from Heaven Above" Hymn 260 in The Lutheran Hymnal, based on Psalm 12.
(The article cited from World Magazine can be read at www.worldmag.com/world/issue/12-07-02/cover_1.asp.)

Use the following schedule to read through the Bible in one year. Try to use a study Bible with a good introduction to each book. The Concordia Study Bible is available for purchase in the Church Office. The cost is $30.
Scholarship Applications
If you're interested in applying for financial aid for school tuition, please stop by the School Office to pick up an application form. Good Shepherd will pay the processing fee. Applications need to be mailed by April 15. The Board of Stewardship and Missions carefully considers all applications and provides help to all who have legitimate financial need. Included with the applications is a brochure briefly describing how the scholarships are determined.
Chancel Flowers & Palms
Members of the congregation are invited to make donations for the chancel flowers (usually one arrangement by the pulpit and another by the cross). Each arrangement is $30 and can be given in memory of, or, in honor of someone you love. The following dates are open for either or both arrangements: March 30, April 6 and 27, May 25, June 1,8, 29, July 13, 27, August 31, September 14, 21, October 5, November 16, 23, 30, December 7, 21, 28. You may also donate for the palms on a monthly basis. The cost of each palm is $40 per month. The following months are available: Feb., April, Aug., Sept., & Nov.
Lutheran Women's Missionary League
All women of the Church, please put these LWML coming events on your calendars:
Thursday, February 6 Monthly meeting (7:00 p.m. in Fellowship Hall) Program: Dewitt Jones film "Celebrate What's Right" led by Barbara Hawkins
Service Event: Packing Valentine Boxes for our college students. Items needed include cardboard boxes (approx. 12"x 8"x 5" deep), candy, popcorn, hot chocolate mix, cheese crackers, gum, post-its, pens, pencils, etc.
Sunday, March 2 "Celebrate! Pray! Praise!" An LWML Zone Service of Prayer and Thanksgiving at 2:00 p.m. at St. Peter's in Caseyville. When someone in the public eye says ". . .and that's what it's all about" they may be right in a limited way, but God's action in Christ for all people really is "what it's all about" - the heart of what is true for all people of all time. At this service we will celebrate this truth with our thoughts, words, songs of praise, and prayers of thanksgiving.
Thursday, March 6 Monthly meeting (7:00 p.m. in Fellowship Hall) Program: Paul Miller, Principal of the new Unity Lutheran Christian Elementary School will educate us on the mission God has for us - namely to "be HIS witnesses" and to "make Disciples." He will update us on the plans for the Mission School in East St. Louis, and will present opportunities to get involved (and there are many).
Thursday, March 27 Spring Soup and Salad Luncheon/Card Party A wonderful way to spend a pleasant afternoon with friends . . . playing cards, visiting, enjoying a delicious lunch, and shopping at the Country Store.
Time: 12 Noon to 3:30 p.m.
Place: Fellowship Hall
Cost: $6.00 per person (pay at the door)
Reservations must be in by Friday, March 21st - call the Church Office (344-3151) or Shirley Wentzel (344-8205).
Souper Bowl Offering
On Saturday and Sunday January 25 & 26 we will have a free-will offering to benefit the Collinsville Area Ministerial Association. Members can place a donation in the large "soup bowl" located in the Narthex. If each family were to donate $1, we could raise a donation total of $350. These funds are used to help folks who need food, fuel, and temporary shelter. If you're interested in the nationwide Souper Bowl effort, visit www.souperbowl.org.
Official Acts
Baptisms (children): Benjamin Ellis Bauer, 12/30.
Received Through Transfer: Carl & Agnes Muhlenbruch from Lake Forest, IL; Joel Hughes from Bethany, Fairview Heights, IL; Corey Wudtke from Redeemer, Convoy, OH.
Funeral: Milton L. Edrington, Sr., 1/6.
Souls: 1,657 Comm.: 1,285
MELHS Trivia Time
Metro East Lutheran High School Music Boosters Proudly Host Trivia Time. This exciting event will take place at M.E.L.H.S. Gymnasium, 6305 Center Grove Road, Edwardsville on Saturday, February 8 at 5:00 p.m. Seating is limited to 10 per table. The $10.00 tickets will be sold at the door or by any band or choir member. The proceeds will help fund the Band and Choir Tour. For more information call the school or Debbie at 344-5305.
FROG:

Sunday, February 2 - As part of our regular meeting, we will be making Valentine's gift boxes for some of our members who are shut-ins.
Please bring some of the following items to the meeting:
Individual packs of crackers/cookies Hard candy
Pocket-size puzzle books Tea/Cocoa packets
Scented lotion/soap 2003 calendars (any size)
Kleenex (any size) Stationery/Writing Tablets

2003 Lutheran Heritage Trips for Older Adults

The Older Adult Ministry Advisory Committee has developed the following three Lutheran Heritage trips for 2003.

The Spring Day-Trip to Perry County, MO will be on Wednesday, April 20. Stops are planned at the Pinecrest Azalea Farm in Oak Ridge, Altenburg and Frohna. Lunch will be at TRICS Restaurant in Altenburg.

The Summer Extended-Trip to Indiana and Michigan will be from August 14-22. The first stop is planned for Concordia Seminary in Fort Wayne, IN. Moving into Michigan stops will include Greenfield Village near Dearborn, Frankenmuth, Dow Gardens, Mackinaw City, Mackinac Island, Traverse City, Camp Arcadia for a day of LutherHostel led by Walt Schoedel and Herb Brokering, Mears for a dune buggy ride and Holland. Back in Indiana, stops are planned for Valparaiso University, Rockville and Montgomery at the Gasthof Amish Community.

The Autumn Day-Trip to Concordia Seminary and Trinity Lutheran Church in Soulard, St. Louis, MO. Lunch will be in the dining hall of the seminary.

Registration forms can be found in the church office. The District Office has limited numbers of registration forms available; please call 234-4767.

Rowane and Fiudo Families

Say Thanks!

Last month we held a special love offering for the families of Matthew Rowane and Zachary Fiudo. Matthew received a kidney from his father and Zachary undergoes special therapy in Poland for Cerebral Palsy. Thanks to everyone who donated a total of $3,547.50. We also thank everyone who donated to the hat and mitten tree. We collected 218 items for distribution to Collinsville Head Start, the East St. Louis Father's Center, and to Otis Woodard's Outreach in North St. Louis.

Muhammad's Message and the Christian Response

More than 40 people attended the Lay Bible Institute this year in January. Professor Thomas Manteufel from Concordia Seminary conducted the classes. The classes explored the background to the Islamic religion that was founded by Muhammad 600 years after the time of Christ. The classes especially explored the teachings of the Quran alongside the Bible. Although there are some similarities, the differences between Christianity and Islam are vast. By far the most important difference has to do with the person and work of Jesus. Muslims believe that Jesus was a great prophet, and they respect His ethical teachings. However they vigorously deny that He is God, that He died on the cross, and that He rose again from the dead. The Muslim religion is appealing to many people because of its simplicity. While Christianity teaches that all people are "poor, miserable sinners" in need of God's grace and forgiveness, Islam teaches only a few rules that need to be kept. Especially critical to the current situation is the Islamic teaching of Jihad. Jihad can be the personal struggle of every individual to live the ethical life demanded by Allah. It can also refer to the larger struggle of Islam against all other faiths. Christians have a special opportunity today to witness to Muslim friends with the truth of the Gospel. The struggle of this world was once, and for all, accomplished on the cross by our Lord Jesus. We pray that everyone would believe that Jesus is the one who gives us victory over death and the grave and who can say to us, "Come to Me, all you who labor and are heavy laden. Take My yoke upon you and learn from Me, for I am gentle and lowly of heart. And you will find rest for your souls" (Matthew 11.28-29).