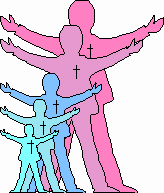 Love in Action
Good Shepherd Lutheran Church
1300 Belt Line Road Collinsville Illinois 62234
618-344-3151 (Church) 618-344-3153 (School) 618-344-3378 (Fax) Pastors M. Walther and P. Hoft Vol. 25 No. 2 February 2002
___________________________________________________________________________________________
Why Christian Kids Leave the Faith
There is probably no other problem that concerns Christian parents as much as children who turn away from Jesus. Why Christian Kids Leave the Faith is a book by Tom Bisset that explores this issue. The book not only analyzes the problem but also offers good advice for families that are waiting for prodigal children to come home. According to Bissetís research, people leave the Christian faith for four reasons:
1. Because they have troubling, unanswered questions about their faith: "Unwilling to Ďjust believe,í they opt for Ďintellectual honesty.í To do this they believe they must leave their childhood faith behind in order to find real answers in the real world."
2. Because their faith isnít working for them: "Disillusioned with the church and their fellow Christians, and ultimately disappointed with God these believers go through painful emotional and spiritual meltdown that leaves them unable to think or function as a Christian. They leave by default; they simply canít do it anymore."
3. Because other things in life become more important than their faith: "These dropouts slowly drift away preoccupied by business, pleasure, material ambitions, personal problems or other hard realities that are part of life itself."
4. Because they never personally owned their faith: "Ö they conformed to the spiritual expectations of others, especially parents and church leaders. But they never consciously and willfully embraced Christ and the way of the cross for themselves."
Bisset also points out a number of other interesting facts. Faith rejection is common across all denominational and even religious lines. Faith rejection is not necessarily connected to parenting styles. In many families some children joyfully follow Christ while their siblings walk away. One hurting father was comforted by the reminder that God Himself had prodigal children. Adam and Eve were prodigals. Many prodigals do return to the faith of their childhood even though the wait for their return can be very painful.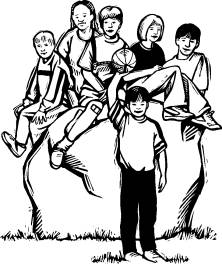 P arents involved in this struggle can learn from others who have been there. First, our Biblical values are not open to compromise. Many families have experienced children leaving home and Christ because they canít stand the rules. Changing or relaxing the rules wonít help. But above all families have to live by the love of Christ. The door is always open. There is always opportunity for forgiveness. We donít burn bridges with prodigals. Secondly, though it seems like a helpless situation, parents of prodigals can pray and enlist others to pray. Psalm 139 tells us that no one can hide from God. That includes rebels. We can pray for others to come into the lives of our children to turn them back to the Lord. Thirdly, parents need to realize that as much as they want to affect spiritual changes in the lives of their children, the only person they can change the most is themselves. One of the consistent themes of returning prodigals is the realization that the faith of their parents was authentic. While at home they may have mocked that faith, but as life goes on that faith often endures and overcomes the devils lies. I would add to these three things one more: Parents of prodigals should continually witness to their wandering children with both the Law and the Gospel especially remembering Peterís words, "Yet do it with gentleness and respect" (1 Peter 3.16).
Bisset encourages hurting parents to put their hope in Christ: "Though the fig tree may not blossom, nor fruit be on the vines; though the labor of the olive may fail, and the fields yield no food; though the flock may be cut off from the fold, and there be no herd in the stalls Ė yet I will rejoice in the LORD, I will joy in the God of my salvation. The LORD God is my strength; He will make my feet like deerís feet, and He will make me walk on my high hills" (Habakkuk 3.17-19).

Ash Wednesday February 13, 7:00 p.m.

Join us for Wednesday evening Lenten services beginning February 13. Lent is the season recognized by Christians for centuries to prepare for the celebration of Christís resurrection. This yearís services will focus on the six chief parts of the Small Catechism as well as the Passion of Our Lord.

Master Plan Update

We thank God for commitments that total now $1,078,627. The Master Plan Committee has approved the plans for the new school addition. The plans will be sent out for bids on February 1. The construction bids will be opened on March 5th at 7:30 p.m. A Congregational Assembly will be held on Sunday, March 17th to consider the next step in the construction process.

Endowment Committee

The Ad Hoc Endowment Committee met in January to continue defining the principle guidelines for an endowment fund. The fund will be established with the estate donation made by former GSLC member Emma Krapp.

Scholarship Applications

If youíre interested in applying for financial aid for school tuition, please stop by the School Office to pick up an application form. Good Shepherd will pay the processing fee. Applications need to be mailed by April 15. The Board of Stewardship and Missions carefully considers all applications and provides help to all who have legitimate financial need. Included with the applications is a brochure briefly describing how the scholarships are determined.

Gift Matching Programs

Many of our school and church families are members of either the Lutheran Brotherhood or the Aid Association for Lutherans. Both of these organizations have matching gift programs available to their members. For details, membership applications, or other questions please contact either the Church Office 344-3151 or the following people:

Aid Association for Lutherans
Ken Kober 345-9369

Lutheran Brotherhood
Lura Meyer 343-9713

Also many corporations offer gift matching programs that match gifting to Christian schools. If you are unsure about your employer contact your Human Resources department. For more information about corporate gift matching or other assistance please contact Bruce Clessa at 288-3789.

Lutheran Womenís Missionary League

February 7th - Monthly meeting in Fellowship Hall at 7:00 PM. This will be an evening of learning and serving. We will hear about proper food handling, from preparation through storage. We will pack valentine boxes for our college students with items being gathered by AAL Branch 4811. (Anyone wishing to contribute candy, gum, hot chocolate packets, microwave popcorn, etc. for the boxes may bring these items to the meeting.) In addition, we will address valentines to GSLC shut-ins. All women of the church are invited to share in an evening of Christian fellowship.
February 10th - LWML Zone Prayer and Thanksgiving Service as outlined in the Winter Quarterly. Place: Holy Cross in Collinsville; Time: 2:00 - 3:00 PM. Two ladies from our Zone will give us highlights of their trip to Honduras where they worked with medical missionaries. Refreshments will follow the program. All women of the church are invited to attend.
February 20th - Lenten Soup Supper. Free will offering will go toward purchasing books for the Church Library.
March 2nd - Southern Illinois District Spring Retreat. This will be held at the Rend Lake Conference Center from 9:00 AM to 1:00 PM. Bible Study begins at 9:00AM, brunch will be served at 10:00 AM, followed by a program centered around the many hats women wear! Consider joining ladies from throughout the District for a morning of inspiration, encouragement and fun! Cost is $25.00 per person. To register you may pick up a form from the tract rack or call Pat Hoffmeier at 288-3684 no later than February 8th.
AAL Valentine Boxes
Donations needed for AAL Valentine Boxes sent to college students. Individual packages of popcorn, raisins, crackers, gum, hot drinks, disposable razors... Place in the box in the connecting hallway. Assembly will be February 7.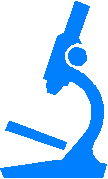 Stem Cell Research Presentation

Mark your calendars for Sunday, February 10. Dr. Robert Weise, professor of Bioethics at Concordia Seminary, will be speaking at Good Shepherd about this controversial issue. He will be explaining the technology behind stem cell research and the Christian's biblical response. Please join us from 5:30-8 p.m. for a banquet meal and Dr. Weise's timely discussion.

Lenten Soup Suppers

Each year the Board of Congregational Life works with organizations within Good Shepherd to sponsor the Soup Suppers held during Lent prior to each Wednesday evening Lenten service. These suppers allow church members to not only enjoy a nourishing meal prepared by others, but an opportunity to fellowship with other members in preparation for hearing God's word. So far we have scheduled the following:

February 13 Social Ministry & Men's Bible

Study Group

February 20 LWML

February 27 AAL Branch 4811

March 6 Mission Board

This leaves two Wednesday Soup Suppers still open on the dates of March 13 and March 20. If any group or a combination of groups in the church are interested in sponsoring a supper on one of these dates, please call Mary Jane Wade at 344-3217. Working together with others to prepare and serve a much appreciated meal is a joyful experience in itself.

Older Adult (55+) Day-Trip

On Wednesday - April 24, 2002, the Southern Illinois District is sponsoring a historical look at Lutheranism including visits to Horse Prairie (near Red Bud), Illinois and Altenburg and Frohna, Missouri. Attractions include - but are not limited to the "Liberty Bell of the Lutheran Church-Missouri Synod, period buildings and displays centered around the Saxon migration from Germany, the Log Cabin College, and Die Kleine Schule (The Little School) in Frohna.

Transportation, lunch, and tips are included in the $30 registration. A minimum of 35 persons is required. Registration forms are available at your church or you may call 618-234-4767 to have a copy mailed to you.

Don't miss this opportunity for gemutlichen with other southern Illinois Lutherans as they explore their Lutheran heritage on a roomy, comfortable bus.

Needed for VBS

In preparation for next summerís Vacation Bible School we are collecting rectangular international coffee tins. Please leave them by the sink in the connecting hallway.

Youth News

The youth thank the Mission Board for providing a fun and enriching Mission Night last month. We enjoyed writing letters to missionaries, making puzzles, eating international cuisine and quilting, among other activities.

Special thanks to Rachel Lauber, Gretchen Rust

and Katie Petersen for participating in the monthly "Firstfruits" servant event at Unity Lutheran Church in East St. Louis. If you would like participate this month please contact Pastor Hoft.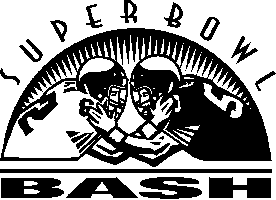 Upcoming F.R.O.G. Events

Sat. Feb. 2 Servant Event at Unity Lutheran

Sun. Feb. 3 Superbowl Party

Sun. Feb. 10 Stem-cell research presentation by

Dr. Weise (5:30)

Sun. Feb. 17 Ice Skating Night

Sun. Feb. 24 Regular Meeting

Junior High Youth (F.I.S.H.) are invited to join the Sr. High on Ice Skating Night. See Pastor Hoft for more details.

5th and 6th Youth are invited to "Family Night" with their parents at the Maryville YMCA on Friday Feb. 22. See Pastor Hoft for details.

Sowing & Growing Together

We will resume taking regular orders on January 7, 2002. Walk-up sales will be available on Friday, January 4th 3:00-4:00 p.m. and on Sundays 9:00-9:30 a.m. and 10:00-10:30 a.m.

Look for Sowing & Growing Together on the Good Shepherd web site. You will be able to download the regular order form. If you have any questions about this program, call Meta Cathcart at 346-1316.

Use the following schedule to read through the Bible in one year. If reading the entire Bible in one year is too difficult at first, consider a customized schedule. For example you could read through the New Testament or certain books of the Old Testament. Try to use a study Bible with a good introduction to each book. The Concordia Study Bible is available for purchase in the Church Office. The cost is $30. The schedule is designed to give you a few days off each month to catch up on any readings you missed.

February

New Testament

Old Testament

Matthew

Acts

Psalms

Exodus

1

10.21-42

15.22-41

24

1-3

2

11.1-19

16.1-15

25

4-6

3

11.20-30

16.16-40

26

7-9

4

12.1-21

17.1-15

27

10-12

5

12.22-37

17.16-34

28

13-15

6

12.38-50

18.1-17

29

16-18

7

13.1-23

18.18-28

30

19-20

8

13.24-43

19.1-22

31

21-23

9

13.44-58

19.23-41

32

24-26

10

14.1-21

20.1-12

33

27-29

11

14.22-36

20.13-38

34

30-31

12

15.1-20

21.1-26

35

32-33

13

15.21-39

21.27-40

36

34

14

16.1-12

22

37.1-22

35-37

15

16.13-28

23.1-11

37.23-40

38-40

Leviticus

16

17.1-13

23.12-35

38

1-4

17

17.14-27

24

39

5-7

18

18.1-14

25.1-12

40

8-10

19

18.15-35

25.13-27

41

11-13

20

19.1-15

26.1-18

42

14-15

21

19.16-30

26.19-32

43

16-17

22

20.1-16

27.1-26

44

18-20

23

20.17-34

27.27-44

45

21-23

24

21.1-11

28.1-16

46

24-25

25

21.12-22

28.17-31

47

26-27
Scriptures For February

February 3 Fourth Sunday After Epiphany


Matt. 5:1-12 The Blessings of Faith in Jesus
Micah 6:1-8 Godís Desire for Our Life of Faith

February 10 Transfiguration
Matt. 17:1-9 Jesus Appears in His Glory
Exodus 24.12-18 The Glory of the Lord on Mt. Sinai

February 17 First Sunday in Lent
Matt. 4:1-11 The Temptation of Jesus
Genesis 23.1-7 The Fall into Sin

February 24 Second Sunday in Lent


John 4:5-26 The Woman at the Well
Romans 4.1-17 Godís Blessing to Abraham by Faith

Souper Bowl Offering

On Saturday and Sunday February 2-3 we will have a free-will offering to benefit the Collinsville Area Ministerial Association. Members can place a donation in the large "soup bowl" located in the Narthex. If each family were to donate $1, we could raise a donation total of $350. These funds are used to help folks who need food, fuel, and temporary shelter.

Adult Bible Studies

Sunday morning (9:15 a.m.) Adult Bible Studies continue in the lower level. Pastor Hoft is teaching a class on the differences in Christian denominations. This is part of our core "Adult Christian Education" program that focuses on a series of key classes offered once every two years. Pastor Walther is teaching a class on the Book of Ecclesiasties. Everyone is invited. Coffee and refreshments are available.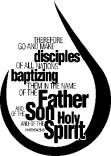 Official Acts

Baptisms (Children): Mark Nathan Mueller, 12/29; Lauren Elizabeth Fortner, 11/8; Claire Elizabeth Brown, 1/27.

Baptism (Adult): Joshua Alexander Davis, 9/23.

Received Through Transfer: James & Jeannette Strieter from St. James, Glen Carbon; Dale & Mary Ann Brelje from St. James, Glen Carbon.

Marriages: Mark Steven Murray and Hannah Elizabeth Kringel Wallace, 12/29; Thomas Harold Schiller and Robin Kay Arvizu, 1/12

Funerals: Cleo W. Meredith, 1/16; Flora Mae Schlatweiler, 1/17

Souls: 1,593 Comm.: 1,214

Pre-Registration Process

Students who currently are attending Good Shepherd will be receiving a form. Forms will be gathered until the end of February. The Board will consider all forms delivered during February,

including new enrollments, before considering forms delivered March 1 or after. This means it is important that your childís form is received during February. The pre-registration fee is now $170.00 but we will not have book or activity fees in August. Also, the pre-registration fee is not refundable. The forms will be going home on January 25th.

Chapel Offering

The offerings for this month go to the New Beginnings which is a Christ-centered pregnancy care center with offices in Granite City, Fairview Heights, and Edwardsville. They offer free pregnancy testing, free ultrasounds, abstinence counseling, parenting classes, information on fetal development, abortion and adoption, doctor and community referrals, and post-abortion counseling. The Gospel of Jesus Christ is shared with every client, and each receives a Bible. Counseling is also offered to males.

Recycling

Thank you for participating in our recycling program. Your help is always appreciated. Reminder, please do not put cardboard and plastic sleeves that go around a newspaper in the recycling bin. Thanks again for your help! silhouettes