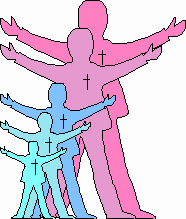 Love in

Action

Good Shepherd Lutheran Church

1300 Belt Line Road Collinsville Illinois 62234

618-344-3151 (Church) 618-344-3153 (School) 618-344-3378 (Fax)
Pastors M. Walther and P. Hoft Vol. 24 No. 2 February 2001

___________________________________________________________________________________________

Whoís Guarding the Internet?

Since many homes are now equipped with the internet, it is becoming increasingly important for Christians to keep a close watch on the internet. The internet is an amazing tool that can be used for good or bad. One of the very unfortunate aspects of the internet is the incredible amount of pornography that is readily available. Add to this the fact that the pornography industry has a voracious hunger for new viewers. Pornographers represent some of the leading experts in internet technology because of their fanatic desire to spread their temptation to as many people as possible. Many pornographers deliberately use common domain names to intercept people browsing the web. You thought you were going to a political website. . . Suddenly youíre surprised to see hard core pornography appear on your screen. When you try to click it off, several more images keep appearing until finally you get it turned off. Sexual addiction is on the rise. Children are acting out sexual functions that they could only have seen from pornography. Molesters are making contact with unwitting children. Pornographers are using the web to invade your home. But there are some things you can do about it . . .
ALWAYS keep your computers that are connected to the web in a common room such as a living room, family room or kitchen. NEVER, NEVER, allow your children access to the web in the privacy of their bedrooms.
Check the sites that your children or others in your house are using. This is easy to do. If you use Netscape, click on the down arrow to the right of the Netsite box on the tool bar. If you use Internet Explorer, click on the History button thatís also on the tool bar. Parents should routinely check these things.
For an even more detailed look at the websites that have been viewed on your computer go to Windows Explorer, then to the "C" drive, to the Windows folder, then to the Temporary Internet folder. This folder contains a list of websites that have been accessed by your computer. Go up to the tool bar and click on "View," then select "Details." On the same "View" menu you can arrange this list using the "Arrange Icons" command. Arranging the icons by date allows you to see what websites have been accessed most recently. You can also reduce some of the columns such as "Type" so that you can view the whole list a little better.
If you find objectionable websites, you can block further access by going to "My Computer," then to "Control Panel," then to "Internet Options." Click on the "Content" tab at the top. Click on "Approved Sites." Follow the directions there to create the list of disapproved websites.
To prevent pornographers from searching out your computer, you may want to consider purchasing a software program or service to block out objectionable content.
We have several copies of the comic book "The Next Right Thing" that helps elementary children understand the dangers of internet pornography. Call the church office to receive a copy.
If you do find that a family member has been viewing objectionable material on the web, take care in confronting them. Pray first for wisdom. Gently ask if they have been viewing objectionable material. Provide the evidence (website name and the day and time it was accessed). Remember that it is possible for people to stumble upon pornographic websites. Some pornographers can even trick people into visiting their sites. But you know you have a problem if you begin to see a pattern. Explain to them your concern. Though sex is a wonderful gift from God, this kind of sex is a sin. Jesus said, "But I say to you that whoever looks at a woman to lust for her has already committed adultery with her in his heart" (Matthew 5.28). When a person admits to their guilt, assure them of Godís forgiveness in Jesus. One of the most beautiful of all passages in the Bible directly speaks to the forgiveness of sexual sins, "But you were washed, but you were sanctified, but you were justified in the name of our Lord Jesus and by the Spirit of our God" (1 Corinthians 6.11).
Donít hesitate to call one of the pastors if you feel you need more help. Your concerns will be held in the strictest confidence.

Young Women in Missions

Young Women in Missions invites any young woman in 6th to 8th grade to join us to tie quilts for Lutheran World Relief on February 4th from 4:00 to 6:00 p.m. A devotion and snacks are planned.

The Meyer Minute

We are grateful to have Dr. Dale Meyer preach occasionally at Good Shepherd. Dr. Meyer is the Speaker of the Lutheran Hour. He also hosts the weekly television program On Main Street that airs on KNLC channel 24 each Sunday at 1:30 p.m. A new venture for Dr. Meyer is The Meyer Minute. This is a short e-mail devotion that is sent a couple of times each week. If you would like to subscribe to this e-mail devotion, please send your e-mail address to daleameyer1@aol.com.

New Bible Studies Begin

Pastor Hoft has begun a new Bible study on Sunday mornings on 1 Corinthians. Paulís letters to the Corinthians deal with the Christian encounter with paganism. Beginning the first Sunday in February, join us for Evolution and Creation with Dr. Ken Hovind (video) for an insightful yet humorous look at the issues of the origins of life. On Thursday evenings, in conjunction with the Adult Inquiry Class, join us for Adult Christian Education. Pastor Hoft will be teaching Exploring the New Testament from 7:00 to 8:30 p.m.

Scholarship Applications

If youíre interested in applying for financial aid for school tuition, please stop by the School Office to pick up an application form. Good Shepherd will pay the processing fee. Applications need to be mailed by April 15. The Board of Stewardship and Missions carefully considers all applications and provides help to all who have legitimate financial need. Included with the applications is a brochure briefly describing how the scholarships are determined.

Rediscover the One You Love

You can do that on a Lutheran Marriage Encounter weekend! Marriage Encounter is 44 hours where married couples can get away from jobs, kids, chores, and phones-and focus on each other. If youíd like greater depth, growth, and enrichment in your relationship, youíll like the difference a Marriage Encounter weekend can make! The next Lutheran Marriage Encounter weekend in St. Louis is March 9-11 at the Holiday Inn South County Center. Registration closes February 9 or at capacity, so a quick response is encouraged. For more information or to register, contact Tom & Kathy Von Behren, 636-343-9453, 2077 Saline Road, Fenton, Missouri 63026, or e-mail: vonbeh@attglobal.net.

Winterís Last Hurrah!!

Plan to attend the Adult Fellowship Dinner to celebrate "Winterís Last Hurrah"! Itíll be "snow" much fun to bid Frosty the Snowman a fond farewell! There will be a catered dinner, entertainment, "crazy" games, prizes and loads of fellowship and fun! Babysitting will be available, however, children should be fed before arriving at the party. The date is Sunday, February 25th from 5:30 to 8:00 p.m. The cost is $7.50 per person. Sign-up sheets will be available in the Narthex the first three weekends in February. Money will be collected at the time reservations are made.

Women's Day of Renewal

Please join us on May 19th, from 9:00 a.m. to 3:00 p.m. for a day of renewal with fellow Christian women from the community. Many topics concerning a Christian woman's daily walk will be discussed. Hear testimonials from women about how their faith in Jesus Christ has gotten them through some of life's stormiest moments. Lunch and babysitting is available. If you have questions or are interested in reserving your place for this enlightening event, please call Pat Schwieder 667-1209 (day), 667-0133 (evening).

Scriptures For February

The Bible Book of the Month will be Jeremiah. A readerís guide is available in the Narthex.

Sunday Scripture Lessons continue for Epiphany

February 4 Fifth Sunday After Epiphany


Luke 5.1-11 The Disciples Become Fishers of Men
Isaiah 6.1-13 Isaiahís Vision of the Lord and Call

February 11 Sixth Sunday After Epiphany


Luke 6.17-26 The Sermon on the Plain (Mount) Begins
1 Cor. 15.12-20 Our Hope Is Not for This Life Only

February 18 Seventh Sunday After Epiphany


Luke 6.27-38 Love Your Enemies
Genesis 45.3-15 Joseph Reveals Himself to His Brothers

February 25 The Transfiguration of Our Lord


Luke 9.28-36 The Disciples See Jesus Glorified
Deut. 34.1-12 The Death of Moses

Serve The Lord With Gladness

Over the past several months the Board of Congregational Life has been working closely with the church ministry leaders to identify volunteer needs and to formalize position descriptions for these needs. The goal of this endeavor is to involve more of the church membership in ministry through a volunteer program. This program is designed to meet individual members' needs, serve the Lord, and help others in the congregation.

There are three phases of the program: First, to meet the short-term special needs of members; second, to meet the longer term needs of the church; and third, to keep all the information obtained from individual church members and from ministry leaders updated on a timely basis.

The position descriptions have been completed and compiled in a booklet. Each Position Description states the responsibilities of the job, the time commitment involved, suggested duration of the volunteer in the position, training provided (if any is needed) and the benefits to the volunteer. The booklet will be available in February for review by the membership. A copy of the booklet will be retained in the Narthex at all times. Additional copies will be available through the church office; however, since there are only a few, anyone "checking out" a booklet should plan to return it within 3 days.

During the weekend of January 27th, each church member attending worship services will be given a short survey to complete. You will be asked to indicate where you might be able to help others of our congregation with special short-term needs. These surveys will be given to our Health Ministry, and those who have an interest in helping will be contacted as needs arise.

In addition, during the months of February and March, an additional survey will be distributed to the membership through various means, listing the volunteer positions in all the church's ministries. (These positions are described in the volunteer ministry booklet referred to above.) Even if you are not sure of your availability now, please indicate on the survey those positions that you either have an interest in or a talent/skill for. The information obtained through this survey will be compiled in a computer data base and used to connect those who can help with those who have needs.

You are asked prayerfully to consider how you can serve Jesus Christ by helping others. Let's give back to God through Christian service, what He so lovingly gives to us each day.

Prepare Your Heart For Lent

All women of Good Shepherd are invited to join the Metro Central Zone LWML in a service of praise and thanksgiving, Celebrate! Pray! Praise! 'Because He First Loved Me,' written especially for the LWML by Pastor Gregory Synova, Ft. Wayne, Indiana. The service will be held at St. John Lutheran Church, 2001 St. Clair Ave., Granite City, Illinois on Sunday, February 11 at 2:00 p.m. This is an opportunity to be uplifted by God's word of love through Scripture and hymns, to fellowship with other Christian women, and to participate in a servant event (stitching and stuffing small fabric animals for Project Linus, a project at the International LWML Convention in July).

Get Your Blood Pressure Checked by Health Ministry Volunteers on the First Weekend of Every Month

Official Acts

Baptisms (Children): Drake Scott Gnaegy 12/10; Kristina Lynn Robinson, 12/16; Peyton Alexandria Boudouris, 12/23; Hannah Mckenzie Ferguson, 12/23; Camryn Elise Beeman, 12/30; Noah Michael Scrum, 1/6.

Received Through Transfer: Arnold & Shirley Knippenberg from Resurrection, St. Louis, MO; Thomas, Janet, Andrew & Rebecca Rehkop from Holy Cross, Collinsville, IL; David "Larry" & Laurel Hawkins from St. Stephen, St. Louis, MO; Brian Kollmann from Jerusalem, Collinsville, IL; Rodney & Joanne Nathan from Hope, Highland, IL

Marriage: Jeremiah Lee Martin and Beth Ann Culver, 12/22.

Funerals: Dorothy I. Booker, 11/25; William Eugene Watkins, 12/23; Irma L. Juenger, 12/28; Ruth Lilly Simon, 1/11.

School News

Master Plan

The Master Plan Committee met January 17 to study the future needs of the school. At the present time we need some minor repairs on the front portables to use them a few more years. We are also studying the feasibility of a building program that would enable us to have permanent classrooms. The next Master Plan Meeting will be Tuesday, February 27th at 7:30 p.m.

Pre-Registration Process

Students who currently are attending Good Shepherd will be receiving a form. Forms will be gathered until the end of February. The Board will consider all forms delivered during February,

including new enrollments, before considering forms delivered March 1 or after. This means it is important that your childís form is received during February. The pre-registration fee is now $160.00 but we will not have book or activity fees in August. Also, the pre-registration fee is not refundable. The forms will be going home on January 26th.

Recycling

Thank you for participating in our recycling program. We have received $ 256.00 so far as members in this program. Your help is always appreciated.

Reminder, please do not put card board and plastic sleeves that go around a newspaper in the recycling bin. Thanks again for your help!

Sowing & Growing Together

Sowing and Growing Together is a wonderful program in which members can purchase gift certificates from various stores in our area. There is no extra cost. A ten dollar gift certificate to Schnucks is worth ten dollars in groceries. Yet approximately 5% of the value of the certificate is donated to our school. Up to half of the donation may be credited to tuition. Those who do not have students in the school may designate their tuition credits to any family.

Check with the School Office about how you can get involved.