Love in Action

Good Shepherd Lutheran Church

1300 Belt Line Road Collinsville Illinois 62234

618-344-3151 (Church) 618-344-3153 (School) 618-344-3378 (Fax)
Pastors M. Walther & P. Hoft Vol. 26 No. 12 December 2003
---
Seasons of the Church Year

S

ome time ago I was contacted by another congregation to see if I would be interested in serving as their pastor. Like many congregations they asked me a number of questions about the way I conduct my ministry. One of their most important questions was this: "How do you choose your sermon topics?" My answer was very simple: "I work from one of the appointed lessons for the church year." They thought that was a little old fashioned.

I guess I would have to agree that using a series of lessons from the church year is old fashioned. Pastors have been following appointed lessons for centuries. In fact many of the ancient manuscripts of both the Hebrew and the Greek Bible have notations in the margins indicating certain readings that both the Jews and the Christians followed in their regular daily and weekly worship. Why have believers followed this pattern for so long?

First, the pattern of readings is designed to cover all the important teachings of Godís word. Second, an organized pattern of readings helps keep the focus of our worship on Jesus. He is the center of Scripture and should always be the center of our Scripture readings. It is easy for pastors who choose their own readings to get caught up in their own teaching agendas.

December is a big turning point in the church year readings. It is the beginning of the new year. For half a year now we have been in the season of Pentecost. The readings for Pentecost focus heavily on the teachings of Jesus. As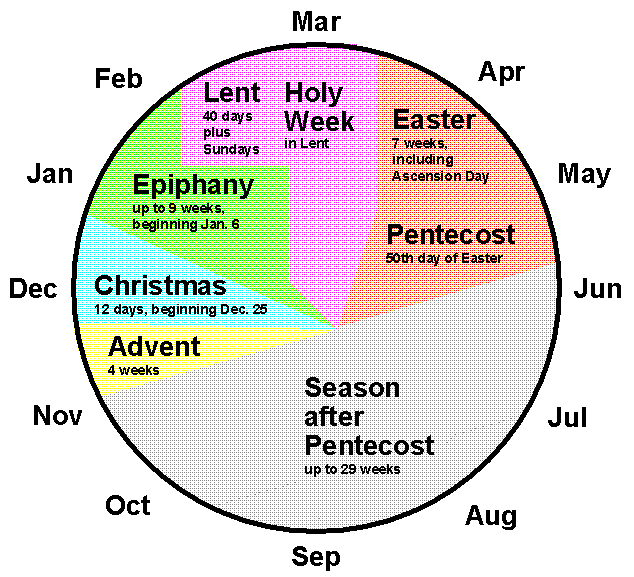 we move into the other half of the church year you will notice that the Scripture readings focus more on the events in Jesusí life. The season of Advent prepares us for the event of Jesusí birth. Epiphany highlights the events that manifest the divine nature of Jesus such as His baptism, His first miracle at Cana, and His transfiguration. The season of Lent prepares us for the great events of Jesusí death, resurrection and ascension. Next June weíll be back to the season of Pentecost.

The church year readings are a good way to keep our focus on the full counsel of God as well as on Jesus, who is the heart and center of our faith. For more information about the church year go to our website (www.goodshepherdcollinsville.org). Click on the "Education" menu, and scroll down to title "The Christian Church Year."

Adult Ed Computer Classes

Monday, December 1st will begin the first adult-ed computer class. The first class offered is a 2-week course on Microsoft Word. It will meet on Monday, December 1st and 8th from 7:00 to 8:00 p.m. in the computer lab. The entire course will repeat on Monday, December 15th and 22nd (same time and place). Call Judy, 344-3153, in the school office to sign up for a 2-week session today! The class is free, but seats are limited to 30 per class, so sign up soon! For more information, call the school office or check the website at http://www.goodshepherdcollinsville.org/gsls and click on "School Programs."

Palms

The congregation is invited to sponsor Palms in the Chancel for 2004. The cost each month will be $40. Palms may be sponsored in memory of or in honor of loved ones and will be so noted in the bulletin.

Wednesday Women

All women are encouraged to join Wednesday Women for a Bible study on the book of Esther. We begin each week at 8:45 a.m. with coffee fellowship and prayer in the Fellowship Hall. By 9:30 we begin our Bible study and wrap everything up by 11:00 a.m. Babysitting provided. Invite your friends and neighbors.

What's New--Toddlin' to Jesus
This Sunday School class meets in the school's west cafeteria. It is for children with birthdays 9/1/01-8/31/02 and their parent(s) or other caregivers. This new program brings together toddlers for play and praise. It is also a time for parents of toddlers to have Christian fellowship and discussion. If you have a child who fits in this age group, please join us!
Now that this program is established, we would like to improve our classroom by obtaining some of the following items in new or gently used condition: hand puppets, wood puzzles (with pegs for little hands, about 4-10 pieces), musical instruments (bells, tambourines, rattles, etc.), jumbo crayons, coloring books (Christian themes), & plastic coloring mat (can be used on floor and wipes off easily). If you can make a donation, please contact Bethany Hoft (343-1815) or Cyndi Voss (345-9103). Monetary donations are also welcome so that we might purchase classroom supplies.
Older Adult Christmas Dinner

The Older Adult Christmas Dinner will be Dec. 8 at noon. Come enjoy a festive holiday dinner complete with entertainment, Christmas caroling, and devotions. Please RSVP to the Church office at 344-3151 by Dec. 1. Who is an older adult? Anyone who is retired and would like to come is welcome! If you need a ride, please let us know. We have people who would be glad to pick you up and bring you home.

Mission Trip to Honduras

Good She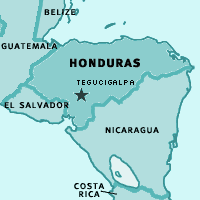 pherd members Lee & Pat Hoffmeier, Larry & Krista Frey will be joining with several members of area Lutheran Churches on a World Gospel Outreach spiritual and medical mission trip to Honduras beginning February 7, 2004. During this trip they will be sharing the Gospel while also tending to the medical needs of these impoverished people. Your prayers of support are appreciated as preparations are being made for this journey. Also toothbrushes, toothpaste (small tubes), hair barrettes and ribbons, old eyeglasses are needed, in addition to financial contributions to purchase medical/dental supplies. A box will be provided in the connecting hallway from December through January should you wish to contribute to this cause.

Board of Congregational Life

The Board wishes to express our thanks to all those dedicated persons who planned and participated in the Reformation/All Saints Day celebration - "Praise God through Music." Thanks also to our members and friends who attended. It was truly an uplifting program . . . one we plan to repeat again next year.

Progressive Dinner

Our annual Christmas season event is scheduled for Sunday, December 7th beginning at 5:00 p.m. We are limited to 50 people, since we will have the appetizer, salad and dessert courses in members' homes. The main course will be hosted by the Bd. of Congregational Life at Nottingham Lodge in Maryville. The last day to sign up is Sunday, November 30th. This is an evening of great fun and Christian fellowship - renewing old friendships and making new ones.

Sunshine Corner

On Saturday, December 27th and Sunday, December 28th the Sunshine Corner will be set up in the Narthex so that those who wish can sign greeting cards of care and concern for our shut-in members. Bring a little sunshine into their lives - take time to sign the cards, and perhaps add a little note of encouragement or a favorite scripture. Let us "Do unto others as we would have others do unto us."

Lutheran Women's Missionary League

Thursday, December 4th is the ANNUAL CHRISTMAS PARTY, beginning at 7:00 p.m. in the Fellowship Hall. The theme for the celebration is "Angels in our Life." Persons attending whose last names begin with A thru O, should bring appetizers; P thru Z should bring Christmas cookies. There will be an ingathering of toothbrushes and small tubes of toothpaste for the Honduras mission trip, as well as a free will offering to help purchase meat for the Christmas Baskets provided by Social Ministry. Christmas is such a glorious time of the year - why not spend an evening celebrating our Lord's birth with other Christian friends. Baby-sitting available.

Please note: The next Women's Bible Study will be held on January 15th. There will be no LWML meeting in January. The February meeting will feature our own Phyllis Wallace as guest speaker. Be sure to read more about this in the January newsletter.

2004 Offering Envelopes

Offering envelopes for the new year are in the Narthex. Envelopes may be picked up at anytime (please do not use till January). 2004 Offering pledges may still be placed in the offering plate. Praise to God for your commitment to His kingdom.

2003 Offerings

All offerings must be received by December 31, 2003 to be recorded as 2003 contributions. Offerings received on or after January 1 will be recorded as 2004 contributions.

Official Acts

Baptisms (children): Bryan Alan Keeney, 10/25; John "Jack" Owen McNamara, IV; Ian Michael Boyer; Katelin Lee Ann Boyer, 11/8

Received Through Transfer: Curt, Paula, Dalton & Clayton Klaustermeier from St. Paul's, Troy, IL; John, Kristine, Taylor, Emma & Haley Reese from Trinity, Edwardsville, IL; Scott, Ann, John & Joseph Wade from Redeemer, Richmond, VA

Profession of Faith: George Wilbur Baer

Funeral: Agnes Martha Kringel Muhlenbruch, 11/8

Souls: 1,601 Comm.: 1,270

Mitten & Hat Tree

As in the past, we will again be collecting mittens, gloves and hats (stocking caps, etc.) for distribution to needy children. Bring your donations and place them on the "Mitten & Hat Tree" in the narthex of the church between November 26 and December 18. Donations received will be given to children in the Collinsville Head Start Program, the Father Center in East St. Louis and Otis Woodward's Outreach in north St. Louis. Your generosity is greatly appreciated.

Sowing and Growing

Gift certificates make the perfect gift! You can choose from many local restaurants, toy stores, clothing stores, book stores as well as auto, hotel and airlines. You are encouraged to order ahead so that you can avoid the chance of walk-up sales being out-of-stock. Stop by the school office any time or the connecting hallway on Sunday mornings to pick up a green order form. Orders placed by 9:00 a.m. Monday will be available by 3:00 p.m. Friday. Happy Holidays!

Matching Funds

You can give a gift of $600 for only $400 to Good Shepherd Lutheran School if you are a Thrivent member. Just take 2 minutes to fill out the simple form (in Tract Rack in the Narthex). The deadline for submitting forms is December 15th. If you have questions, call Marty Hoffman (344-3151).

Rent A Youth Group!

Senior Youth Group to the Rescue -- Yard Clean-up... Odd Jobs... Window & House Cleaning... -- rent the Senior Youth Group for a good will offering. All donations will help fund their trip to the National Youth Gathering in July. For more information please contact Cheryl Schnicker at 398-3786.

From the Parish Nurse

December is typically a bustling time, full of get-togethers with family and friends. For most of us, this time is filled with memory making moments and laughter of children. Expectations run high that we can make "the perfect Christmas" for everyone on our list. Stress/adrenaline increases as we run our daily routines on top of extra holiday preparations.

Remember to take time out each week to purposefully relax with the family, visit a shut-in friend or relative, or slow things down a bit to keep our focus on Godís word and the reason for the season. Children need our attention, not the craziness or extra sugar. Help them with a project "from the heart" for another. By slowing down a bit, we will feel refreshed and able to meet the challenges of the week. We will retain the love of our family, our sanity, and health for another day.

Grief Support Meeting


December 16th, 7:00 p.m.

"Heal me, O Lord, and I will be healed; Save me and I will be saved, for you are the one I praise."
Jeremiah 17.14

How many times do we run into problems and turn to our Lord, first? When I was a child and lived on the family farm, I spent my special talking times with my Lord during a walk or jaunt in the field with my pony. Out in natureís finest, I felt closer to Him. Now, it is rare that I get to that farm, so my special times are spent closer to the confines of our home. Isnít it a blessing that He hears us no matter where we are! Come join me for a moment of prayer. Our troubles will be placed in His hands that we may enjoy the life that He has given us. Forever and Amen.

Answers in Genesis
Sunday, January 18th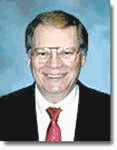 Mark your calendars now for Sunday, January 18th! We will be hosting an Answers in Genesis seminar featuring Dr. David Menton. Dr. Menton is a retired professor of anatomy at Washington University School of Medicine in St. Louis. He will be delivering two presentations followed by time for questions and discussion. We strongly encourage all our members to invite their skeptical friends to this seminar. There will be a supper served between the two presentations. There will also be a large display of books, videos and other resources produced by Answers in Genesis. If you would like to help as a volunteer for this program, please call the Church Office (344-3151). Some one from our Board of Christian Outreach will explain how you can get involved.