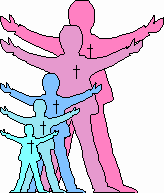 Love in Action

Good Shepherd Lutheran Church

1300 Belt Line Road Collinsville Illinois 62234

618-344-3151 (Church) 618-344-3153 (School) 618-344-3378 (Fax) Pastors M. Walther & P. Hoft Vol. 24 No. 12 December 2001

___________________________________________________________________________________________

Why Does God Hide Himself?

A group of pastors were sitting around the conference room table at Good Shepherd recently, and they were discussing a very profound question. I have heard it from preschoolers, eighth graders, adults, and now pastors. The question comes in various ways. A preschooler might ask, "What does God look like?" An eighth grader might ask, "Why doesnít God just show Himself and knock out all the evil things around us?" The pastors were asking, "Why does God hide Himself?" They were discussing what Lutherans call the theology of the cross. The theology of the cross is the way God gets His work done and saves people by the most humble means. A prophet writes a book. A carpenter dies on a cross. An apostle preaches a sermon. These arenít glorious things from the worldís point of view. God didnít need a massive army. He didnít need the smartest people on earth or the richest.

Although one day He will appear in all His glory with His army of angels, His saving work was done and is still being done in a much more hidden way. He sent His Son to be born of the Virgin Mary in one of the most unknown locations at that time--Bethlehem. Jesus never traveled more than 100 miles from home. He committed the ministry of the Gospel to poor, mostly uneducated men. Why? Why didnít He appear in a more glorious and spectacular way?

The answer is very important. Many people reject God because they canít see Him or because they donít think He communicates to them in a more profound manner. They want to see lightning bolts and hear voices from heaven. What they donít understand is that God hides Himself in order to protect us. If God were to appear in all His glory, we, in our sinful condition, would be consumed. God hid Himself in the flesh of a man at Christmas in order to save us by His promises and the hidden gift of faith. When a child playing hide-and-seek stands behind a door, it doesnít mean they are gone. They are very present, and we know it. So, when Mary cradled that fragile little child in her arms, she cradled the patient, loving Lord God, who became man in order to save us sinners without destroying us in the process. Godís hiddenness can be a little frustrating for us. Itís never easy to live by faith. But again this Christmas we rejoice that God went to such extremes to reach us with His love.

Welcome to earth, Thou noble Guest,
Through whom the sinful world is blest!
Thou comíst to share my misery;
What thanks shall I return to Thee?

(Martin Luther)

Advent and Christmas Services

Advent Service with Holy Communion December 5 at 7:00 p.m. Soup Supper at 5:30 p.m.

Advent Service December 12 at 7:00 p.m. Soup Supper at 5:30 p.m.

Advent Service December 19 at 7:00 p.m. Soup Supper at 5:30 p.m.

Childrenís Christmas Service Sunday, December 23 at 7:00 p.m.

Christmas Eve Services with Holy Communion December 24 at 7:00 and 11:00 p.m.

Christmas Day Service December 25 with Holy Communion at 9:00 a.m.

Christmas Sanctuary Decorating

Friday, November 30, 7:00 p.m. and Saturday, December 1, 9:00 a.m. Come help us get ready for the celebration of our Lordís birth!

Concordia Study Bibles

Concordia Study Bibles will be on sale in the Narthex for $30. Normally these Bibles sell for $40, so you might want to take advantage of this discount as you anticipate Christmas gifts or confirmation gifts. These are excellent Bibles which include study notes, maps, charts, concordance, and other helps to understanding the Bible.

Next Adult Inquiry Class

Thursday, January 17

Itís not too late to start thinking about this great series of Bible classes. Adult Inquiry is the first in a series of classes being specially designed for all adults of the congregation. If you havenít had a refresher course in basic doctrine, you should consider joining us.

The class is especially helpful to all who have questions about what the Lutheran church teaches. We lay it all out; it is a modest but in-depth presentation of the Christian faith in ten weeks. Please consider inviting a friend to come along with you!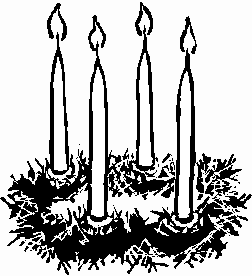 Advent Soup Suppers
Several years ago a new tradition began at Good Shepherd. Various organizations within the congregation now take turns serving a light soup and sandwich supper in between the two services scheduled on Wednesdays during Advent and Lent. This Advent season there will only be a 7:00 p.m. service on Wednesdays, but those services will still be preceded by a Soup Supper. Why would you enjoy coming to a Soup Supper? Here are some reasons. These Wednesday evening meals provide: 1. A tasty home cooked meal, 2. A night off for the cook at your house., 3. Family time uninterrupted by the TV or telephone., 4. Time to chat with old friends., 5. An opportunity to put names with the faces you see in church each Sunday and make new friends., 6. A few extra moments before the church service to prepare your heart for the Advent message.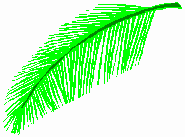 Sanctuary Palms

Good Shepherd would like to continue using palms to add beauty to our sanctuary. The original palms were donated by Dr. Dean and Susan Schuler following their wedding in September of 2000. We will continue to place palms in the sanctuary at a cost of $40 per month. If you would like to make a special donation or memorial for this, please call the church office (344-3151). The memorials will be noted along with the current flower memorials.

2002 Offering Envelopes

Offering envelopes for the new year will be in the Narthex November 21. Envelopes may be picked up at anytime. Offering pledges may still be placed in the special box in the sanctuary. Praise to God for your commitment to His kingdom.

2001 Offerings

All offerings must be received by December 31, 2001 to be recorded as 2001 contributions. Offerings received on or after January 1 will be recorded as 2002 contributions.

Progressive Dinner

Sunday, Dec. 2nd Ė 5:00 p.m.

Join us for an evening of Adult Fellowship! You will enjoy four courses hosted by couples in each of their homes. There will be a free will offering taken for Unity Lutheran School in East St. Louis. Sign up sheets and directions will be in the narthex through November 25th. This dinner is limited to 50 people. Please sign your name, the number of adults attending and which type of dish you would like to bring. You will be contacted by a hostess. Start the holidays off by sharing an evening of great food and fellowship!

LWML Christmas Party

Thursday, December 6th at 7:00 p.m. in the Fellowship Hall. Persons whose last names begin with A thru K should bring an appetizer; persons whose last names begin with L thru Z should bring cookies . . . so please come and bring your appetites! All women of the church are invited to gather together in worship and fellowship to celebrate the birth of our Lord and Savior, Jesus Christ. Glory be to God in the highest, and on earth Peace, Good Will toward men!

Metro East Lutheran High School
2001-02 1st Quarter Honor Roll

High Honor Roll With Distinction (G.P.A. 4.0)
Juniors Ė Abby Gimbel, Rachel Lauber

Freshmen Ė Brittany Boatman, Krista Frey, Lindsey Smith
High Honor Roll (G.P.A. 3.99-3.74)
Seniors Ė Gretchen Rust

Juniors Ė Ashley Jones

Sophomores Ė Autumn Sij, Monet Stunson
Honor Roll (G.P.A. 3.74-3.5)
Senior Ė Matthew Oliver, Elizabeth Rincker

Junior Ė Lauren Jones, Trevor Wade

Sophomores Ė Todd Pulvirenti

Freshmen Ė Ashley Boatman, Jeffrey Teichgraeber
F.R.O.G. News
Special thanks to John Audrain, A.J. and Stephanie Cluck and Mr. Eric Semler for participating in the "Firstfruits" servant event at Unity Lutheran Church in East St. Louis. We will be making a trip back on December 1. Anyone interested in helping may contact Pastor Hoft.
Also, thanks to Abby Gimbel, Annie Meredith, Josh Blasingame and Dan Kober for volunteering to help clean up the Belt Line Road on November 10.
Upcoming activities . . .
December 1 Servant Event at Unity, E. St. Louis
December 2 Game Night with Blessed Savior
December 9 Caroling / Christmas Party 4-6 p.m.
December 16 Regular Meeting
December 19 Advent Soup Supper

(Senior and Junior Parents Needed)
December 23 and 30 No F.R.O.G.

Official Acts

Baptisms (Children): Patrick John Malone 10/28; Tara Lynn Provencher 11/10; William Logan Schueler, 11/11; Abbey Isabelle Counts, 11/25.

Baptism (Adult): Robert Timothy Byrne, 11/11

Confirmation (Adult): Robert Timothy Byrne, Debra A. Garland, Jeremiah Lee Martin, Dean Frederick Schueler, Lisa Marie Whitehead, 11/11

Received Through Transfer: Jennifer Martin from Trinity, Centralia, IL

Marriages: Robert LaDon Shrodes, Jr. and Krystal Elaine Duncan, 10/19; Jeremy Lee Cawthon and Tabitha Nicole Wheeler, 10/21

Funeral: Vernon L. "Red" Bonn, 11/14

Souls: 1,593 Communicants: 1,218

Your Life a Letter

2 Cor. 3:2-3 (NCV) "You yourselves are our letter, written on our hearts, known and read by everyone. You show that you are a letter from Christ sent through us. This letter is not written with ink but with the Spirit of the living God. It is not written on stone tablets but on human hearts."

When you reflect upon your life,
what message does it say?
Is it a letter, Spirit-filled,
with deeds throughout the day?
Could someone stand beside you and instantly agree
That Christ directs your thoughts and words

as they can plainly see?
Does care, honest compassion
place sweet words upon each line
And does His heartfelt love and hope
in conversations shine?
As others witness circumstances,
much beyond control,
Do you hold with conviction that
your Saviorís taken hold?
Can they see that within your heart,
His words live and abide
As you serve others willingly
with Him close by your side?
Does joy shine forth
with each new dayís delivery of hope?
When pages of your life unfold,
Christ holds the envelope.
Written by (GSLC Member) Jean Werth
George F. Will to Speak at Concordia Seminary
December 13, 2001, 7:00 p.m.
The Chapel of St. Timothy and St. Titus
George F. Will, distinguished winner of a 1977 Pulitzer Prize award, is recognized by an international audience for his many achievements in the areas of journalism and public policy. Born in Champaign, Illinois, Will was educated at Trinity College in Hartford, Conn., and at Oxford University. Having received his Ph.D. at Princeton University, Will taught courses in political philosophy at Michigan State University, the University of Toronto and Harvard University. The lecture is entitled "Public Affairs, Public Policy, and American Society." The lecture is free to the public. Seating is first come, first served.
Did You Know?
There are 2,526,919 baptized Christians in the 6,150 congregations of the Lutheran Church-Missouri Synod. These congregations are served by 8,257 pastors. There are almost 400 missionaries working in 40 countries. We have 400 chaplains and 500 campus ministries. The budget for the LCMS is $98.8 million. Donations to LCMS Lutheran World Relief were $7.3 million last year. There are 1,308 preschools, 1,022 elementary schools, 66 high schools, 10 colleges, and 2 seminaries in the Lutheran Church-Missouri Synod. If you would like more information about the LC-MS please call the Church Information Center at 888-843-5267.
Senior Citizenís Christmas Dinner December 10
Please come join us Monday, December 10 at 12:00 p.m. for a delicious Christmas meal and fellowship in Christ. There will be a Christmas devotion, Christmas caroling, as well as a short performance by one of our childrenís choirs. The dinner will be held in the lower level. Call the church office (344-3151) if you would like a ride.