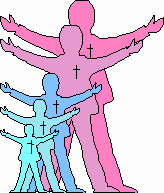 Love in Action
Good Shepherd Lutheran Church
1300 Belt Line Road Collinsville Illinois 62234
618-344-3151 (Church) 618-344-3153 (School) 618-344-3378 (Fax)
Pastors M. Walther & P. Hoft Vol. 27 No. 8 August 2004
---
The Olympic Quest
One of the important events happening this month will be the 2004 Olympic Games. The games will be held in Athens, Greece, where they were first held many centuries ago. I've been interested in the Olympics for a long time - intrigued and sometimes entranced by the stories of incredible achievement. One of my favorite books as a boy was about the famous gold medallist Jim Thorp. His story inspired me to do my best in many things.
The ancient Greeks as well as people today find inspiration for life in athletic contests. This quest for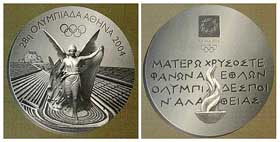 success in life is illustrated in the 2004 Olympic medals. These medals have two very important images imprinted on them. On one side is the winged goddess Nike, the mythological goddess of victory. On the other side is the image of the eternal flame. (This year the eternal flame was carried through the city of St. Louis, host of the 1904 Olympic Games!) Around the flame are inscribed the opening words of an ancient Greek poem that was written to honor a wrestler named Alcimedon. This victory poem is very interesting because it demonstrates the ancient Greek quest for immortality and victory over pain, suffering and disaster.
All people ancient and modern have a quest for immortality. We know in our hearts that there must be more to life. Somehow there must be a victory over death and evil. But it is sad to say that most people are looking for that victory in the wrong place. They look to humanity. They look to themselves. Better political systems, improved education, advances in science and medicine are the modern saviors. These are all fine ways to improve our societies and living conditions. But they will offer no victory over sin, death, and the devil.
The early Christians were also familiar with the Greek athletic games. However, they compared them to the much more important "race of faith." Listen to these words from the Book of Hebrews (12.1): "Let us lay aside every weight, and the sin which so easily ensnares us, and let us run with endurance the race that is set before us, looking unto Jesus, the author and finisher of our faith." As you watch the Olympics this year consider your place in the race of faith. How are things going? Do you need help? Does the race seem impossible? Look to Jesus! You will not be disappointed. St. Paul talked about the race in this sense: "Now they do it to obtain a perishable crown, but we for an imperishable crown" (1 Cor 9.25). As you speak with your friends about the Olympics, remind them of the great "race of faith" that the Bible talks about. (MPW)
Church Picnic July 25th
Hot dogs, hamburgers, cotton candy, snow cones, popcorn, water slides, dunk tanks, water balloon launch, water bottle rocket launch, games, musical entertainment, cake walk, face painting, and more. You'll find it all at the church picnic. The picnic begins with a potluck dinner following late service. Hot dogs and hamburgers will be available all afternoon. Games and activities should begin at 1:00 p.m. with the inflatable water slide (only for children through 8th grade) set to begin at 2:00 p.m. Invite your friends and neighbors to spend the day with you!
Teacher Installation Services
At church services on Saturday, August 21st and Sunday, August 22nd, there will be an Installation and Rededication service for the teachers of Good Shepherd Lutheran School, after which there will be a reception in the Narthex. What a wonderful opportunity to show our appreciation to these dedicated servants of God who not only teach our children what they need to know to prepare them academically, but who also show them how God's love is manifested through Christian living and service.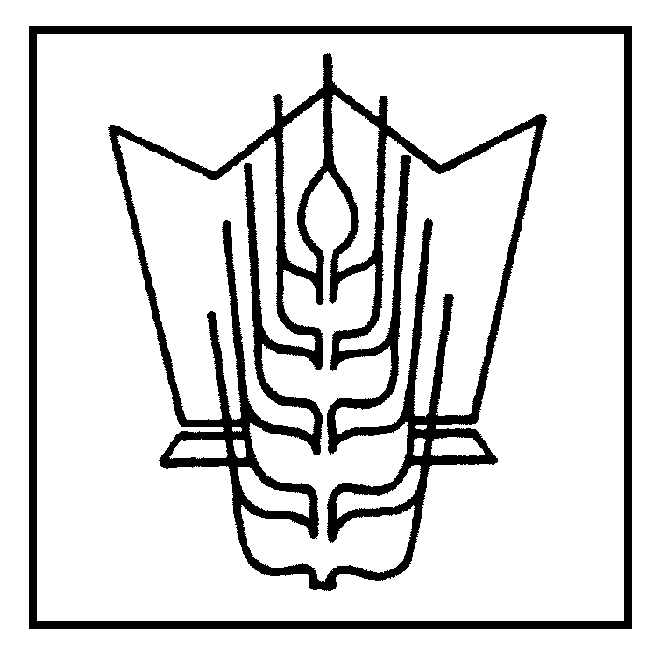 What is "Simply Giving"?
A Program by Thrivent Financial for Lutherans
"Simply Giving" is an automated giving program designed to help conveniently and consistently giving to Good Shepherd's general fund through a preauthorized transfer from your bank account directly to Good Shepherd's bank account.
Your giving is strictly confidential.
Your giving will be transferred on the date you designate and as frequently as you designate.
You can change the amount or transfer date of your giving at any time.
Especially during the summer months our level of giving traditionally drops off. "Simply Giving" helps keep up giving through this time of travel, vacation and other activities.
"Simply Giving" applications are available in the Narthex and in the Church Office. If you have questions please contact Parish Administrator, Marty Hoffman in the Church Office 344-3151.

August Meeting – Come and hear about Rachel Clayton's recent mission trip to Russia and the Senior Youth's trip to the National Youth Gathering. They will share their experiences in of God's grace and the impact of His Word! All women of the church are invited to the August 5tt (1st Thursday of the month) meeting at 7 pm.
September Meeting – You won't want to miss this meeting on Thursday, September 2nd at 7 pm! Our speaker will be Karen Shimkus, wife of Representative John Shimkus. Karen will share "Witnessing for Christ in the Political Arena." All women are invited - come and bring a friend!
Women Bible Studies - Every 3rd Thursday of the month at 7 pm in the Fellowship Hall. The Bible Studies are topical. All women of the church are invited to join together for an hour of fellowship in God's Word. Next Bible Studies will be held on August 19th and September 16th.

Youth Groups Move Up Aug 29th
All Youth Groups will meet on August 29th with the new classes moving up. Those entering 5th grade this fall will join the 5th & 6th grade youth group. Those entering 7th grade this year will join the 7th & 8th grade Youth Group. This fall's Freshman class will join the Senior High Youth Group!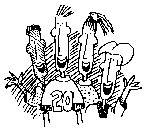 5th & 6th Grade Youth Group

5th and 6th grade youth will meet from 6-8 pm on August 5th at the home of Victoria Francis for a pool party. Her parents, Jim and Melissa, will fire up the grill and feed everyone supper. They live at 436 Bluebird Lane in Troy. Maps will be available at church that morning. You can call them at for more information.


Rally Day, August 29th

Sunday School Rally Day will be August. 29th. All children are invited to the gym for a special presentation and to be introduced to their new teacher for the coming year.

Men's Morning Bible Study

Join us each Monday morning for men's Bible study from 6:30 to 7:30 a.m. Currently we are studying the Book of Romans.

Good Shepherd Website

Have you looked at the Good Shepherd website located at www.goodshepherdcollinsville.org? Here you can find the electronic versions of the newsletters, news and information from the bulletins, sermons, Bible studies, and links to other good websites.

New Testament Greek for Laymen

Would you like to know a little more about the original language of the New Testament? Join us Wednesday, July 28, from 7:00 to 8:30 p.m. in the Conference Room. Mr. Kevin Gingrich will lead the class and help you to get started in the study of Biblical Greek. The class will last for five weeks. By the end of the class you'll know the Greek alphabet and be able to sort out nouns and verbs in order to look up their meanings.

From the Parish Nurse

Ah August! The last lazy days of summer may find us on vacation, then preparing for the new school year, or just transitioning into the next season. Whatever the case, let's take these last few days to enjoy family and friends and the late summer nights. Maybe we'll have a little free time to read a book or two. Have a family meeting while we are relaxed and talk about expectations for the coming school year: hopes, fears, goals and health concerns. What do we need to know or do to help others along? Health is holistic – body, mind and spirit. What effects one part of us affects the others. We must work on all parts in order that we may be available to help others. We have been blessed to have an environment in our church and school that promotes this healthy vision. We have programs available to challenge all of us. If a program you are interested in is not in service yet, send us a note or stop by the office and talk with someone about developing such a program. Maybe you will be able to help set up such a program or provide some insight. No matter what you do this last month of summer, pray that God will use you to bless others with your talents. He will be there for you if you are poor in body, mind or spirit (see Matthew 5:3-12 Jesus' map of life in "The Beatitudes).

P.S. The month of August is also Cataract Awareness Month and Psoriasis Awareness Month Remember those sunglasses and skin protection measures! Vickie Ridgeway.

Sex Education Series

The Concordia Sex Education Series is available in the Church Library, located in the Conference Room. This series is divided into various age groupings from 3-5, 6-8, 8-11, 11-14, & 14 to Adult. The series provides an excellent way to talk to your kids in a Godly way about the gift and the responsibilities of sex.

Official Acts

Baptisms (Children): Linsey Nicole Radick, Darcie Jo Williams, 6/27; Joshua Ryan Scrum, 7/10; William Bradley Niehaus, 7/11; Grahm Calder Johnson, 7/25

Baptisms (Adult): Laura Sue Radick, Brandie Lynn Sale, Julie Colleen Williams, 6/27

Confirmation (Adult): Jocelyn Kate Cooper, Chad Hamilton Doyle, Carole A. Doyle, Gerald Patrick Fenelon, II, Sheryl Marie Fenelon, Faith Ann Johnson, Michael Joseph Mulia, Michael Gary Perkins, Jeff Radick, Laura Sue Radick, Brandie Lynn Sale, Susan Elizabeth White, Julie colleen Williams

Profession of Faith: Wendy L. Mulia, Drew Hamilton Doyle

Marriage: Patrick Michael Jaeger and Dani Lee Dervalis

Souls: 1,582 Comm.: 1,275

August Scripture Readings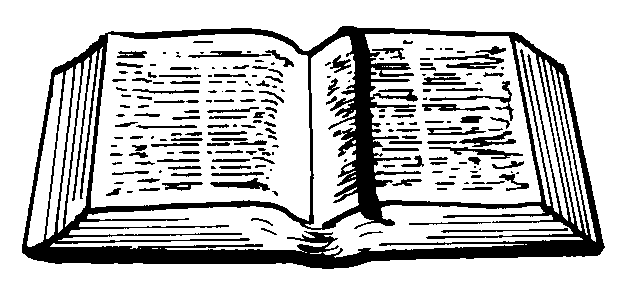 August Scripture Readings

Sunday Readings

1

Hab 3:2-19

2 Chronicles 1-3

August 1
Pentecost 8
Genesis 18.1-14
Luke 10.38-42

August 8
Pentecost 9
Genesis 18.20-32
Luke 11.1-13

August 15
St. Mary Mother of Our Lord
Galatians 4.4-7
Luke 1.46-55

August 22
Pentecost 12
Genesis 15.1-6
Luke 12.32-40

August 29
Pentecost 12
Hebrews 12.1-13
Luke 12.49-53

In the fullness of time God sent forth His Son

Galatians 4.4

2

Psalm 57

2 Chronicles 4-6

3

Psalm 58

2 Chronicles 7-9

4

Psalm 59

2 Chronicles 10-12

5

Psalm 60

2 Chronicles 13-15

6

Psalm 61

2 Chronicles 16-18

7

Psalm 62

2 Chronicles 19-21

8

Psalm 63

2 Chronicles 22-24

9

Psalm 64

2 Chronicles 25-27

10

Psalm 65

2 Chronicles 28-30

11

Psalm 66

2 Chronicles 31-33

12

Psalm 67

2 Chronicles 34-36

13

Psalm 68

Ezra 1-5

14

Psalm 69

Ezra 6-10

15

Psalm 70

Nehemiah 1-3

16

Psalm 71

Nehemiah 4-6

17

Psalm 72

Nehemiah 7-9

18

Psalm 73

Nehemiah 10-13

19

Psalm 74

Esther 1-3

20

Psalm 75

Esther 4-6

21

Psalm 76

Esther 7-10

22

Psalm 77

Job 1-3

23

Psalm 78

Job 4-6

24

Psalm 79

Job 7-9

25

Psalm 80

Job 10-12

26

Psalm 81

Job 13-15

27

Psalm 82

Job 16-18

28

Psalm 83

Job 19-21

29

Psalm 84

Job 22-24

30

Psalm 85

Job 25-27

31

Hab 3:2-19

Job 28-30
32nd Biennnial Convention
Overflowing with Hope – Romans 15:13
Saturday, September 25th – Registration Opens at 8 a.m.
Opening Worship 9:00 a.m.
Phyllis Wallace is the Keynote Speaker
See Lutheran Women's Missionary League Bulletin Board in the Lower Level or contact Terri Blasingame (314-344-0831) Blasingame@charter.net for registration information. Registrations need to be turned into Terri by Sunday, August 15th.
Are You Grieving?
Turn to the following Scriptures for encouragement and hope
Psalm 46 Psalm 55.22 Isaiah 25.8
Isaiah 30.19 Isaiah 60.20 Matt 5.4
Luke 6.21 John 11.25 John 14.1-3
John16.20 1 Cor 15.42-58 2 Cor 1.3-4
Phil 1.21-23 Phil 3.20 1Thes 4.13-18
From the New Vicar
I and my wife, Alice, thank you for inviting us to be a part of your lives for the next year. I have already learned that I have much to learn, and I am eager to continue to learn about and from each of you as I work with Pastor Walther and Pastor Hoft.
If you have not heard about us, let me tell you some things about me and my wife. I grew up in Lakewood, Colorado, just outside of Denver. I graduated from Concordia University, Nebraska and went to the University of Notre Dame for two years of graduate school in Computer Science. I left computers behind to pursue the pastoral ministry in St. Louis, but Notre Dame had given me both a hunger for the ministry and an introduction to the woman who is now my wife.
Alice is from Hong Kong, and came to the United States for school. She graduated from the University of California, Irvine, magna sum laude and went to work for Scripps Research Institute. After two years there she went to Notre Dame to the Graduate School of Computer Science. She graduated with her Masters degree and now works at Pfizer in Chesterfield.
Coming to the seminary was not my introduction to the Saint Louis area. I have friends in Edwardsville and I was assigned to Lutheran High School North for the student teaching portion of my education degree. I have enjoyed my time in the area, and am looking forward to becoming familiar with the Collinsville community.
Over the year, we ask for your patience as we get used to names and faces and finding our way around the Collinsville area. We thank you for the warm reception with which you received us. Together, may we all grow in the grace and knowledge of our Lord and Savior Jesus Christ. - Vicar Jon Furgeson
Church Pictorial Directory
The amount of time left to sign up for an appointment to have your family's picture included in the Church Pictorial Directory is getting short. Just this weekend and next are available to reserve a date and time. Sign-up sheets and informational brochures are available in the Narthex. Each participating family will receive a complimentary copy of the directory, as well as a free 8 x 10 portrait. It is so important for all our members to be a part of this directory, since it introduces our church to new members, to friends and to the community. Your participation will help preserve this special time in the life and ministry of our church and will help strengthen the bond within our congregation.