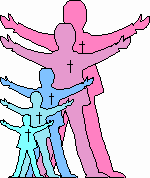 Love in Action

Good Shepherd Lutheran Church

1300 Belt Line Road Collinsville Illinois 62234

618-344-3151 (Church) 618-344-3153 (School) 618-344-3378 (Fax)
Pastors M. Walther & P. Hoft Vol. 27 No. 4 April 2004
---
Easter Triumph, Easter Joy!
Terrorism, war, homosexual marriages… The headlines anymore make us want to give up. Where is this world heading? How much longer can it endure? It's always good to remember that the headlines today are really not that different than the headlines that would have been written in Jesus' day: "Innocent Man Beheaded During Lascivious Party" (John the Baptist) "Known Terrorist Released to Appease Crowd" (Barabbas). Actually it can and will get worse: "Execution of Radical Sends Warning to Christians" (Stoning of Stephen). The darkness of this world and its rejection of God's salvation in Jesus has been and always will be a very noticeable fact of life.
However another very noticeable fact among those early Christians was their hope and joy! Matthew reports that the women who first discovered the empty tomb in which Jesus had been laid "went out quickly from the tomb with fear and great joy, and ran to bring His disciples word" (Matthew 28.8). They ran that first Easter morning and they've been running ever since. "Christ is risen! He is risen indeed!" While the news reports can be discouraging at times, the promises of God are even more encouraging.
The Foe was triumphant when on Calvary / The Lord of creation was nailed to the tree.
In Satan's domain did the hosts shout and jeer, For Jesus was slain, whom the evil ones fear.
But short was their triumph, the Savior arose, And Death, hell, and Satan / He vanquished His foes;
The conquering Lord lifts His banner on high. He lives, yea, He lives, and will nevermore die.
Outdoor Easter Sunrise Service
April 11th at 6:45 a.m.
The Outdoor Easter Sunrise Service is a great opportunity to invite a friend to Easter worship. The sermon and the service will be different from the regular Easter services. The Handbell Choir, the Shepherd's Singers and the Sunday School Singers will participate. An Easter Breakfast with eggs, sausage and other good food will be provided following the service. After the breakfast we invite everyone to stay for a special Easter Bible Class.
Holiday Service Schedule
Dr. Dale Meyer, Guest Preacher for Palm Sunday
Palm Sunday (Communion) April 3 5:30 p.m.
Palm Sunday (Communion) April 4 8:00 / 10:30 a.m.
Confirmation Service April 4 11:45 a.m.
M. Thursday (Communion) April 8 4:30 / 7:00 p.m.
Good Friday (Communion) April 9 4:30 / 7:00 p.m.
Easter Sunday (Communion) April 10 5:30 p.m.
Outdoor Easter Sunrise April 11 6:45 a.m.
Easter Breakfast April 11 8:00 a.m.
Easter Bible Class April 11 9:15 a.m.
Easter Sunday (Communion) April 11 8:00 / 10:30 a.m.
Adult Inquiry Tuesday, April 20th
Invite a friend to the next session of Adult Inquiry to learn more about the Christian faith. Classes run from 7:00 to 8:45 p.m. with a short break. The classes are all set up in a presentation format. It is a great introduction to the overall teaching of the Bible centered in Jesus Christ. Babysitting is provided.
Youth Groups for 5th Grade to High School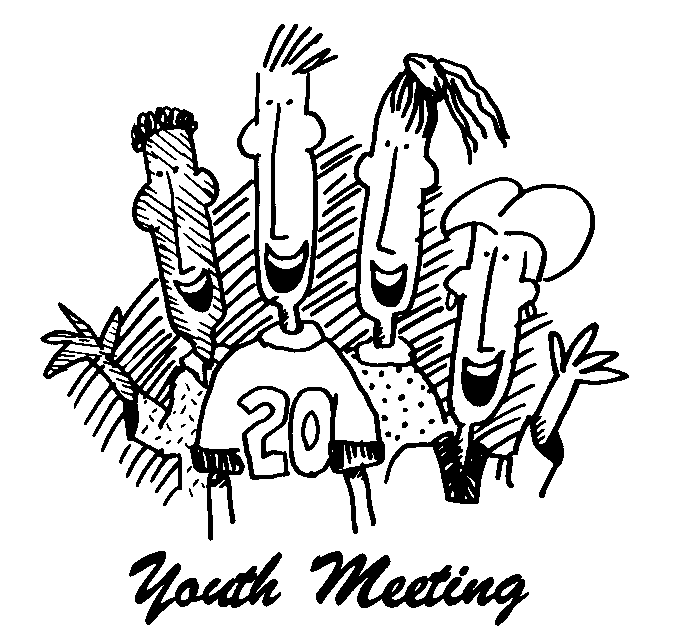 Good Shepherd Youth Groups normally meet the first and third Sundays of the month at 7:00 p.m. The groups are divided 5th & 6th grades / 7th & 8th grades / High School. Typically our meetings focus on a devotional Bible study and an activity of some kind. We invite all GSLC youth and their friends to come. If you would like to help out with any of the groups, please call the Church Office at 344-3151 and leave your name and number. Someone will contact you to tell you more about how you can get involved.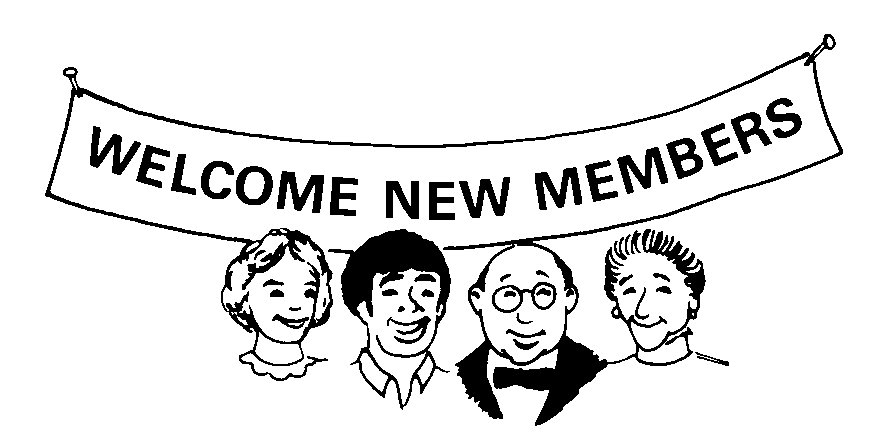 New Member / Anniversary Dinner Sunday, May 2nd
In addition to honoring our new members at this annual dinner event, this year we will also be celebrating the 20th Anniversary of Good Shepherd Lutheran School – "Growing in Grace & Knowledge!" Just think----it's been 20 years since we opened our school doors, and by the grace of God it continues to grow and flourish!
Mark your calendar for Sunday, May 2nd at 11:45 a.m. in the Fellowship Hall. There is "no charge" for the meal; the meat, rolls, drinks and dessert will be provided – those attending should bring either a salad or vegetable to share.
Sign-up sheets will be available in the connecting hallway from April 10th through April 25th. If you plan to attend, please sign up to insure there is ample accommodations for all. The program this year will include a film showing some of the history of our school, as well as an introduction of new members. This is a great opportunity to make new friends and renew old acquaintances. Come be a part of this really enjoyable afternoon of fun and Christian fellowship!!

Mother & Daughter Banquet - Monday, May 10th

It's time for the 43rd Annual Mother & Daughter Banquet. This year's theme is "Can You Hear Me Now?" and a wonderful program is planned. Make your reservations with the Church Office at 344-3151, or call Cheryl Schnicker at 398-3786. Remember, reservations are limited, so register as soon as possible. Don't miss this evening of good food, tons of fun and Christian fellowship! Dinner begins at 6:00 p.m.

School Scholarships

Good Shepherd Lutheran Church wants to support Christian education. We contribute approximately $25 - $30,000 per year for student scholarships to our school for grades K-8. If you're interested, please pick up an application. Please mail the application according to the directions by April 15th. Also, please read the brochure titled "Scholarship Program." The brochure explains the philosophy of the program and how our need-based scholarships are determined.

Men's Ministry – April 10th

Mark your calendars for Saturday, April 10th. Our Men's Ministry Meets at 9:00 a.m. in the Lower Level of the church for a light breakfast every second Saturday. Following the breakfast we have an opening devotion, Bible study / discussion, and prayer. Our topic in April will be: "Can a Modern Man Believe in Miracles?"

Men's Ministry Retreat
April 30 & May 1

Join us Friday evening, April 30th and Saturday morning, May 1 for our Men's Retreat at Camp Wartburg. Please see the Registration Form in this newsletter. This year's theme will be "Holding on to Integrity." Many men are faced with unethical practices in the workplace. How can we live a consistent Christian life when the world around us takes sin for granted? We'll consider what God's word has to say as well as share from our own experiences. Friday night will begin with a cookout. Come hungry! We'll continue with our main Bible study and discussion followed by evening devotions. On Saturday, we will sponsor a nine-hole golf scramble at nearby Acorns Golf Links.

Short Term Mission Opportunity

Attention: A short term Mission Opportunity assisting Lamp (Lutheran Association of Missionaries & Pilots) is available. We will be a part of spreading God's Word this summer in Sandy Lake Ontario, the date of departure is June 25th returning July 4th. This will be the 3rd year for a group from GSLC to have the opportunity to teach vacation Bible School in the Sandy Lake Area. If you are interested please attend an informational meeting on April 8th at 7:00 p.m. at the Church. If you cannot attend but would like additional information, please call Lucy Thompson at 618-406-5188 or Karen Semler at 618-345-5947.

Mission Guild for Lutheran Women
Monday, April 19

Bethany Lutheran Church of O'Fallon will host the Mission Guild for Lutheran Women at noon, Monday, April 19. Bethany is located on Old Collinsville Road, south of highway 50. This is a week later than our regular meeting due to Easter, April 11. The speaker will be Rev. Dale Skeesick from Concordia Seminary. All ladies are invited to attend.

Official Acts

Baptisms (children): Kyle Jeffrey, Jakob Ryan, & Tyler Matthew Thomas, 3/13
Receive Through Transfer: Lyle, Christine, Logan, Luke & Cynthia Buettner from Holy Cross, Waterloo, IL
Souls: 1,607 Comm.: 1,265

Lutheran Women's Missionary League


(Mark your calendars)

Women's Bible Study – Every 3rd Thursday of the month at 7:00 p.m. in the Fellowship Hall. All women of the church are invited to join together for an hour of fellowship and study in God's Word. Upcoming study topics are: Listening to God's Voice (April 15) and Fruit of the Spirit – Joy (May 20).

Thursday, April 1st – Our regular monthly business meeting begins at 7:00 p.m. in the Fellowship Hall. All ladies of the church are encouraged to join us. "Keeping Your Eyes on Jesus" will be presented by Rev. Mark D. Wiesner of Christian Counseling Service in O'Fallon, IL. The evening will surely be filled with inspiration, fun and fellowship opportunities! No Foolin'!

Friday, April 2nd – Reception for the Confirmands / LWML Secret Prayer Partners are revealed.

LWML Spring Zone Rally - Saturday, April 24th. Holy Cross, Collinsville, will host the Zone Rally that will begin at 9 am and finish by 2 pm. The guest speaker is Seminarian Erik Loza. Erik and his family have started a Hispanic ministry in Fairmont City. All women are invited to hear about this mission work. Registration is $7.00 which includes lunch catered by Nonna's. If you are interested in attending, please contact Terri Blasingame at 344.0831 or e-mail blasingame@charter.net

Older Adult Retreat

Lutheran Senior Services is having a retreat at Pere Marquette State Park in Grafton, Illinois on April 28-29, 2004. The theme is "Follow Me and I Will Make You Fishers of Men." The keynote speaker will be the Rev. Kenneth Klaus from Lutheran Hour Ministries. For more information see the blue brochures in the church narthex.

Exploring Church Careers Event for High School Youth

This event will take place at Concordia Seminary in Clayton, Missouri on July 31-August 3, 2004. A separate event for young men thinking about the Pastoral Ministry will take place on August 3-6, 2004. For more information, see Pastor Hoft.

Camp Wartburg

The summer calendar for Camp Wartburg in Waterloo, Illinois is now ready! You can obtain one in the church narthex. Camp Wartburg is an excellent Lutheran outdoor ministry where there are many fun and enriching activities to choose from. There is a camp activity for everyone, such as equestrian, painting, scuba, spelunking, sports, theater arts, wacky water week, and fishing camp. The mission of Camp Wartburg is to provide a Christ-centered outdoor ministry where people can encounter God and His creation.

Sr. High Youth on the Web

If you want to know what the Senior High Youth Group (F.R.O.G.) is doing on Sunday nights and at other times, check out the church's website (www.goodshepherdcollinsville.org) and click on "youth." A calendar of events leading up to July is posted. In the month of April we will be painting the cubbies at Good Shepherd Daycare as a service project. Also, this month we will be having a sound scavenger hunt and a Laser Tag event. See the website for dates and times.

Landscaping Volunteers Needed

Volunteers are needed to help with landscaping at the school on Saturday March 27 and April 3 from 8:00 a.m. to 1:00 p.m. Please bring rakes, shovels, wheelbarrow, etc. Please call the church office to offer your services. Any help will be greatly appreciated!

Sunday School Is About Evangelism!!
Did you know that the first Sunday School classes were held in England during the Industrial Revolution? At that time (late 1700s and early 1800s) many children were forced to work in factories. Their lives were very sad and dismal. On Sunday, their one day off from work, they would fill the streets with riotous behavior, cursing and swearing like little hellions. Robert Raikes, a newspaper publisher, took pity on these unfortunate children. He hired four women to begin the first Sunday School. The class began at 10:00 a.m. There was a break for lunch. The class resumed through the afternoon until 5:00 p.m. which included an afternoon worship service. The idea caught on, and soon the Sunday School program grew. By 1811 there were 1.25 million children in Sunday School.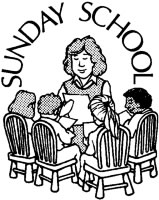 Robert Raikes raised awareness for the slum children of England. Adam Smith, the author of Wealth of Nations declared that no plan so promising for improving morals had been devised since the days of the apostles. But sadly this was not to continue. Eventually the Sunday School program developed into the public education program of England. With the government subsidizing public education, religious instruction was eliminated.
Lutherans in America, who had always emphasized Christian education through their schools, also adopted the idea of the Sunday School. Today the Sunday School is just as important as it was in 17th century England. It is one of the best tools for evangelism that we have. Not every child gets the chance to attend a Christian school. Not every child has faithful Christian parents teaching them at home. Sunday School provides an opportunity for faithful Christian kids to invite their friends to learn about Jesus. At Good Shepherd we would like to see our Sunday School grow and become an opportunity to reach out to children who don't yet know about Jesus. One of our long-term goals is eventually to broadcast one of our Sunday School classes on cable television!
What can you do? Pray for our Sunday School teachers and students. Volunteer to be a Sunday School teacher or aide. Join our Adult Bible study classes so that you eventually would be able to teach a Sunday School class!